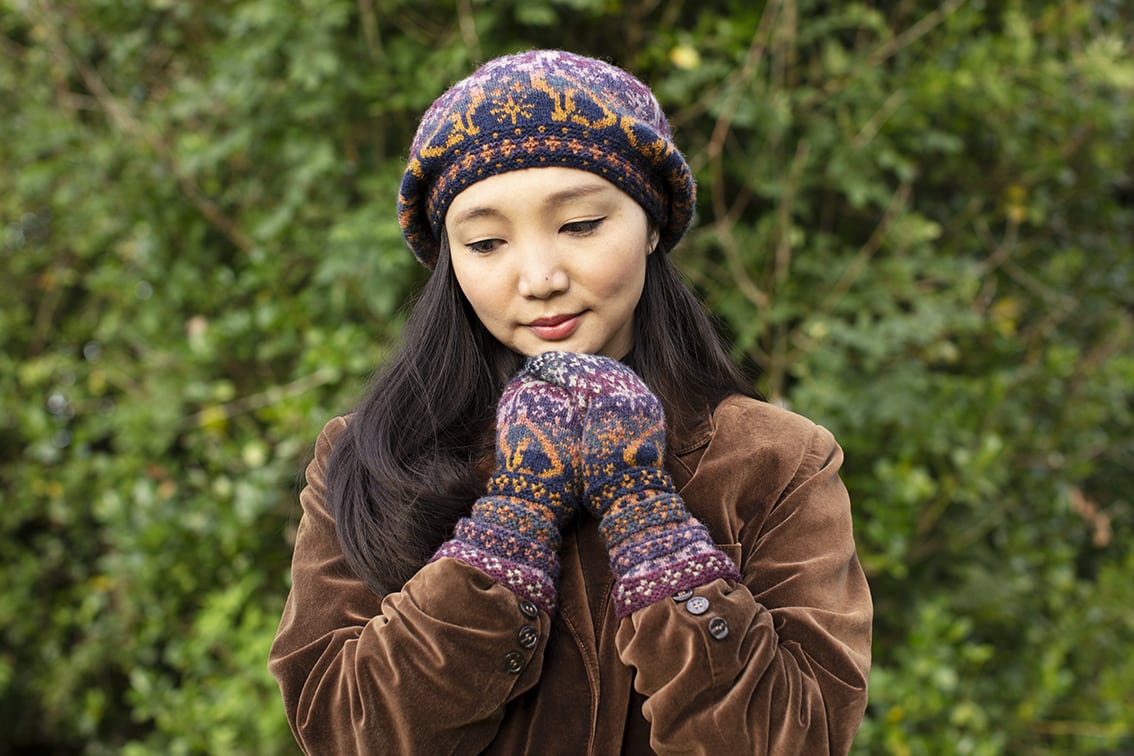 The colourful and complex appearance of stranded knitting can seem a daunting prospect if you have never tried it. The truth is that it is one of the easiest and fastest of all knitting techniques. No matter how colourful or complex the knitting looks, only two colours are used at any one time – one for knitting the pattern stitches and the other for knitting the background. The colour not in immediate use is carried or "stranded" across the wrong side. Working in the round means that the pattern is always facing you so that you can easily see where you are going. Start with a small project and you will discover just how easy it is.
Our stranded accessory sets are ideal projects for developing your techniques. Begin with a cowl, like those featured in the Maud, Oregon Spring, Oregon Autumn, Mary Tudor and Diamond Jubilee Sets, where you will learn how to work a coloured rib and gain experience in knitting a charted pattern in the round. Then move on to a hat where you will learn how to double decrease within the pattern to form the crown shaping. Handwarmers and gloves are a further step in shaping and patterning where you will work palm and back patterns and shape a thumb gusset. Working the fingers of gloves is a lesson in intricacy. When you are done, not only will you have a beautiful accessory set, but you will also have a real understanding of the technique and you will be ready to tackle any larger stranded project that you fancy.
For technique progression the Capillifolium has a cowl with a higher neckline and a close fitting hat with stranded ear warmers. The Marina Hat Set cowl also has a higher neck and an opening down the front, so this project introduces a steek. The Wave Hat Set cowl is made with openwork beyond the rib, and the Merveille du Jour allows for a much larger project, with a poncho instead of a cowl.
For a bit of a difference from the sets with cowl included we also have the Hat Trick, three beautiful hats with complementary colours, the St Agnes Eve with a pocketed scarf, and the Witch Hare with a beret and mittens.
The Hawk & Hound Hat Set is a very quick project, which involves using 2 and 3 Ply Hebridean Yarn to create a cosy neckline. You can also combine projects by making a matching Shoreline Scarf which picks up one of the colours in the project. The Hawk & Hound is shown here with a Driftnet Scarf in Tormentil and the Oregon is shown with the Seaweed Scarf in Sea Ivory.