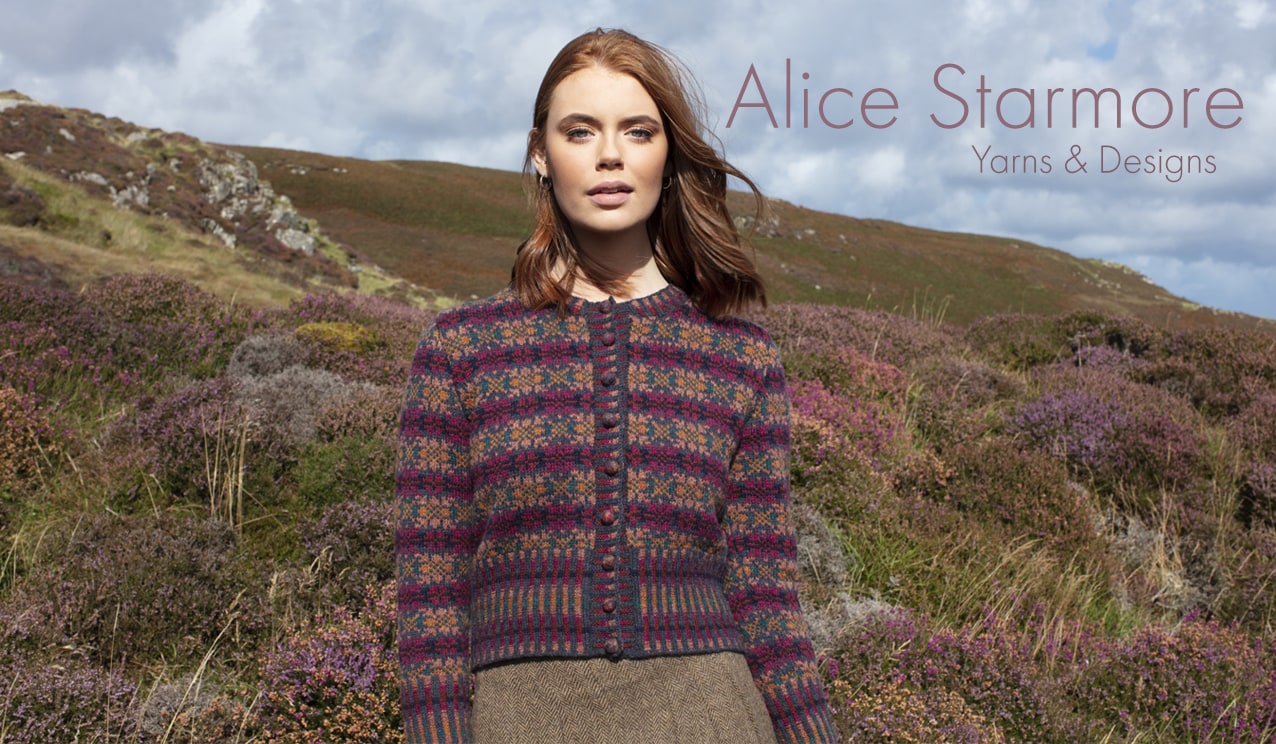 2019 was a major year of colour, from the addition of a variety of stranded patterncard kits and yarn packs, to multiple photoshoots. We began in January with the Marina Hat Set patterncard kit – a beautiful splash of red and blue against the ocean. We photographed it on Emma in front of the tide on the turn, which always creates a dramatic backdrop of waves.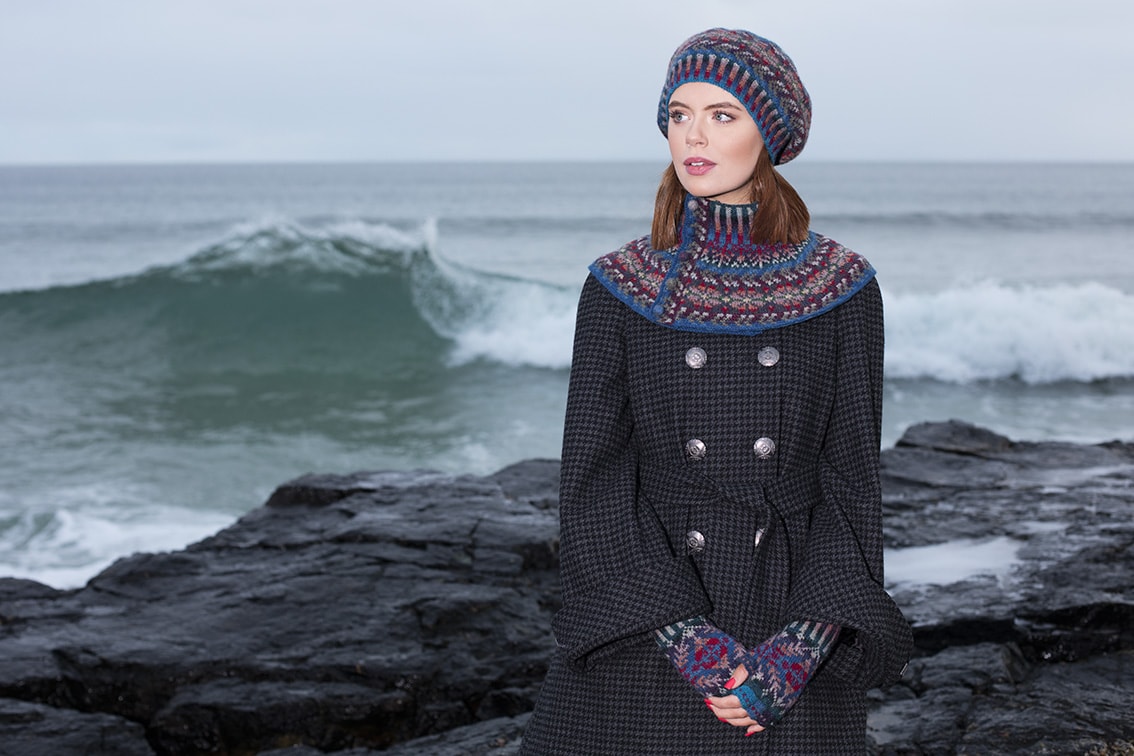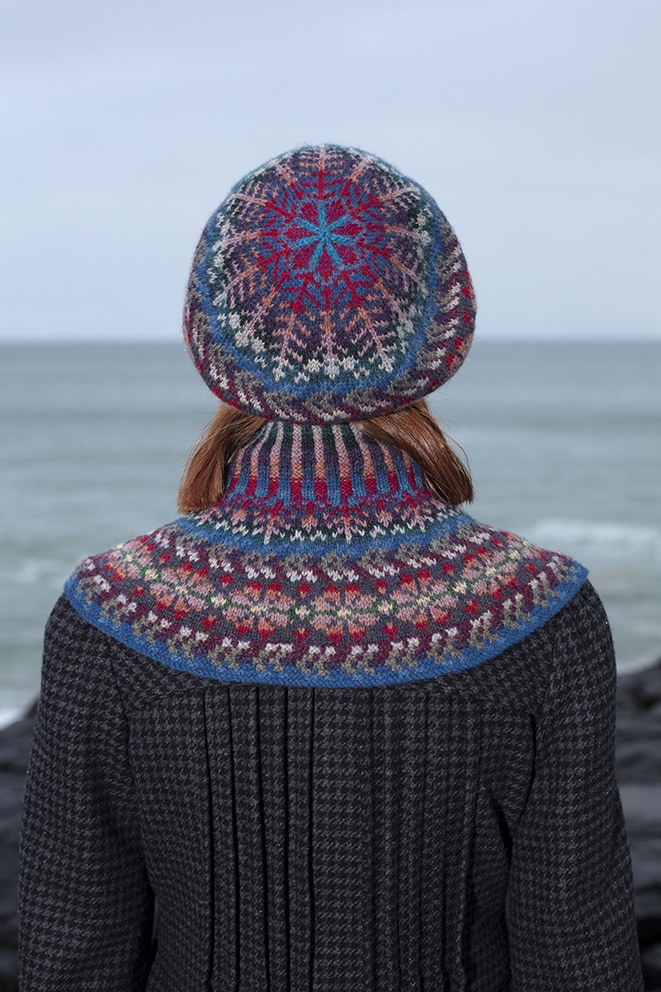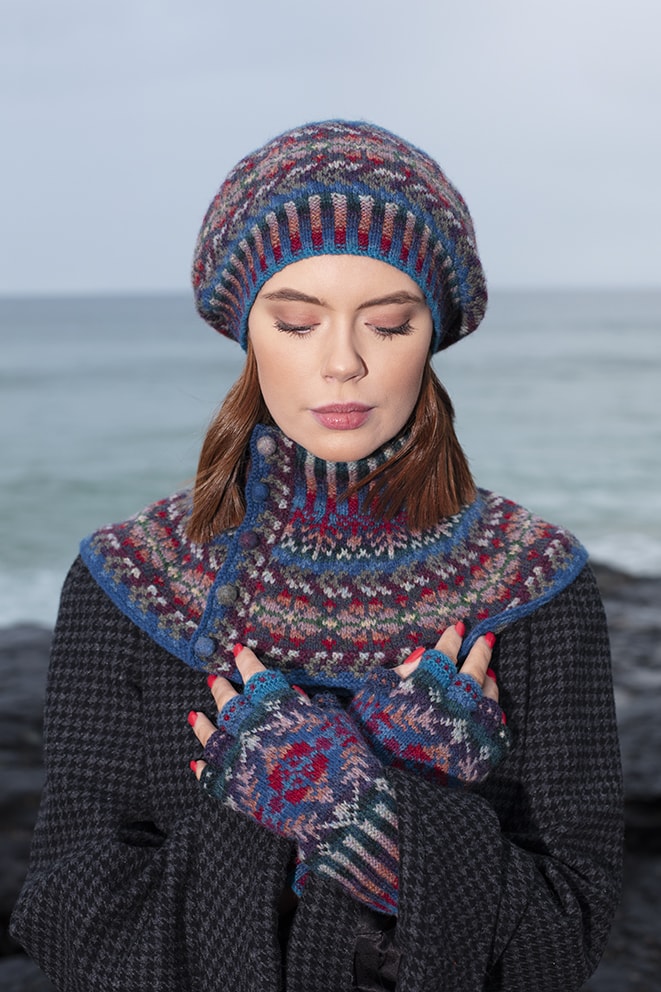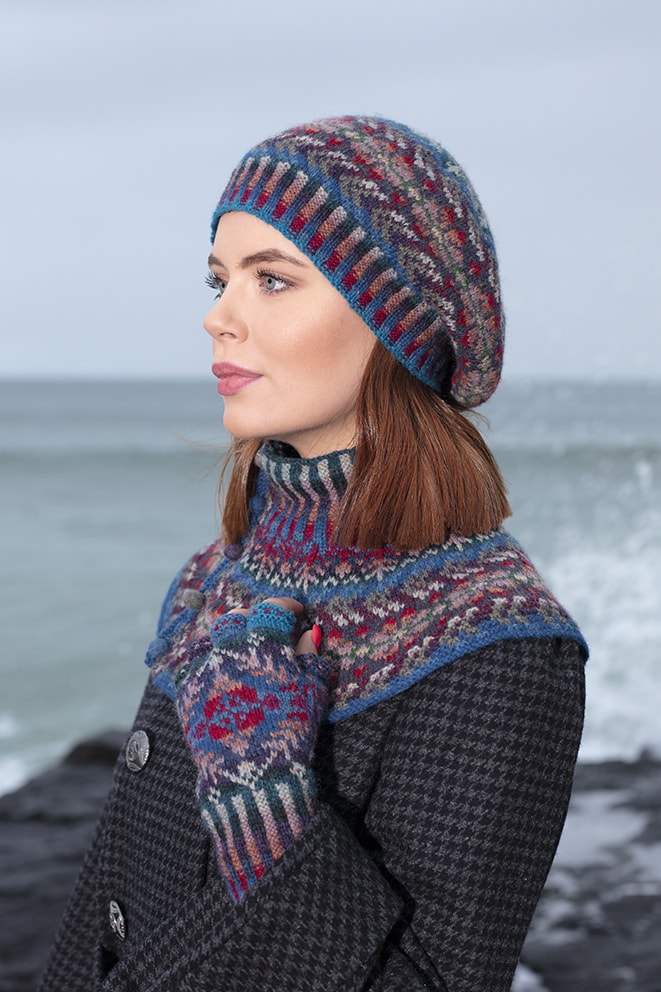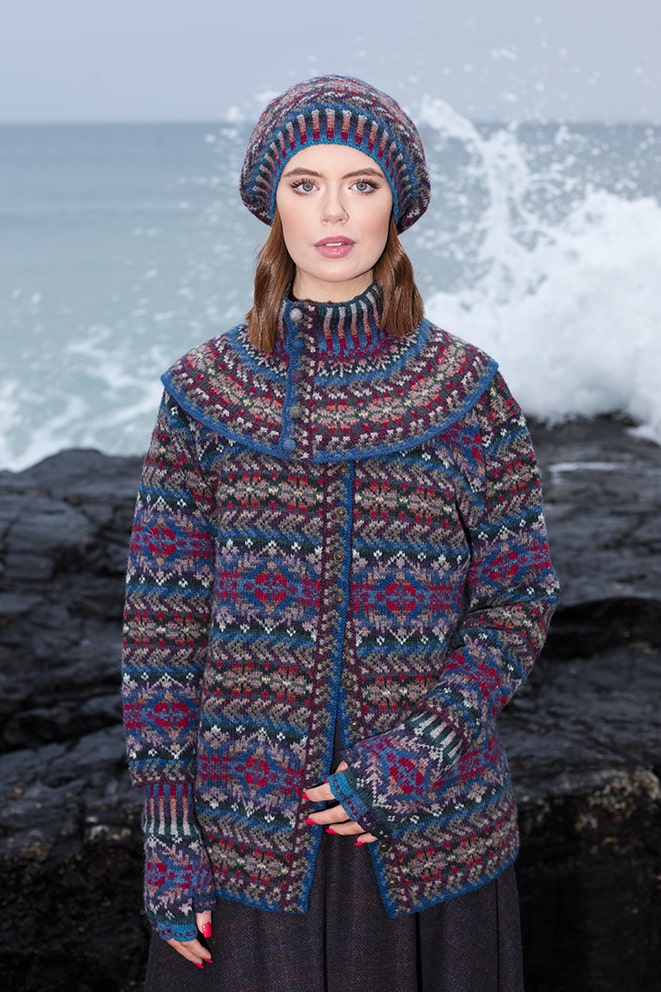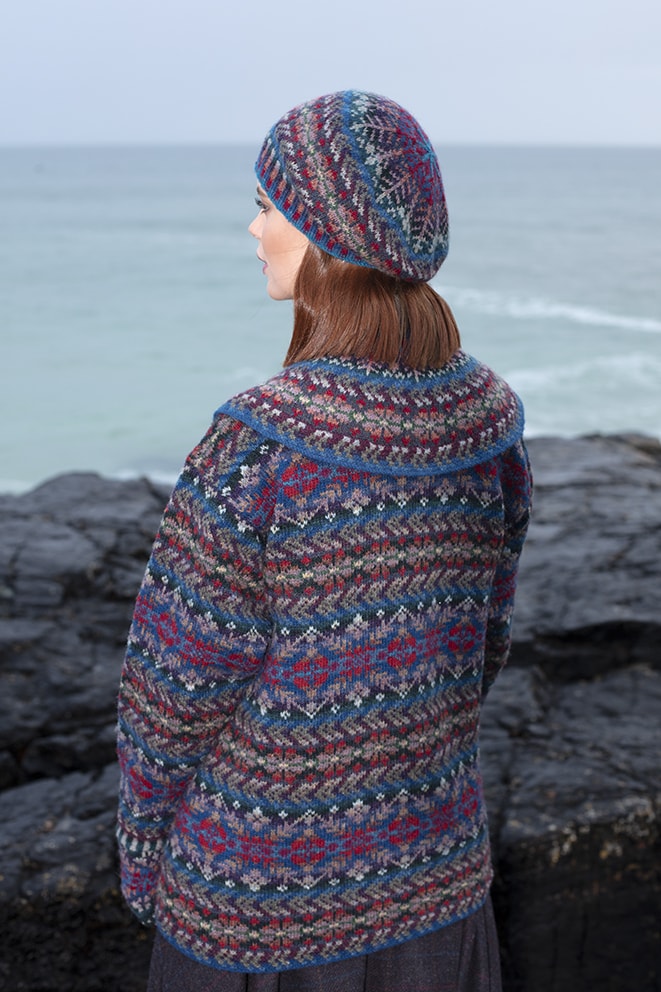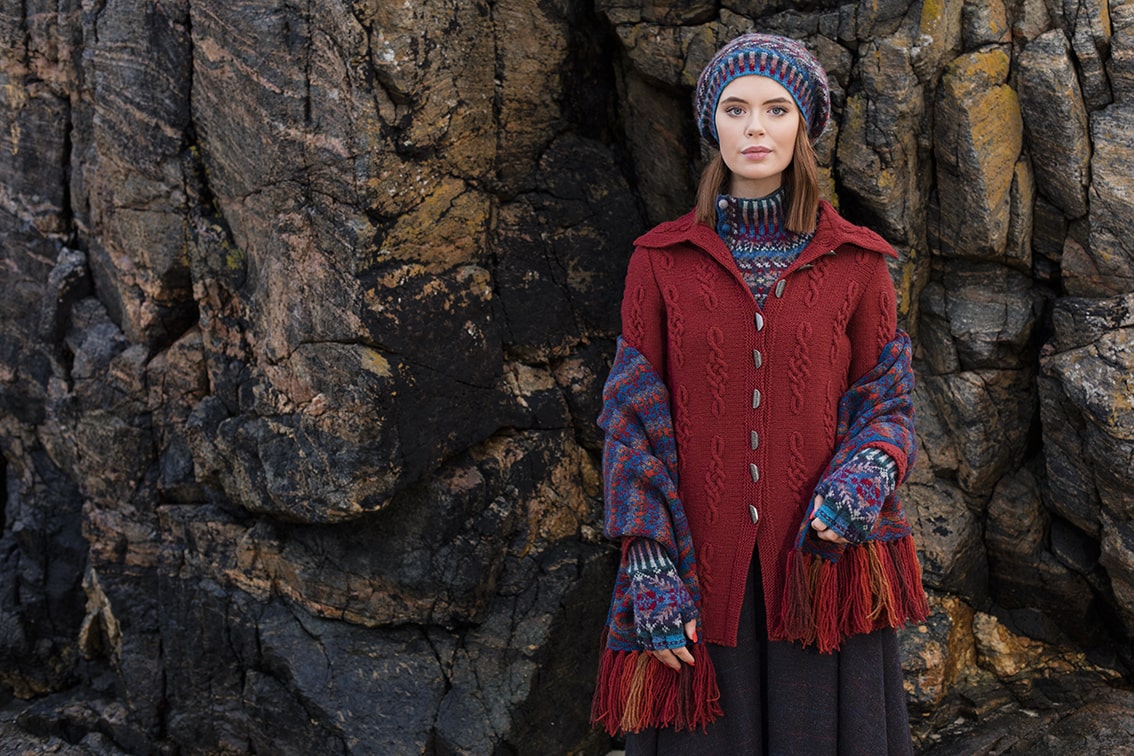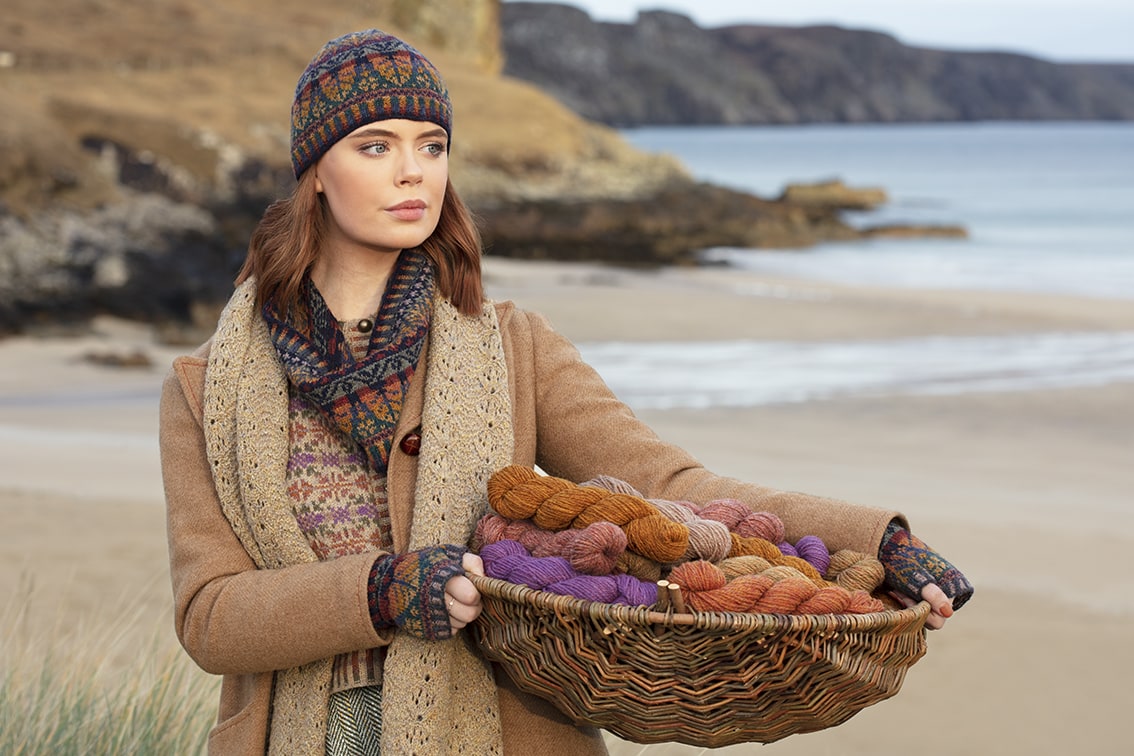 The weather was with us for our Winter photoshoots, and we had the perfect light to show off a variety of our patterncard designs, as well as our lovely Hebridean yarn.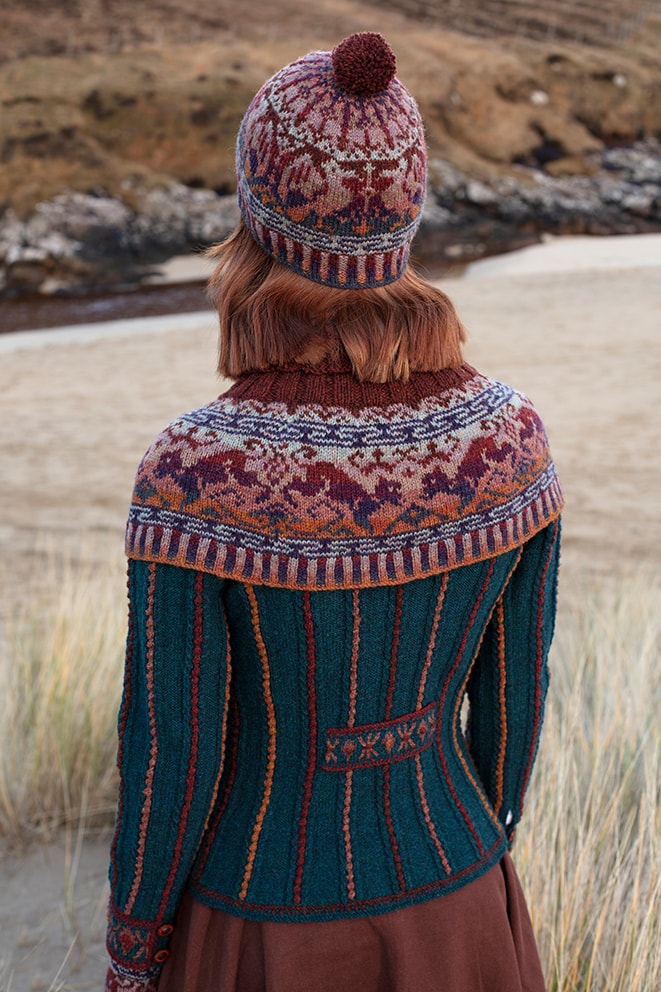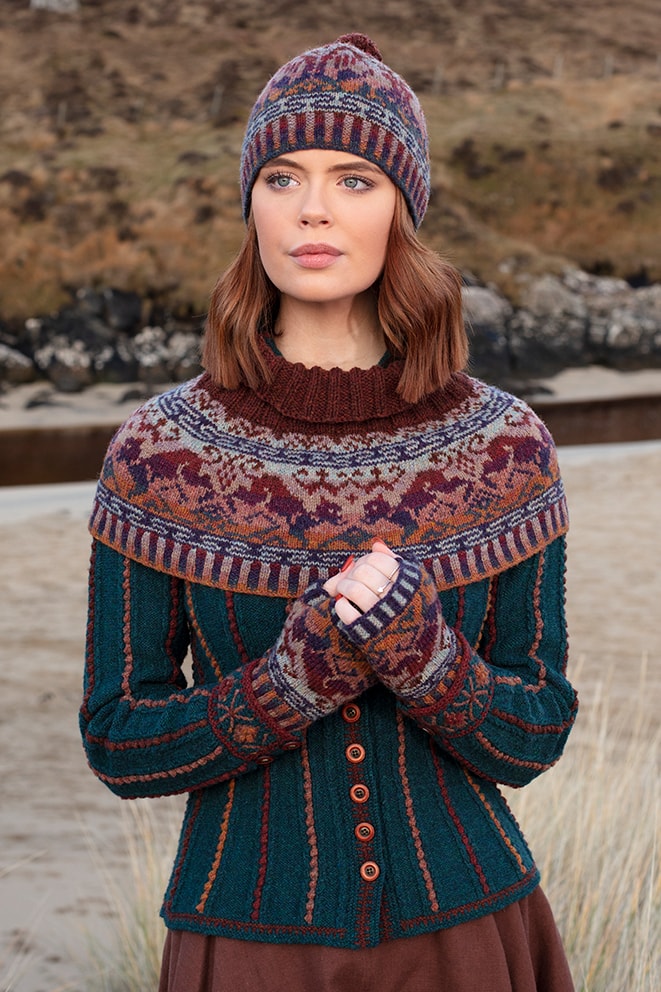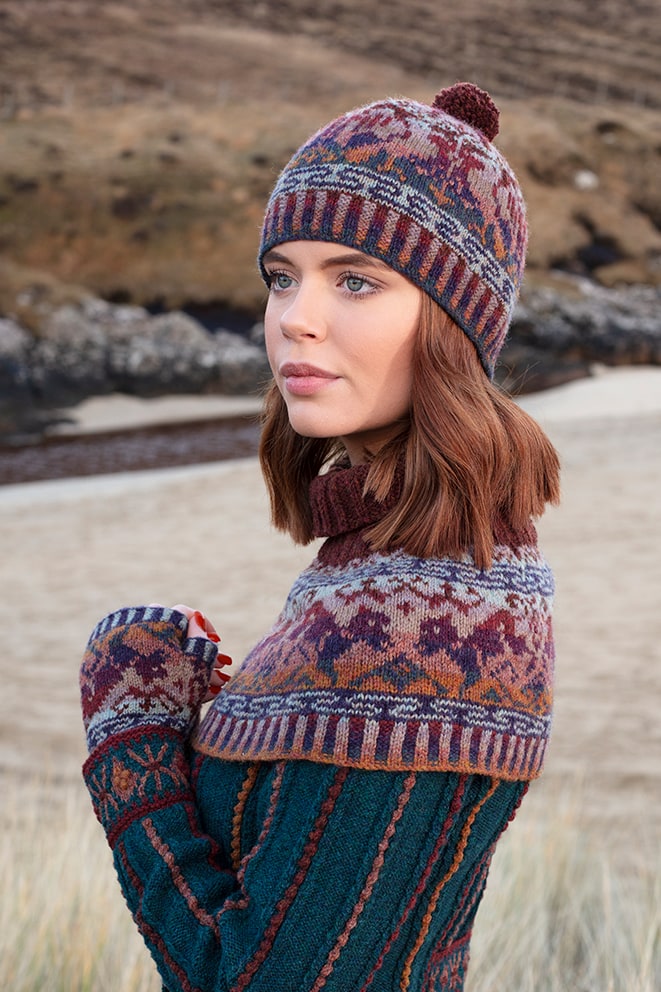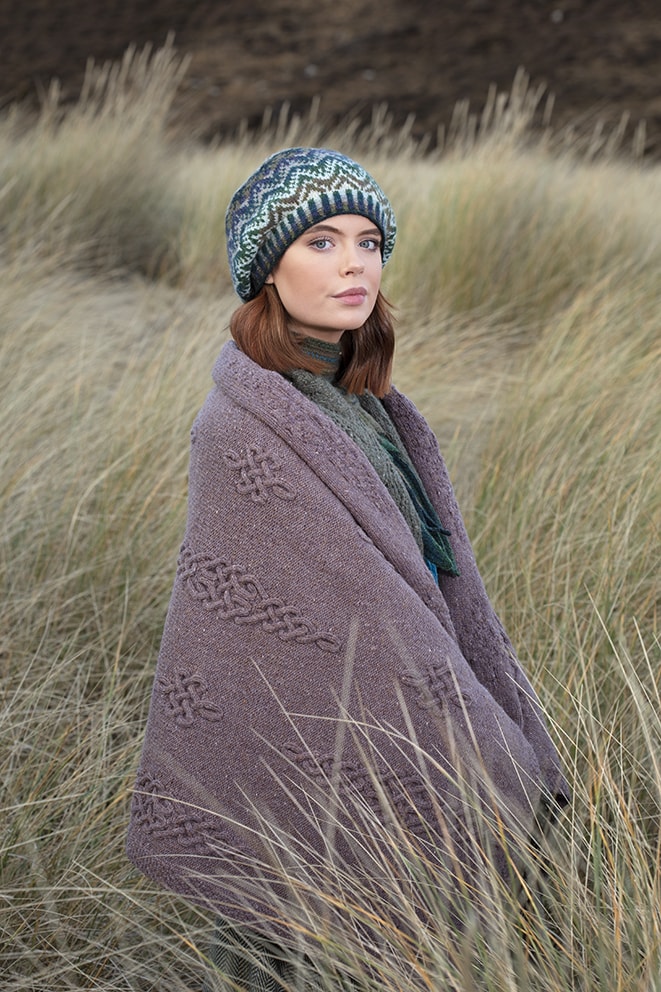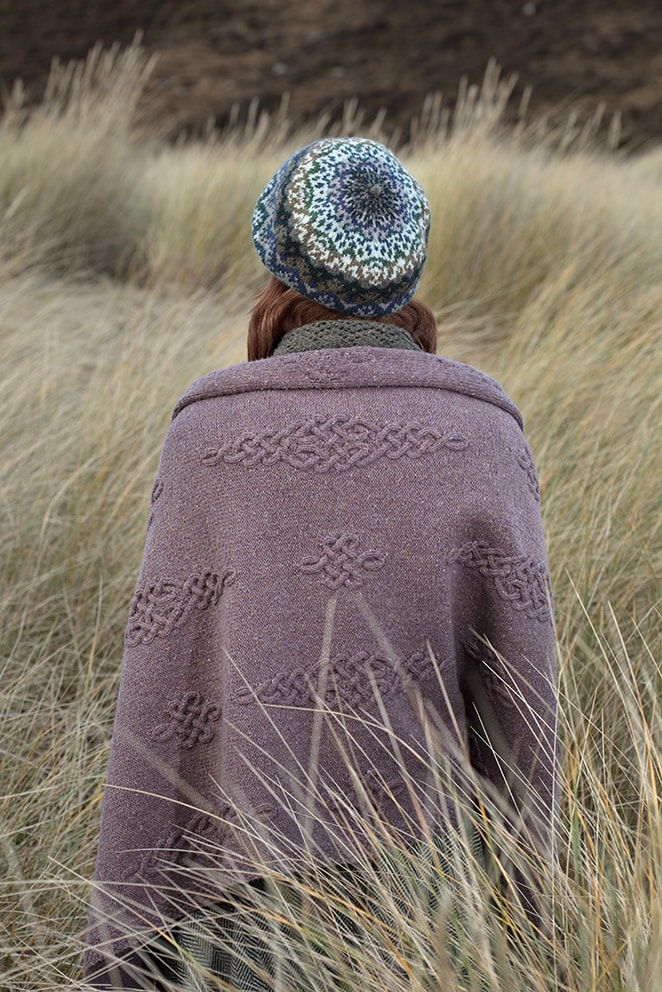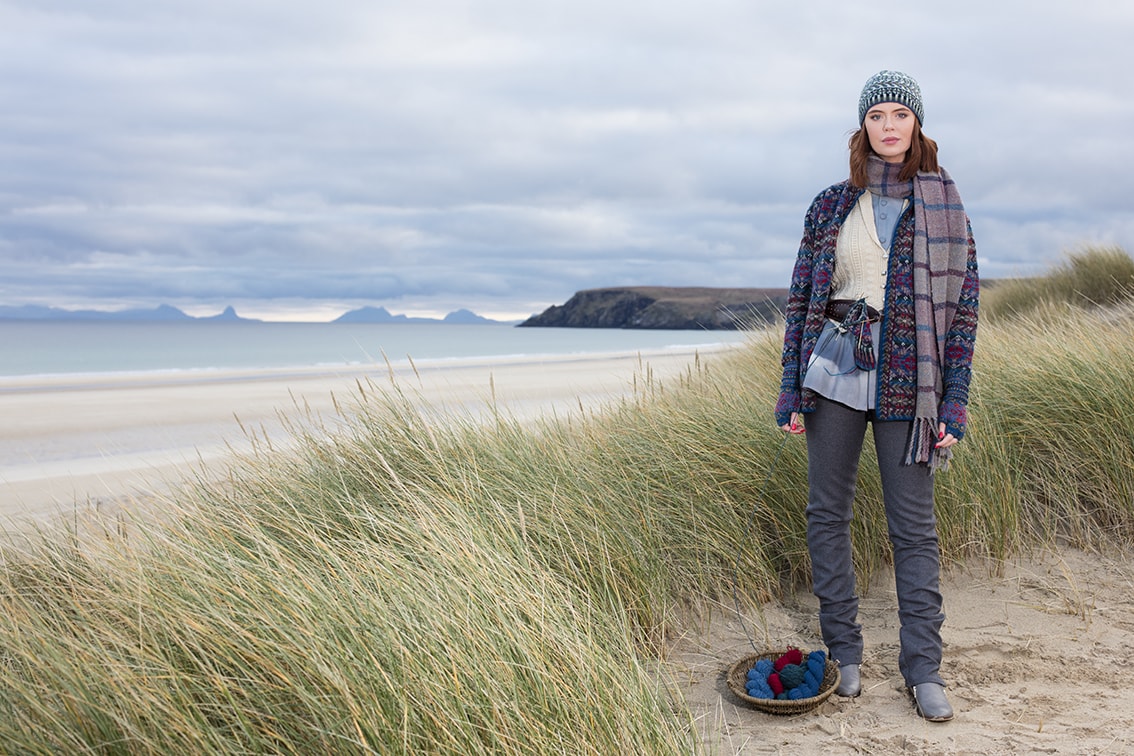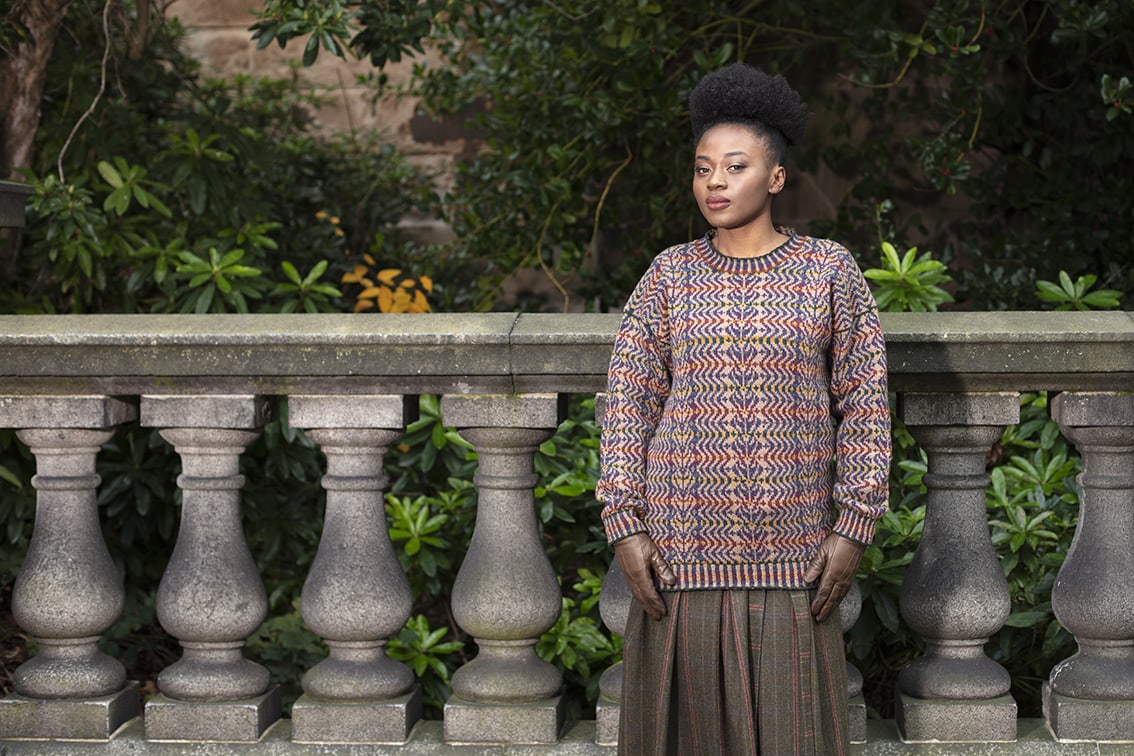 Feburary brought the Selkie Pullover patterncard kit, taking the Selkie cardigan design from Glamourie and turning it into a unisex pullover in a new Shore Colourway. We photographed it on both Doris and James to show its versitility.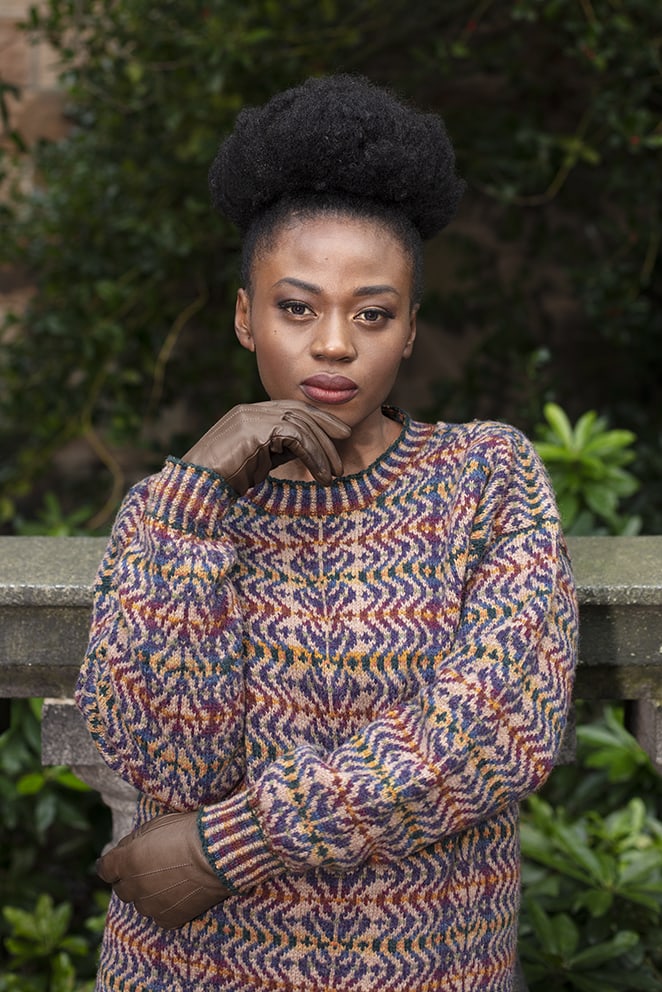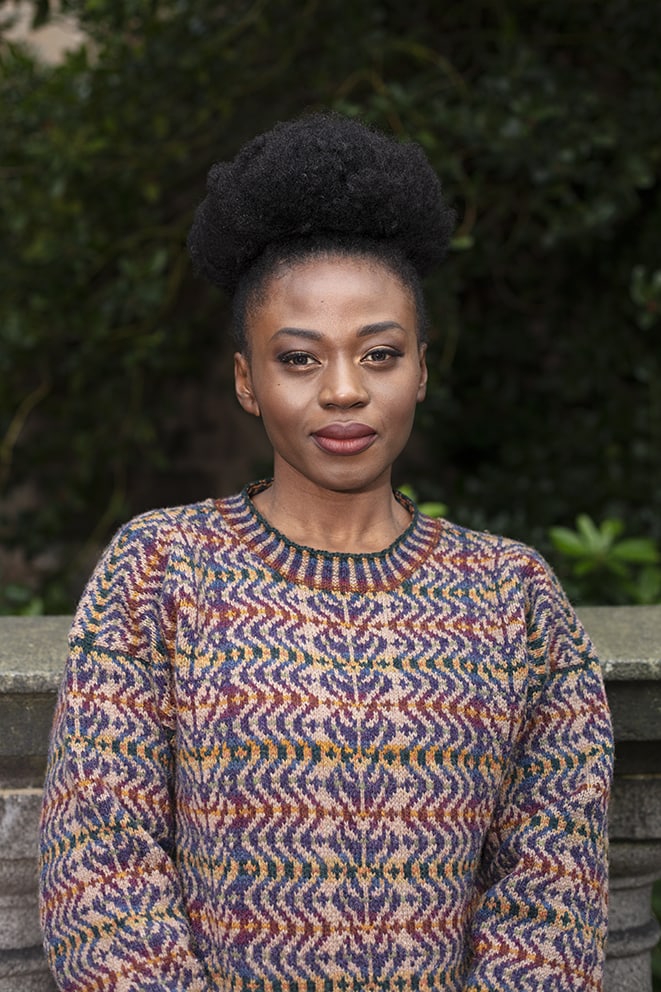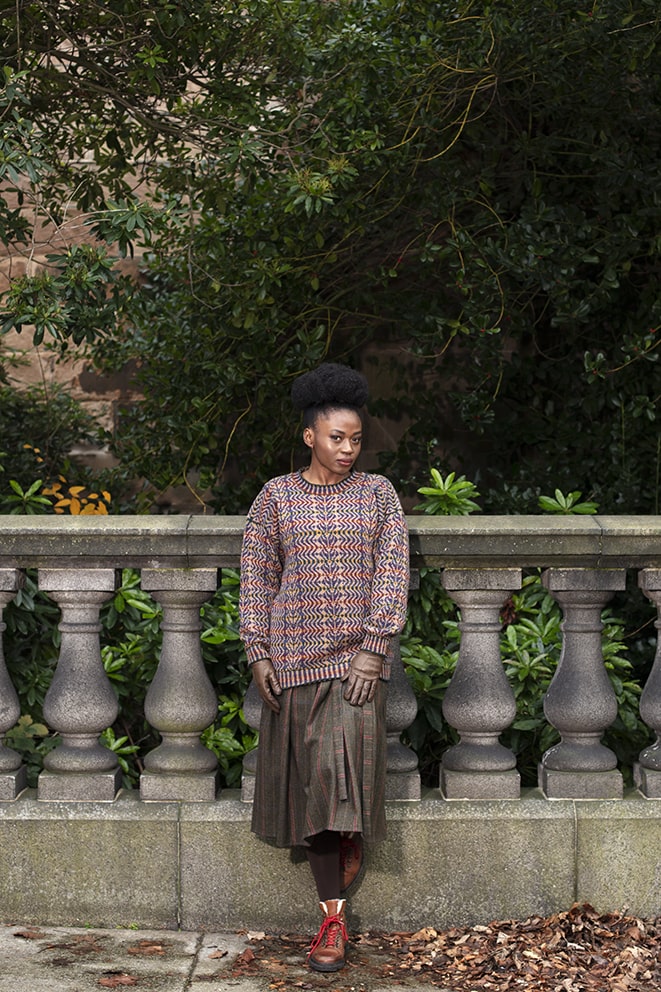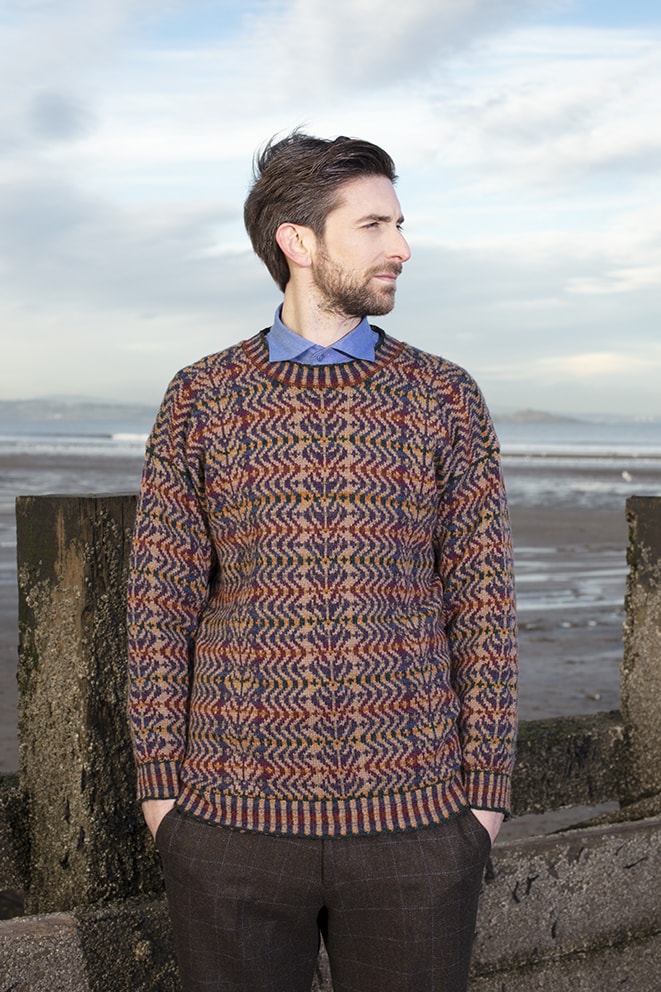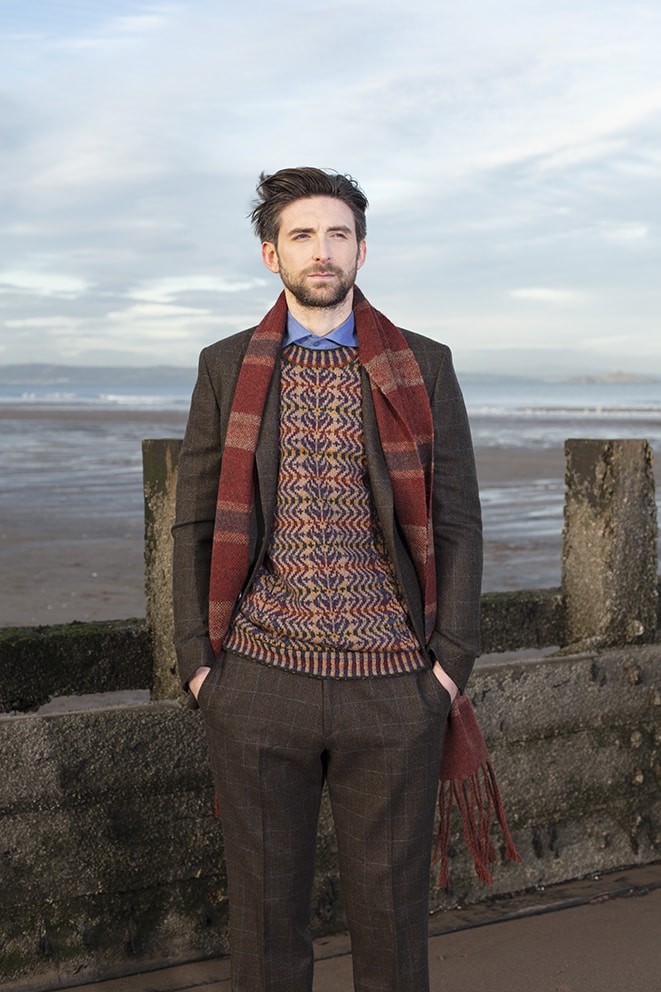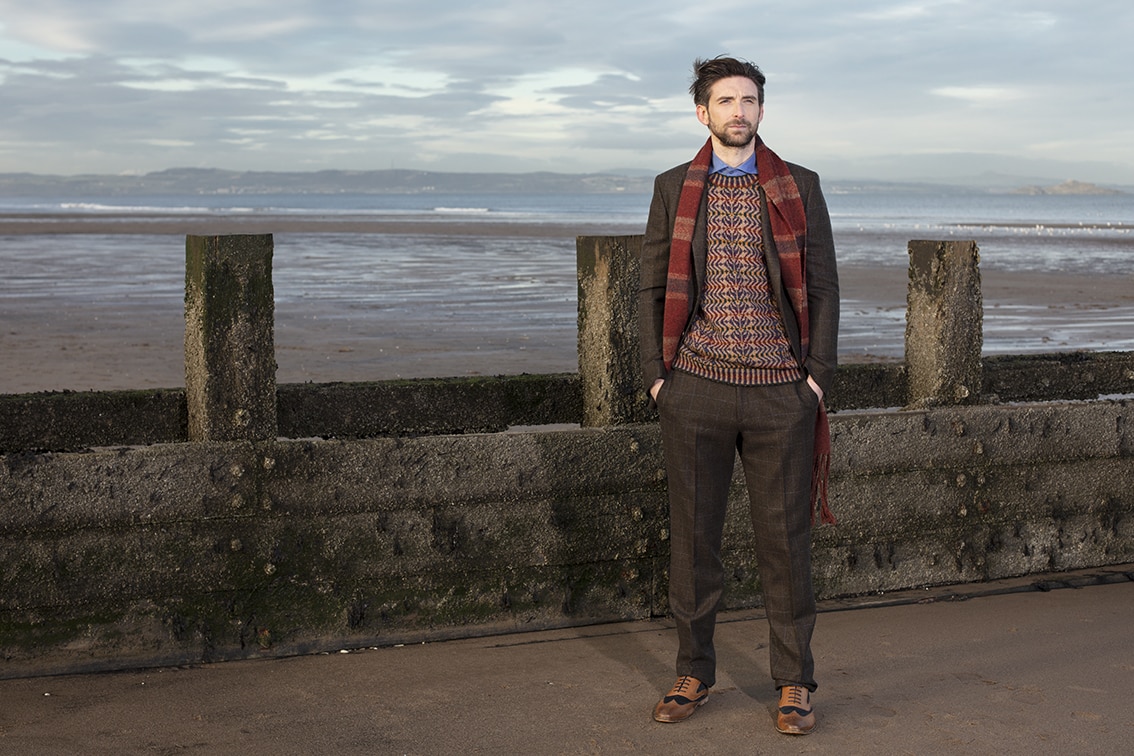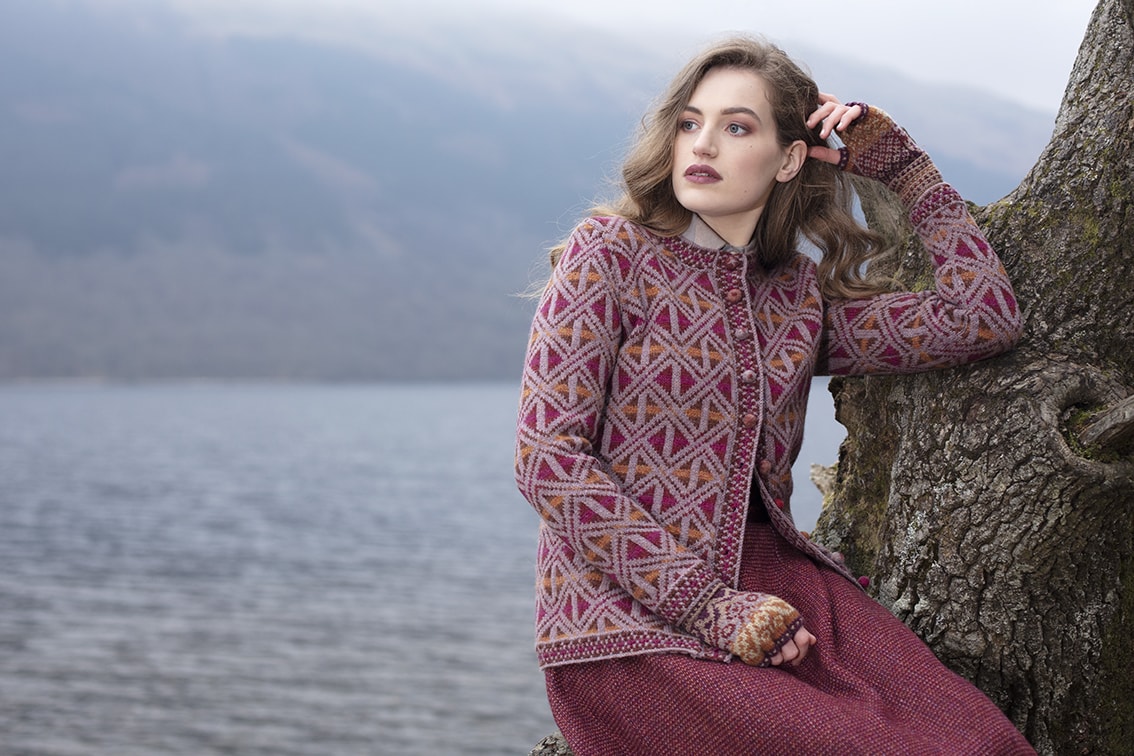 Rosemarkie appeared in March in two colourways and styles. The cardigan with set-in sleeves was styled with a high-waisted skirt made by Jade from specially commissioned Harris Tweed. We photographed the waistcoat in a larger size on both Rachel and James.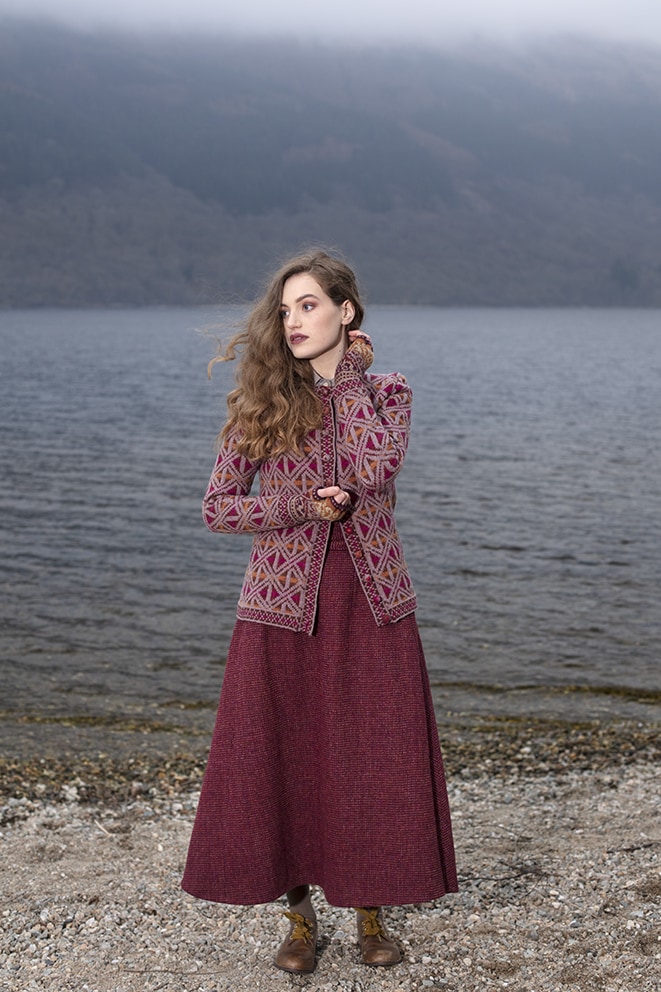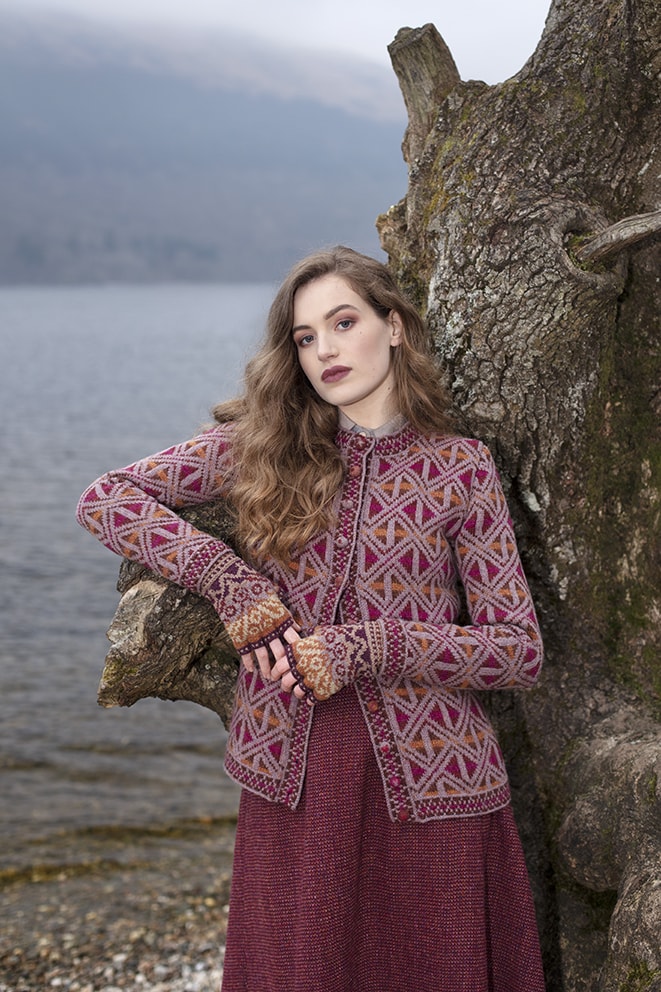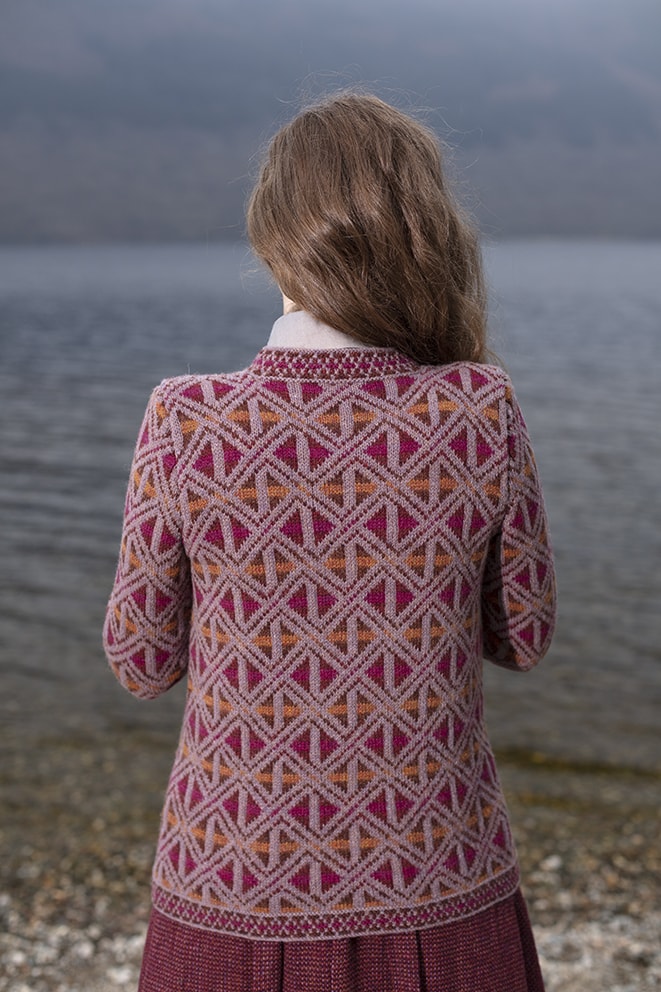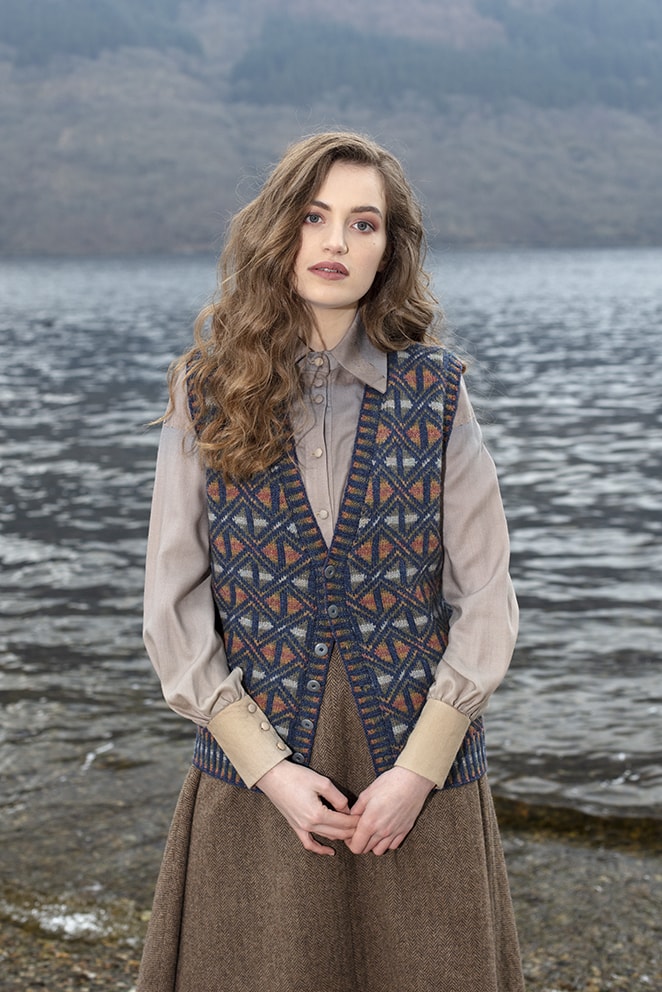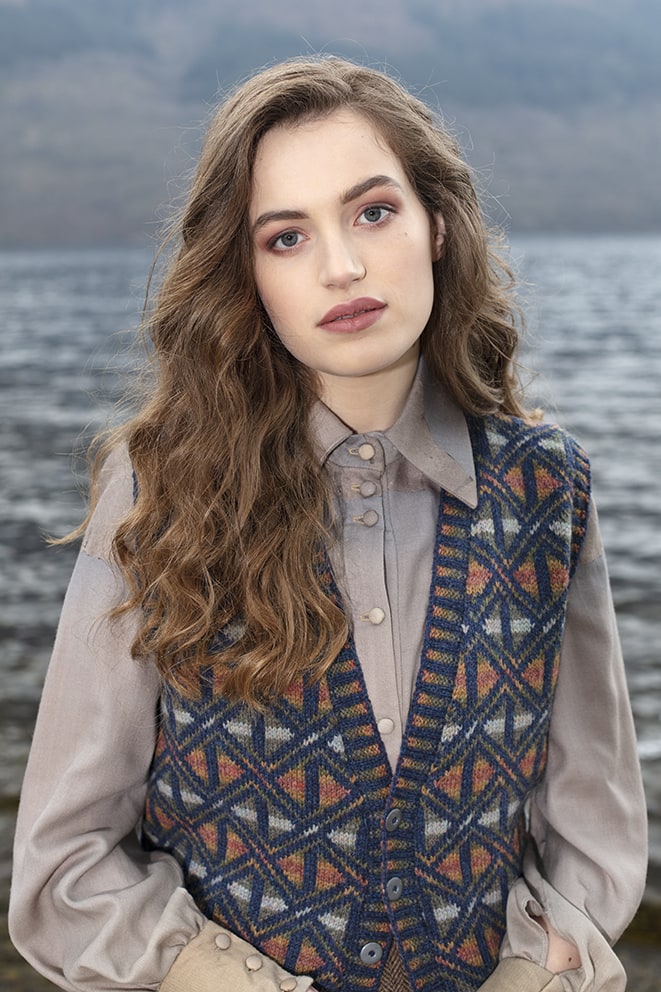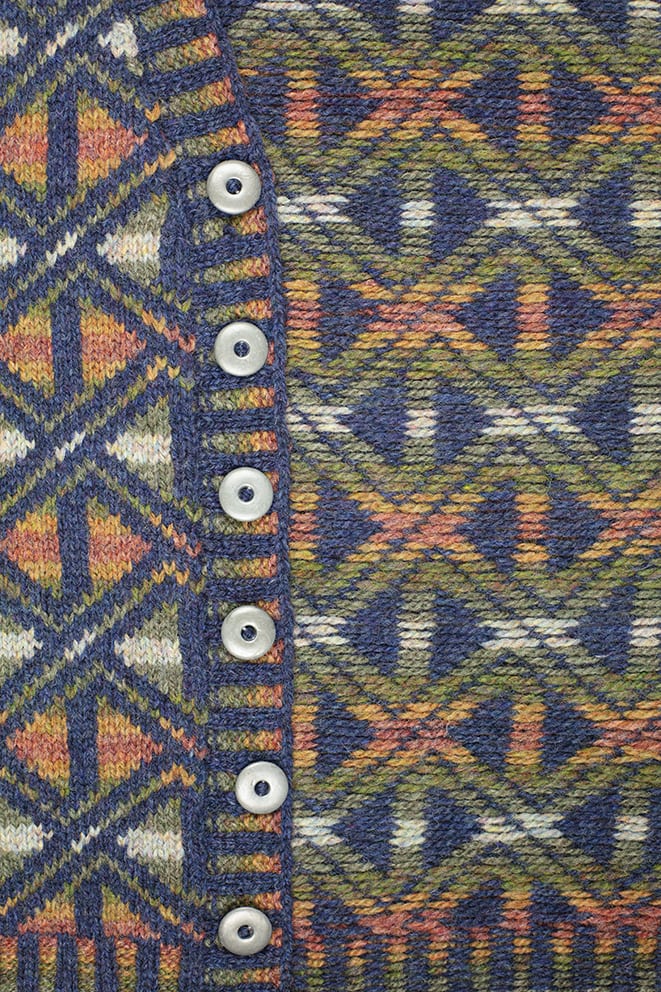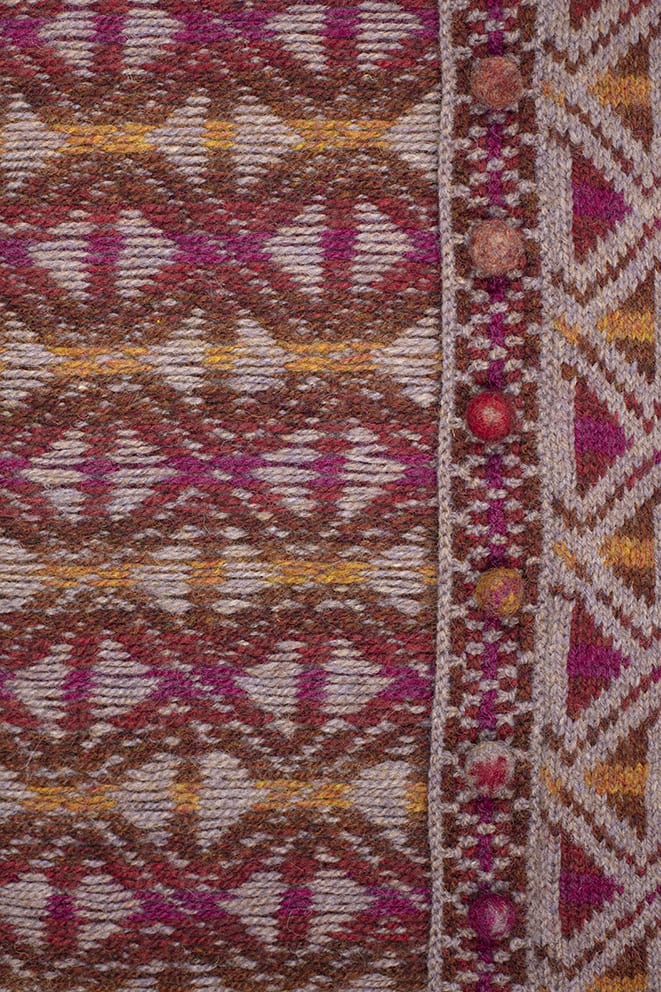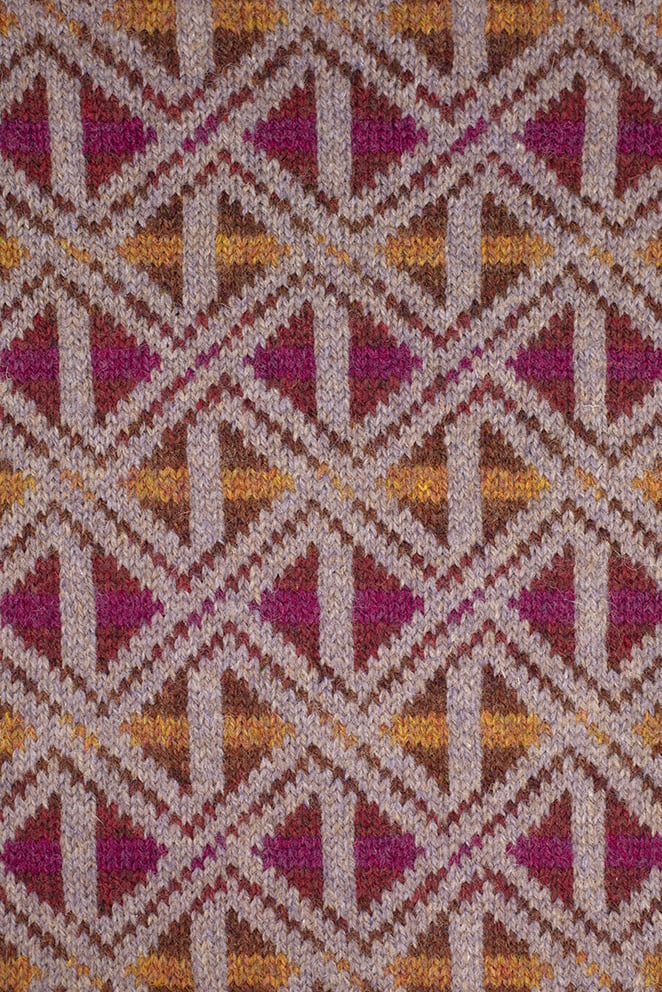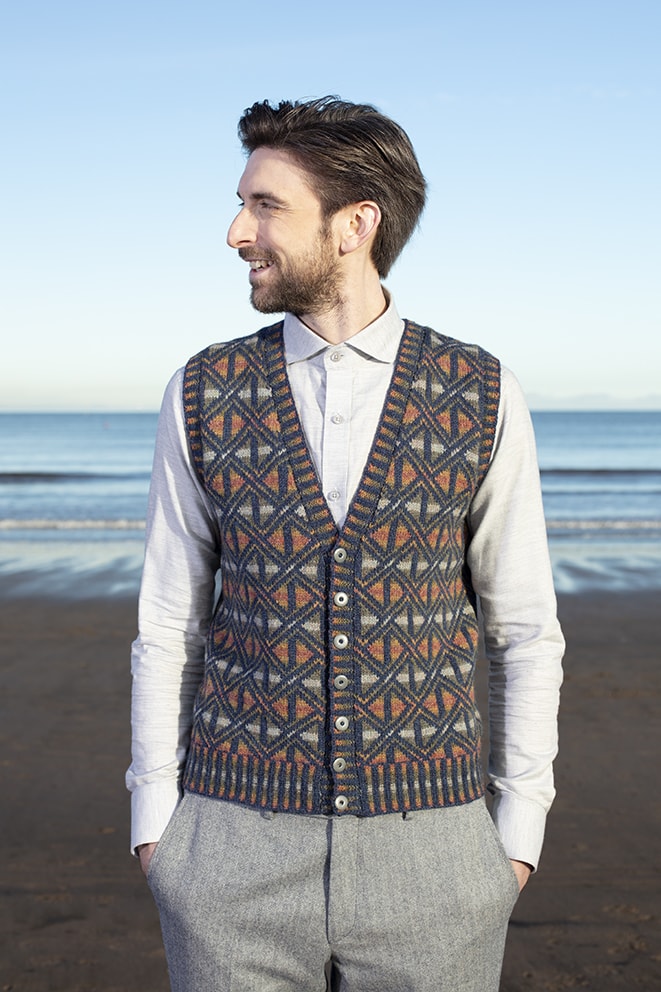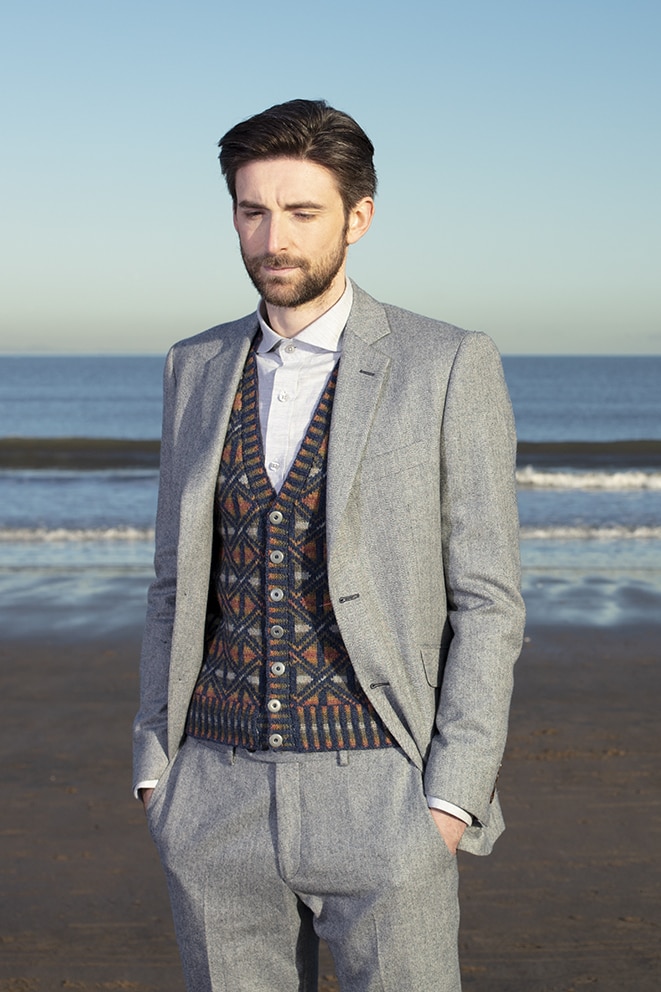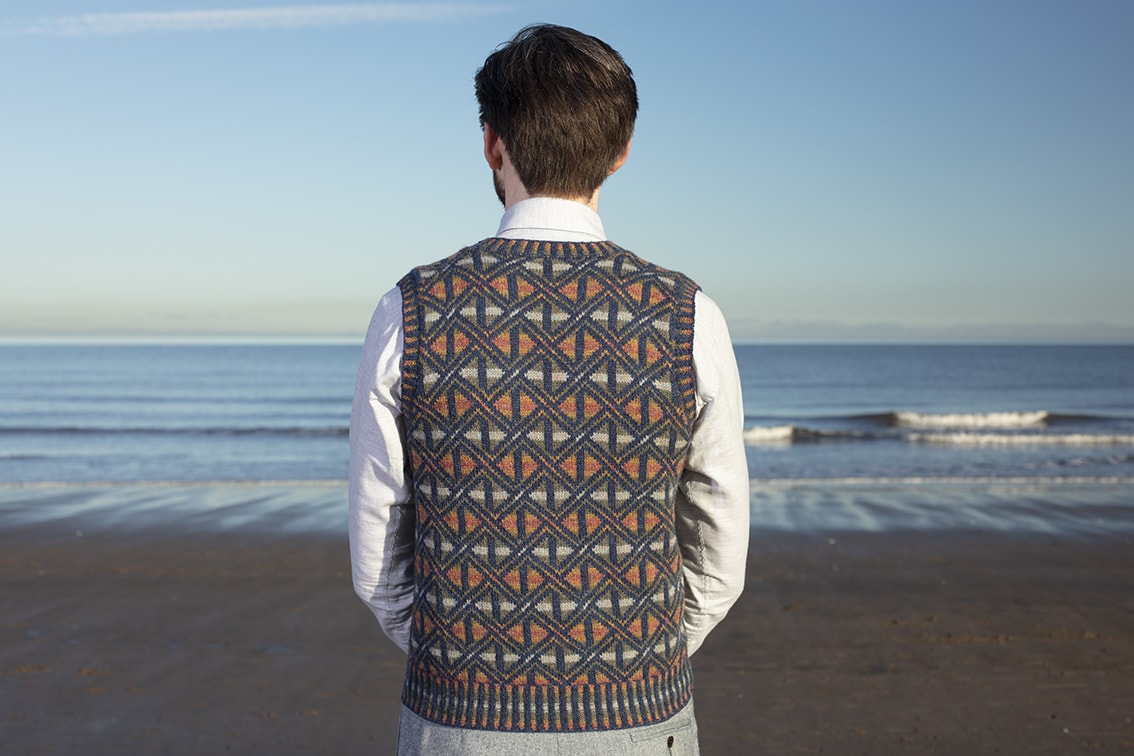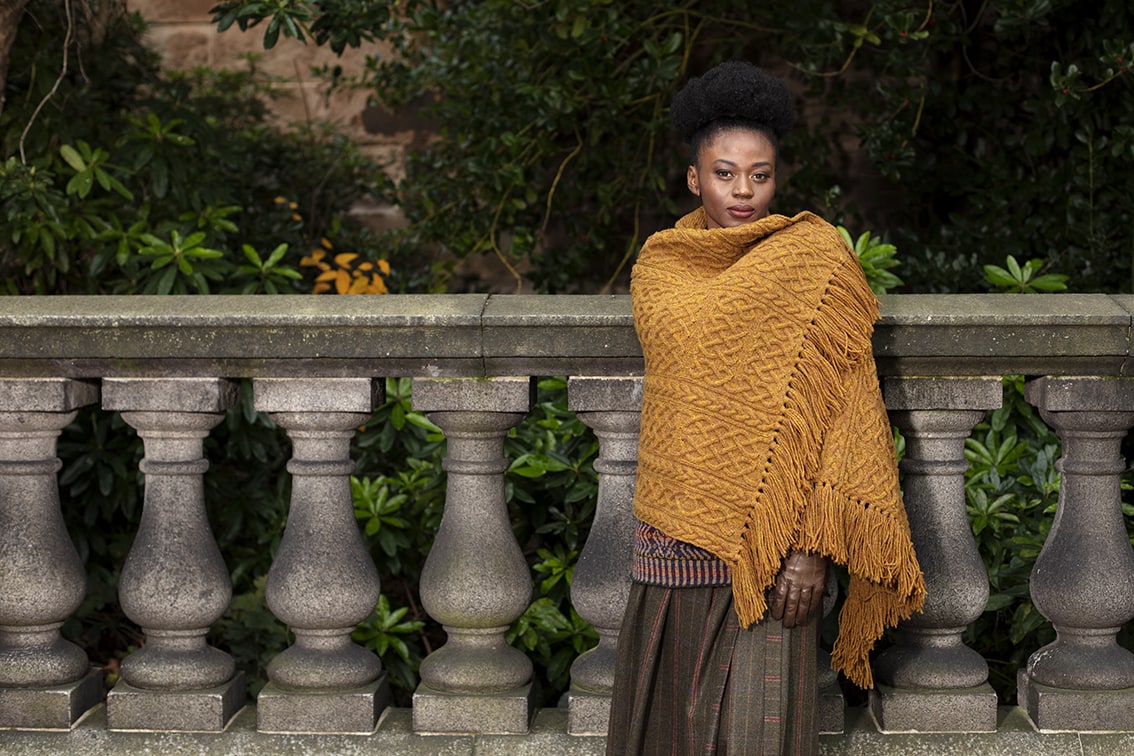 We also showcased some of the Aran Knitting designs thanks to shoots with Doris, Emma and Thomas. We were able to add substantially to the product imagery for these garments, helping show their textures in great detail.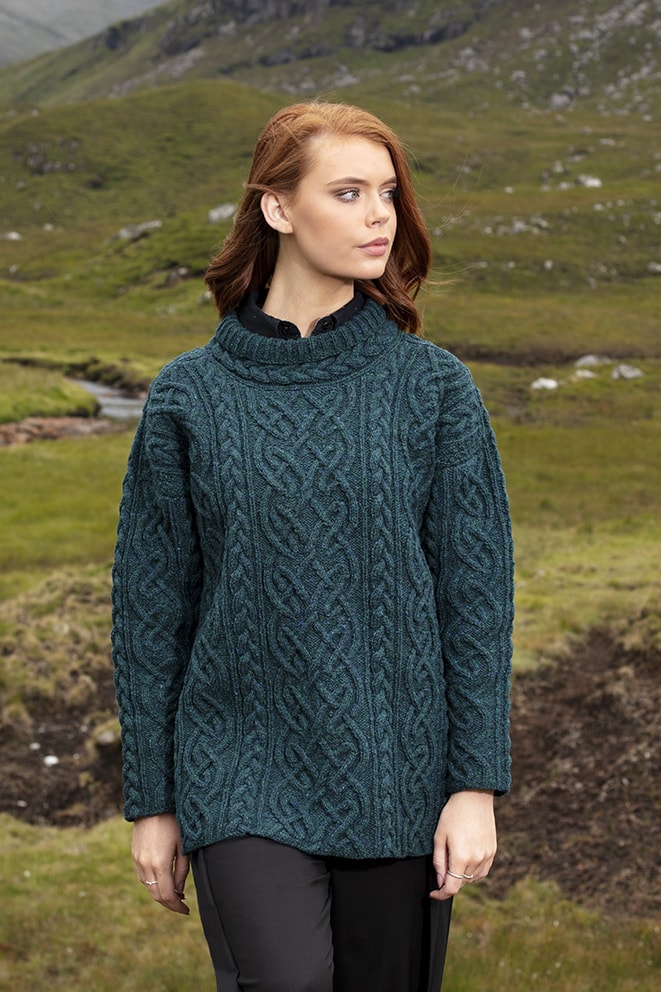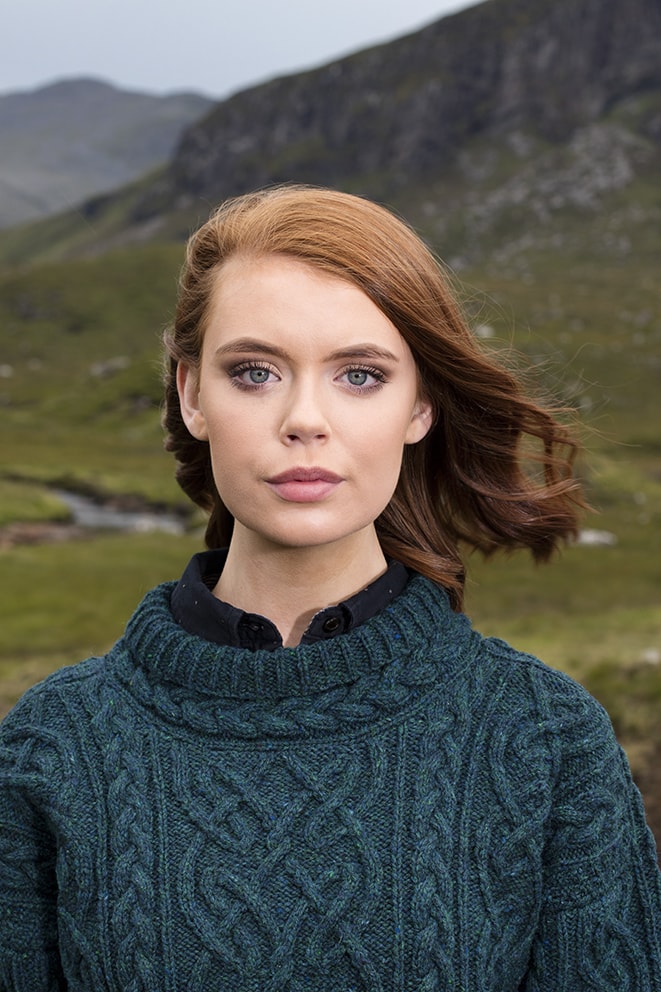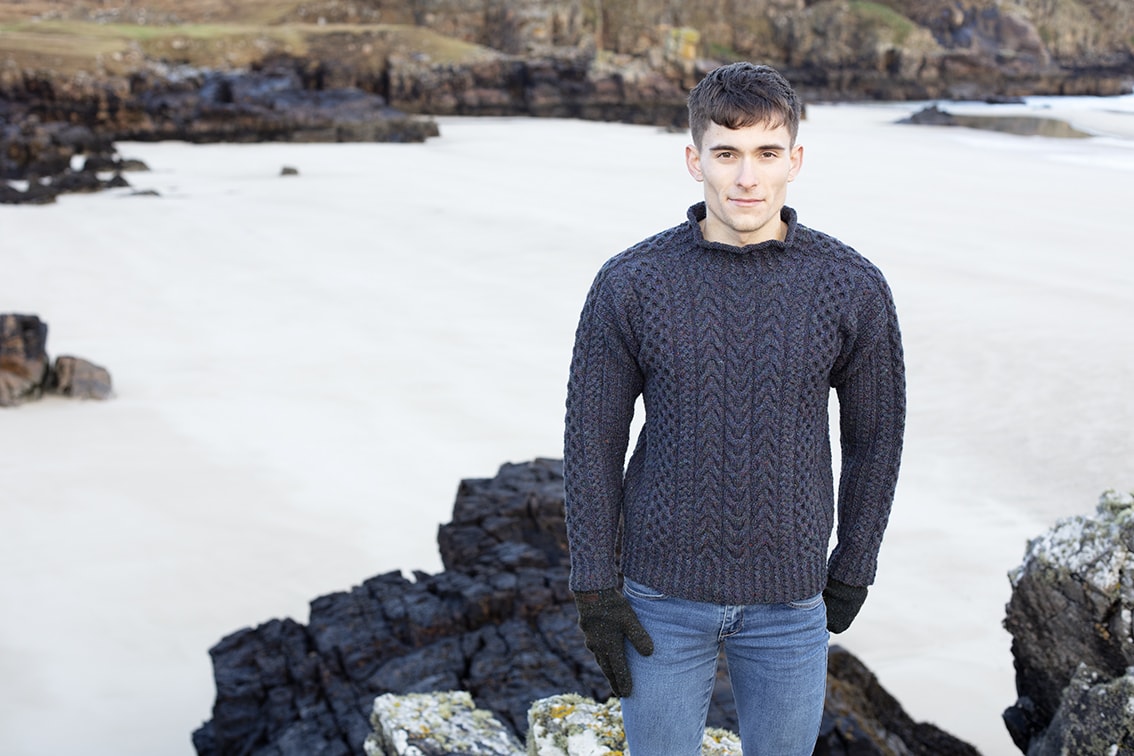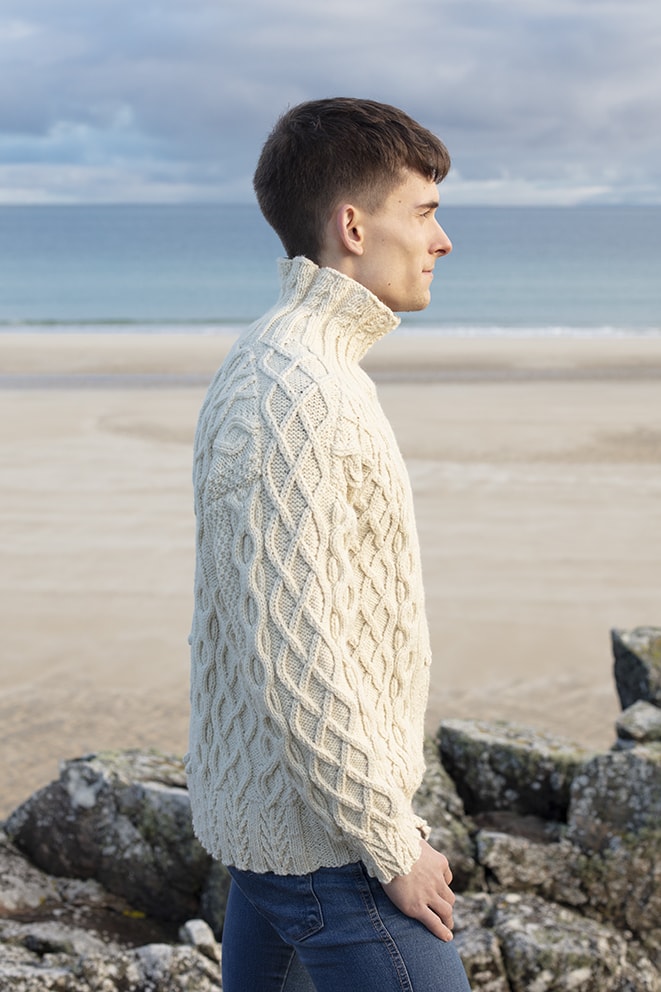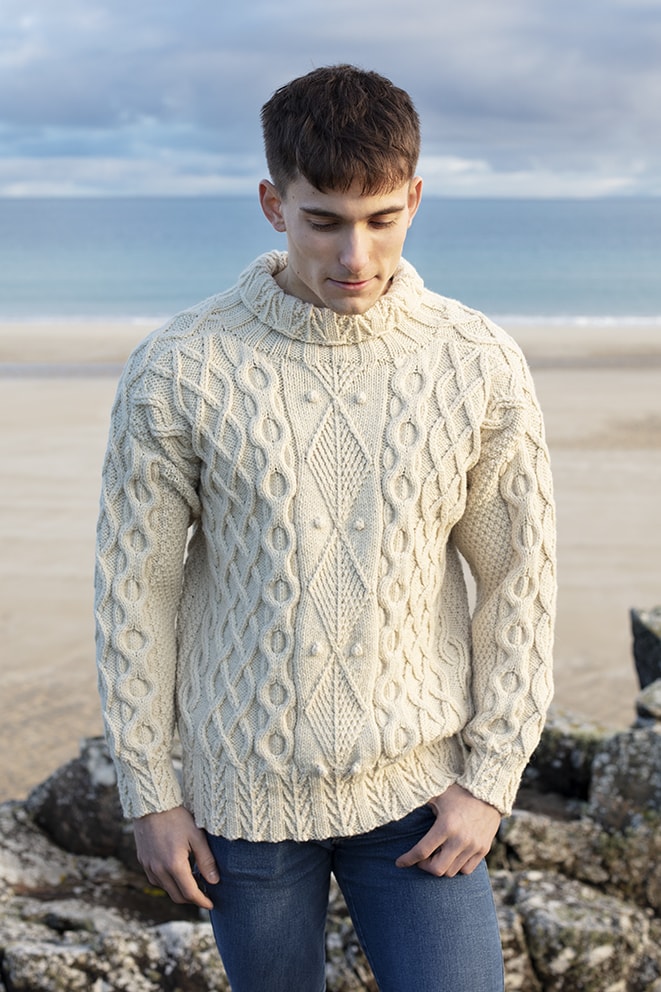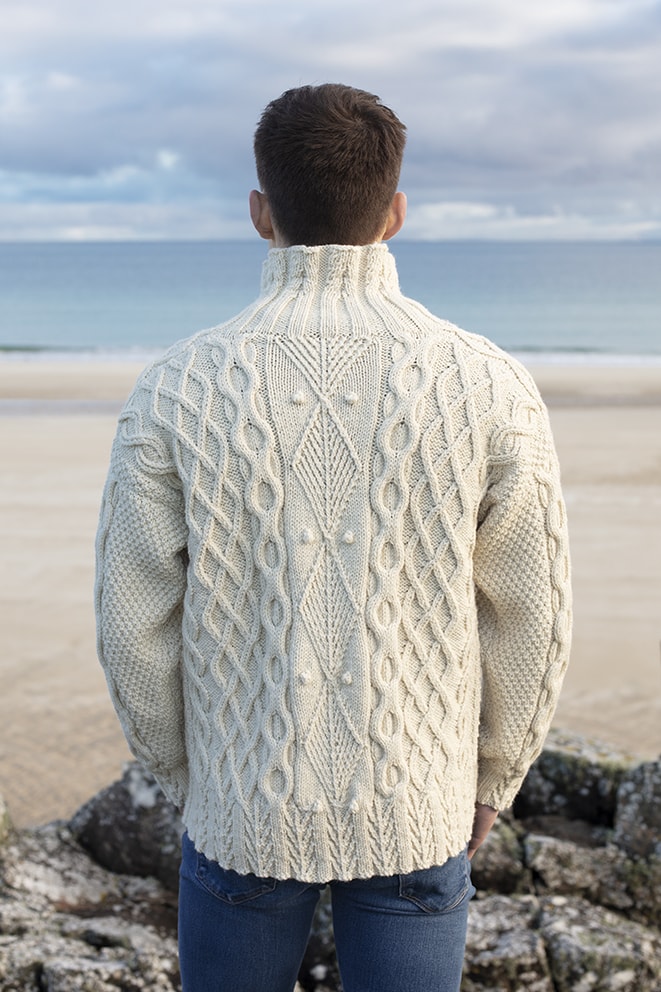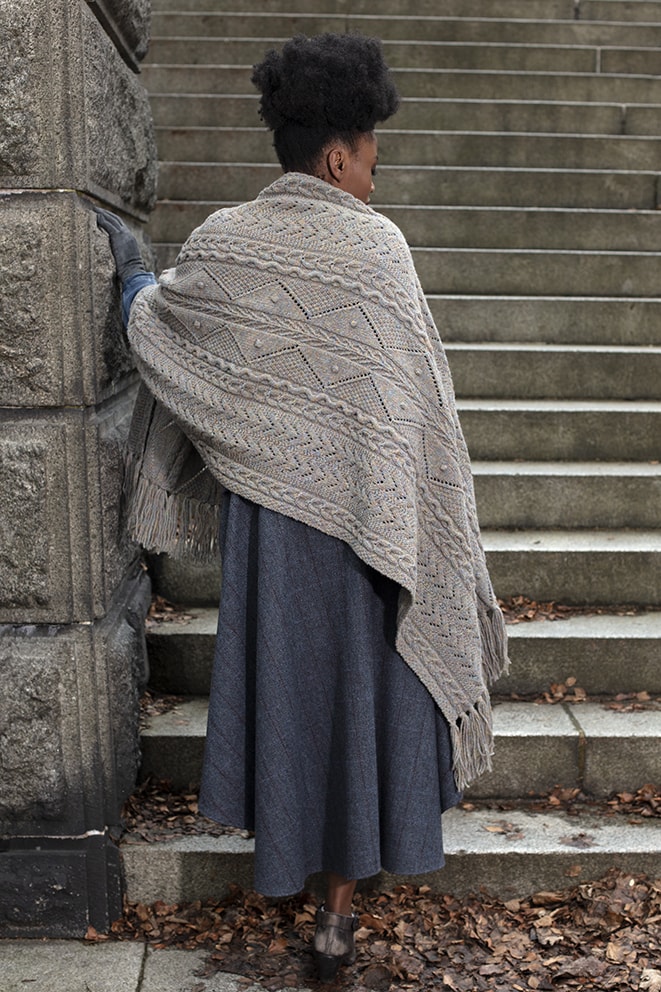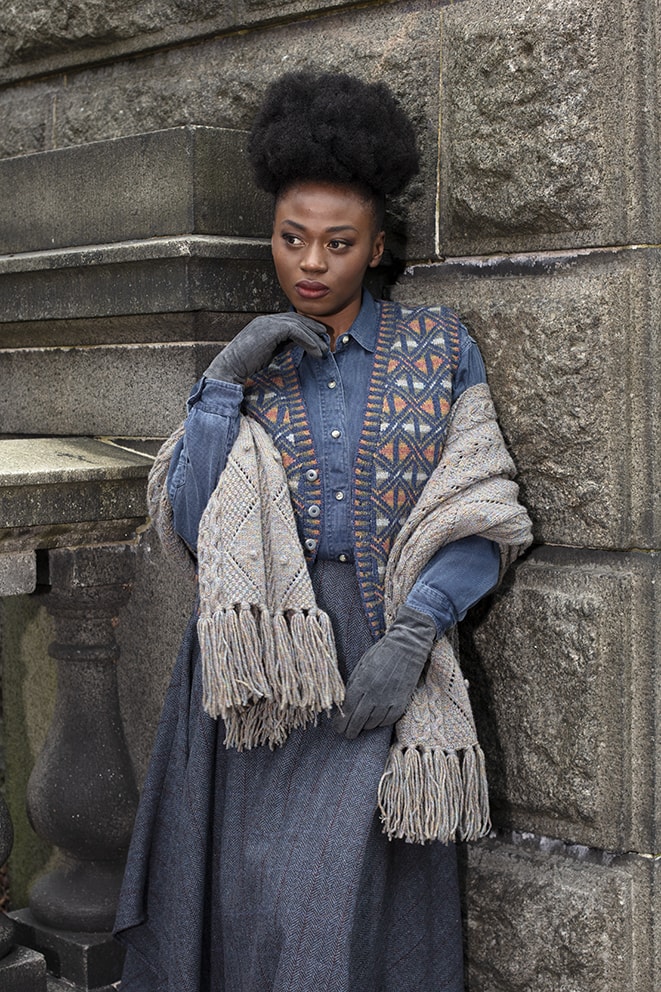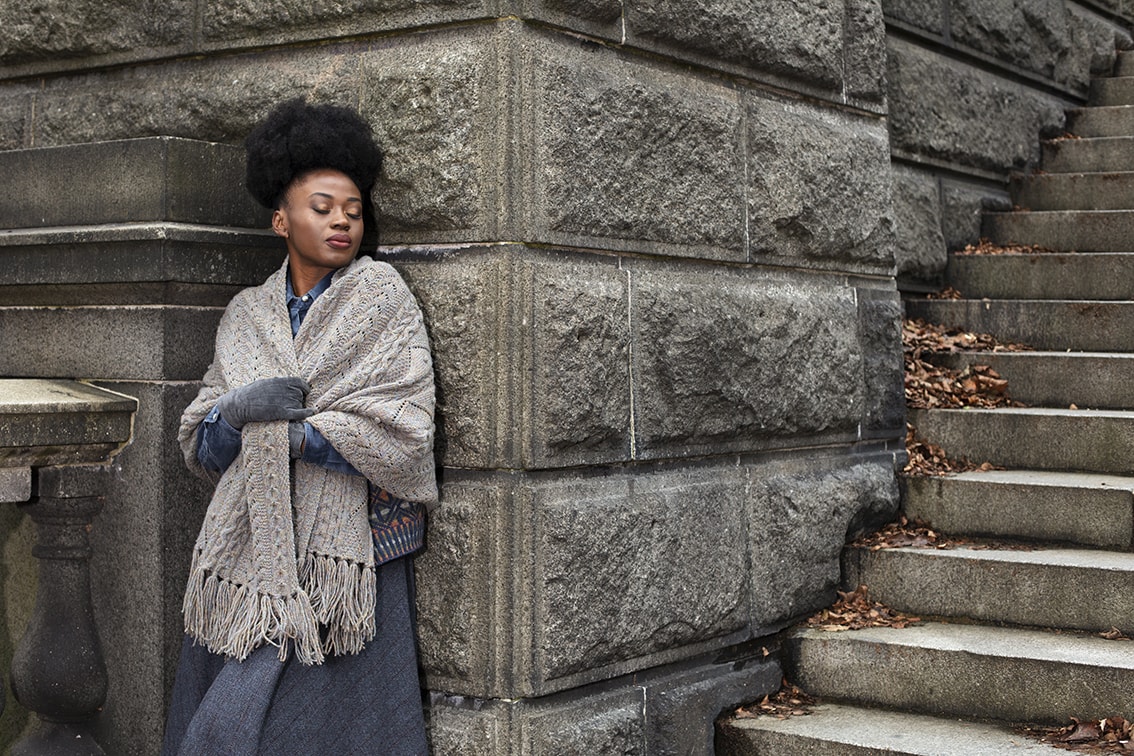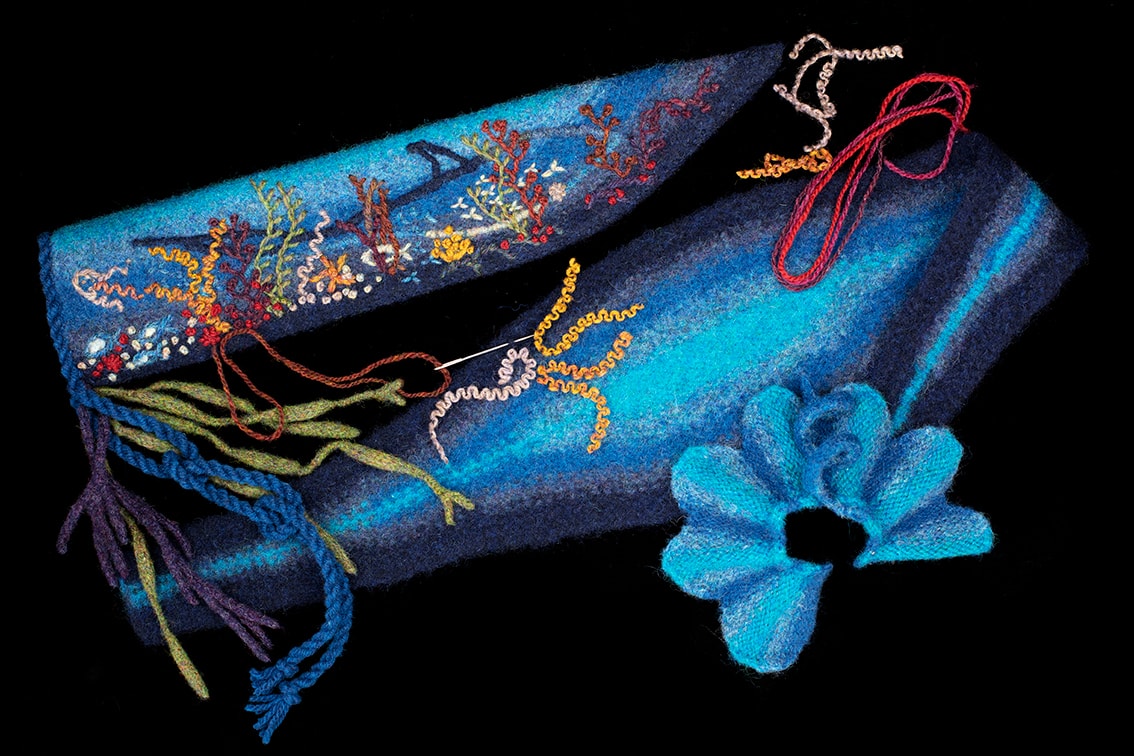 We started our Hiort Project Diary, documenting our journey through the research of a new project. As well as using previous costumes to illustrate design process, we also added Sketches In Wool, progress on textile design, and articles on St Kilda itself.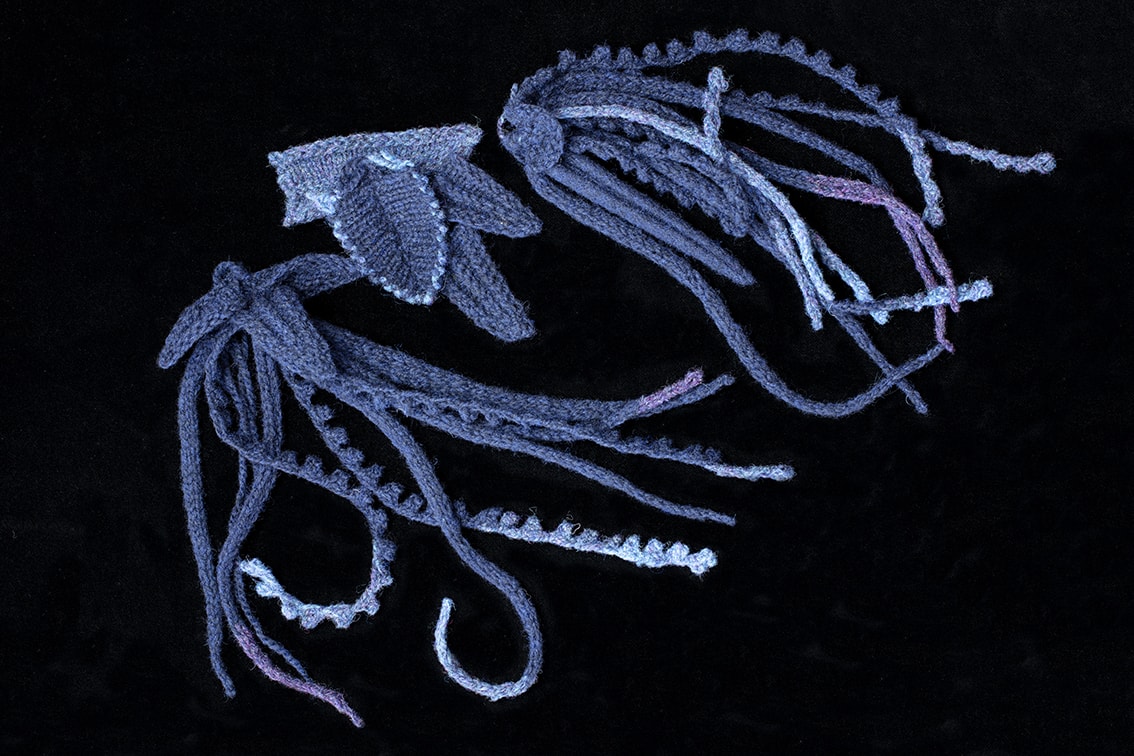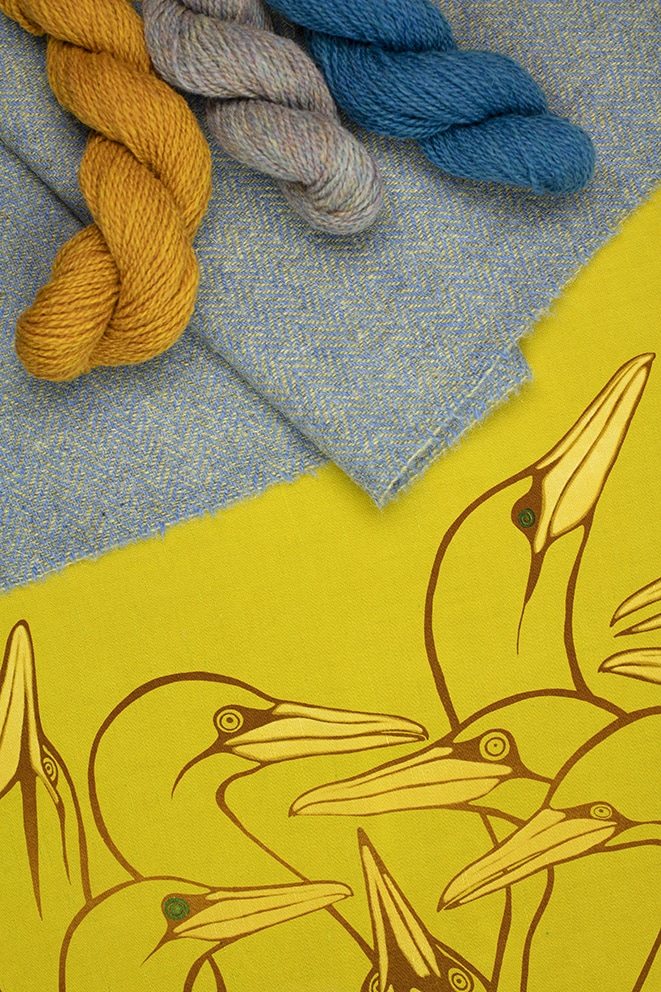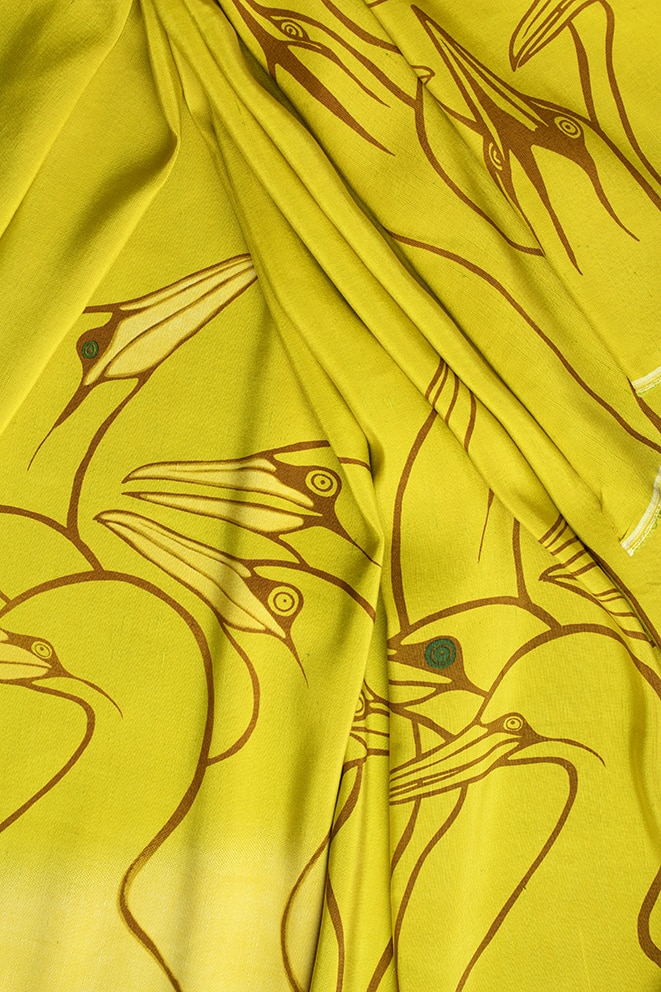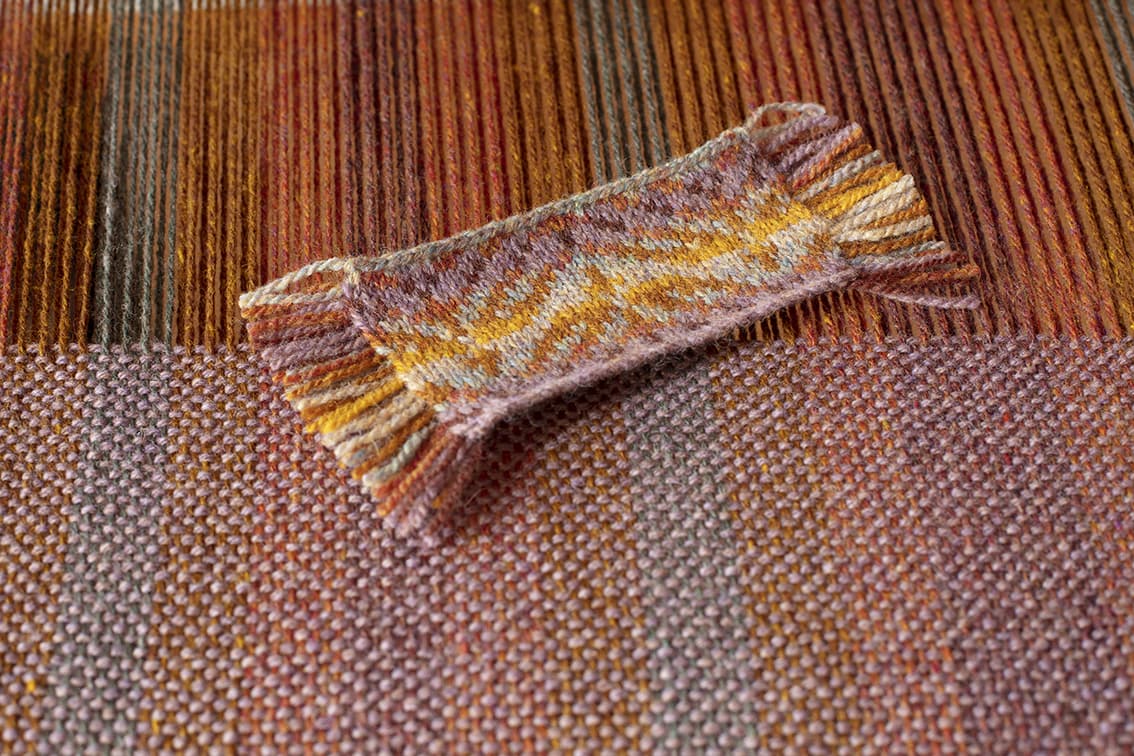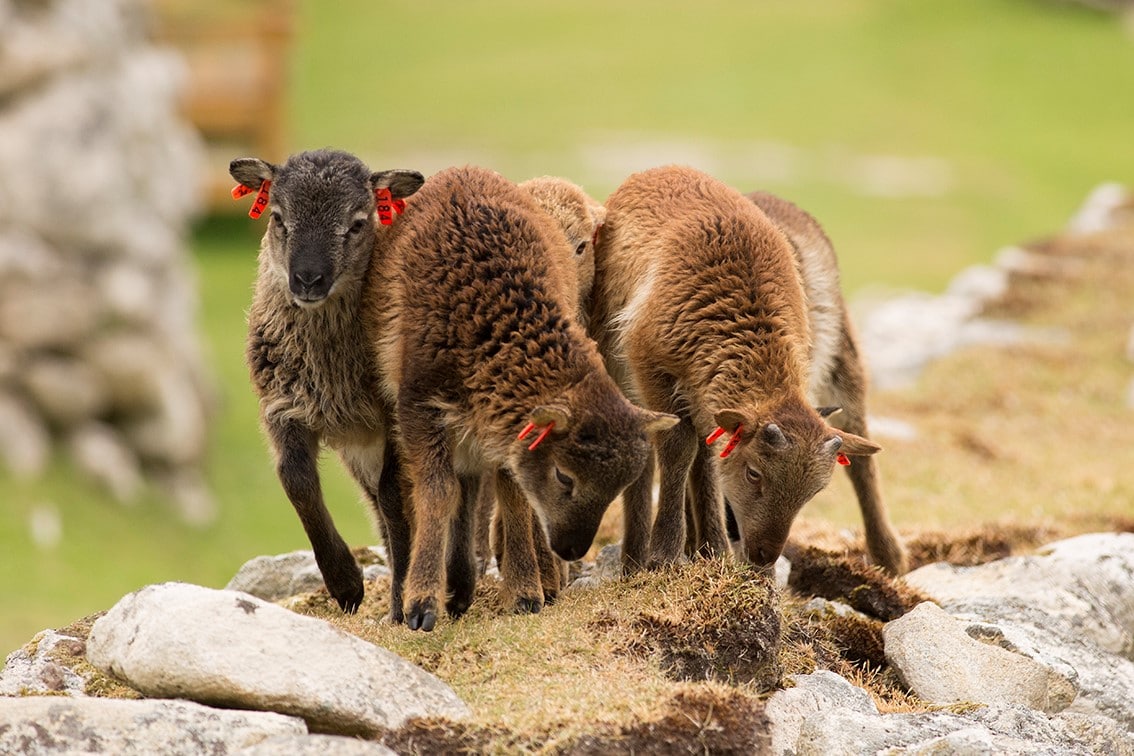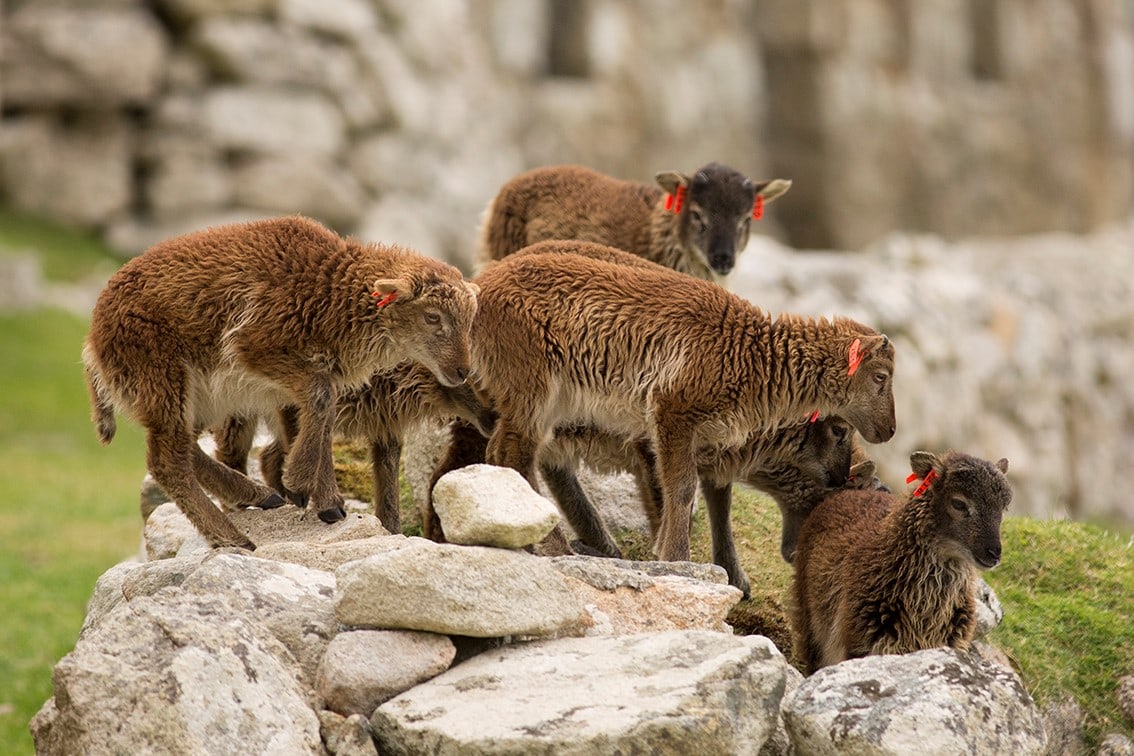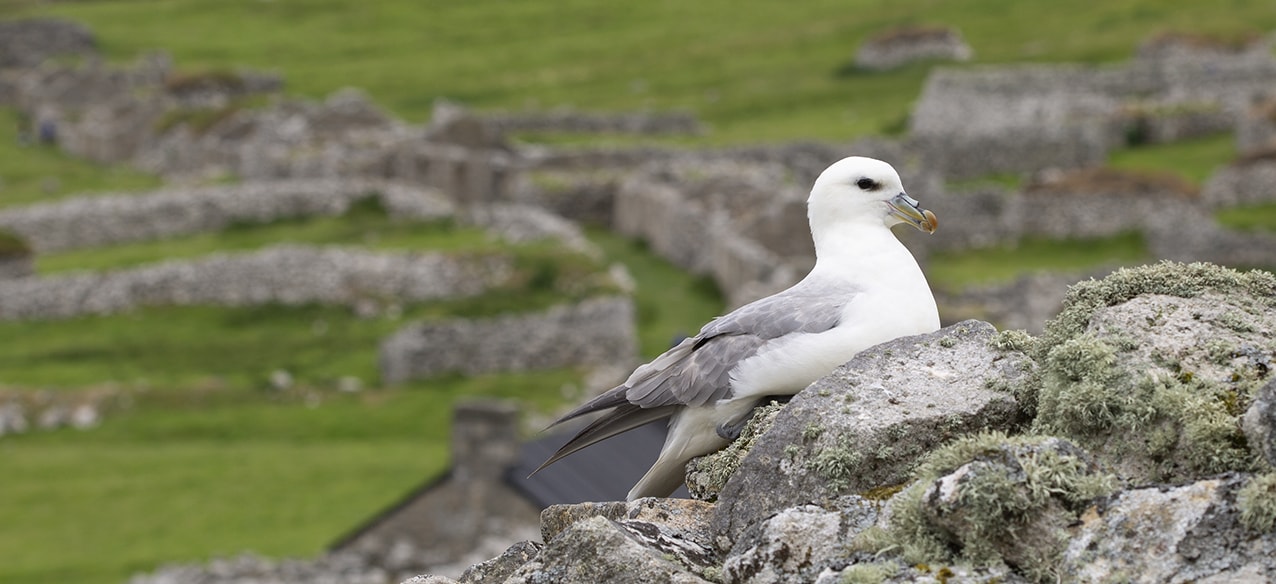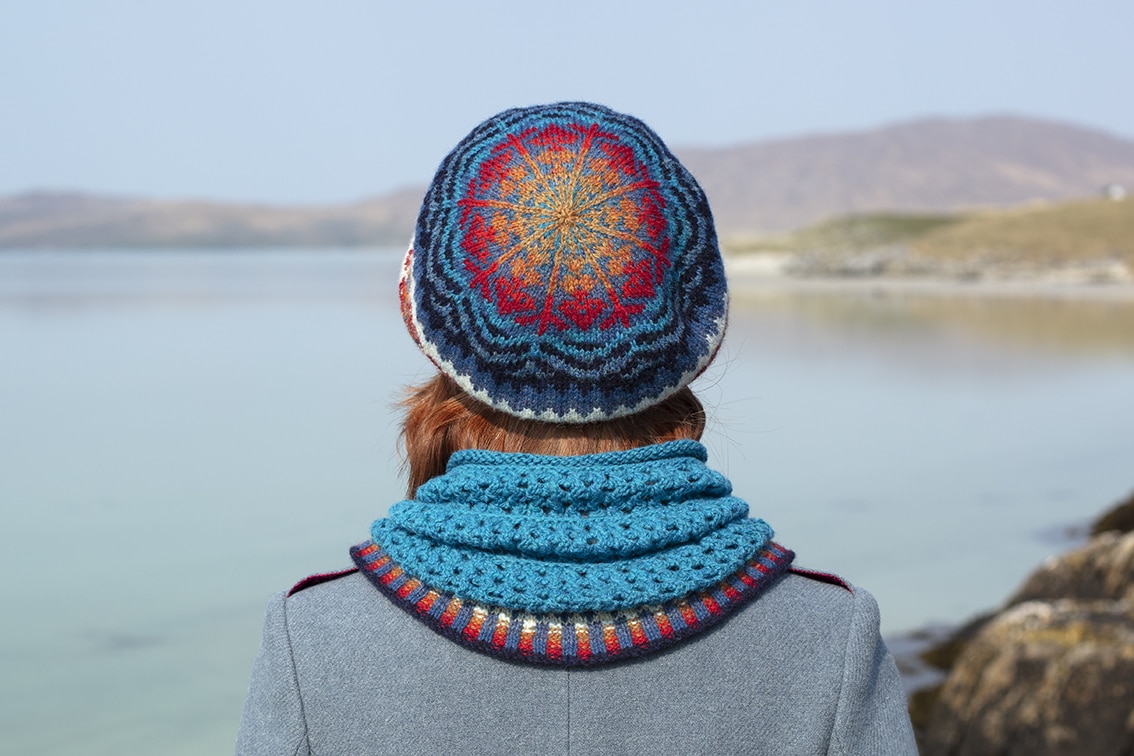 We had the pleasure of doing two very different photoshoots for the Wave Hat Set patterncard kit, which we added in April. On an incredible day in Luskentyre the sea turned to a calm pool of turquoise, which set off the Wave colours beautifully. A much moodier day at Loch Lomond displayed an entirely different atmosphere.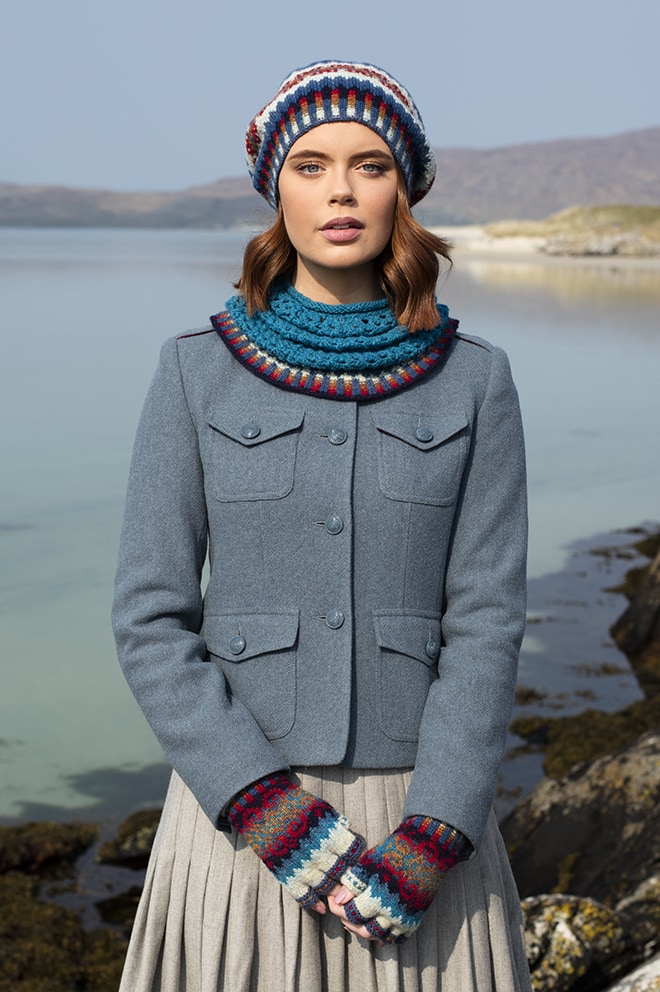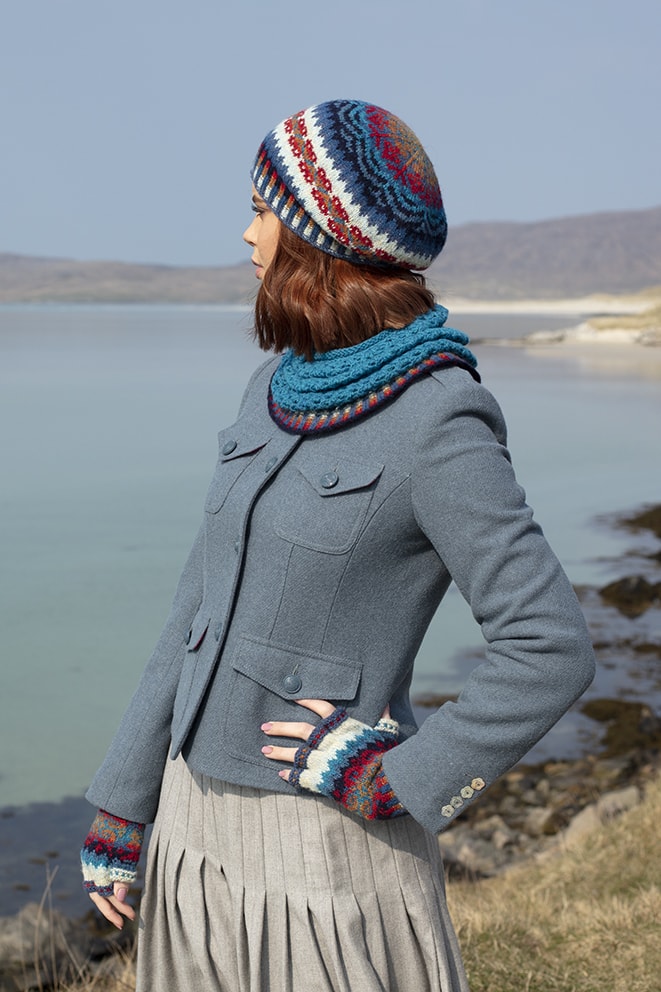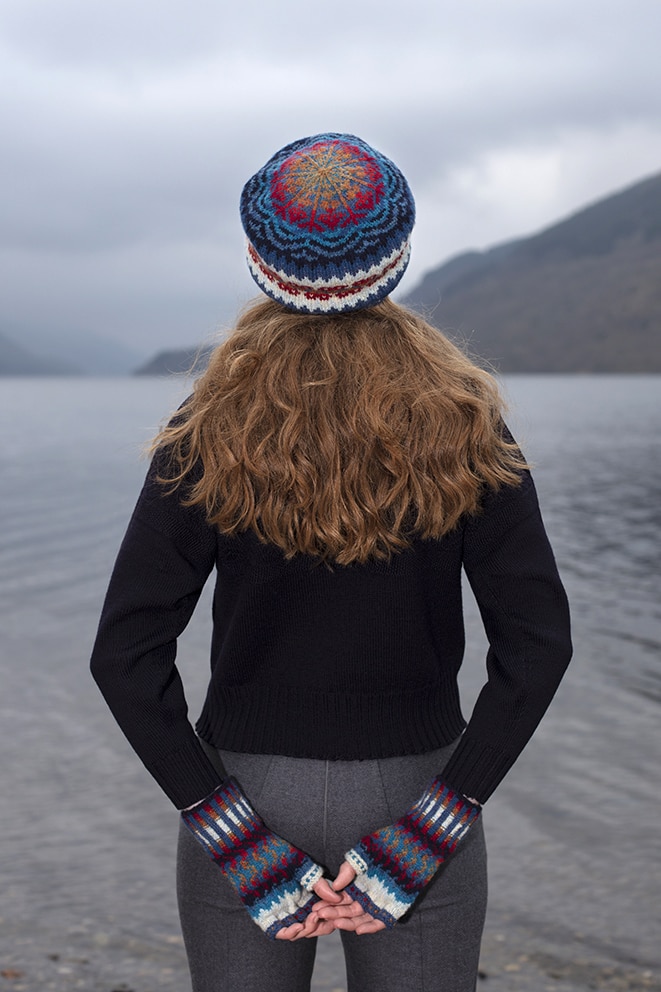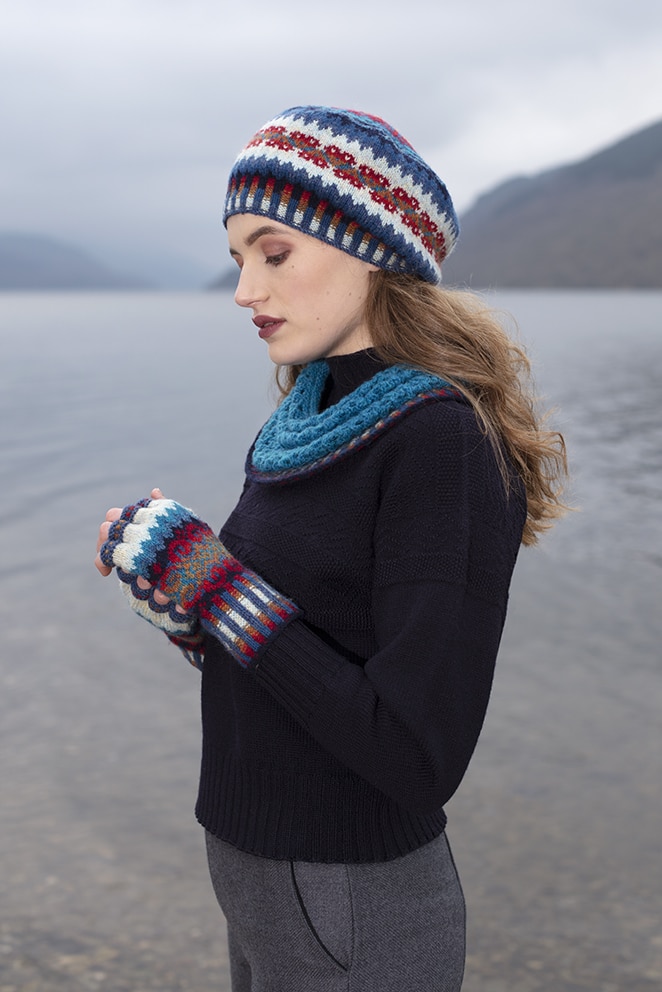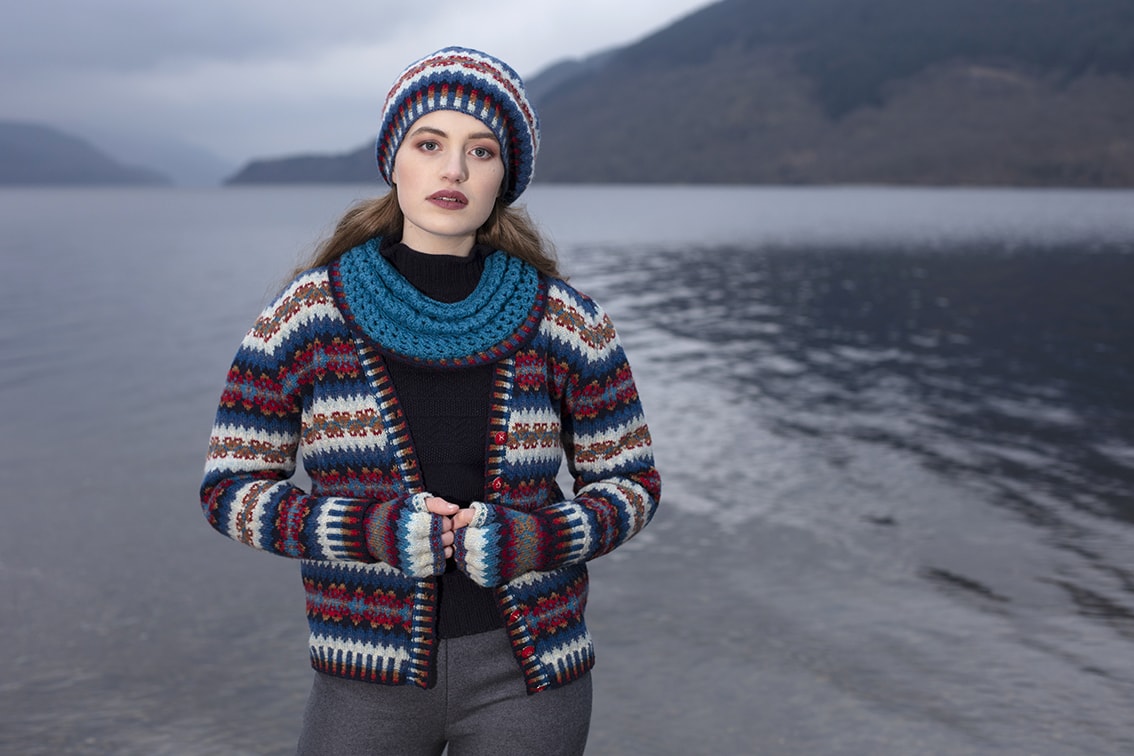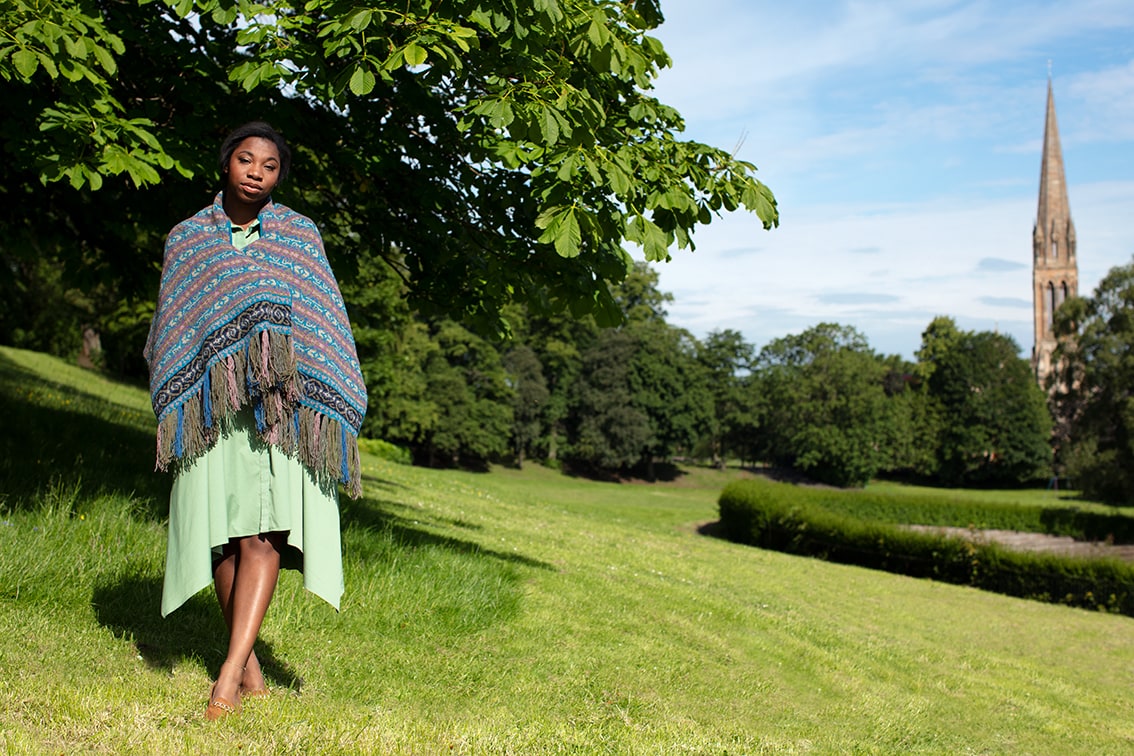 The Summer became the time to showcase two particular books. We started with A Collector's Item, adding the Arabesque Summer and Winter Wraps and the Gypsy Moth Wrap. We also remade many of the  book's designs in our Hebridean 2 Ply yarn. We photographed them in Glasgow with Precious; on the Isle of Harris with Emma, and at Loch Lomond and Glencoe with Rachel, bringing the designs into a wide variety of Scottish backdrops.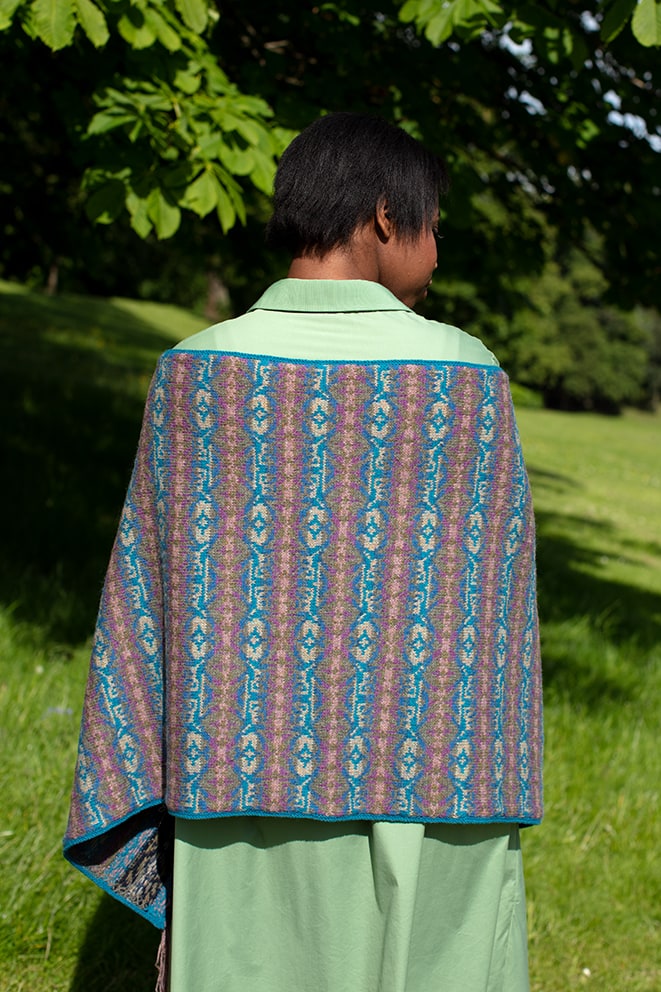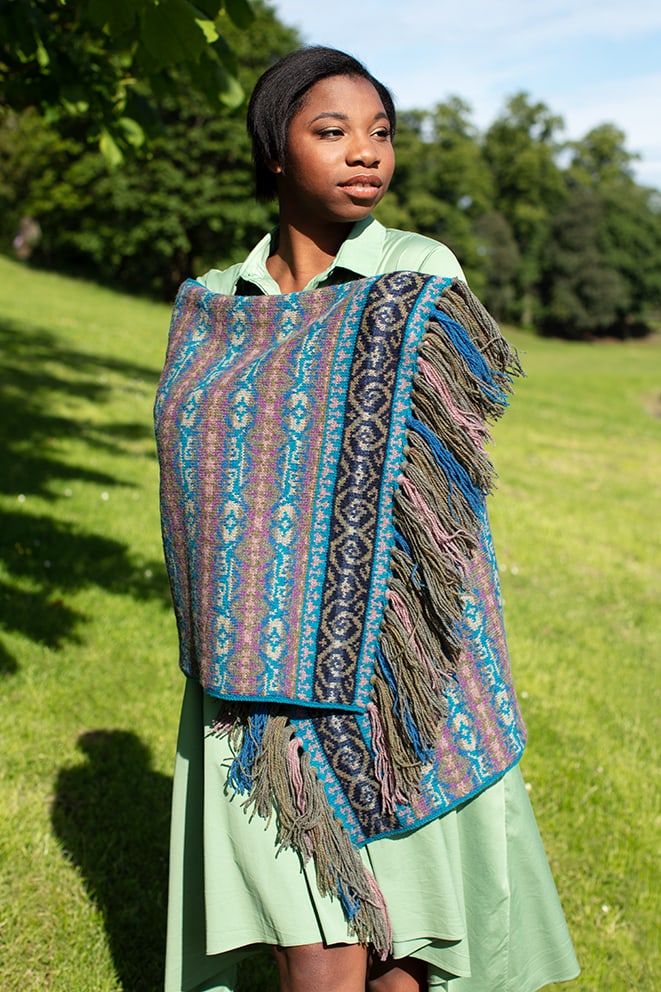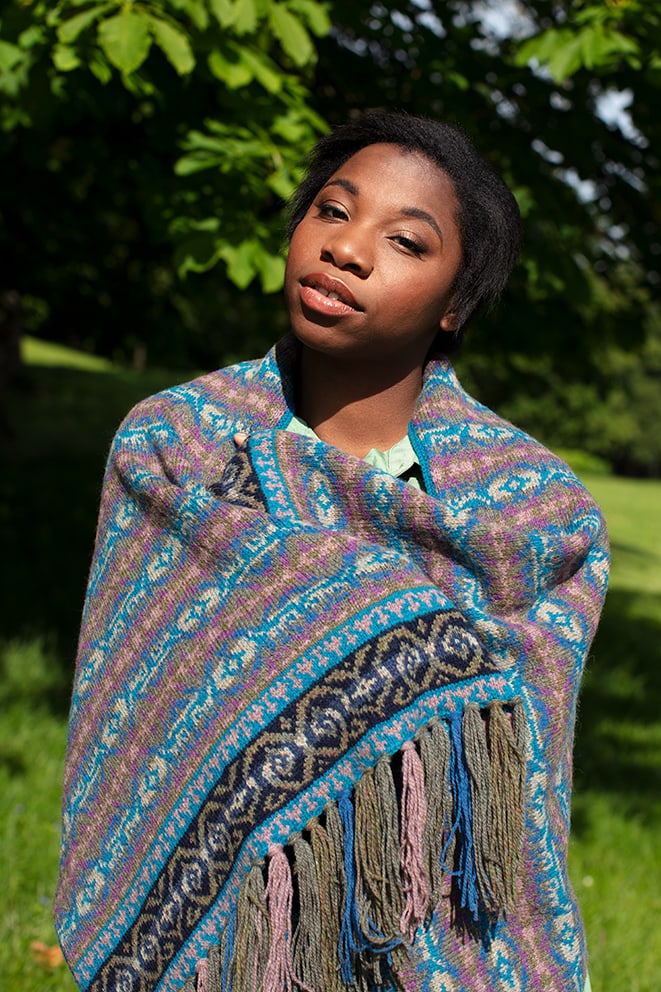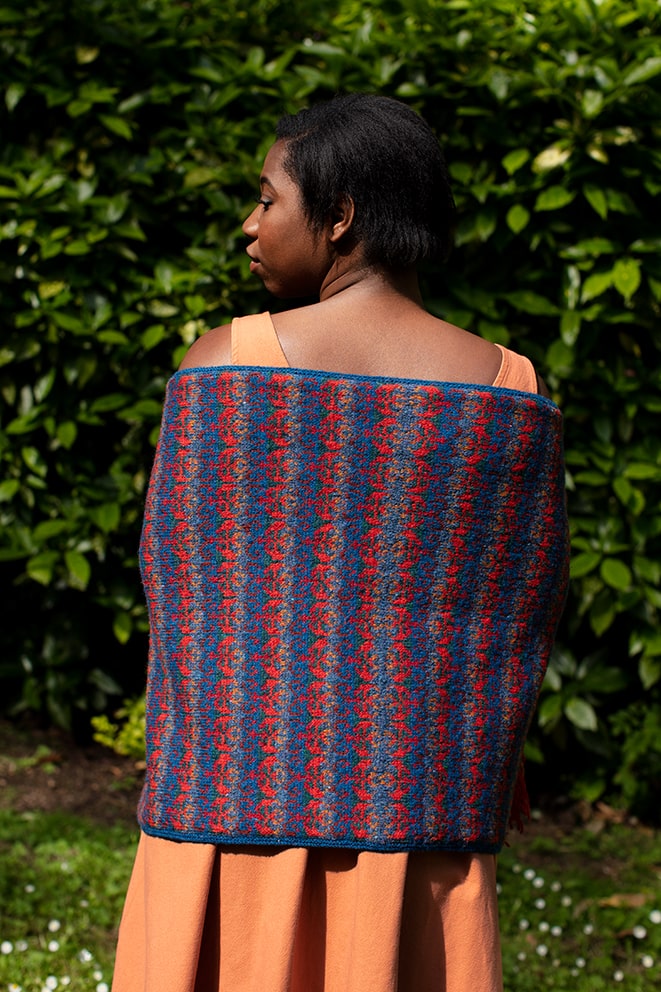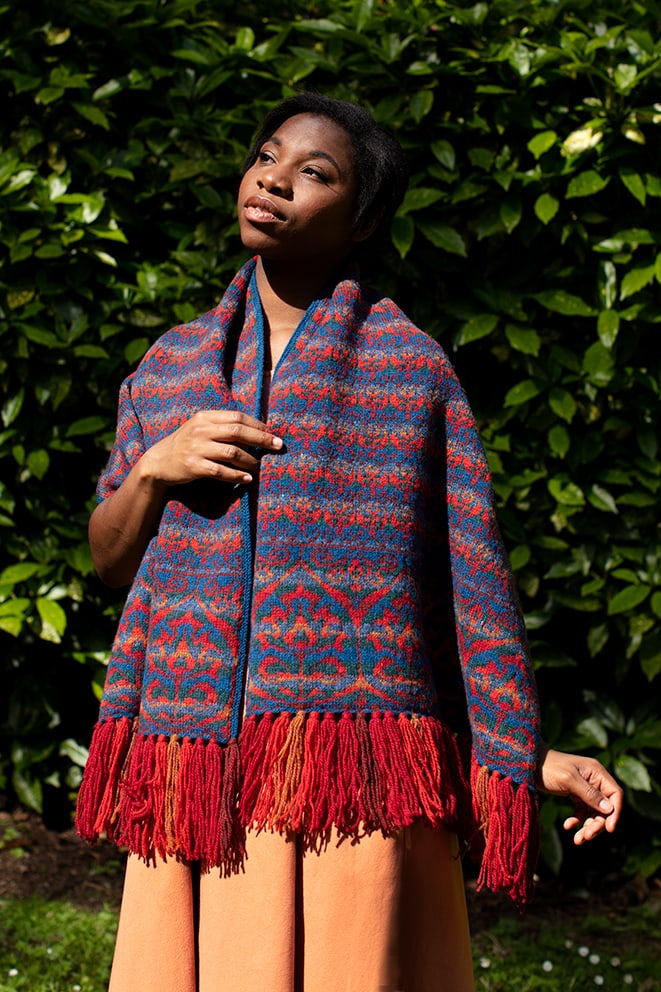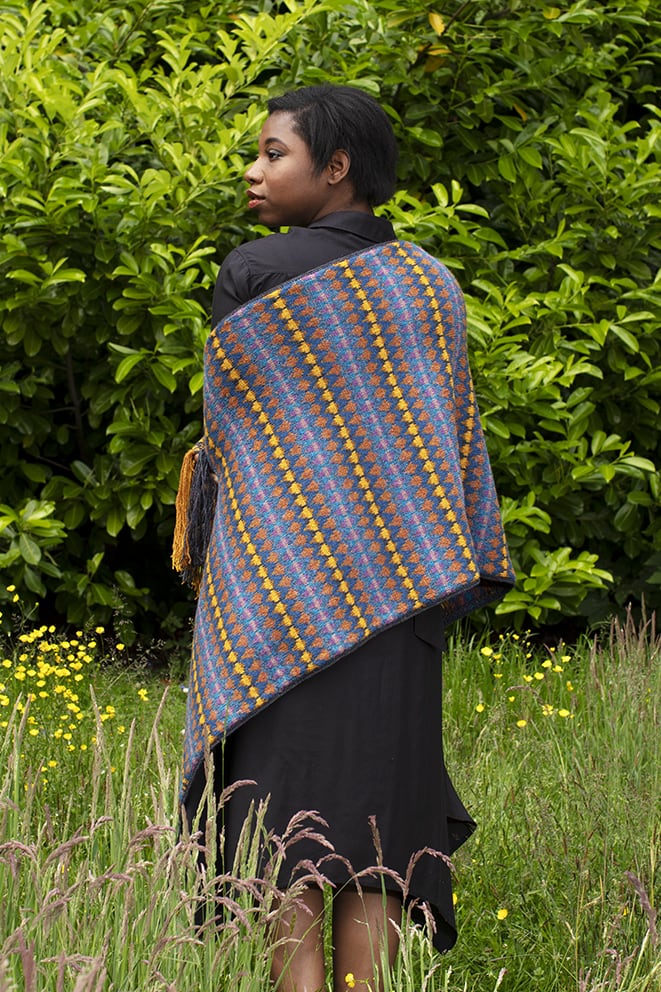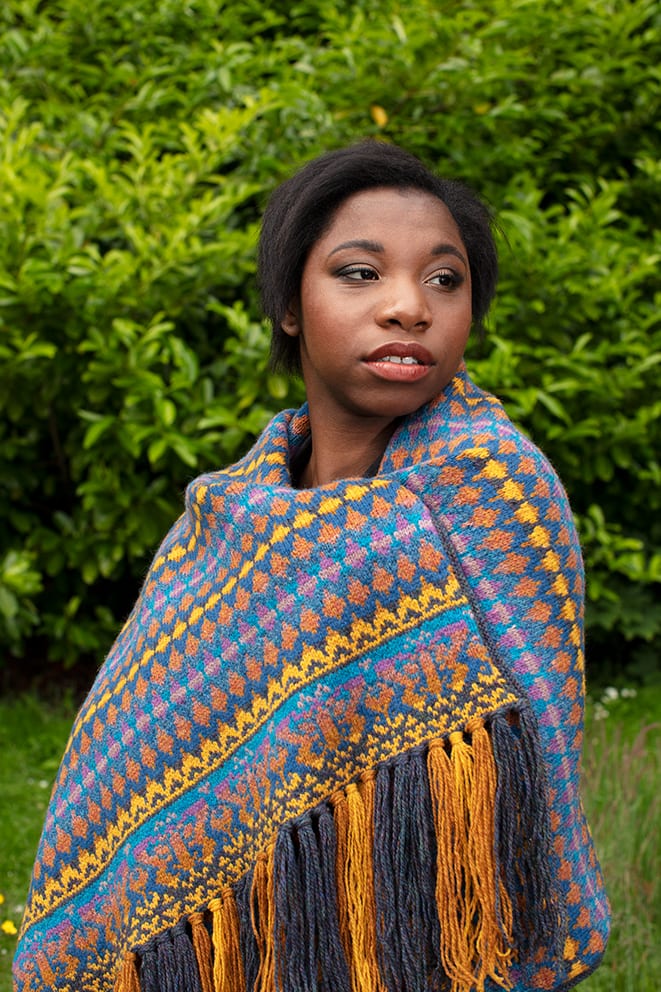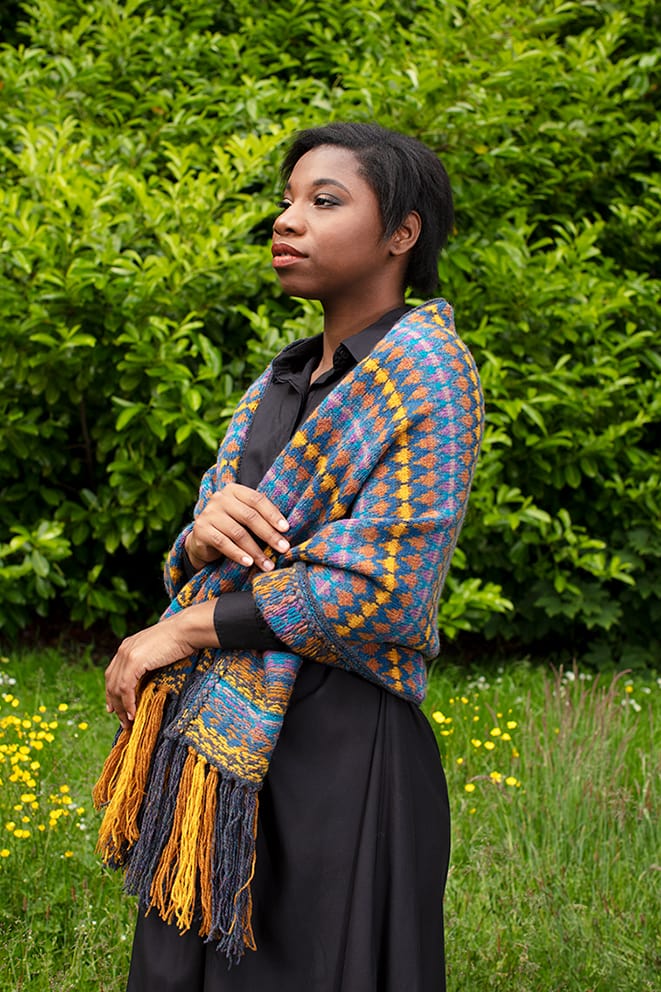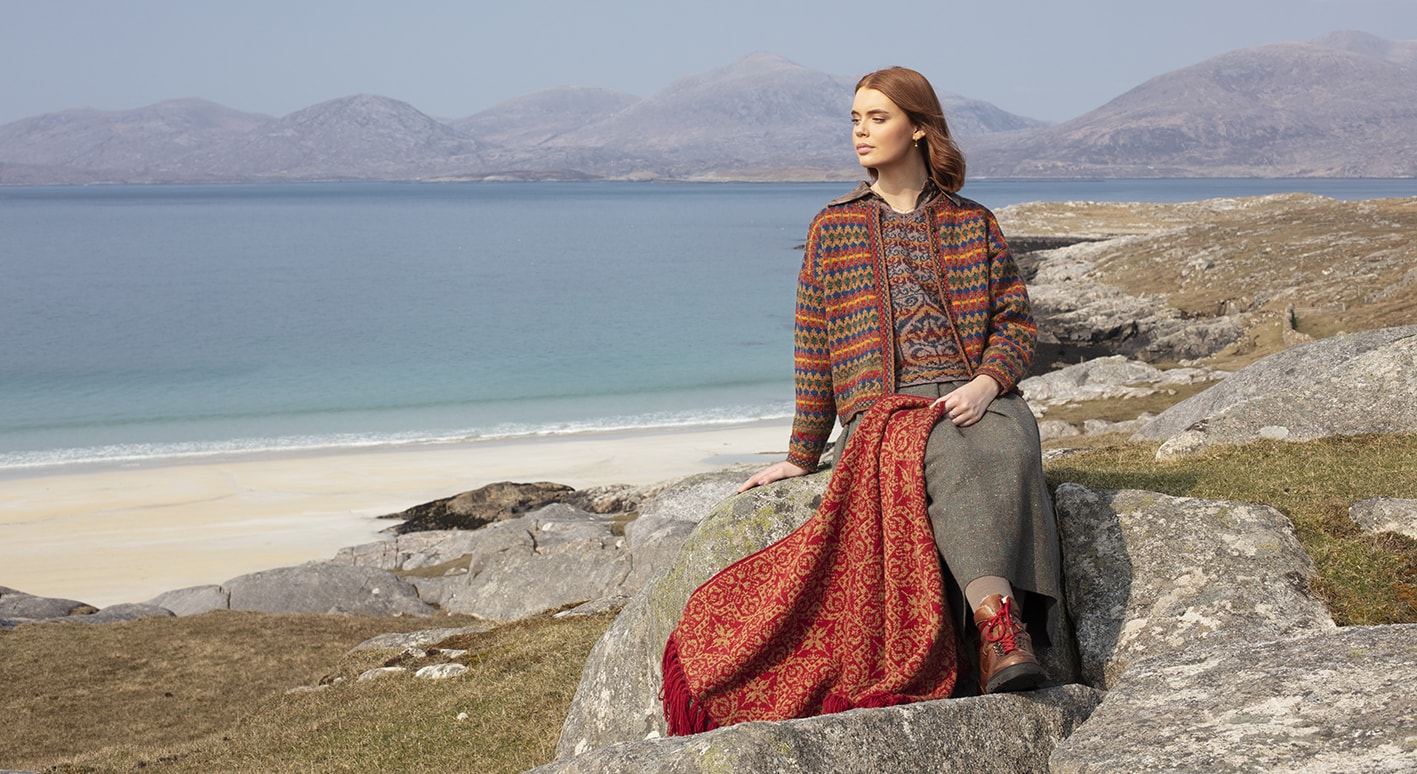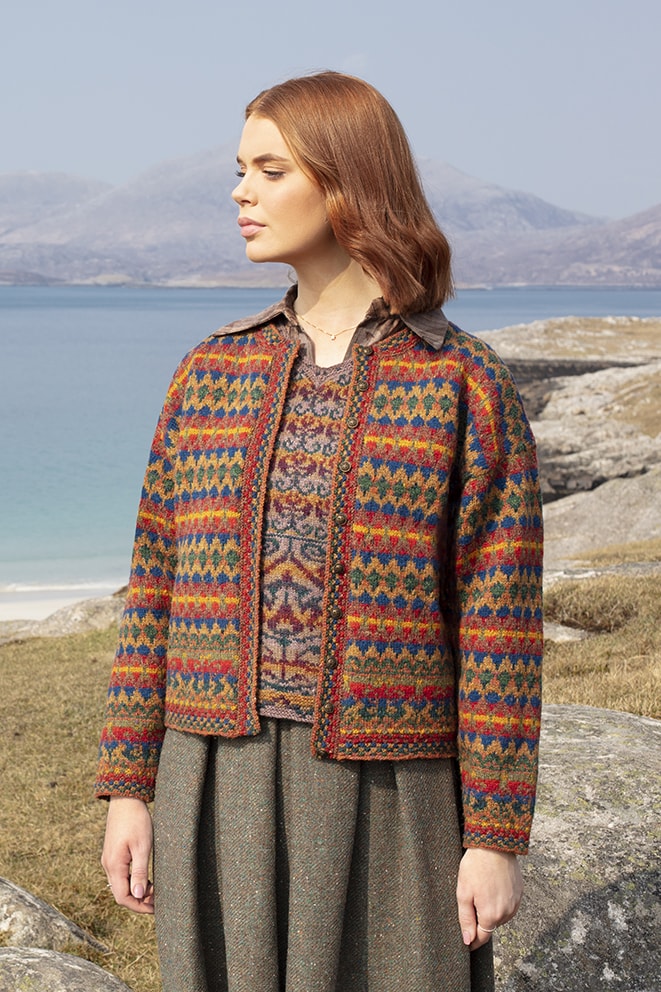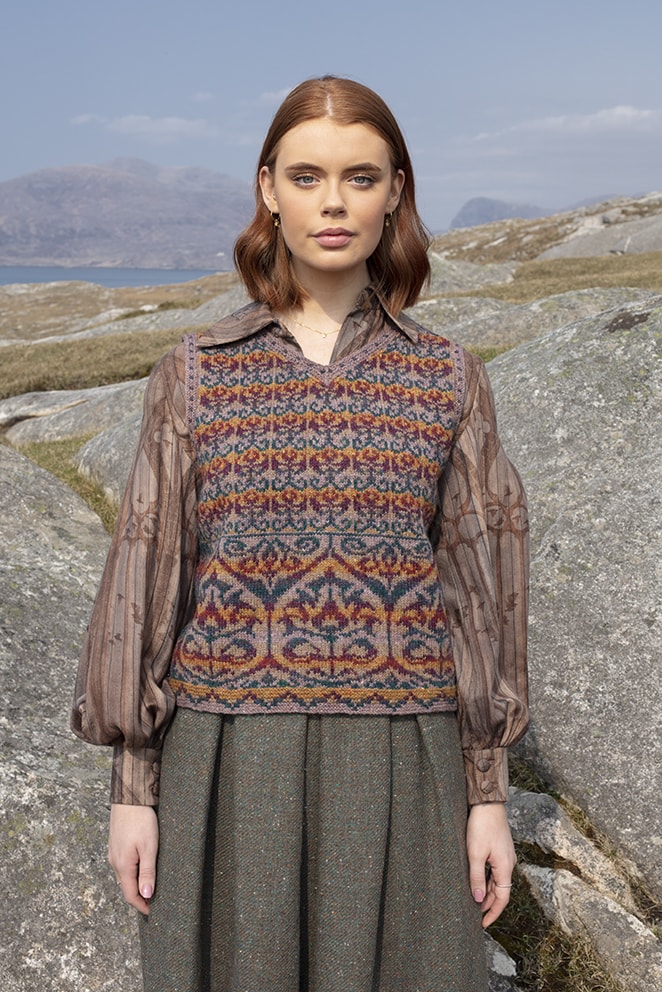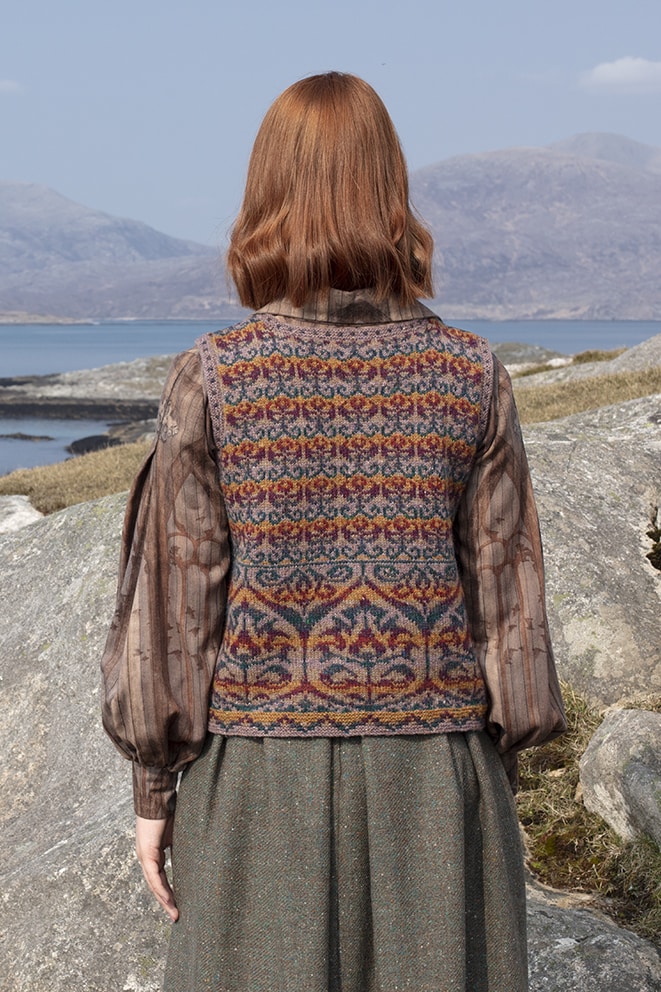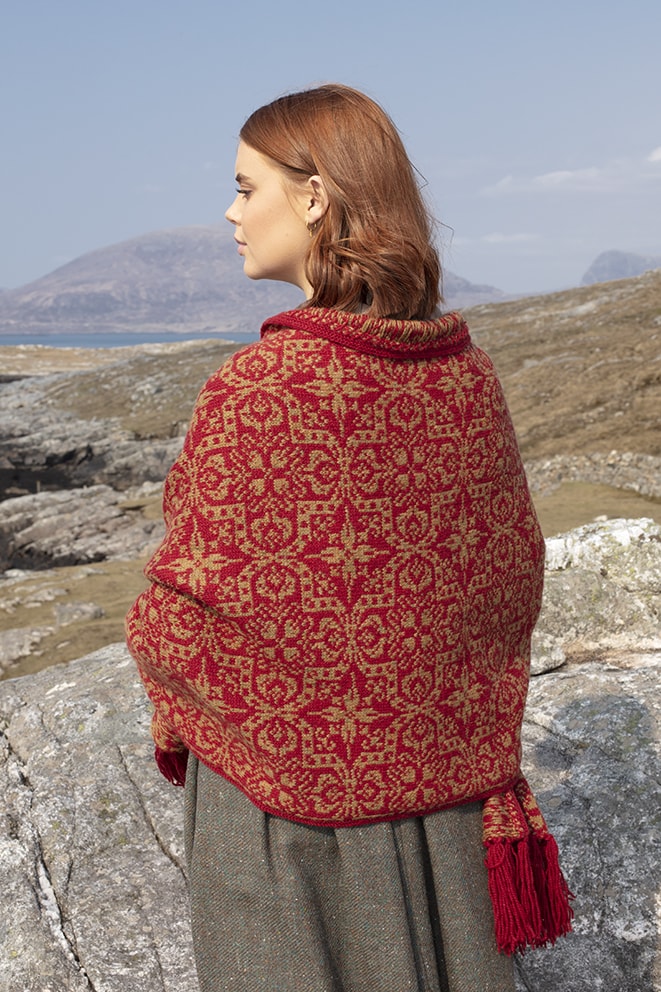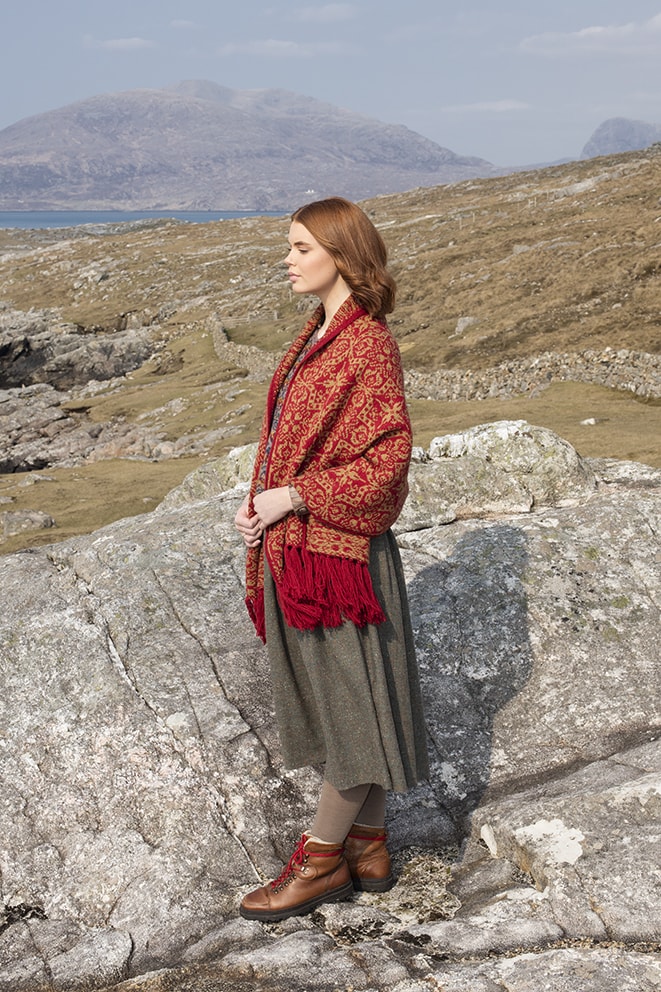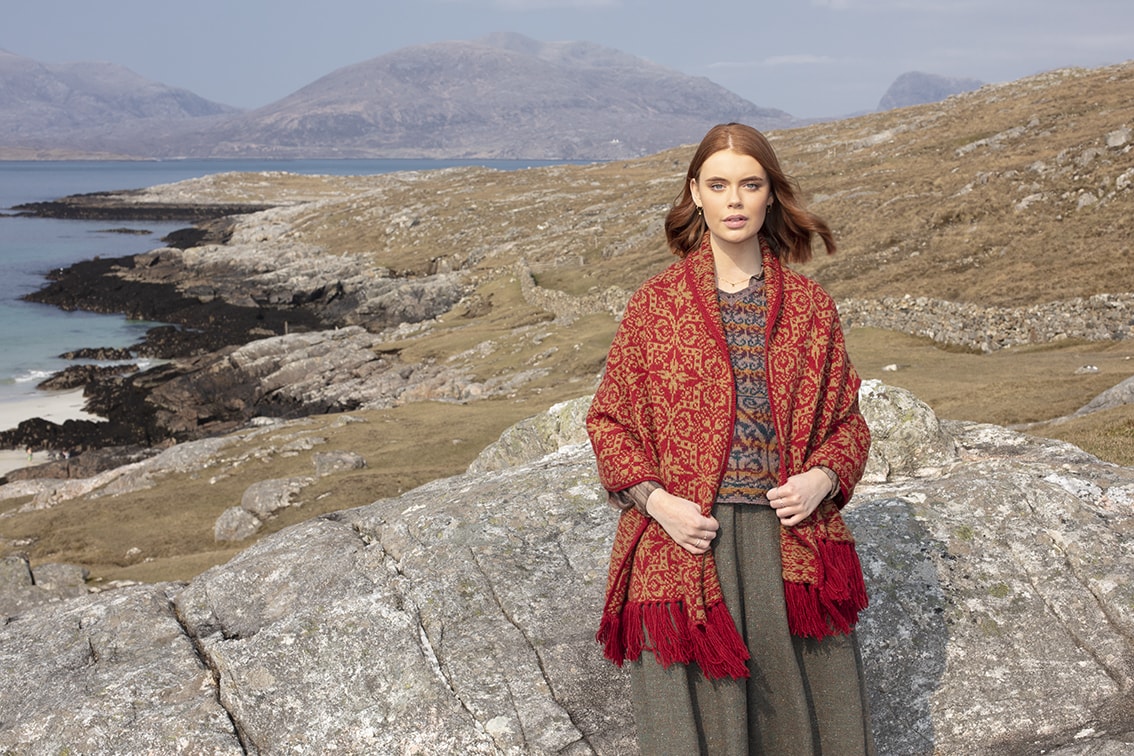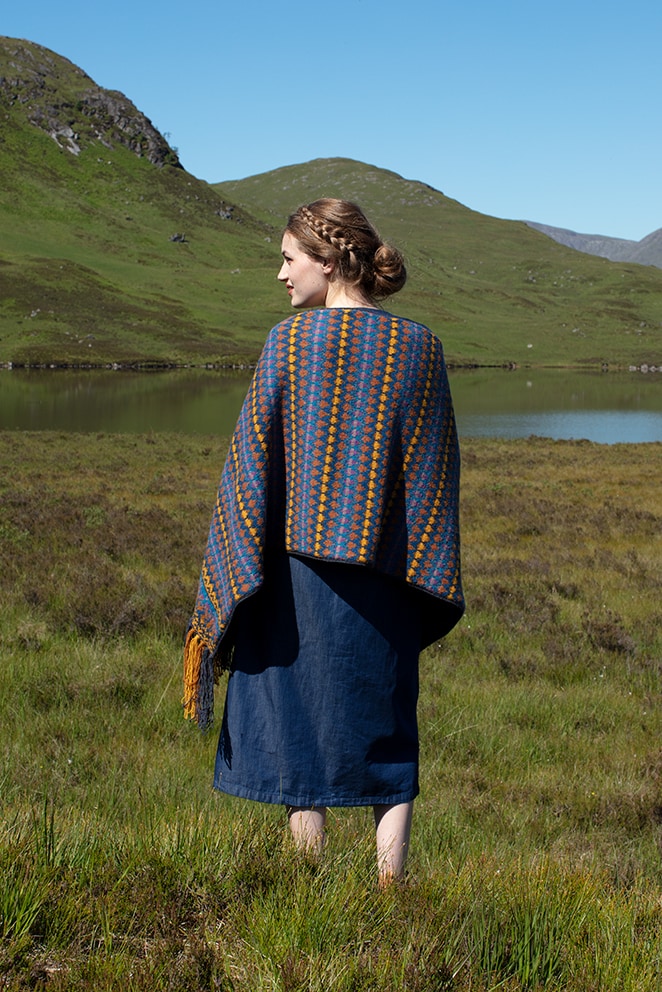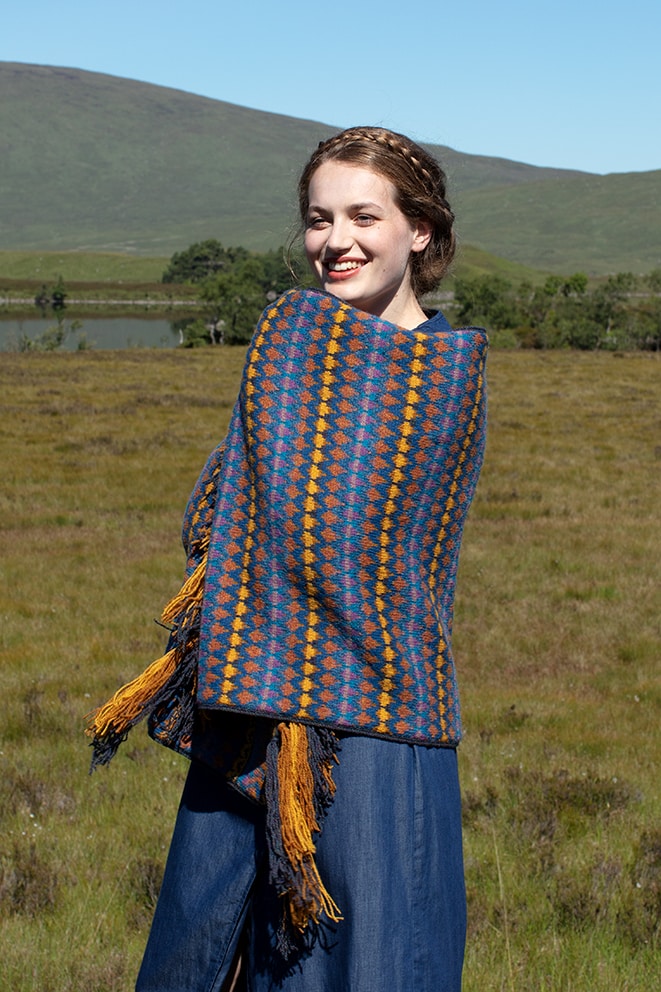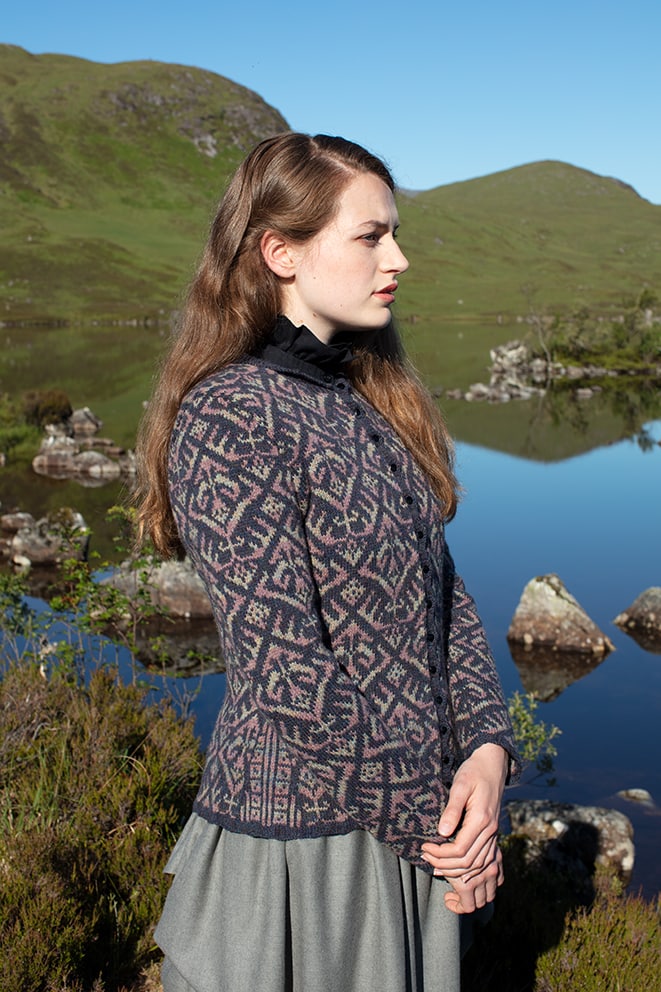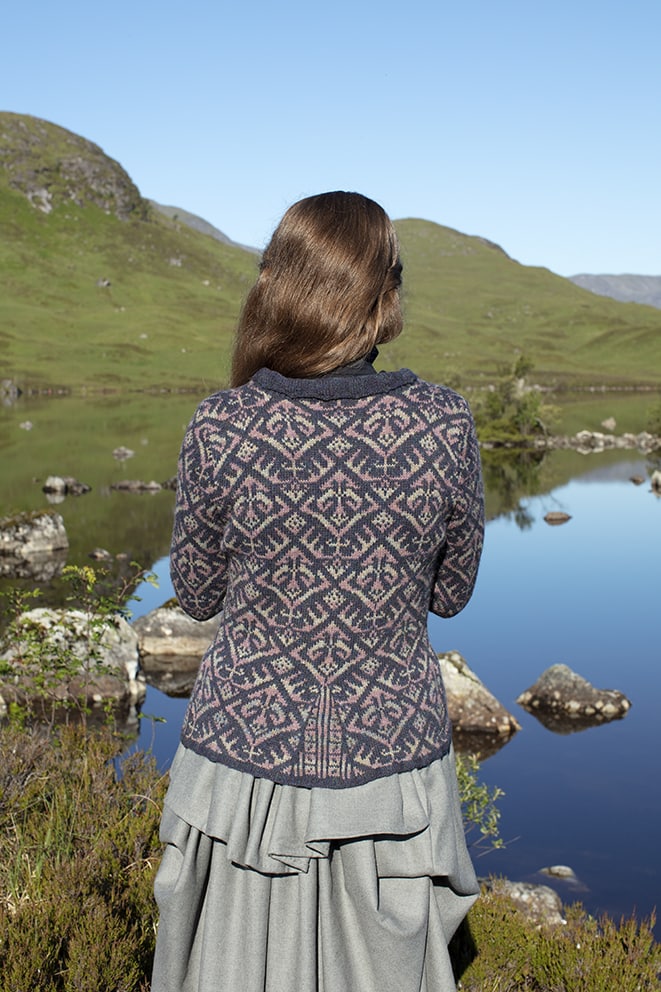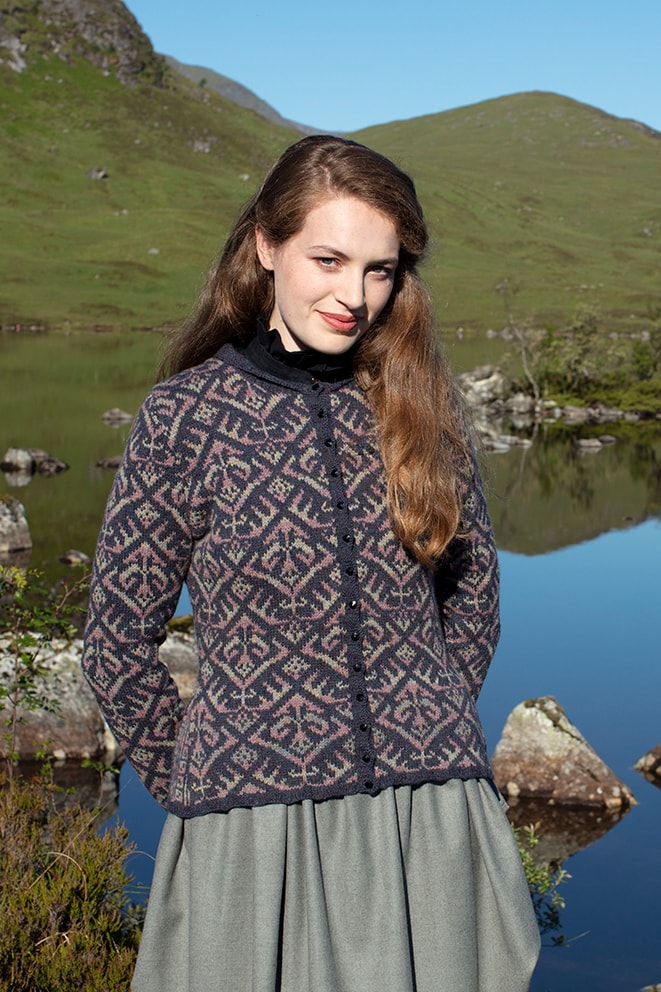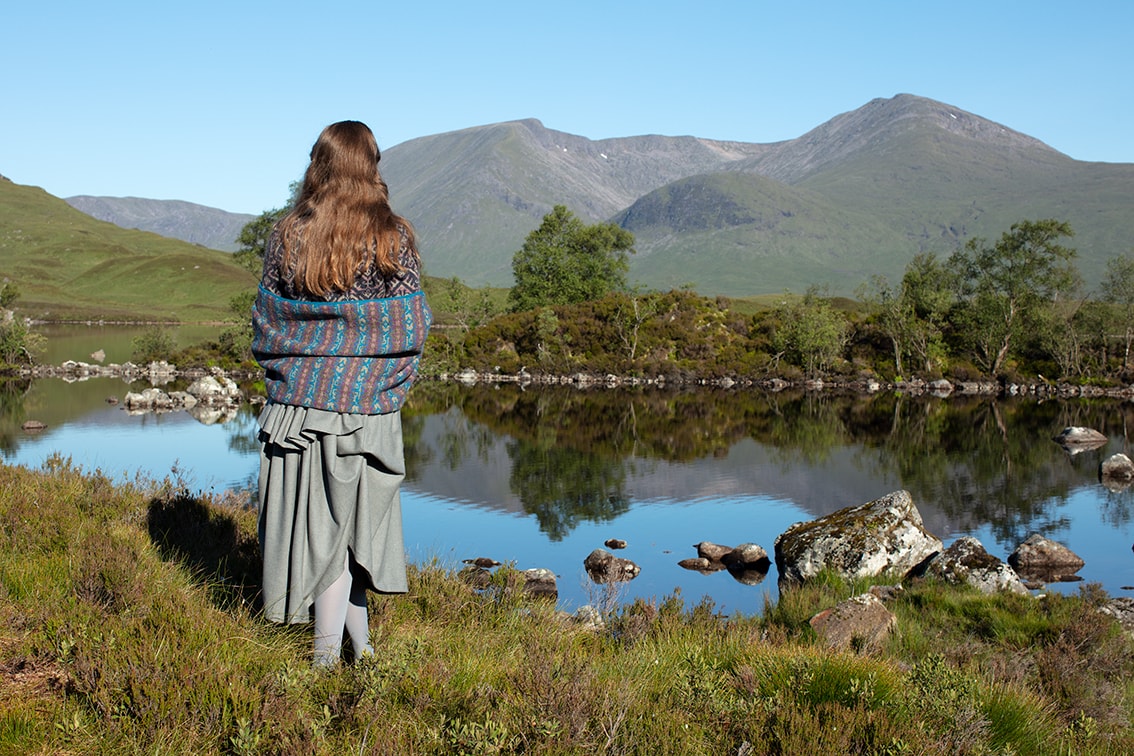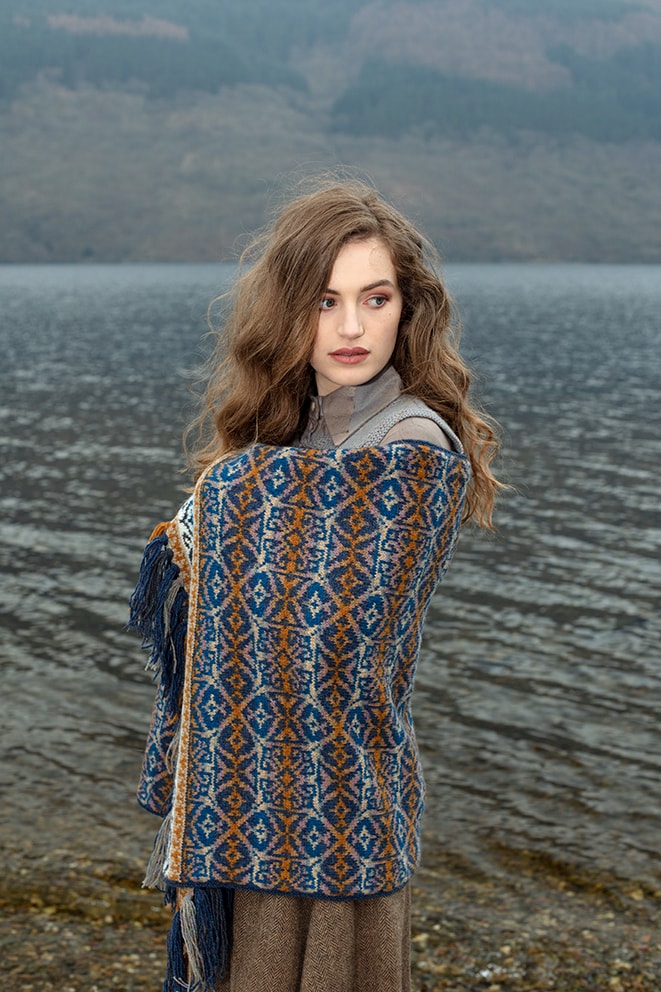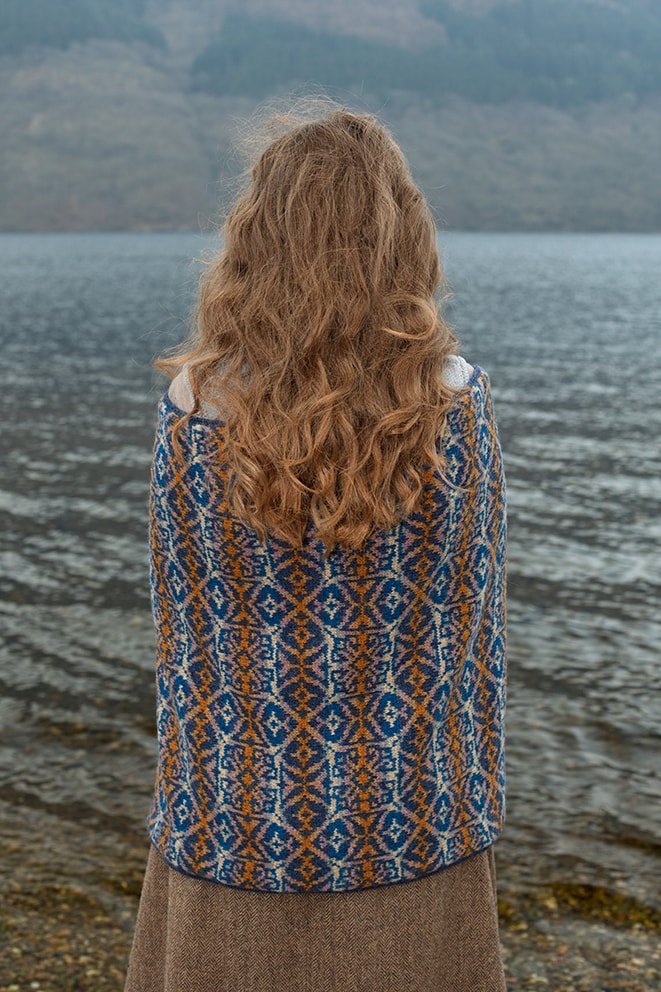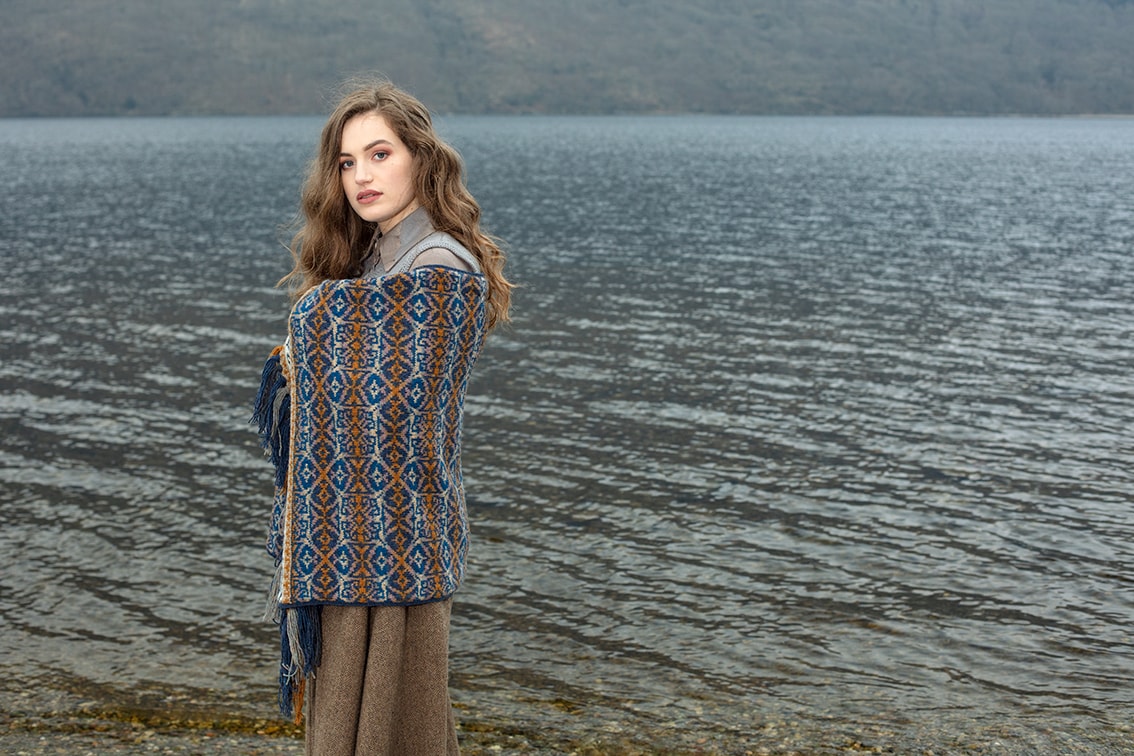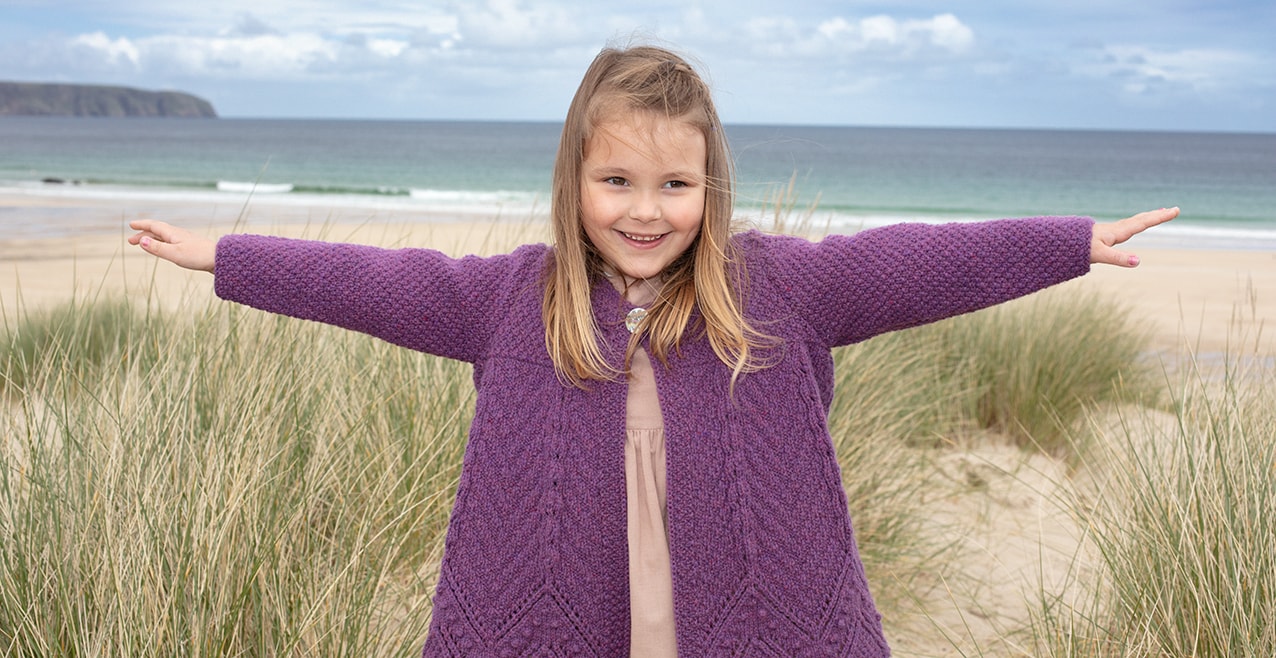 In July it was the turn of The Children's Collection to take the spotlight. With the help of Kaitlyn, Tamara and Spencer we added imagery of both the yarn packs from the book, and some of our patterncard kits. In addition we photographed the adult version of Secret Garden – Isobel of Mar – in Lapwing for the first time.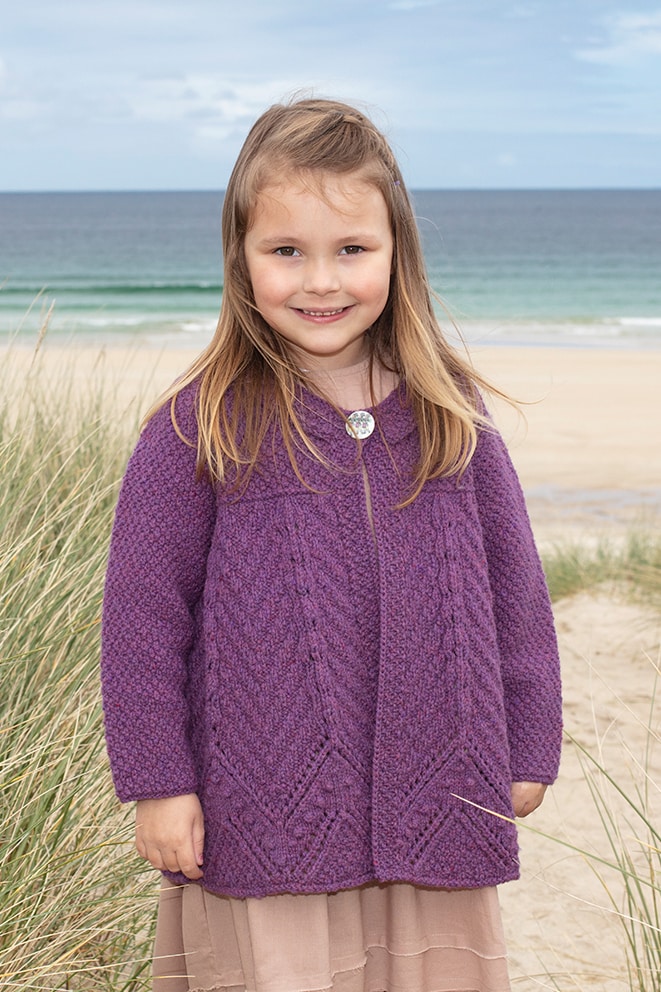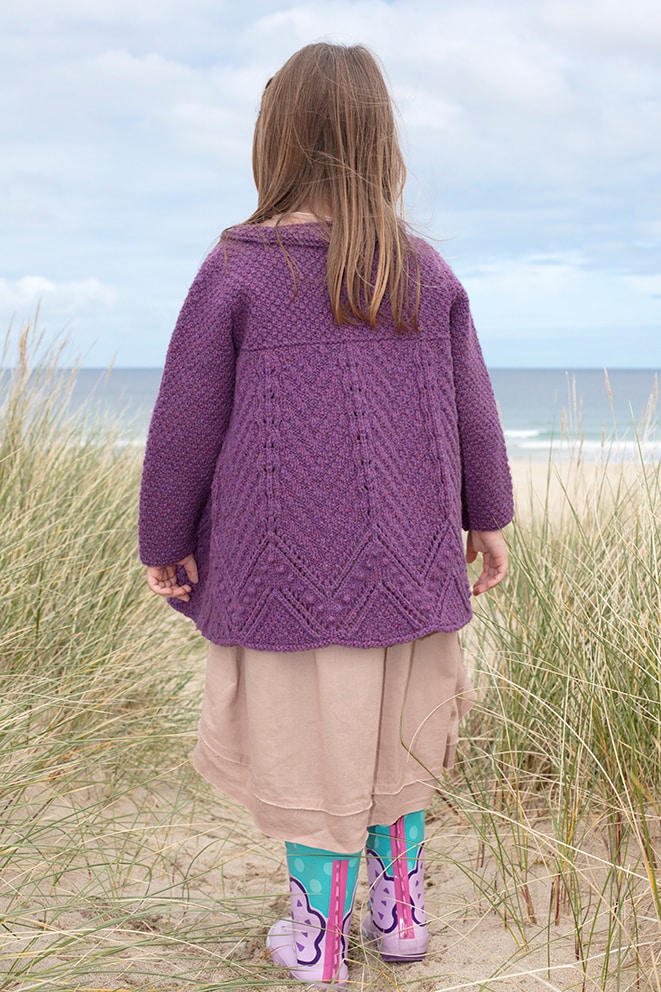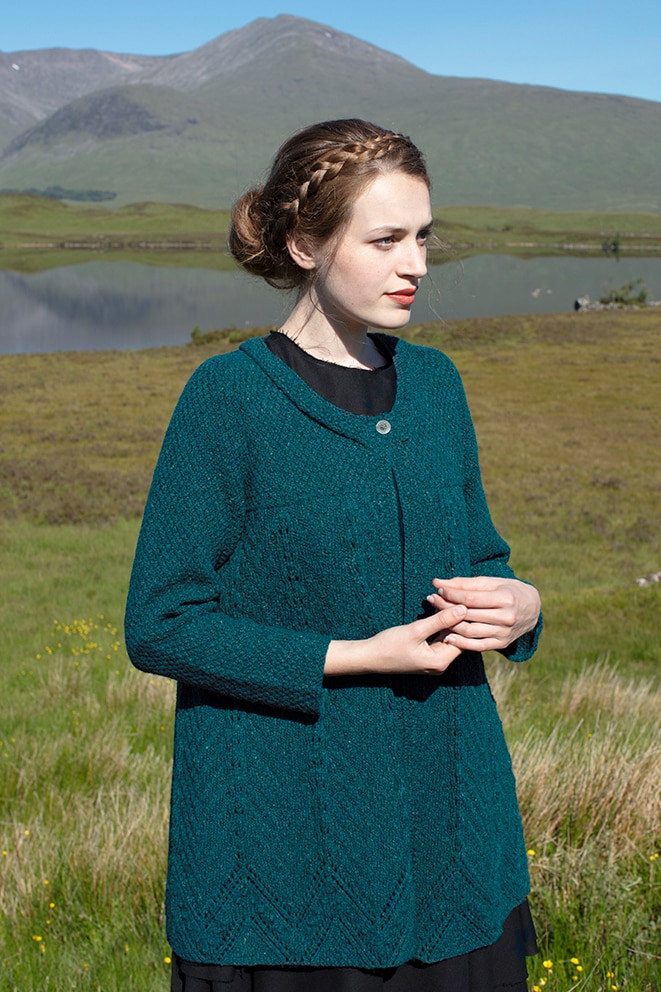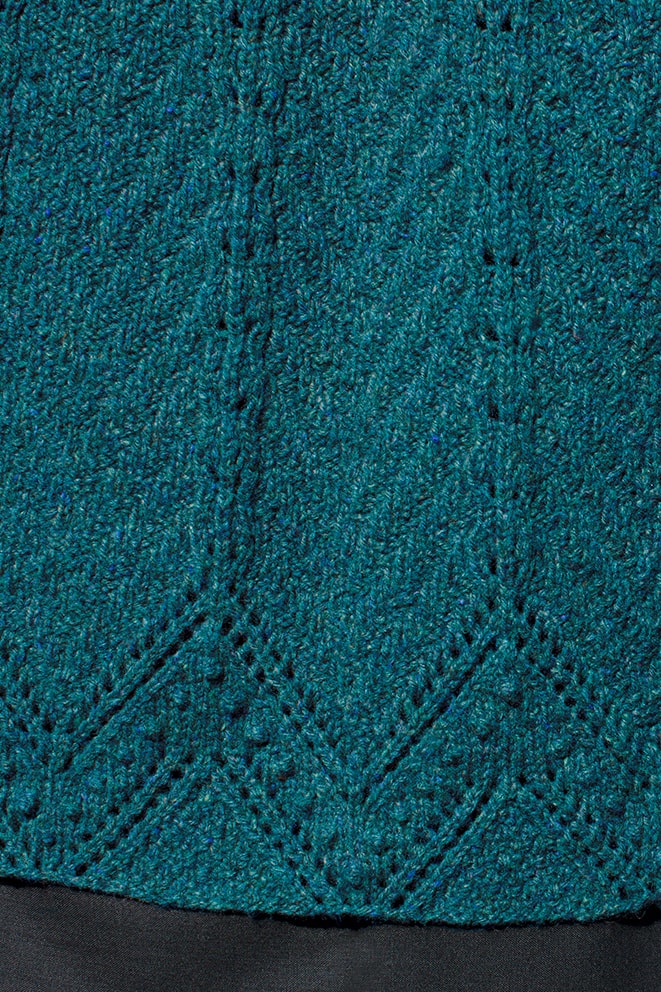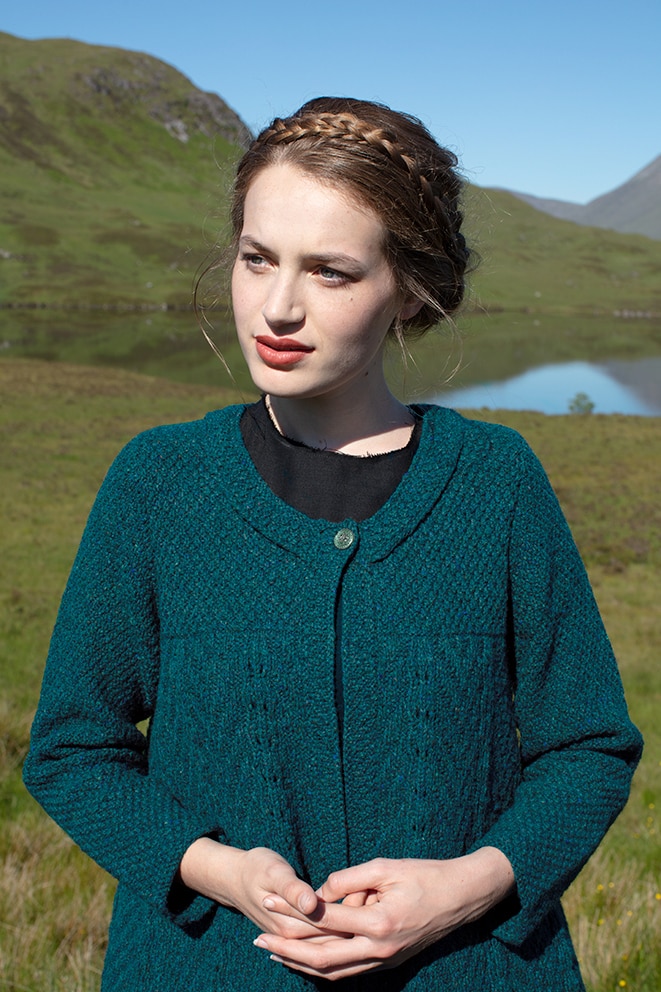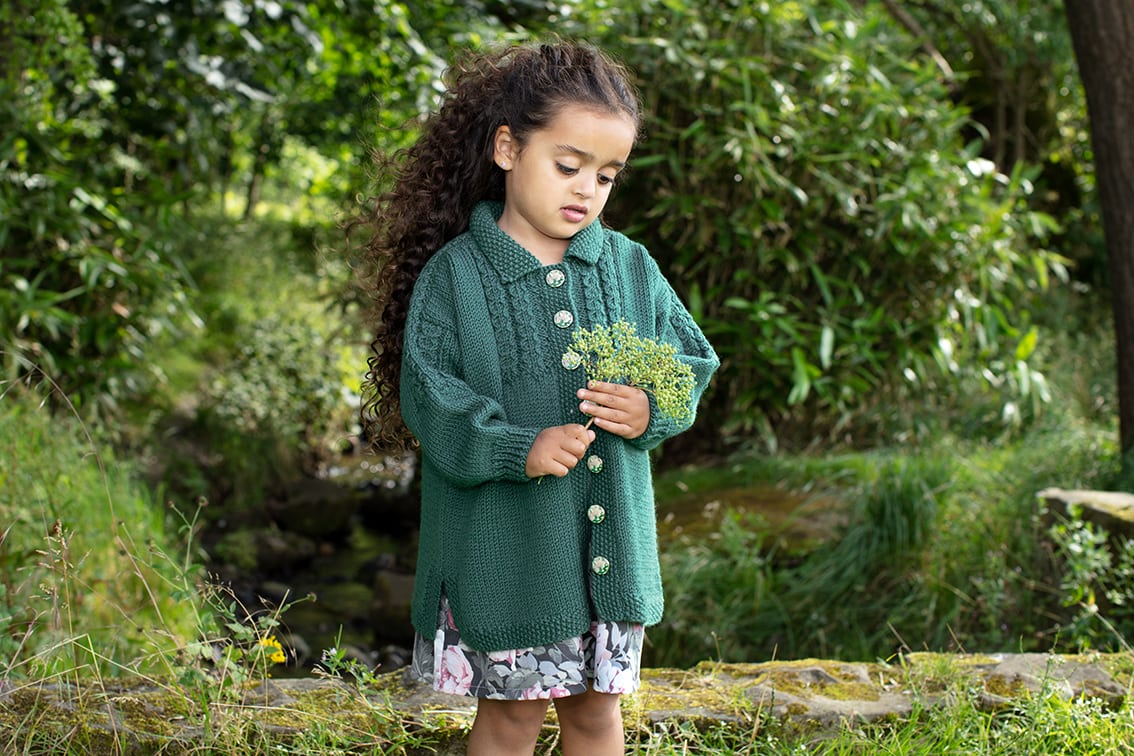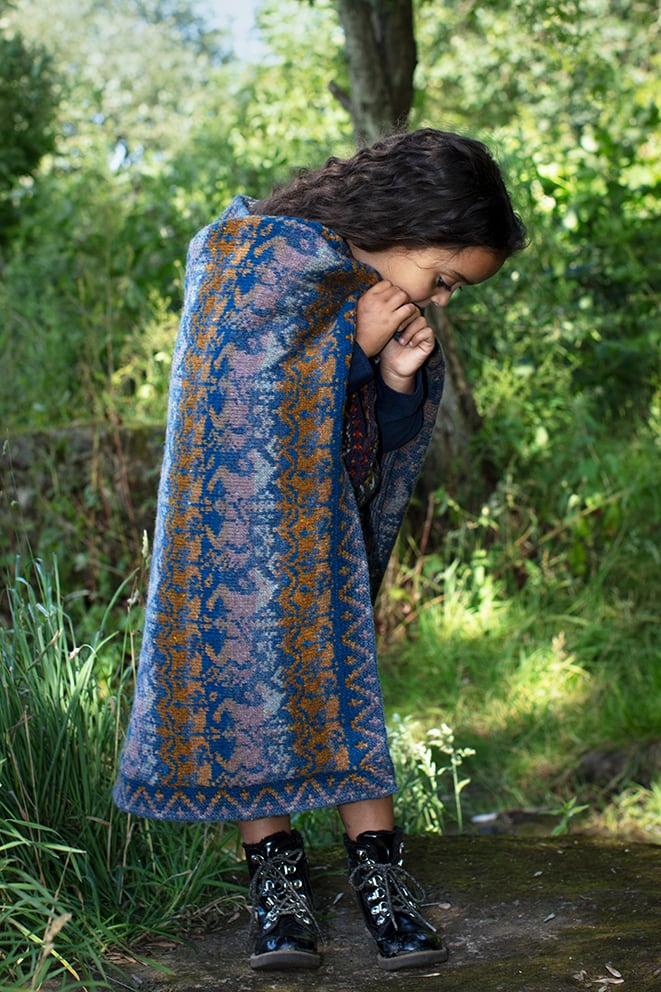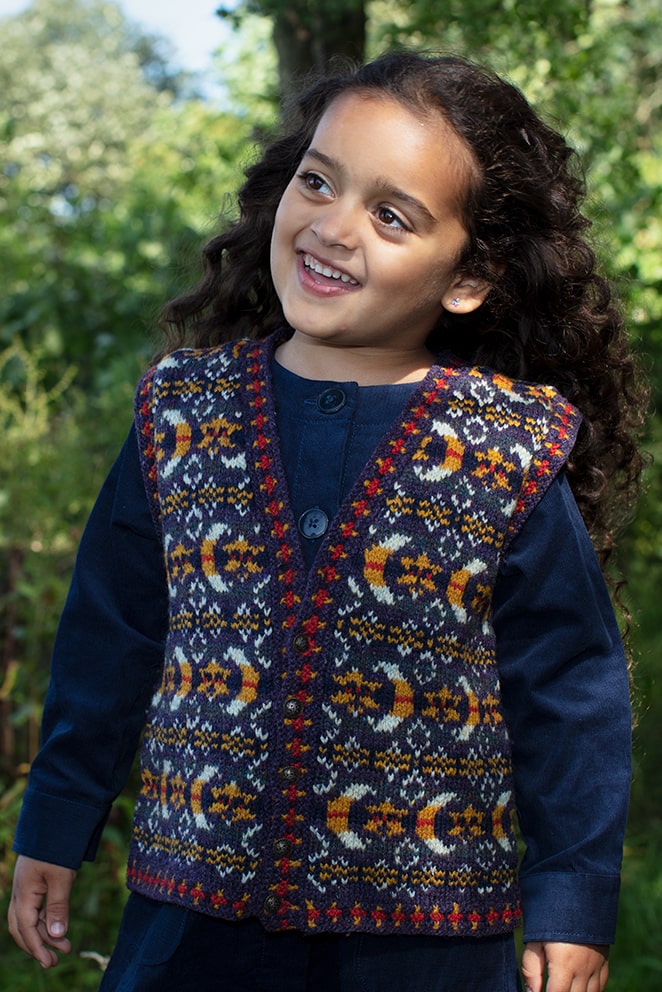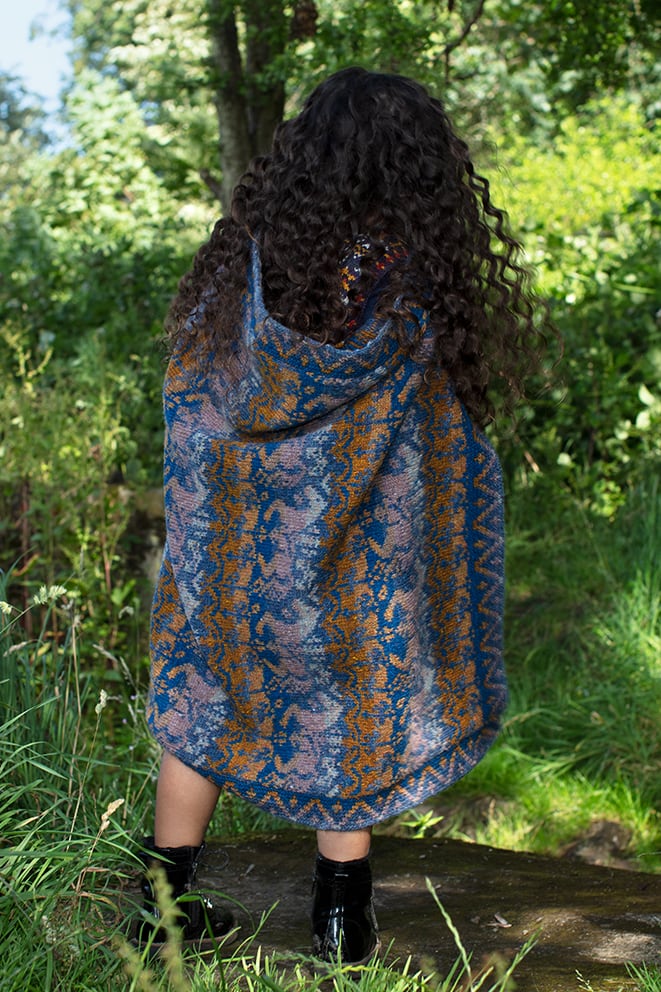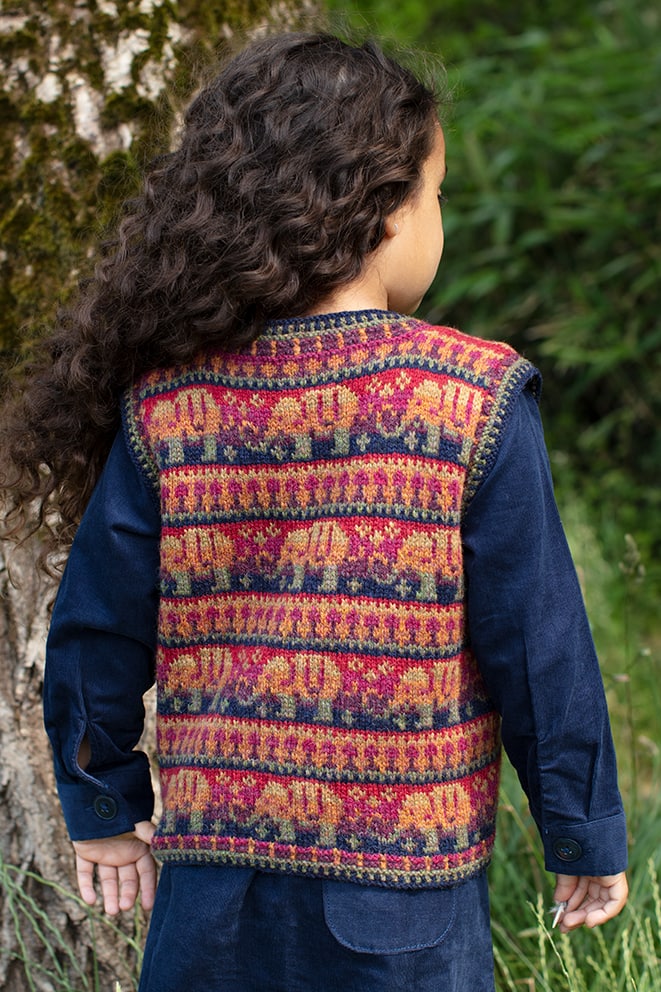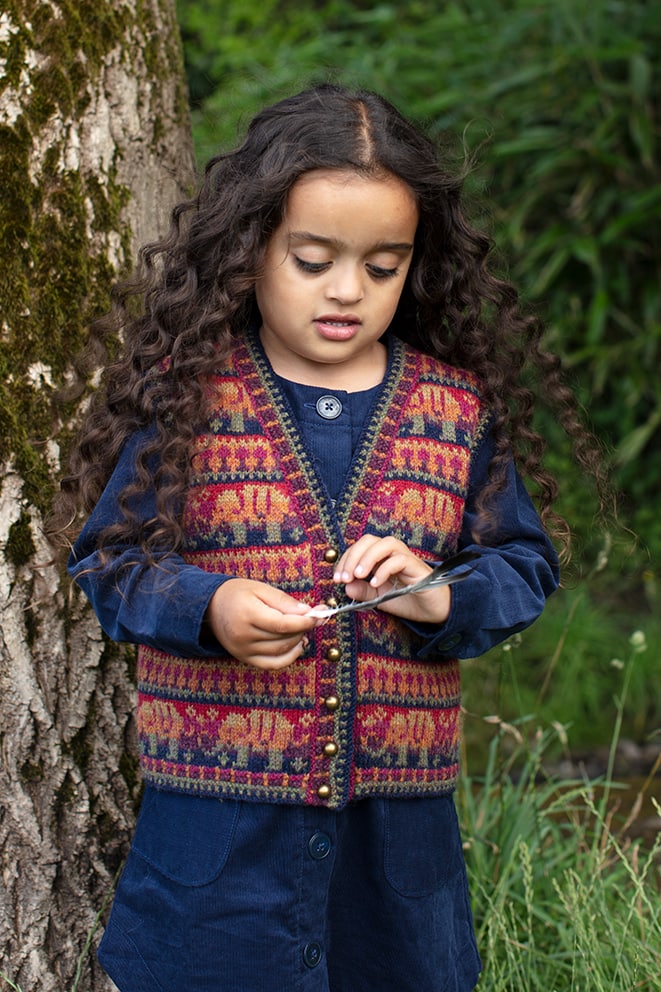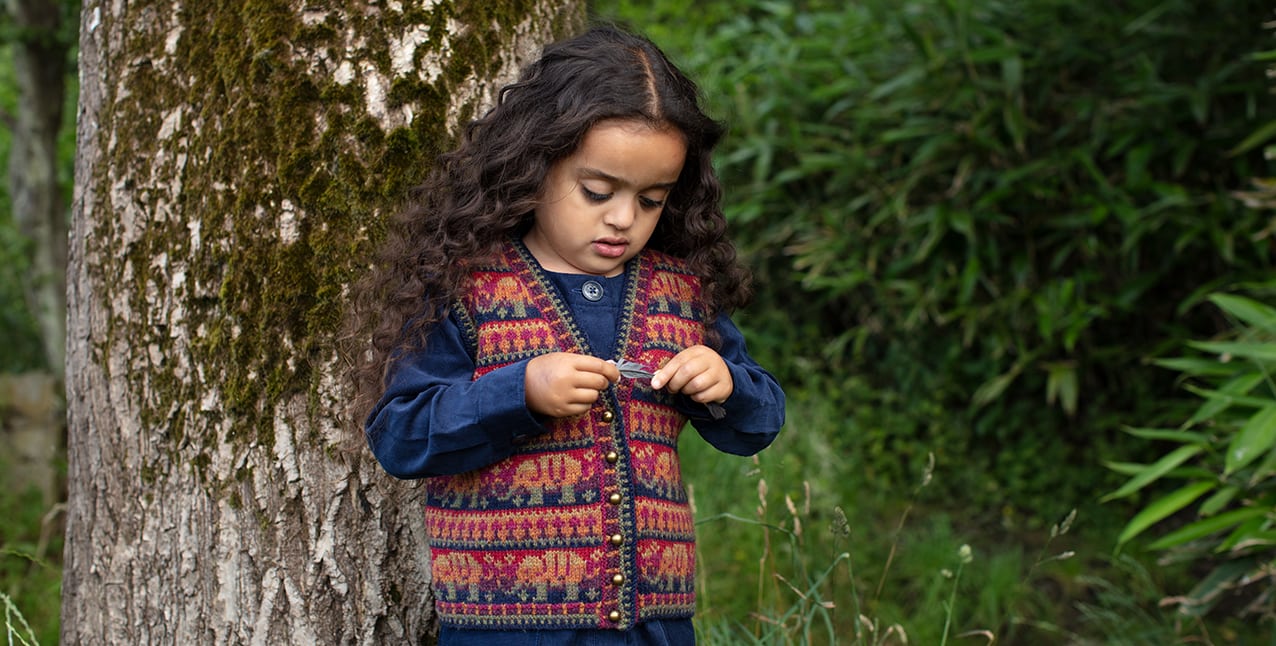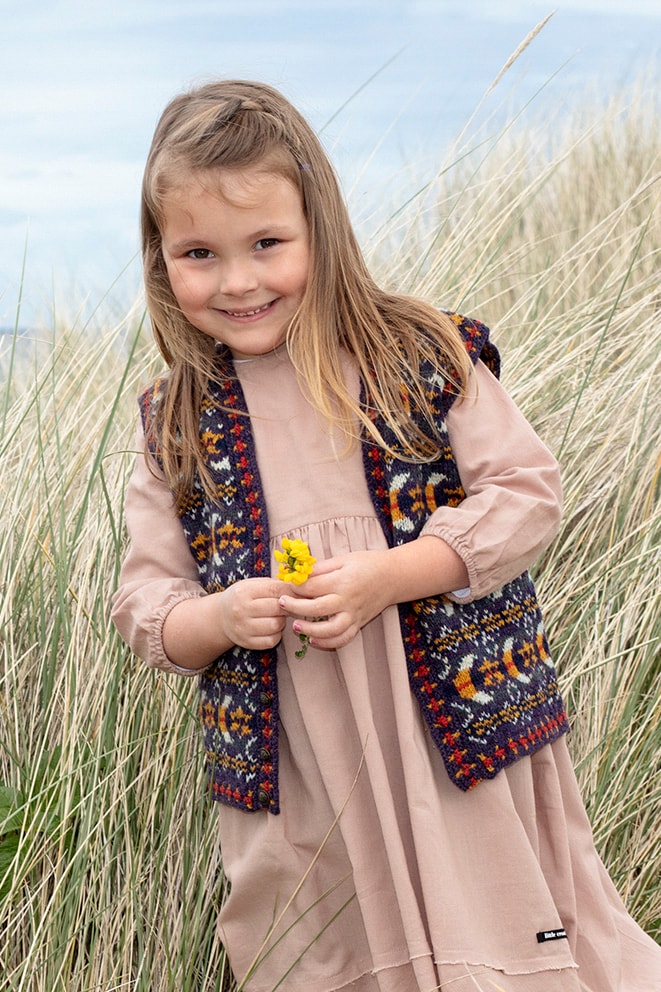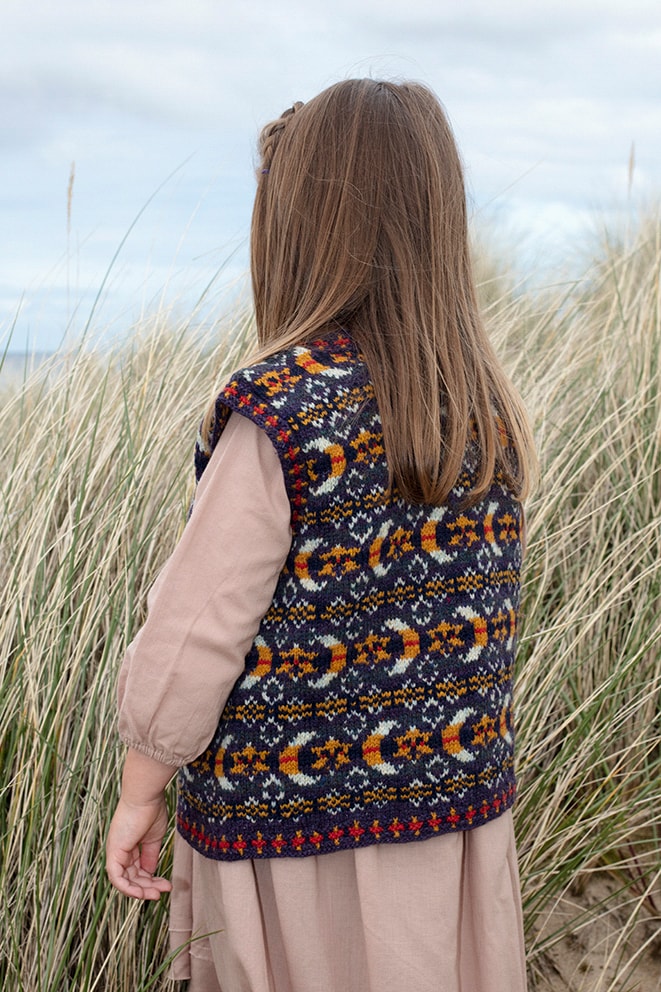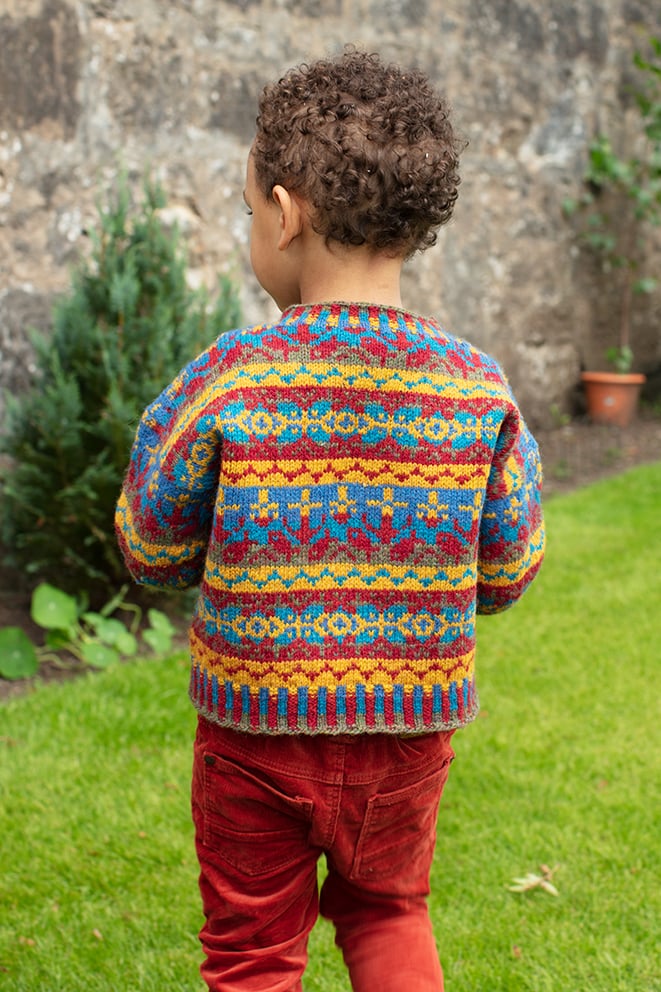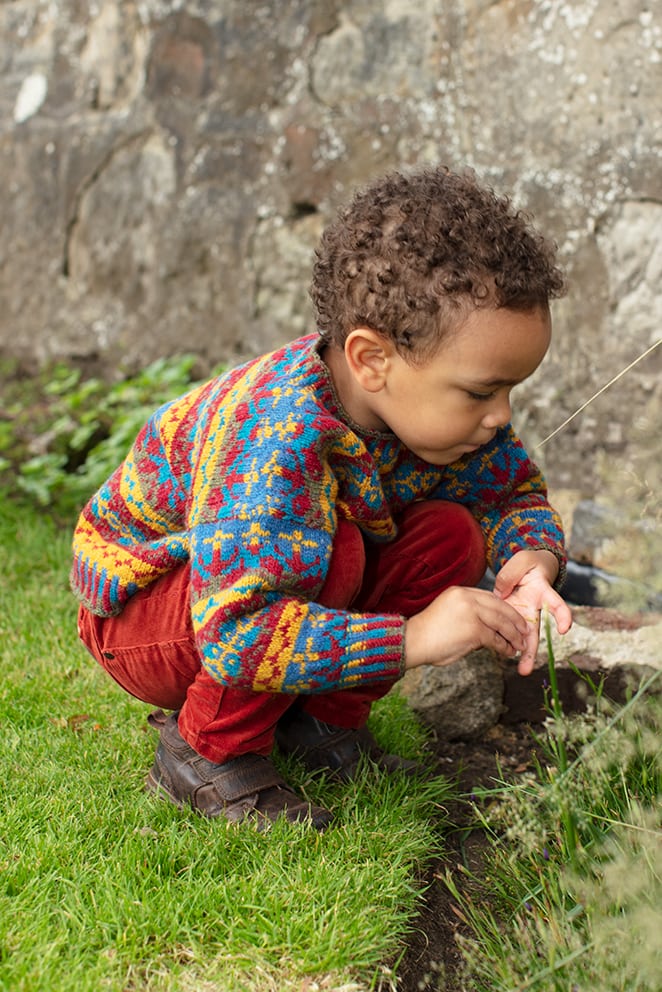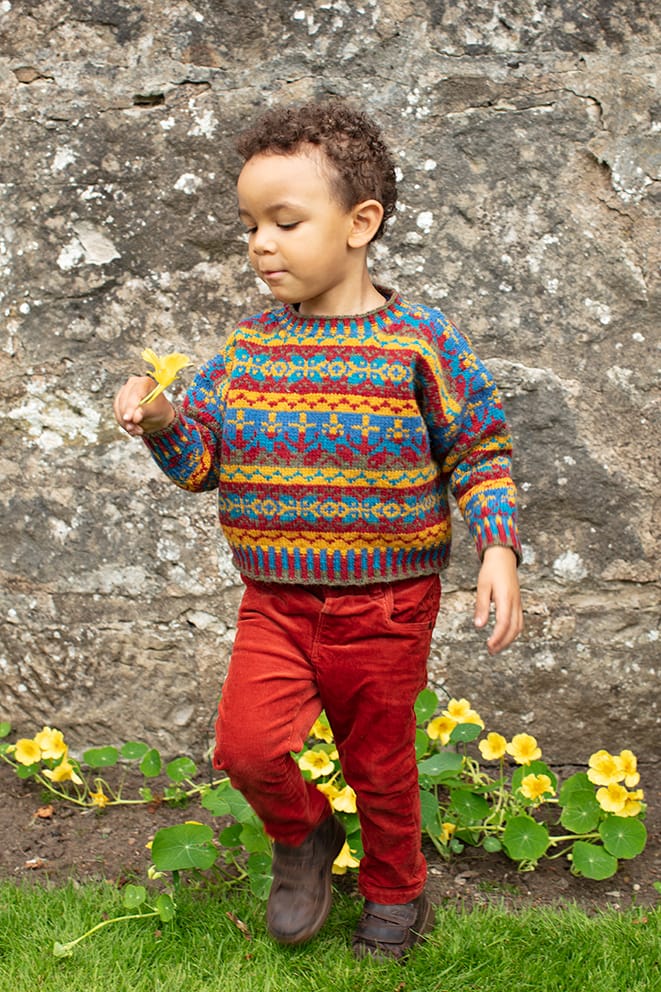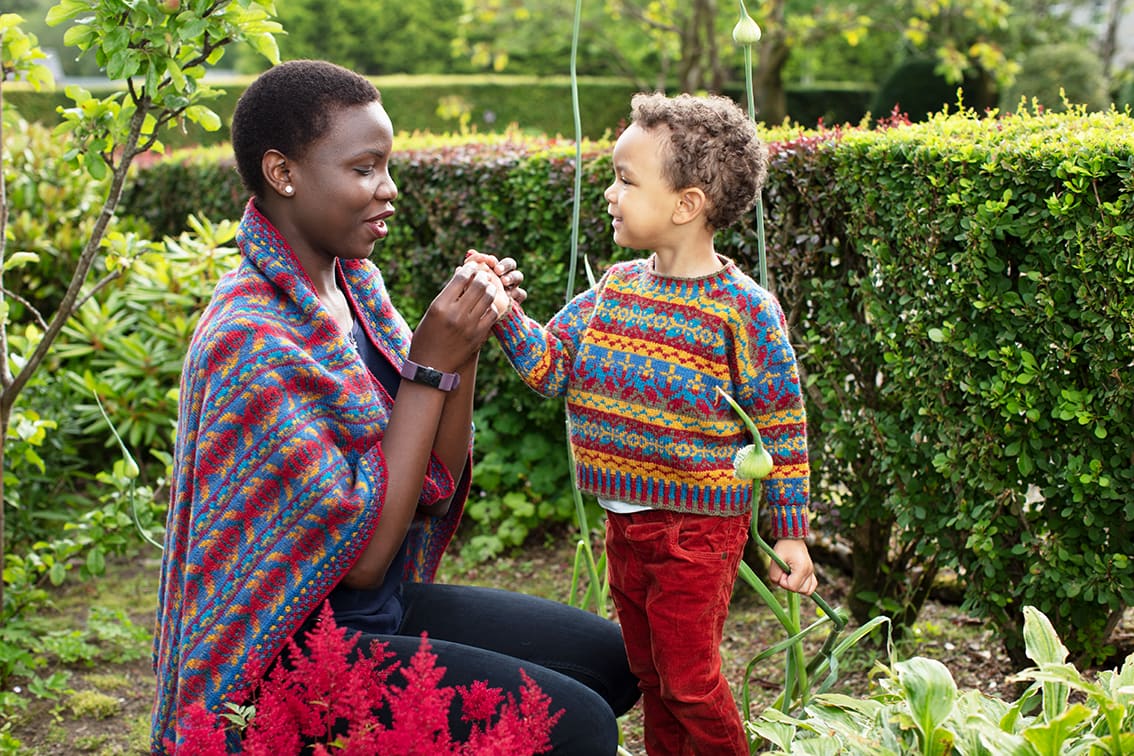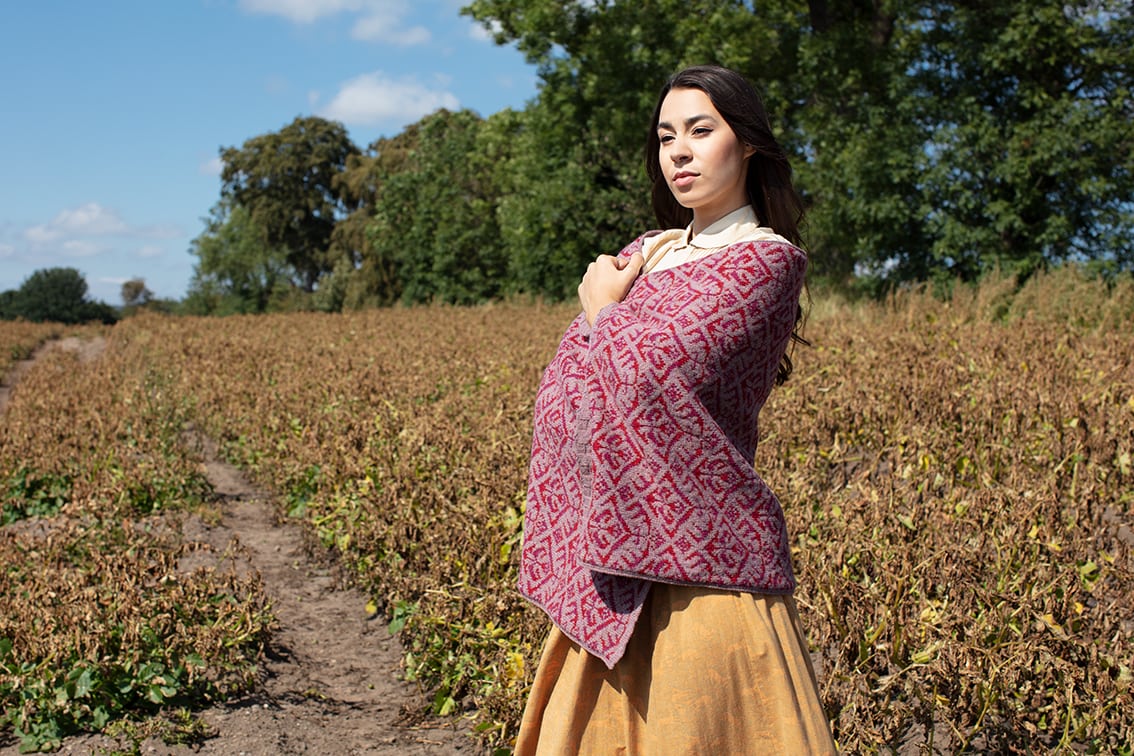 In August we had an unexpectedly sunny photoshoot in Fife with Jessica, allowing us to add the Elizabethan Wrap to the Collector's Item yarn packs. We also got some lovely new images of the Petronella patterncard kit made up in Suilven colour.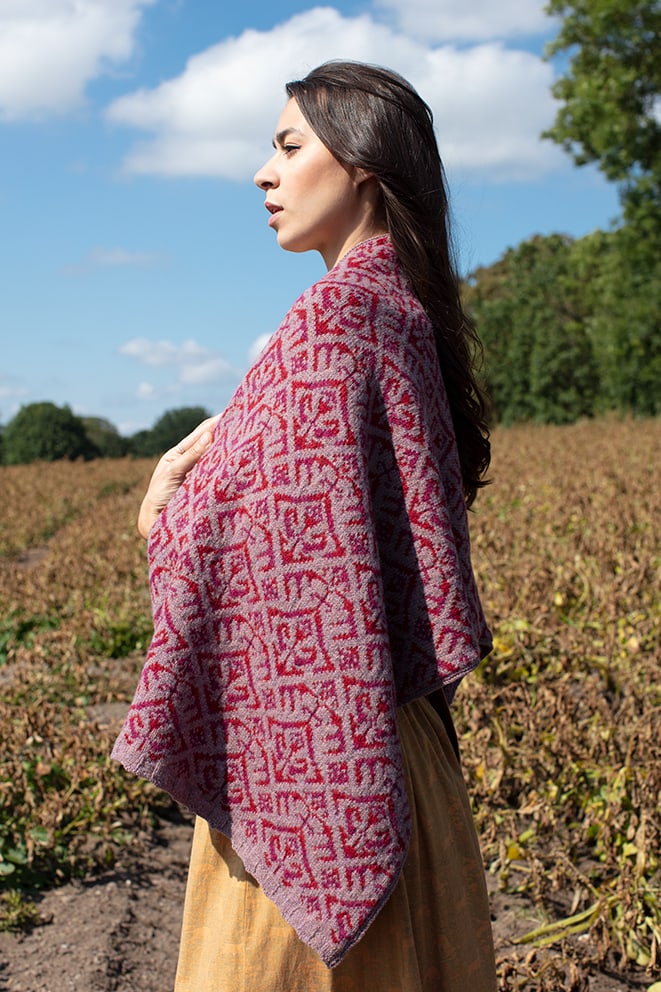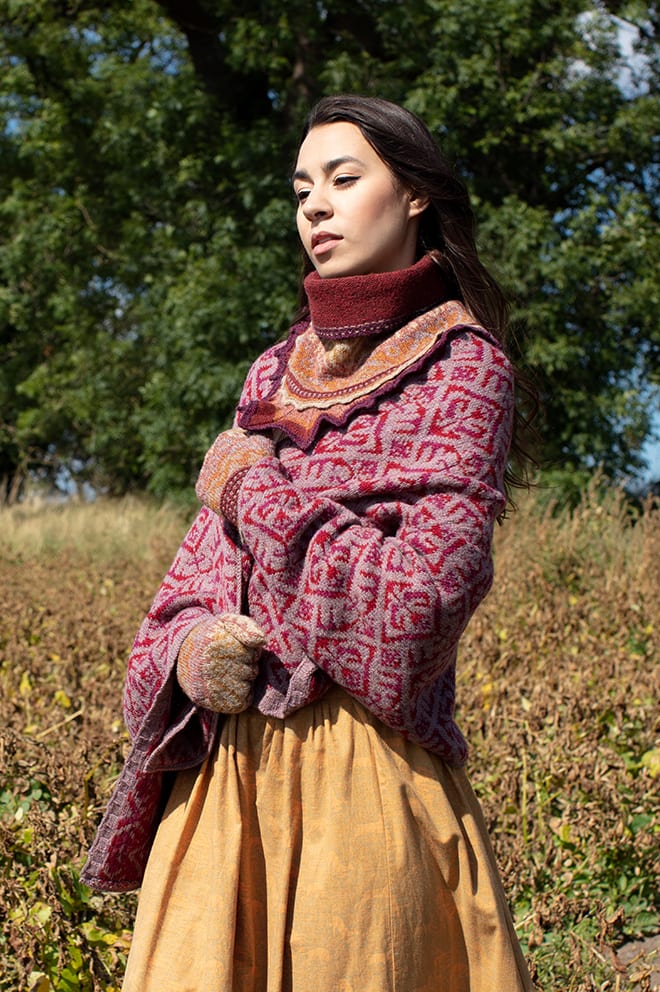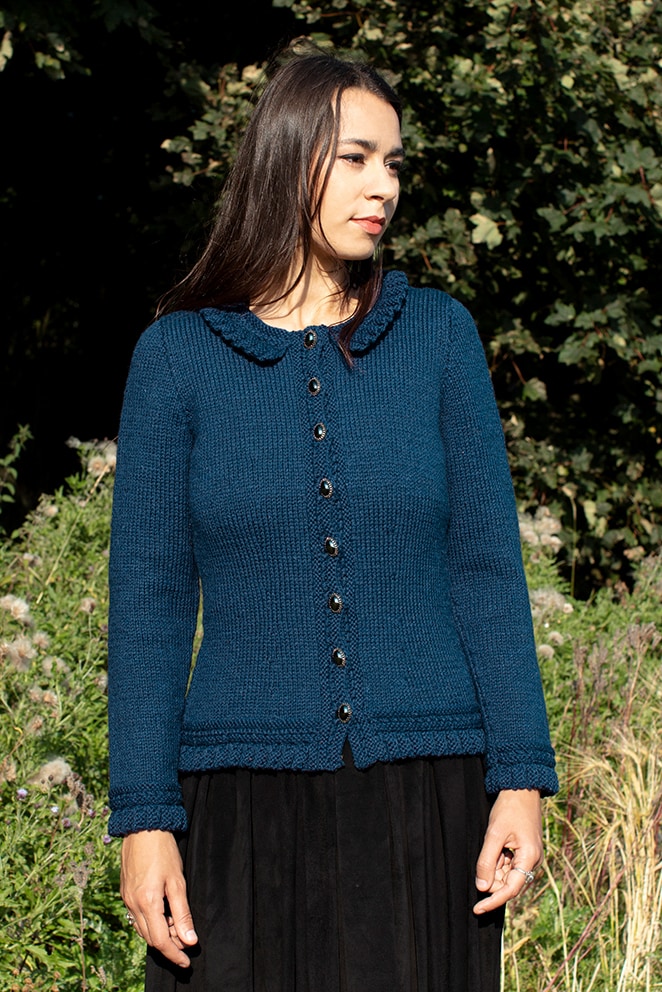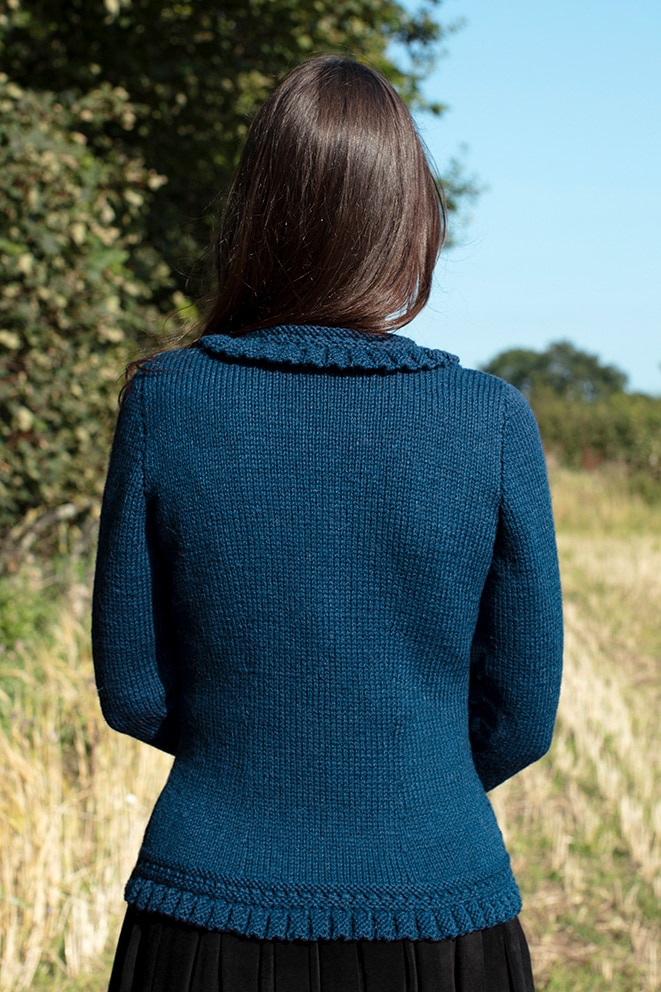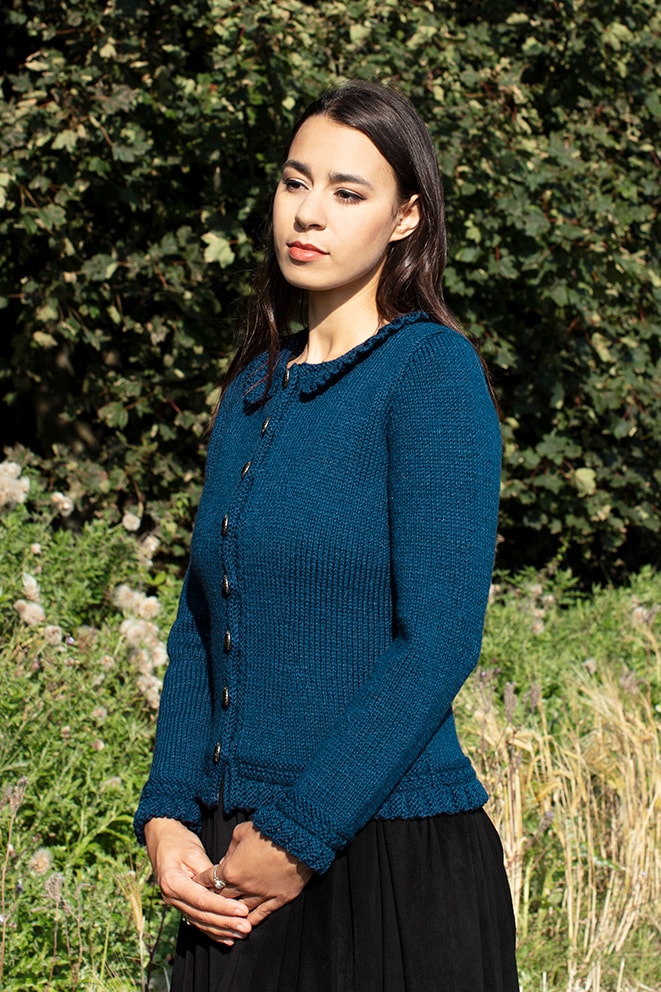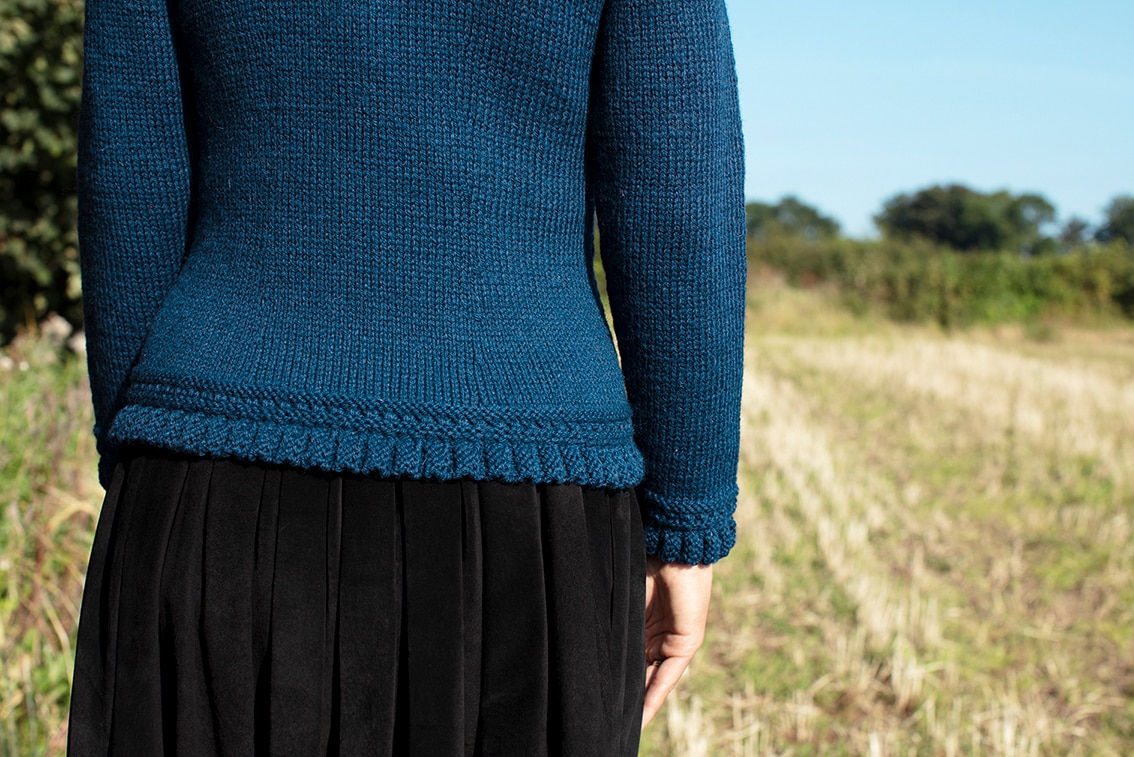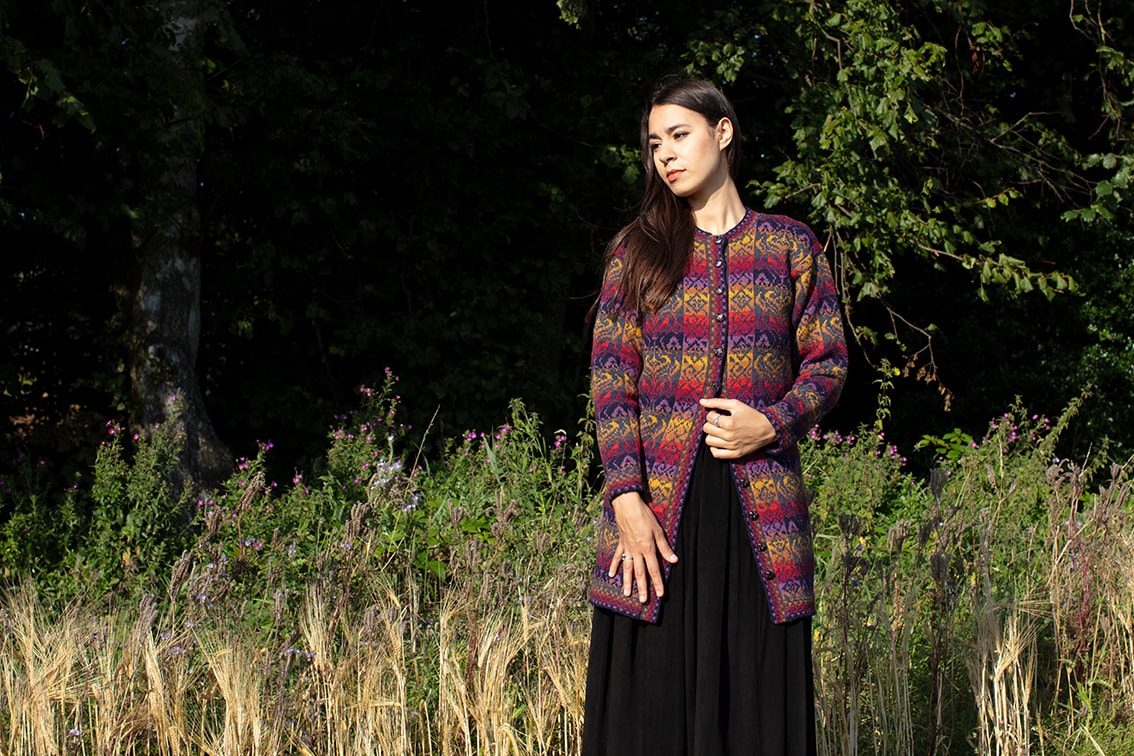 Thanks to shoots with both Jessica and Emma we were able to add to the Tudor Roses design imagery, showing these designs against location backdrops.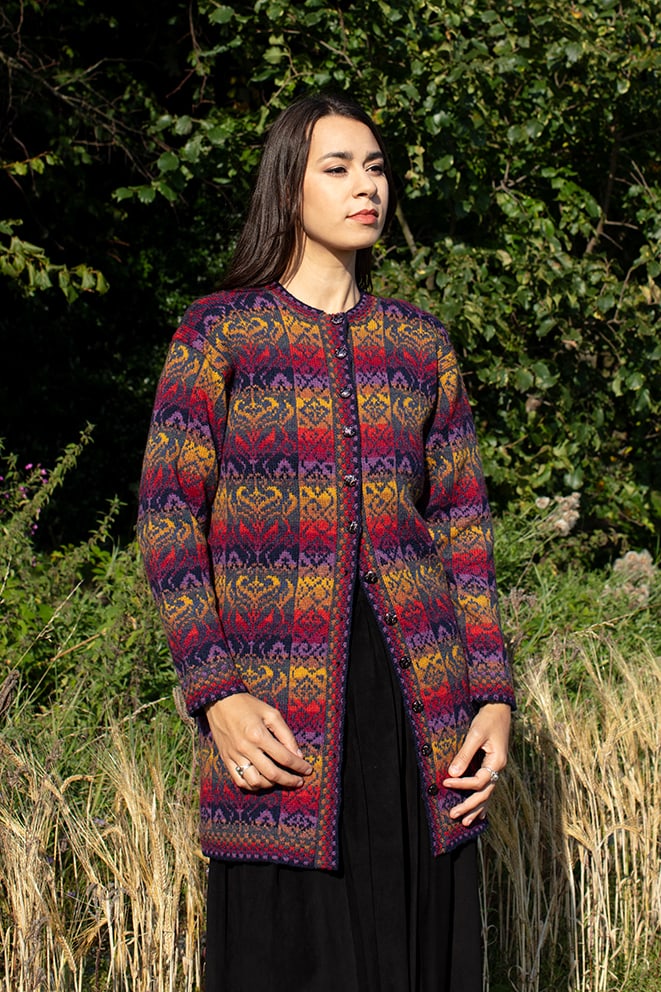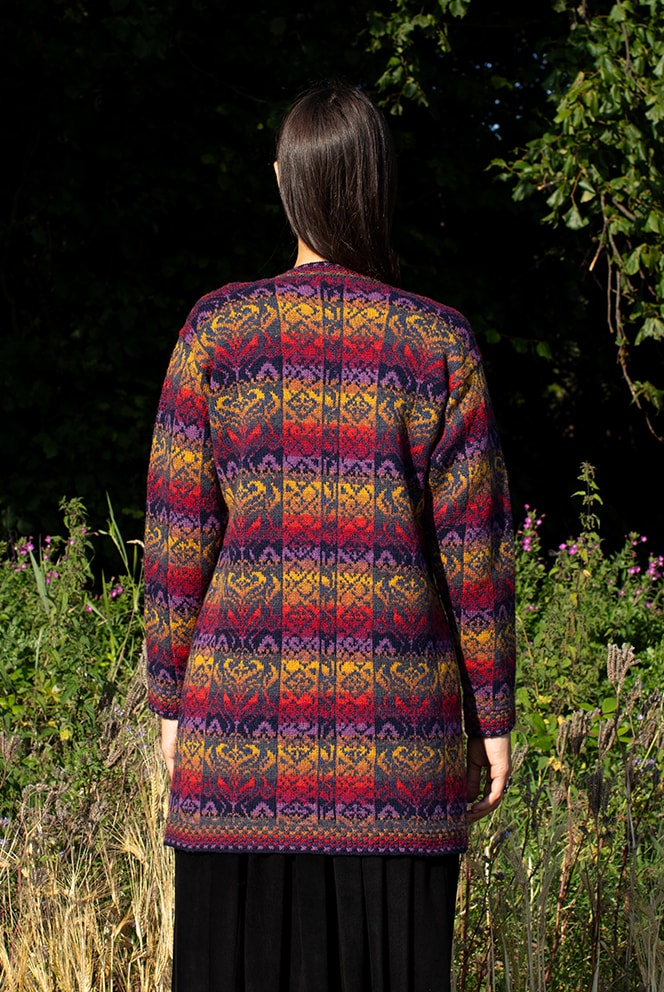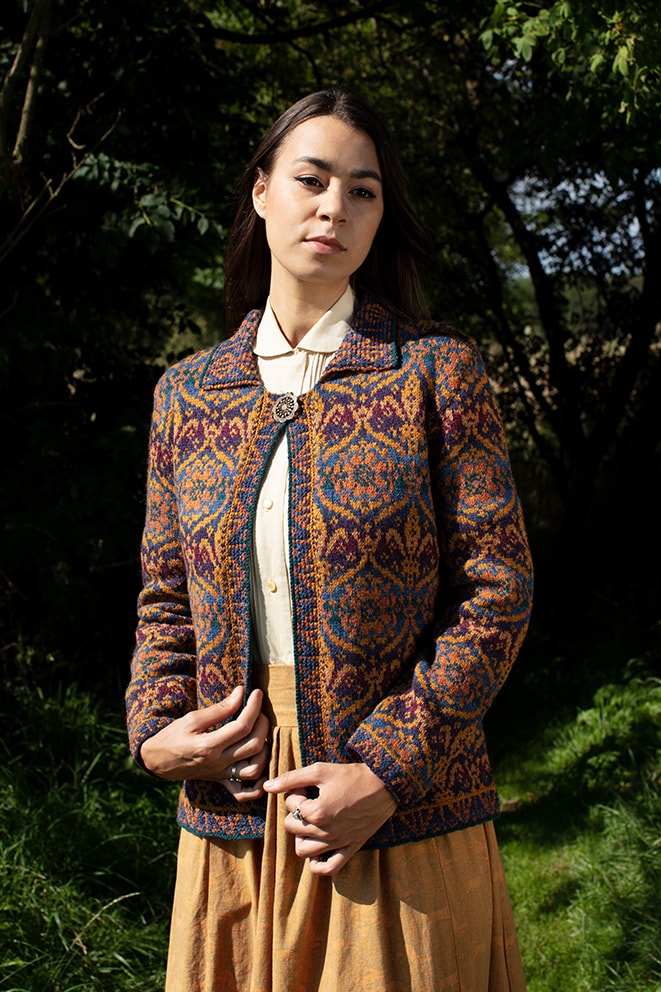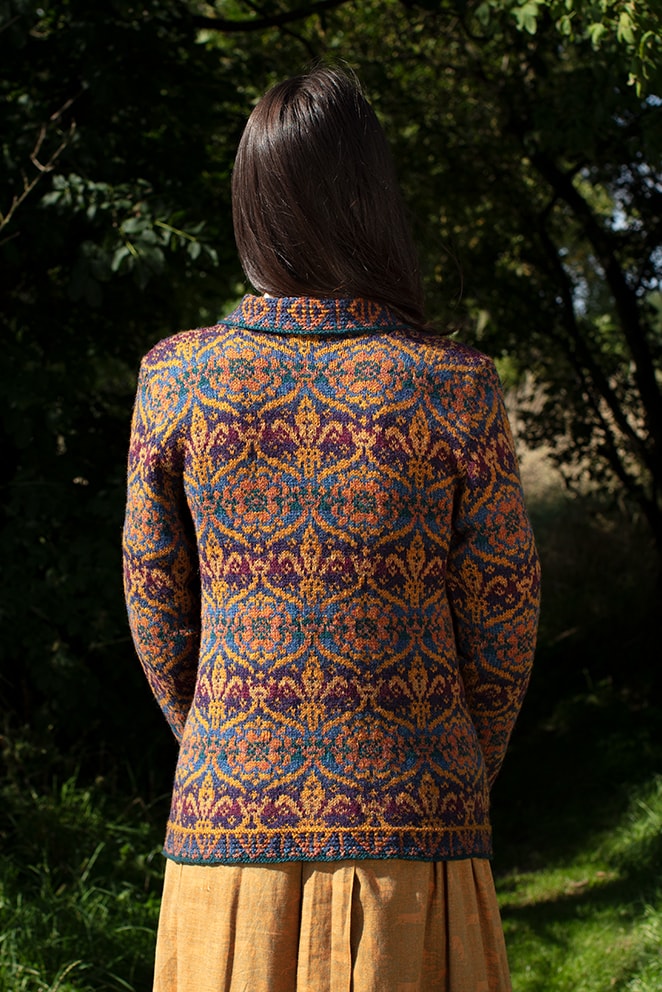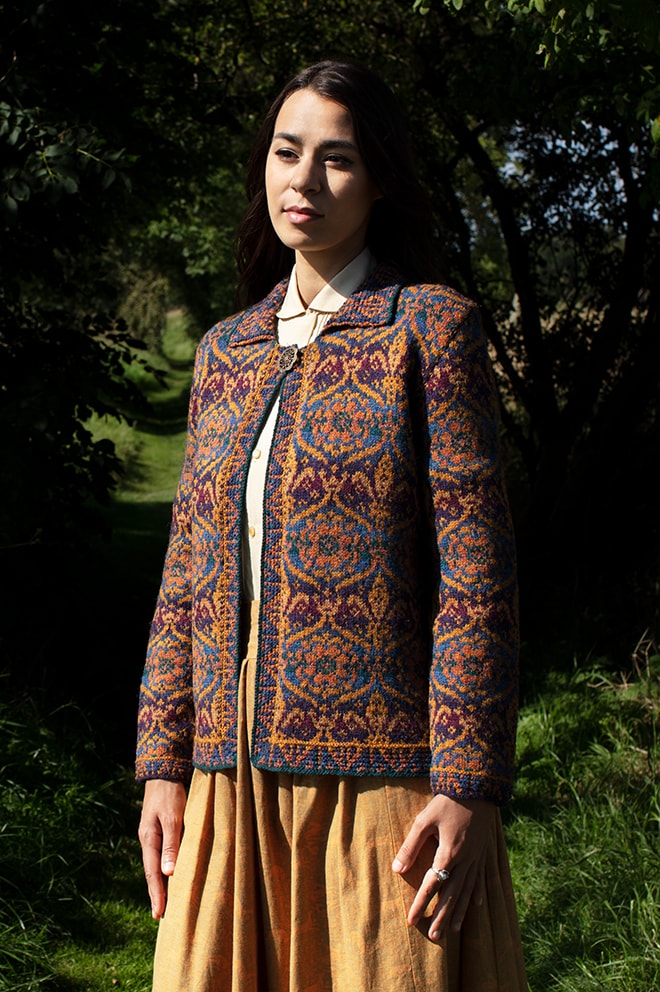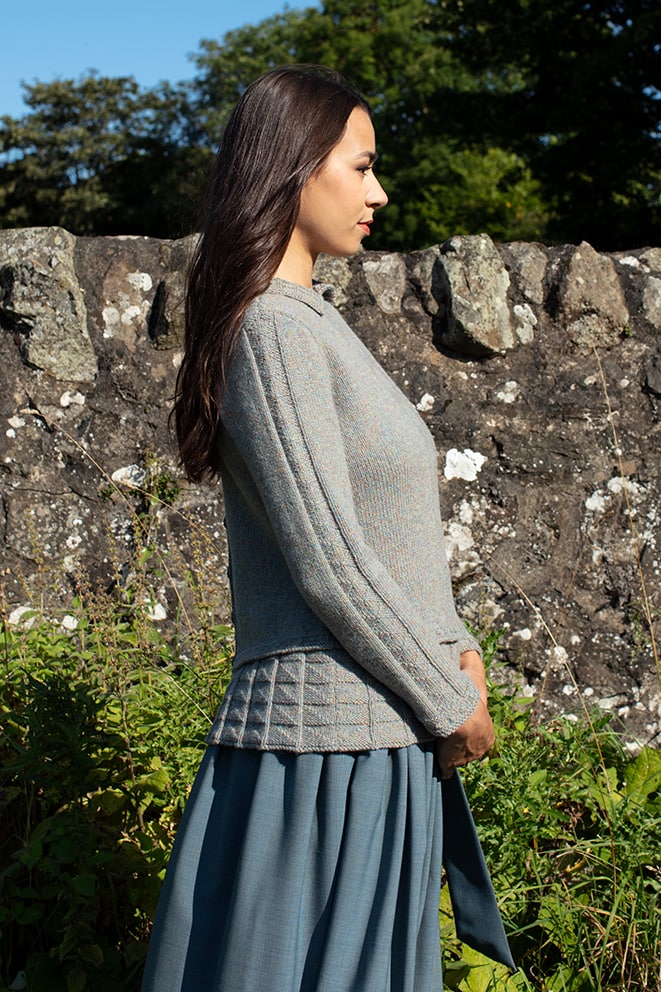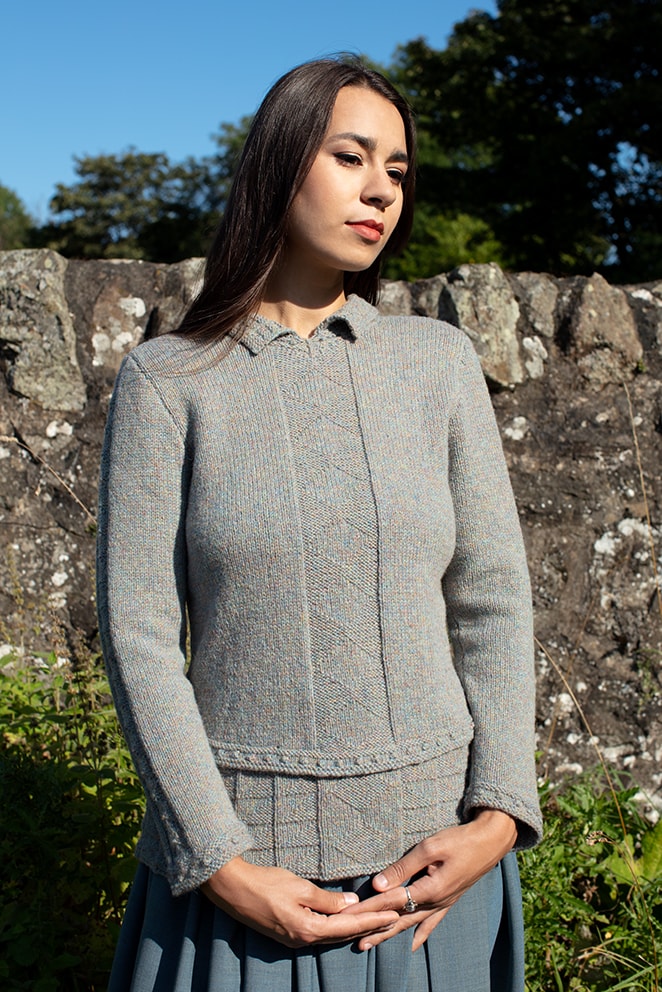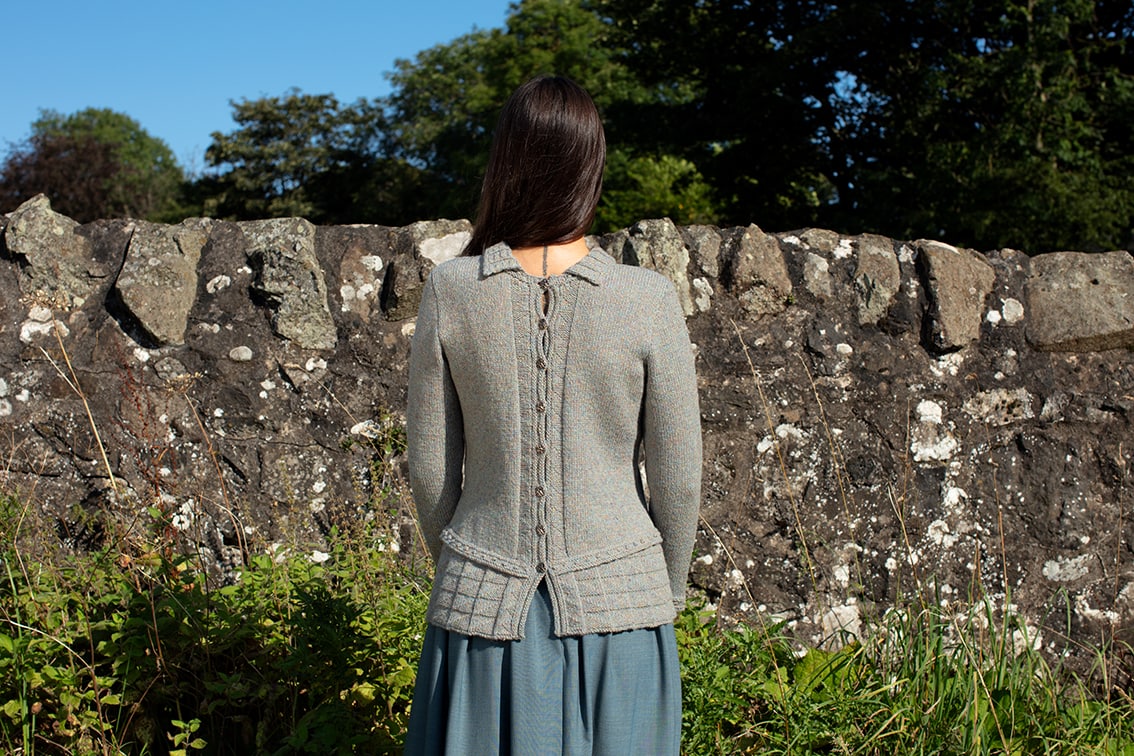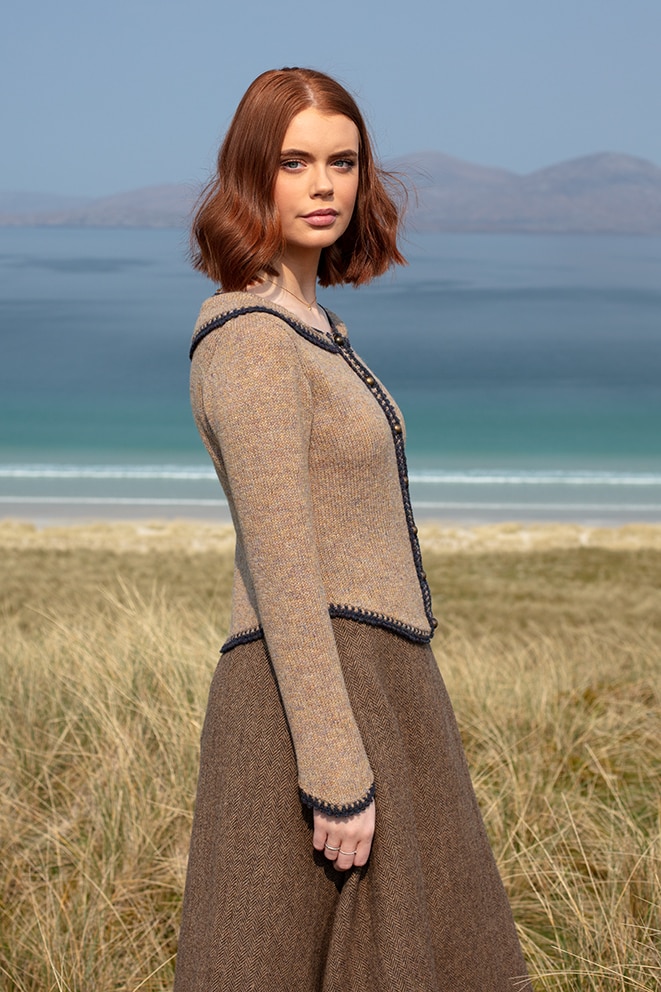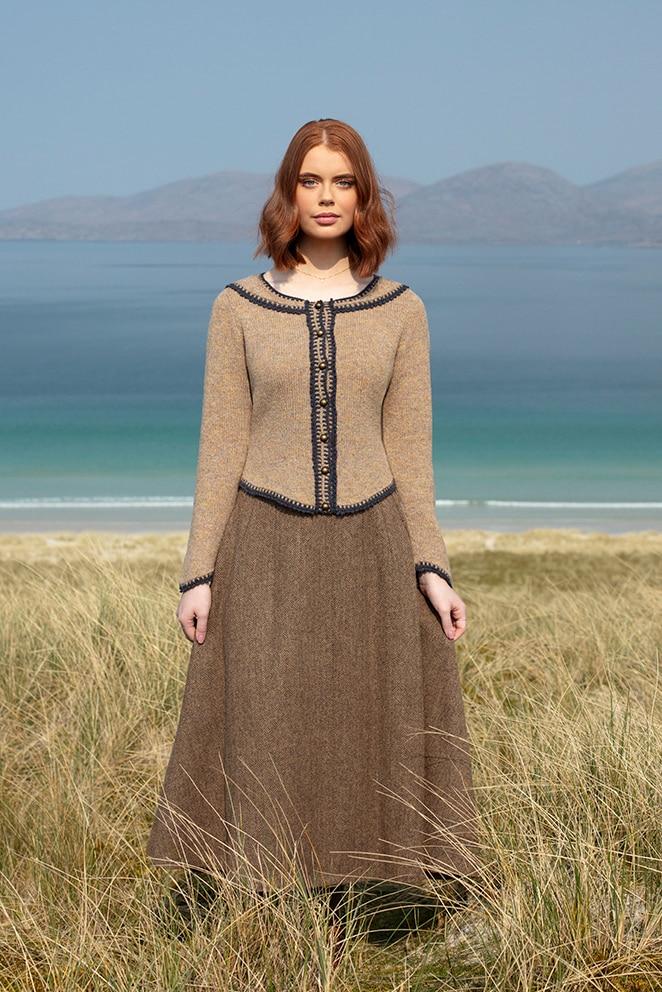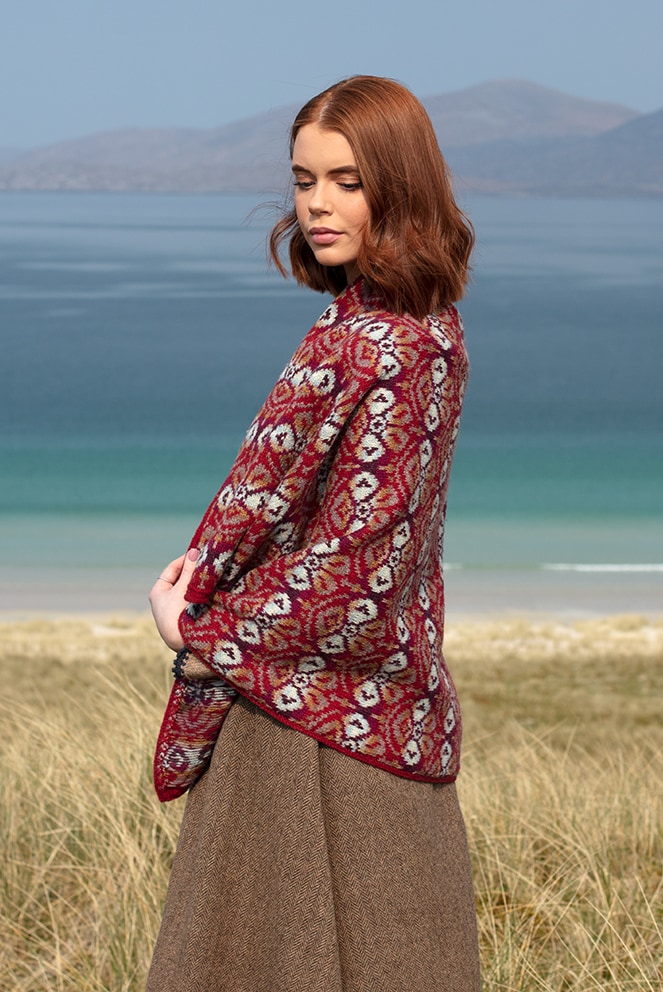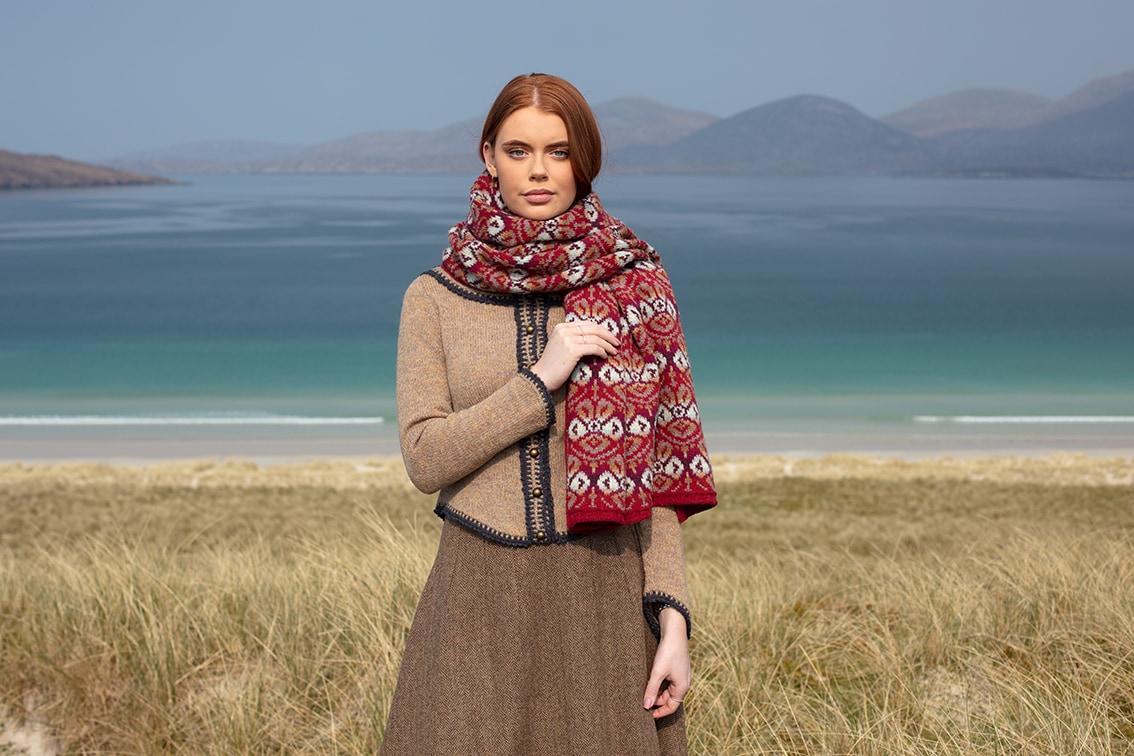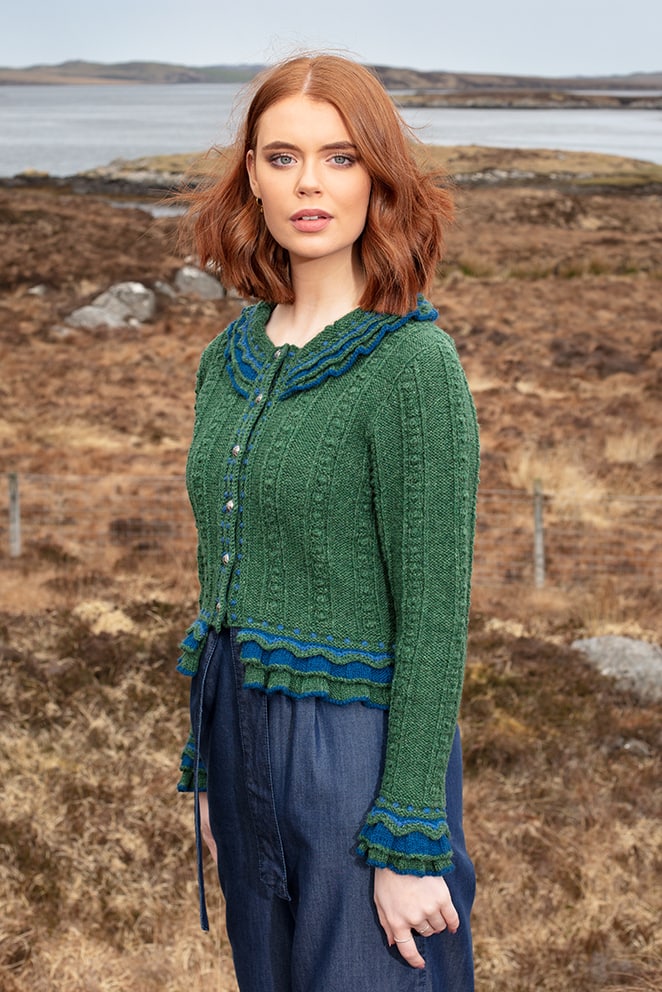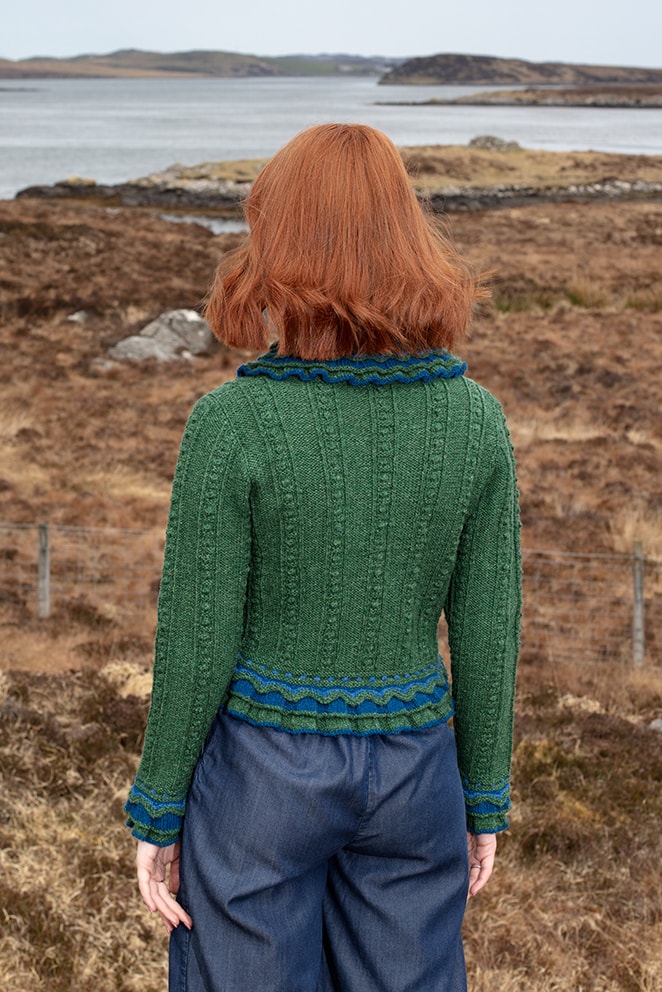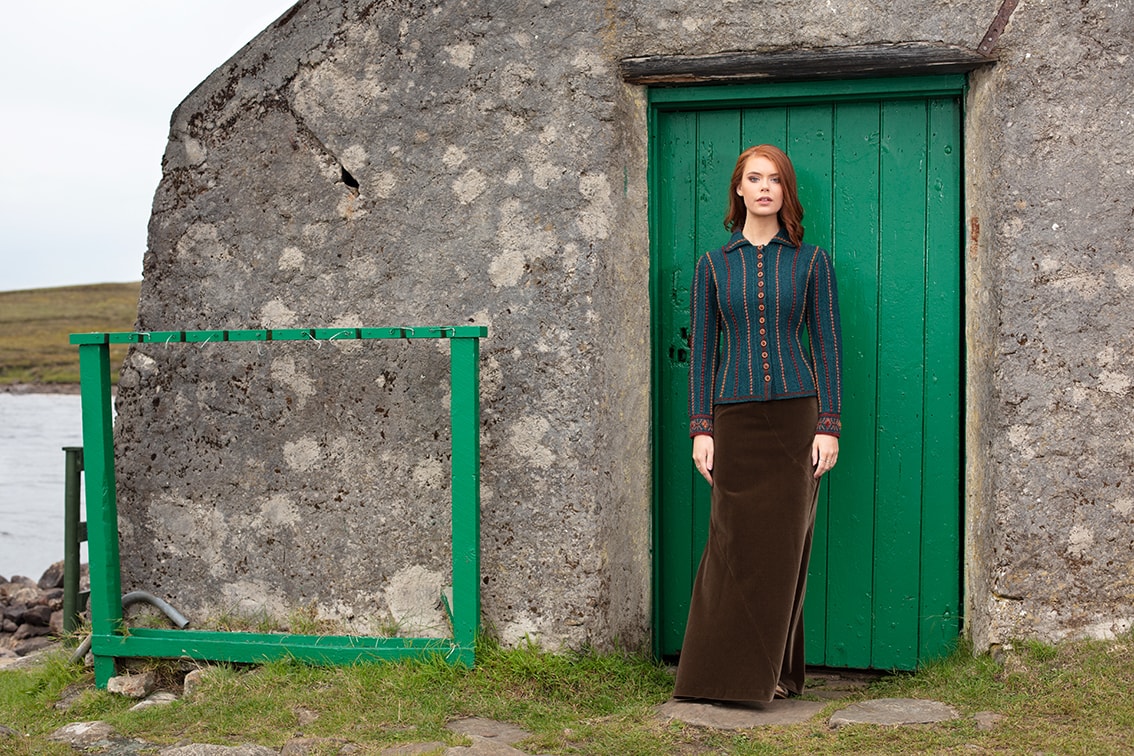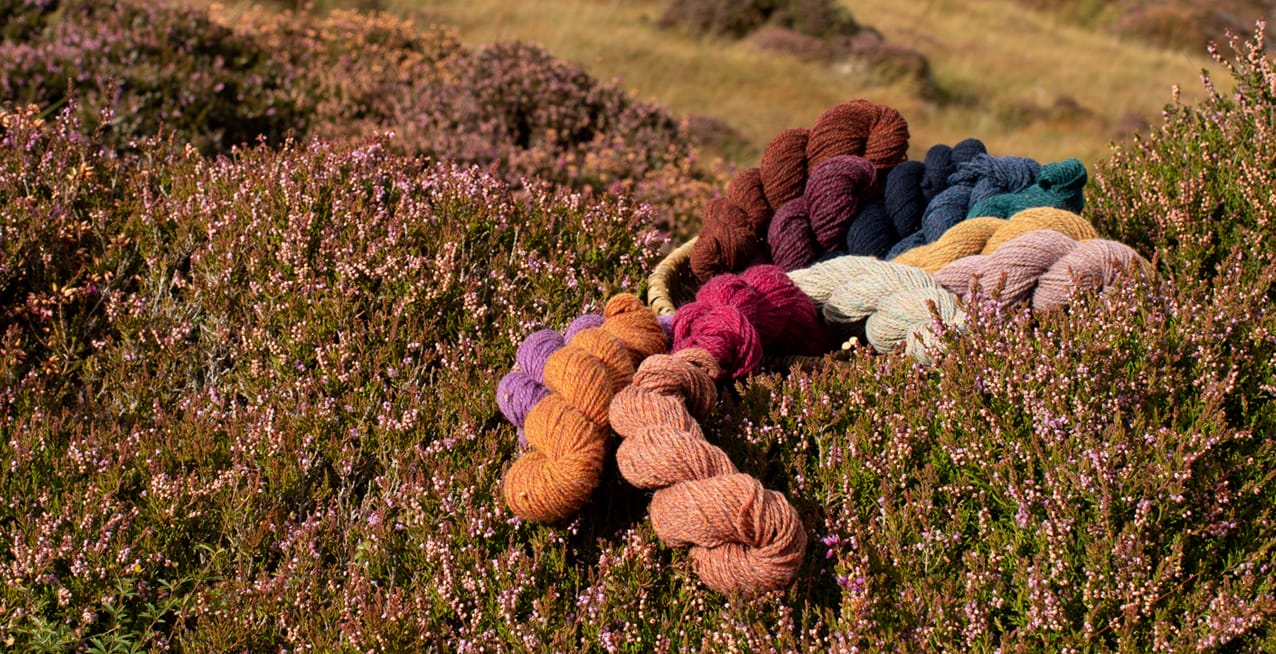 September brought a riot of moorland colour. We added the Mamba Designer's Palette to the website, which features a beautiful set of moorland-inspired colours and a book of my Mamba artworks, which feature the Lewis moor in detail. We also recorded a new video talk – Creating Colours – which goes into detail on colour inspiration, natural dyes and our own yarn range.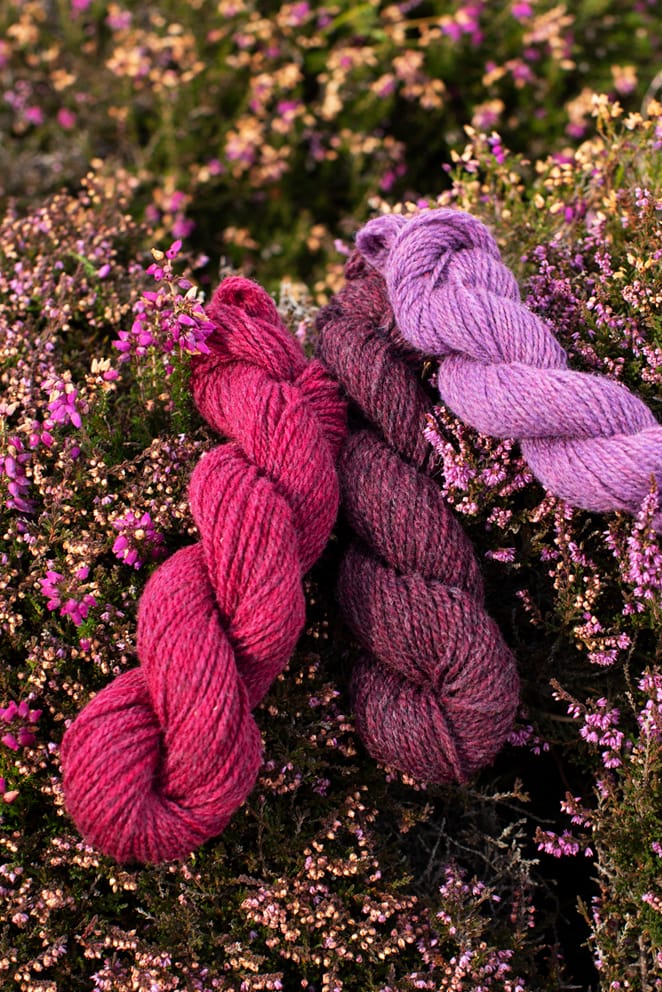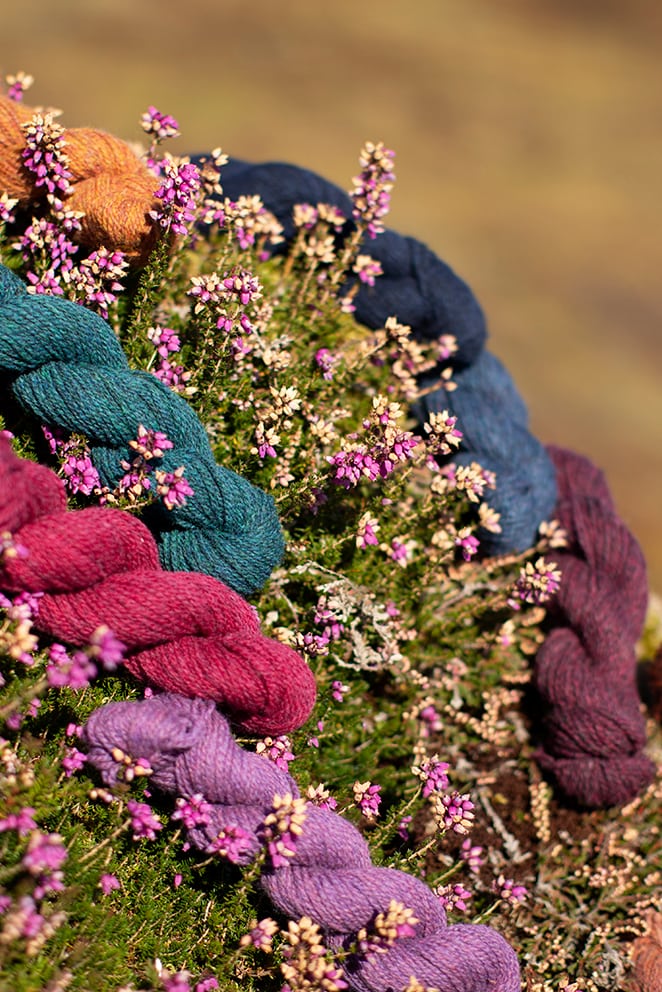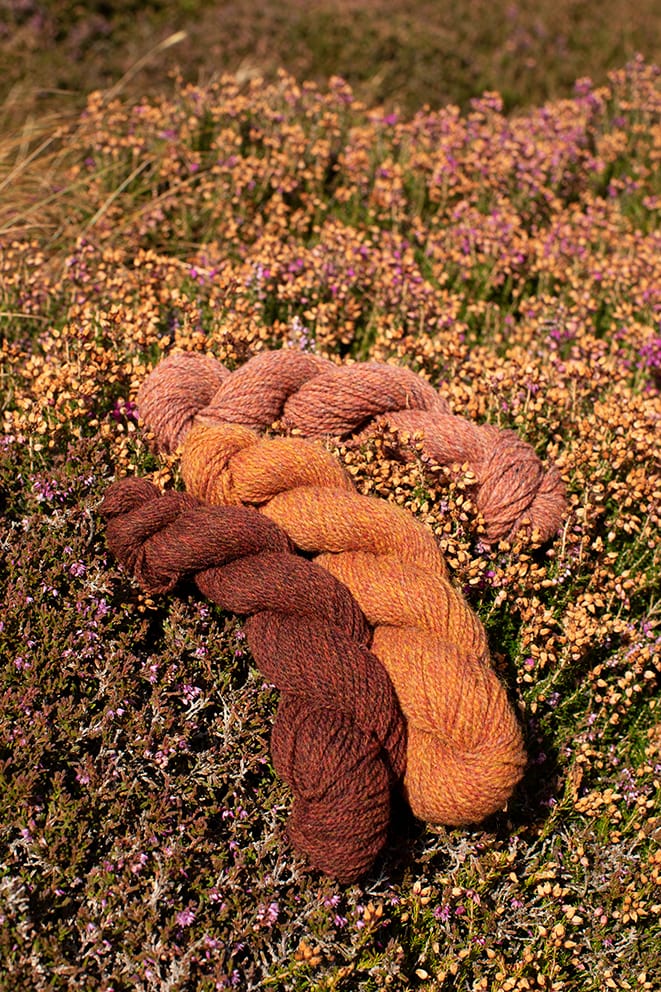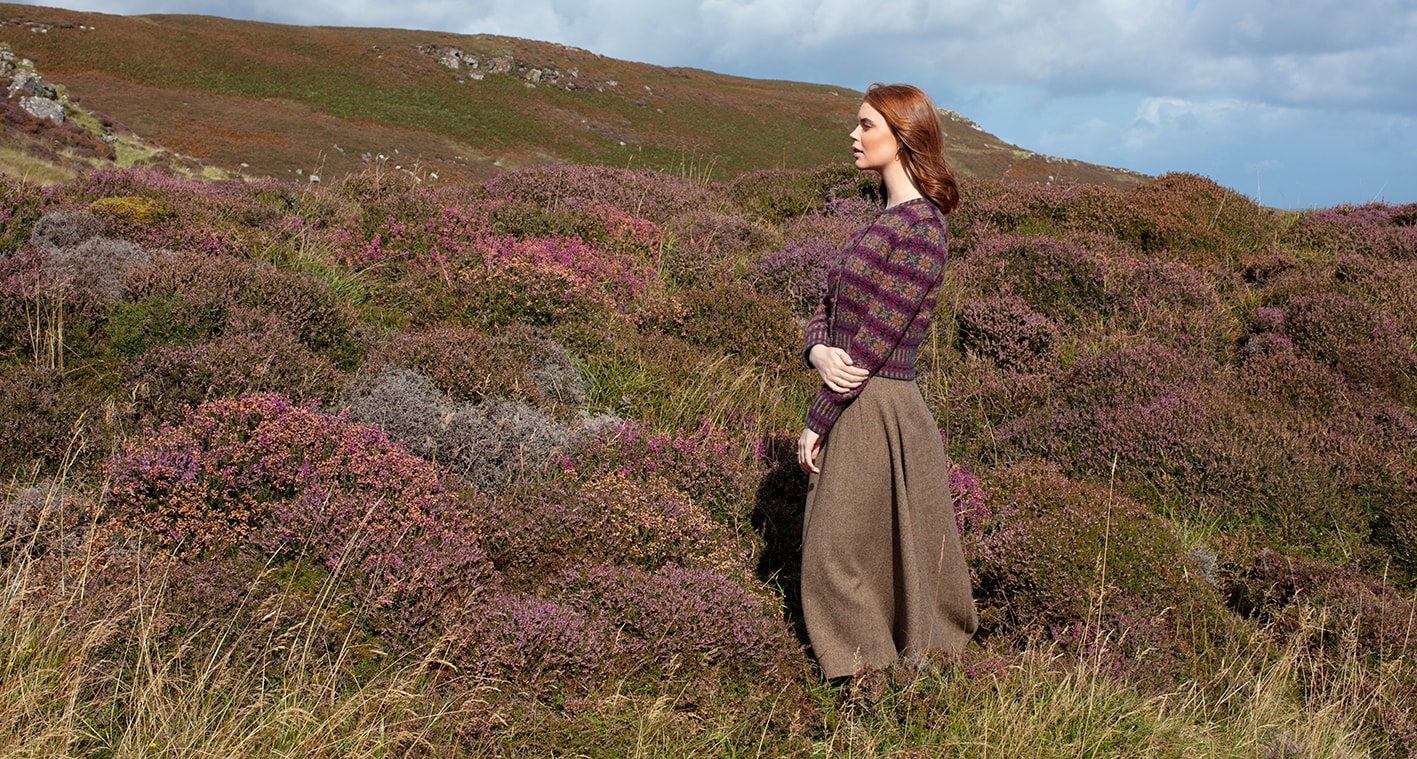 The moorland colour theme continued with the Mòinteach patterncard kit.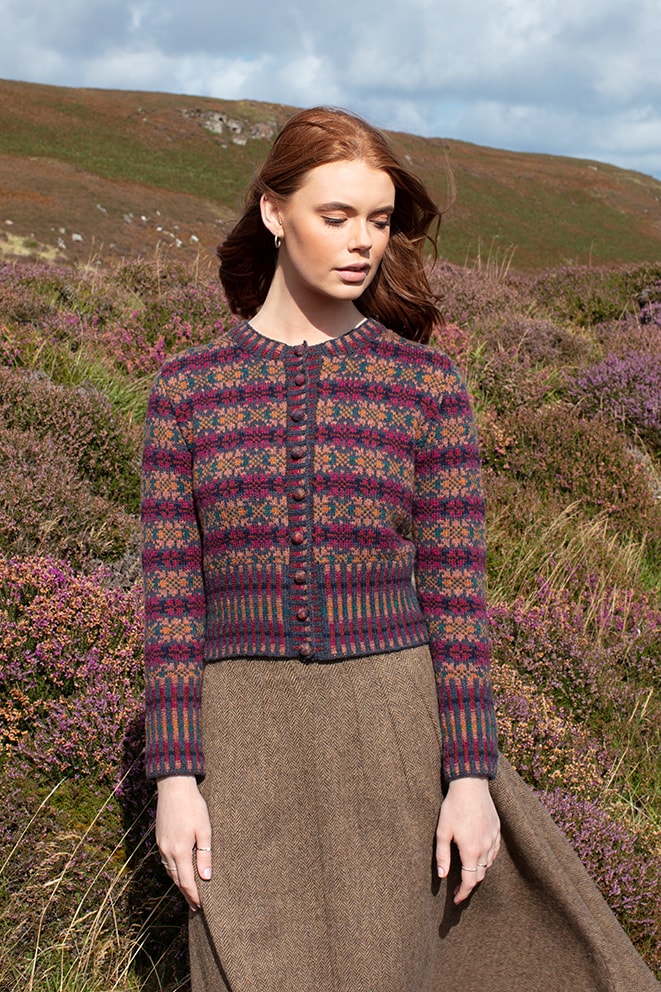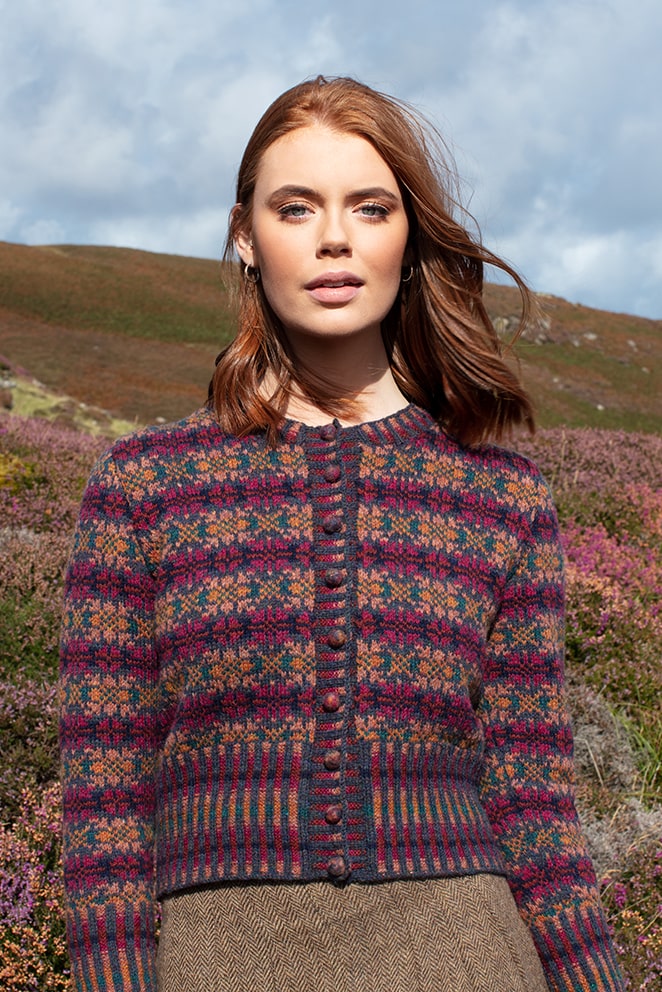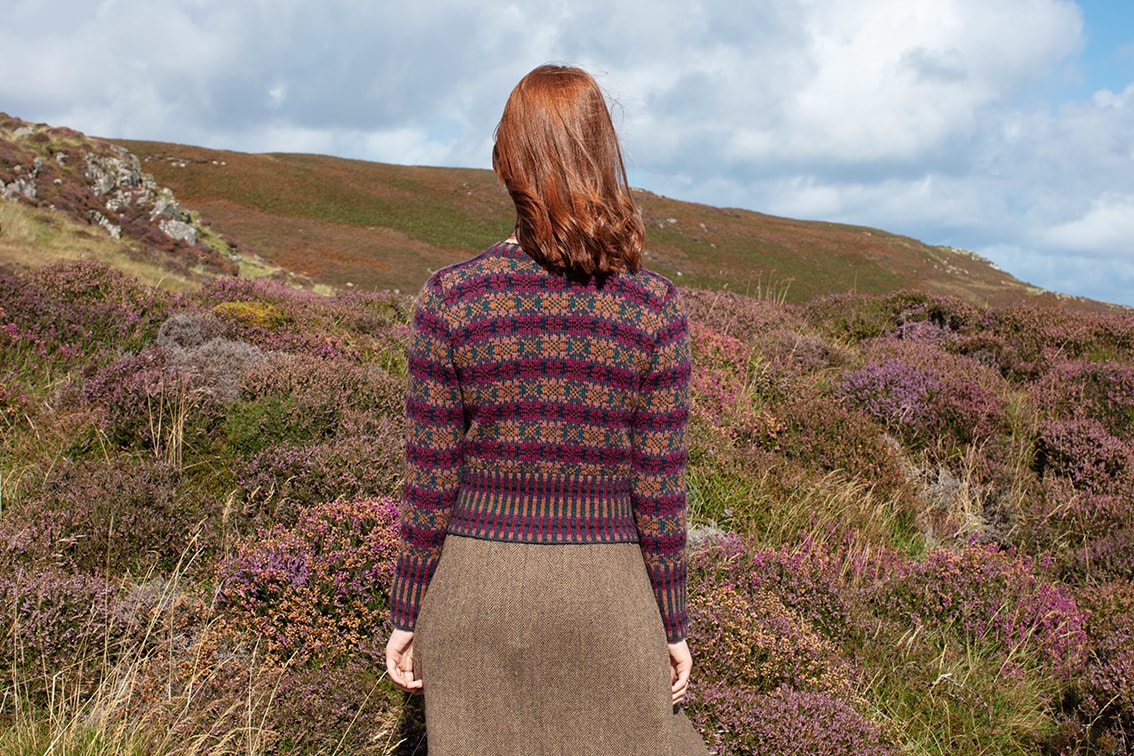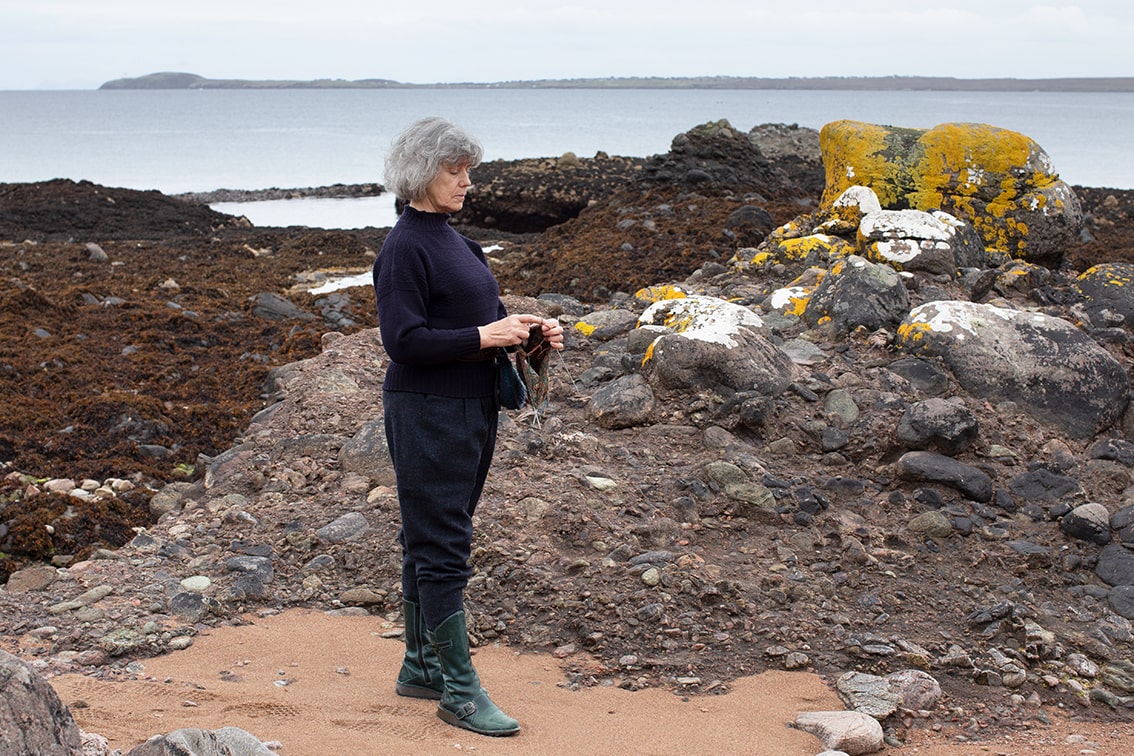 A very different video tutorial followed swiftly after, with a talk on the history of Knitting Belts and a demonstration of how to make and use one.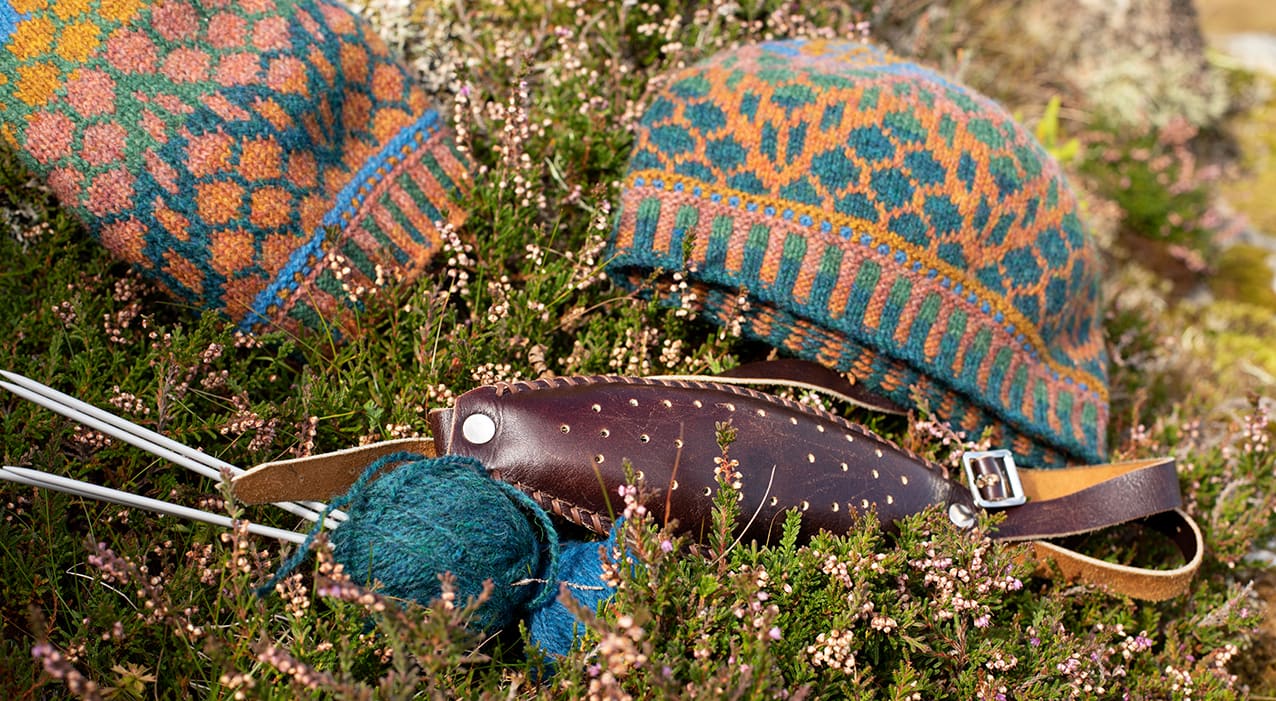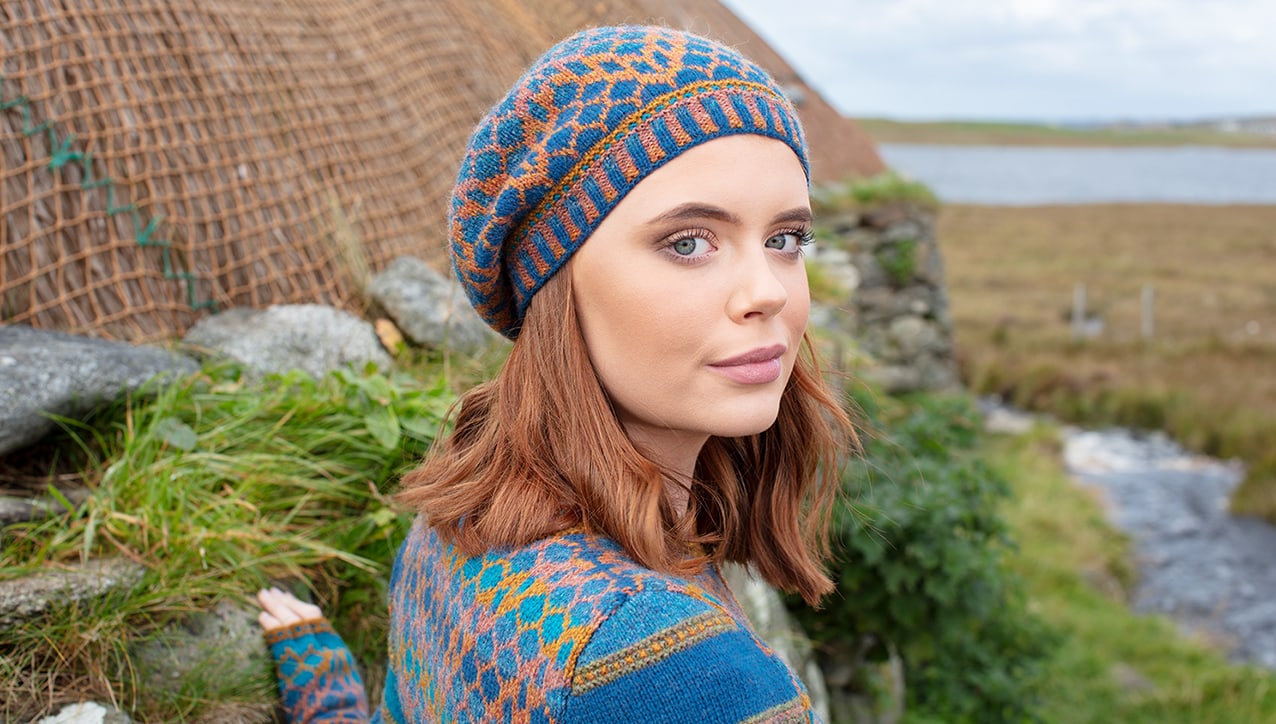 The Damselfly Hat Set patterncard kit arrived in time for cooler weather, with a choice of three beautiful colourways.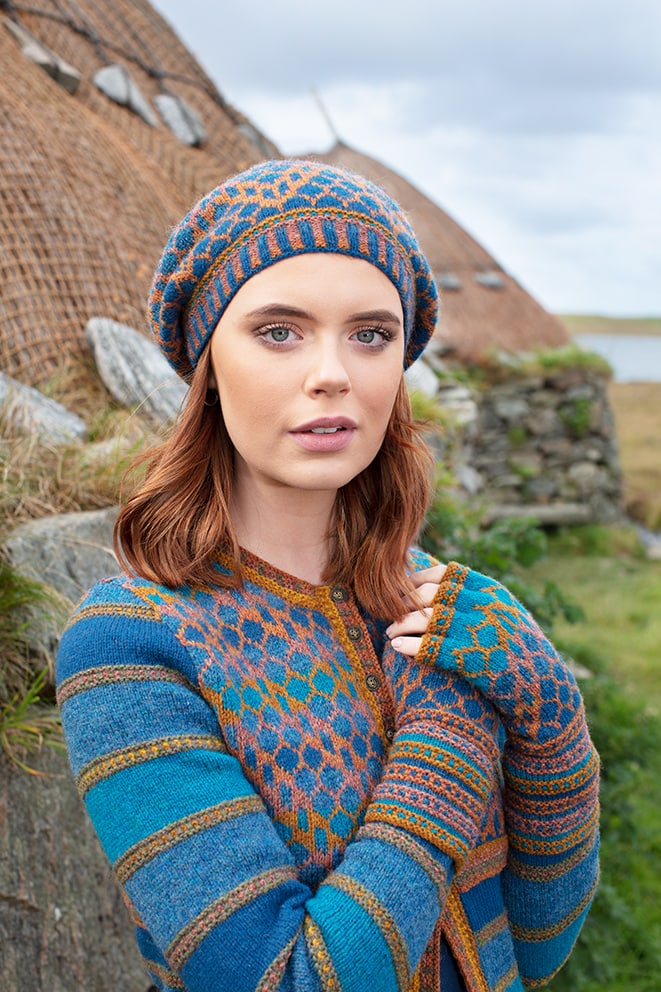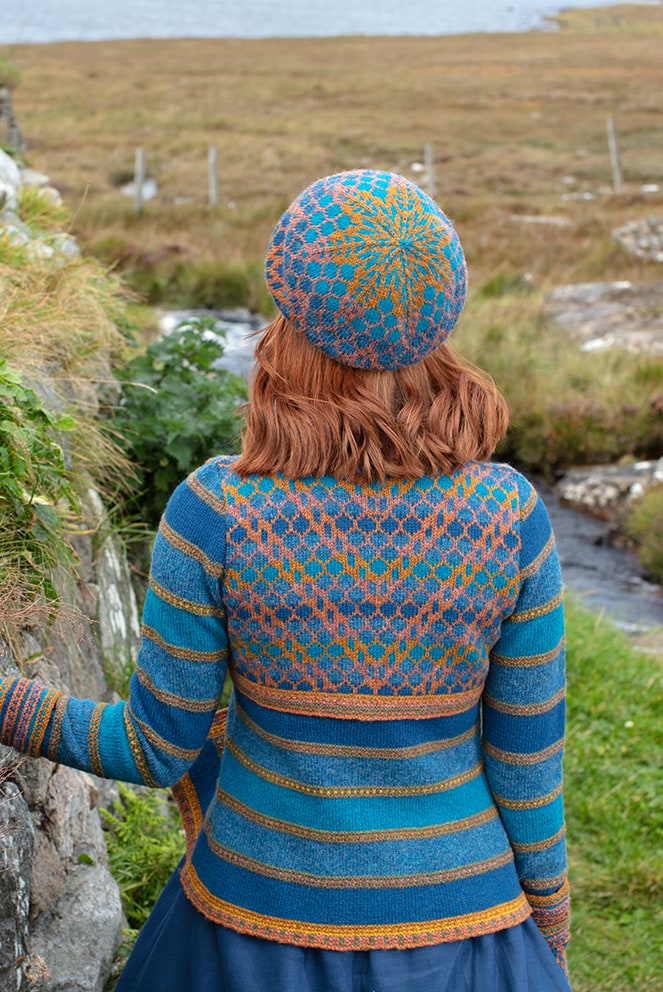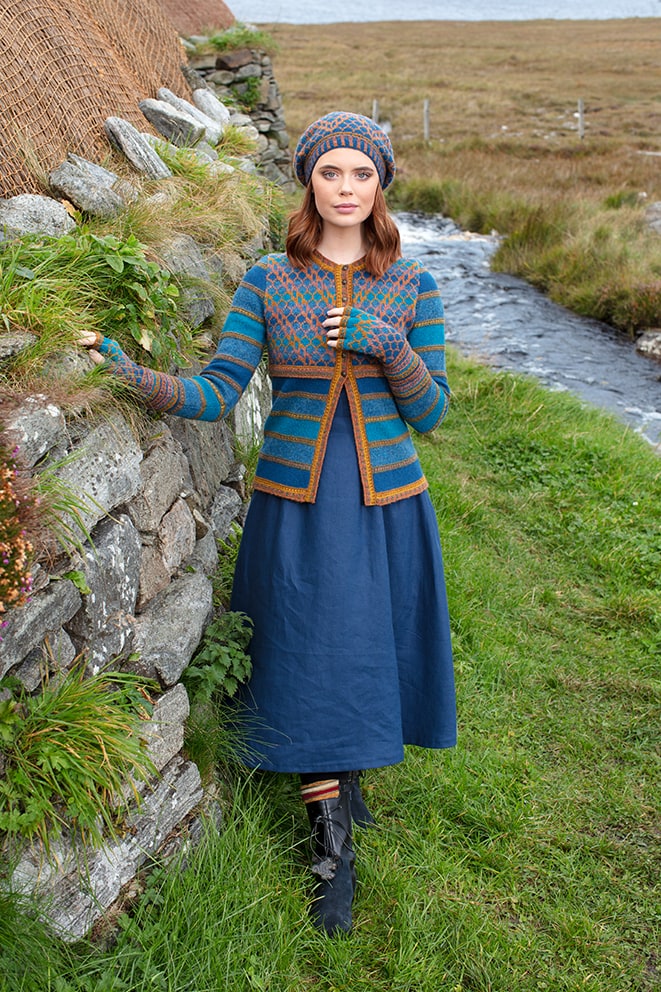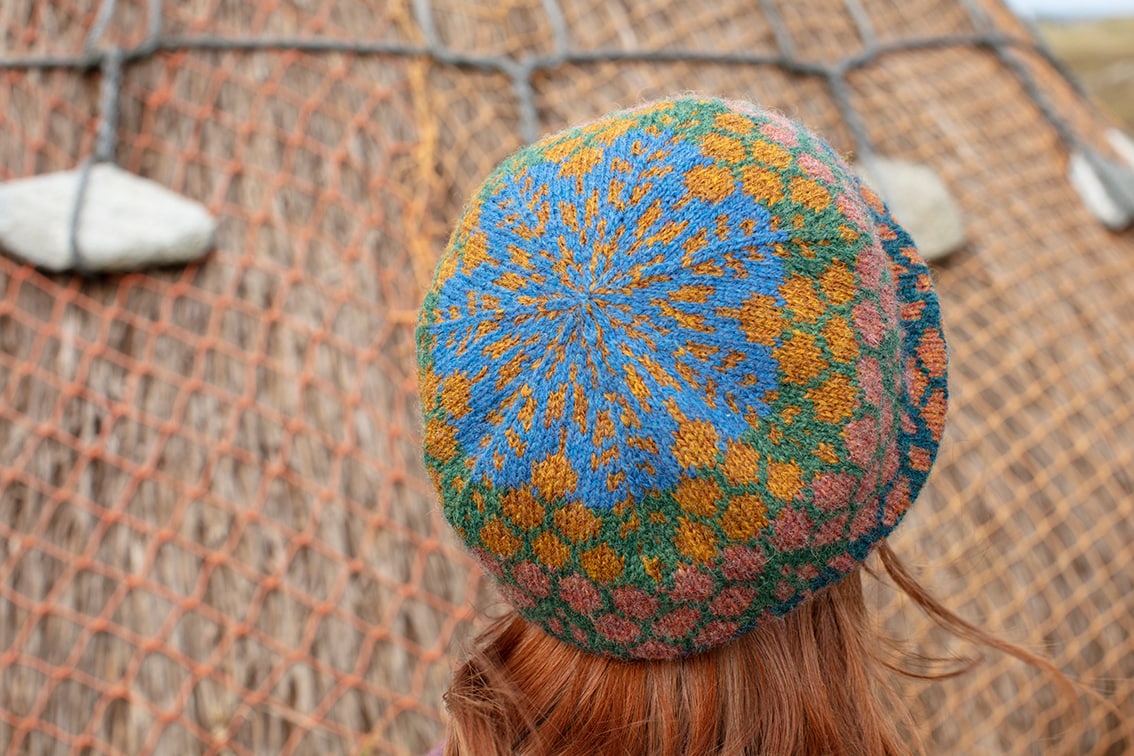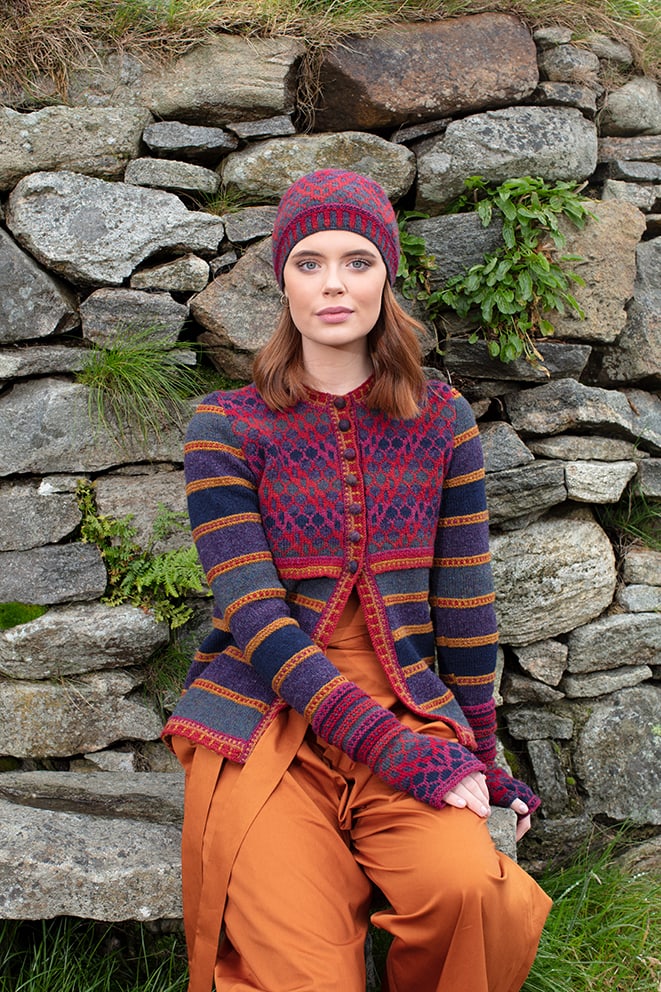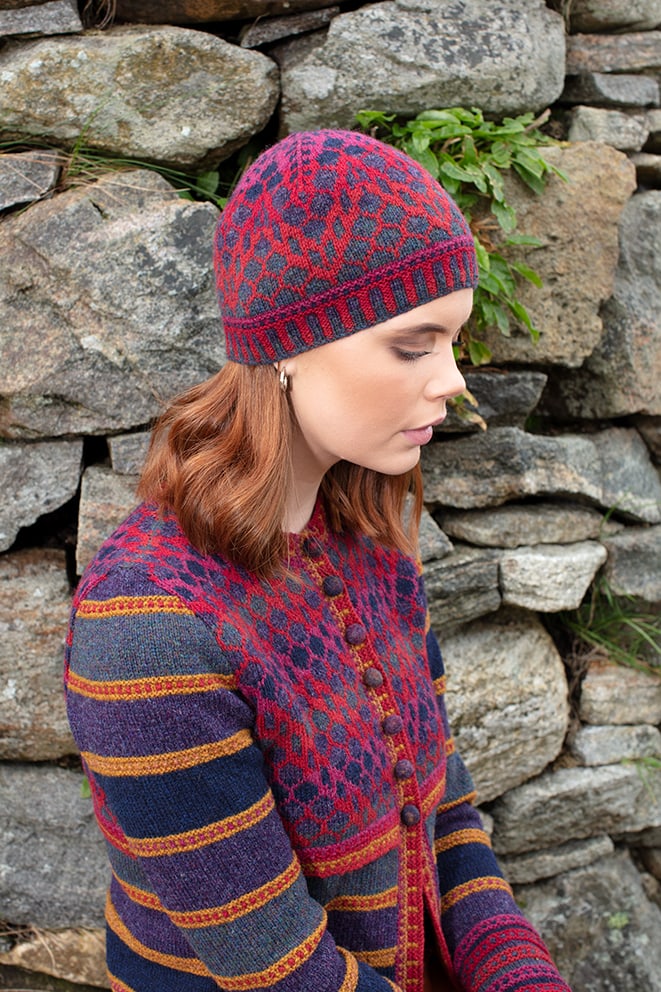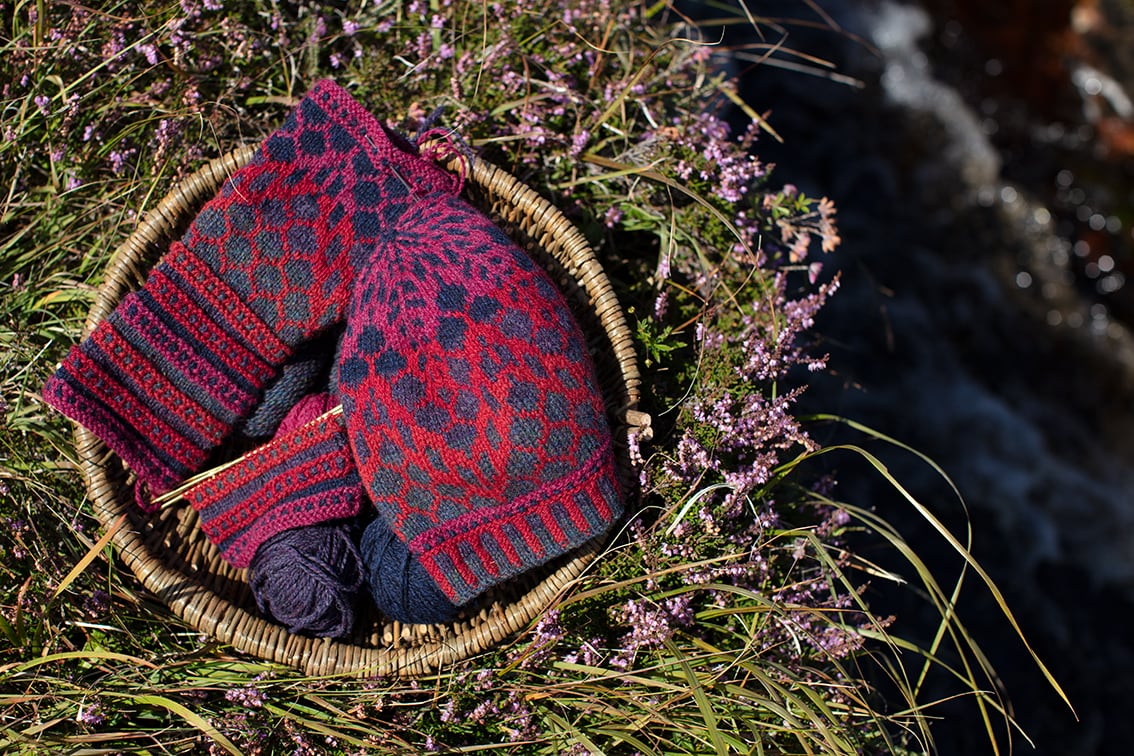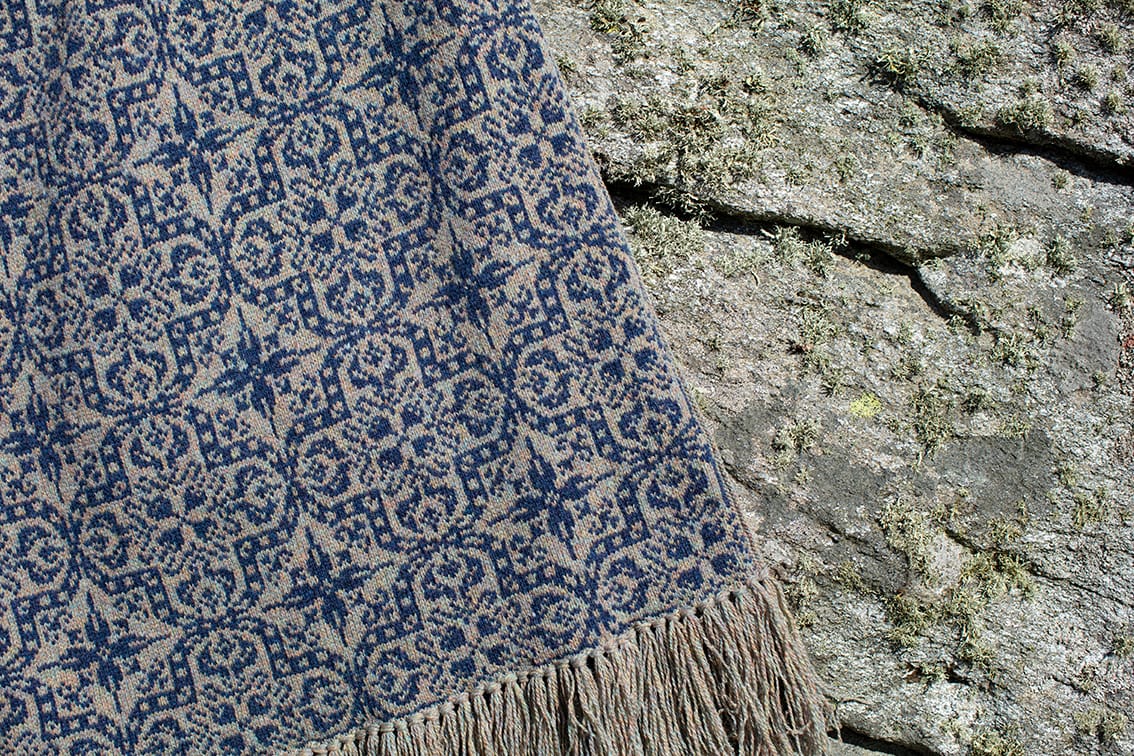 Images taken throughout the year made their way on to the website. A favourite was this version of the Persian Tiles, made in Storm Petrel and Pebble Beach.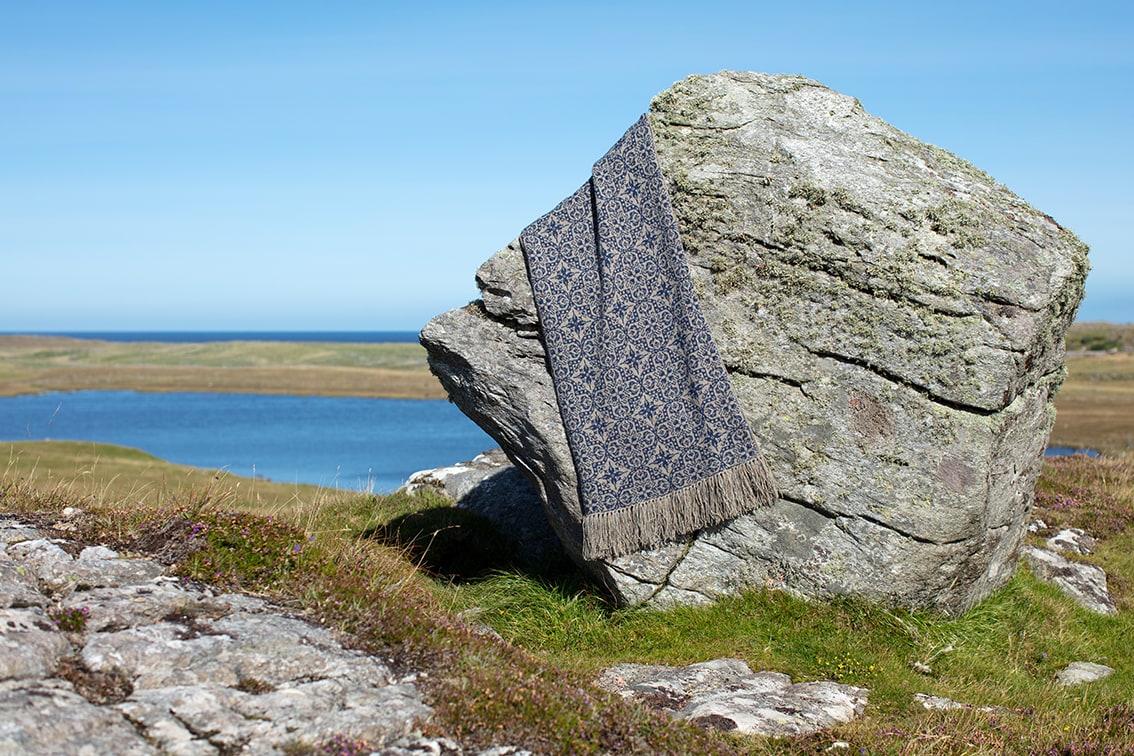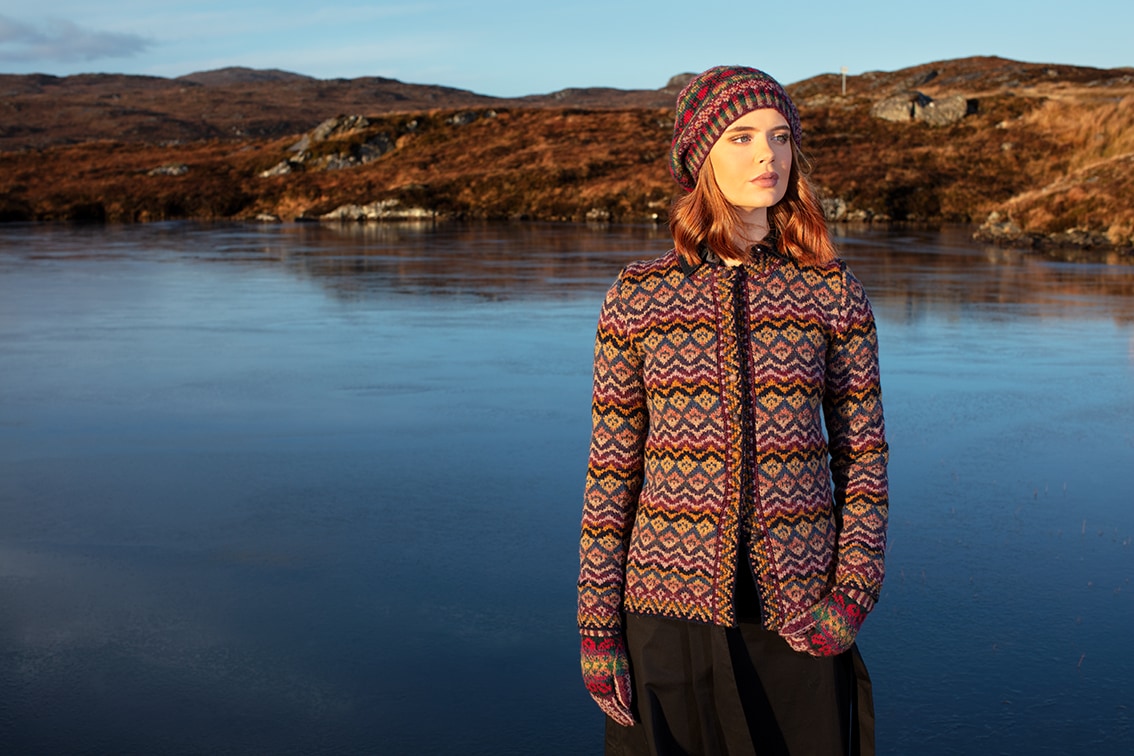 We finished the year with a glowing new Amber Colourway of the Painted Lady patterncard kit. This was shot in December next to a frozen loch in "magic hour" sunrise.