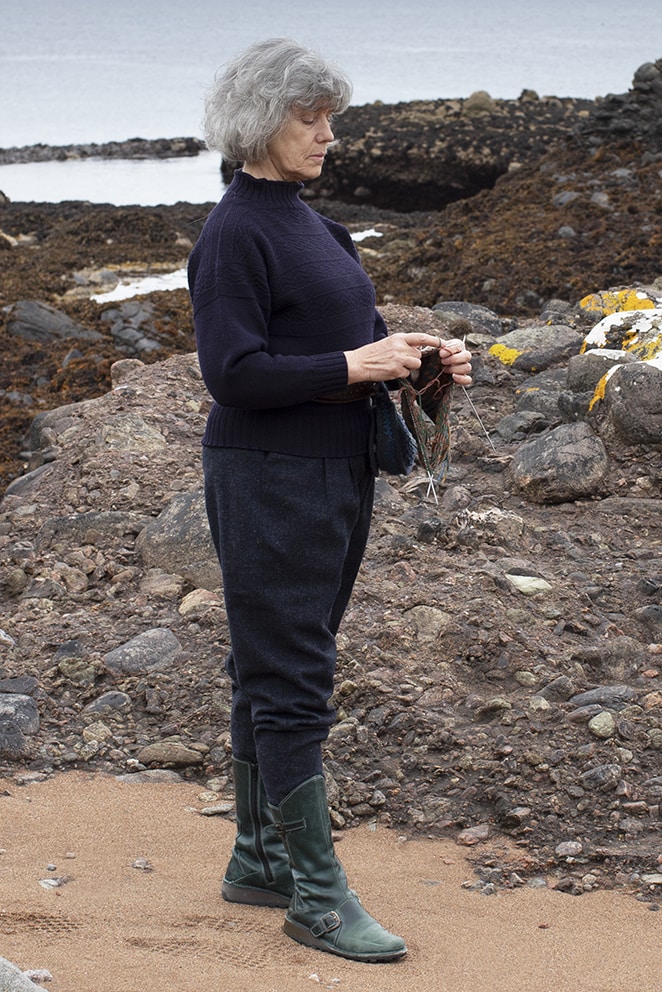 Alice Starmore is a Scottish artist, designer and author whose textile books are in use throughout the world. She was born on the Hebridean island of Lewis into a family of Gaelic-speaking crofter-fishermen. The culture in which she was brought up and the nature of the landscape around her have greatly influenced her work.
She became a professional textile designer in 1975 and three years later was awarded a Winston Churchill Fellowship which enabled her to travel to Norway, Sweden and Finland to study the textile traditions of those countries. She started to write after this, and has since had twenty books published, plus numerous magazine articles. She has established an international reputation as a leading expert on knitting design and technique. Her books on Fair Isle and Aran knitting are regarded as important standard texts on the subjects, and she has taught and lectured extensively throughout Britain, Europe and the USA.
Photography, drawing and painting are constant threads weaving through all aspects of her career. As well as textile art and design, her current work includes lens-based digital media which tends strongly towards the natural world and is often linked to nature conservancy.
Alice's portfolio website, which spans her career from 1975 to the present day, from background, through books, design, colour experimentation, textile and photographic art. You can find the Alice Starmore website here.
You can also find Alice's Mamba exhibition website. The Mamba series incorporates photography, watercolour, drawing and tapestry.
If you would like to look at Alice's work as a crofter you can find the Broad Bay Fold website here.