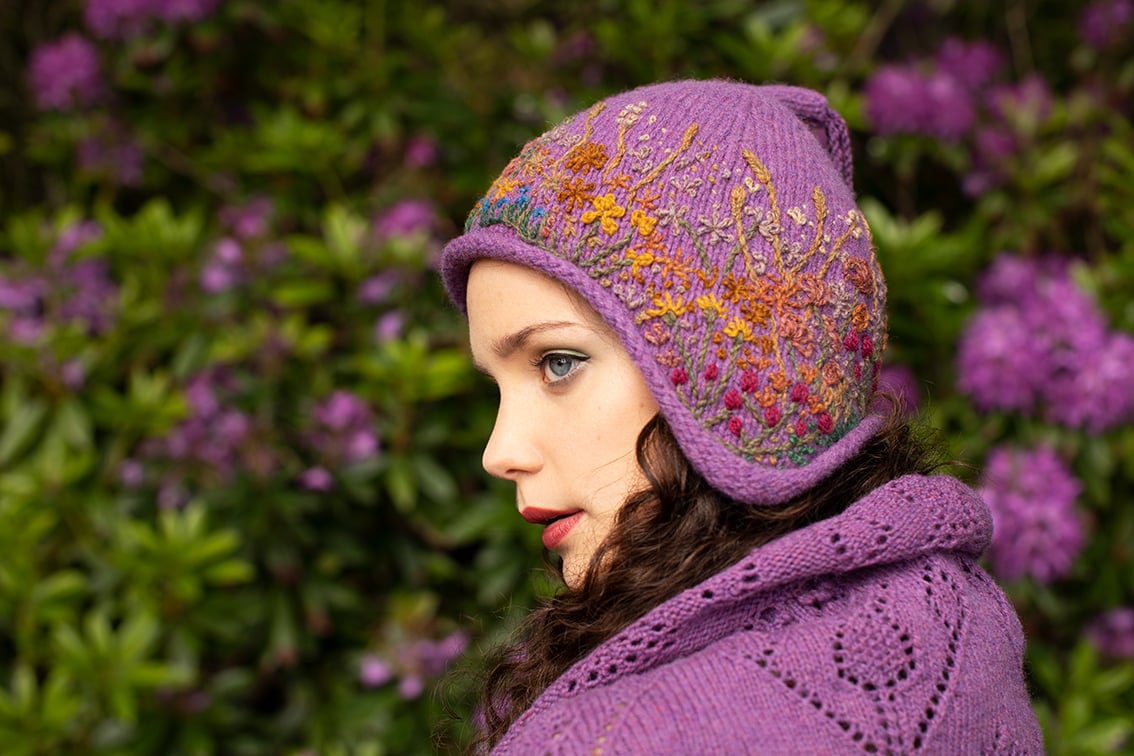 If you are new to knitting, or if you are nervous about trying a particular style of knitting for the first time, then we have a variety of designs to start you off, depending on what kind of project you would like to try.
The majority of the projects suggested below are "choose your own colours" which are ideal for personalising, or for making more than once, using different shades while you really get comfortable with your chosen technique. They are also mainly smaller items which makes them less formidable yet allows you to fully experience and practise new techniques before applying them to larger projects.
In addition to the suggestions below we also have a free Video Tutorial section which shows you all of the basics including casting on, knit and purl, casting off, tension, openwork and stranded knitting in the round with steeks.
This "choose your own colours" video class kit is the ideal starter project for a beginner who wants to really see their skills develop, as well as being a beautiful design to make at any point in your knitting journey.
The Briodag comes with an online comprehensive step-by-step video class which takes you through knitting and shaping the beret, fingerless gloves and the openwork scarf that comprises the kit. By the end of the project you will no longer be a beginner knitter: you will have a good grounding in stranded knitting in the round and working shaping within the colour patterns of the beret and gloves. The scarf provides a fun introduction to openwork and shaping with short rows.
Hat Trick Patterncard Kit
The Hat Trick kit uses the same colour palette to create three very different stranded colour-patterned hats. This project allows you to practice stranded knitting in the round on a small scale, including coloured rib and garter stitch borders and experiencing the different effects of shaping the hat crowns and the beret crown with two variations of double decreases.
The Sulaire Shawl is a quick and easy openwork project that can be made in a choice of sizes and colours. This design is a great introduction to openwork and also helps a beginner knitter understand pattern setting. As with the Briodag, this design comes with online access to video tutorials that take you through all the key aspects of making this shawl.
The Lapwing Collar is a challenging project when looked at as a whole, but because it is constructed piece- by-piece and comes with a detailed video class which is intended for all abilities, it is suitable and achievable for a beginner knitter. It provides an excellent grounding in colourwork and garment construction. Each feather is knitted separately and the layers of feathers are joined together in the knitting to create the collar shape and so it is the perfect way to develop an understanding of how knitting can be employed to construct complex garments. This design is the ideal starter for a knitter who wants to develop skills and understanding and ultimately progress with confidence to knitting designs such as the Katherine Howard or Jane Seymour. It is also a "choose your own colour" kit so it can be personalised easily and allows you the pleasure of exploring your own colour combinations.
Creative Course 1 is an immersive online course that teaches you techniques which are invaluable in costume creation through small and  quickly achievable projects. During the course you will learn how to knit, felt and embroider a variety of hats. The skills learned from making these hats are the building blocks for developing complex costume ideas as well as the enjoyment of experimenting creatively with design and colour.
The Persian Tiles Wrap pattern can be found in the book A Collector's Item, and the yarn pack can be ordered in a choice of your own colours of Hebridean 2 Ply. The Persian Tiles shawl is a larger project which is knitted in the round with a steek. It is a good introduction to knitting in the round with steeks because it only uses two colours, so attention can be focused on the stranded colour pattern and the steek. Please note that you will need a copy of the book A Collector's Item for the pattern instructions; the yarn pack linked below is yarn only.
The Rosarie is more complex since it is knitted in the round with a front, front neck, back neck and armhole steeks, but it's a good project for the beginner who wants to try a first garment with steeks at shaped openings. It uses only five colours, and these can be personalised to your own taste. This smaller colour palette means that there are fewer colour changes throughout the knitting. The pattern is also large scale and bold which makes it easy to follow. We have a free video tutorial on cutting and finishing steeks to help you through the process.
The Na Craga design from the book Aran Knitting by Alice Starmore (2010 edition) is a great introduction to cables and textured knitting. Though the design features a lot of cables they are all very simple and straightforward, so this is a great project for starting off your first full textured garment. Please note that you will need a copy of the book for the pattern instructions; the yarn pack linked below is for the yarn only and  provides the correct amount  you will need for the size ordered.