Lapwing Collar Video Class Kit
Description
One Size fits all.
The Lapwing Collar Video Class Kit includes online access to 1 hour and 46 mins of video tutorials, a colour-printed patterncard with full instructions, and all the Alice Starmore Hebridean 2 Ply yarn required to make the Lapwing Collar in your chosen colours. In the video classes Alice takes you through the making of a Lapwing Collar, with comprehensive demonstrations of each step along the way. These tutorials are suitable for all abilities from beginner onwards.
It is shown here in three colour variations. The first has a Main Colour of Bogbean and Contrast 1 of Machair for the top layer of feathers and the neckband. The longer centre front and back feathers use Calluna as Contrast 2; Lapwing as Contrast 3; Strabhann as Contrast 4; and Corncrake as Contrast 5. The second, pale variation, has a Main Colour of Kittiwake and Contrast 1 of Pebble Beach, Contrast 2 of Conrcrake, Contrast 3 of Spindrift, Contrast 4 of Solan Goose and Contrast 5 of Driftwood. The third dark variation uses Kelpie for both the main and first contrast, with Storm Petrel for Contrast 2, Erica for Contrast 3, Limpet for Contrast 4 and Shearwater for Contrast 5. You can order the Lapwing Collar in a choice of our available Hebridean 2 Ply colours.
The Lapwing Collar is available as a Standard or Beginner Kit. The Beginner Kit contains 2 extra skeins of Hebridean 2 Ply, one in Main Colour and one in Contrast 1. These will be used for making additional swatches and practice pieces. The instructions for these extra pieces are given in the online video tutorials.
Once your Lapwing Collar kit has been dispatched you will recieve an email with a username and password for our steek dot scot video tutorial website. You can use your personal login information to access the detailed Video Classes showing every part of the making and finishing of a Lapwing Collar. If you are buying this as a gift please get in touch with us beforehand as classes are linked directly to your order details.
Lapwing Collar Prospectus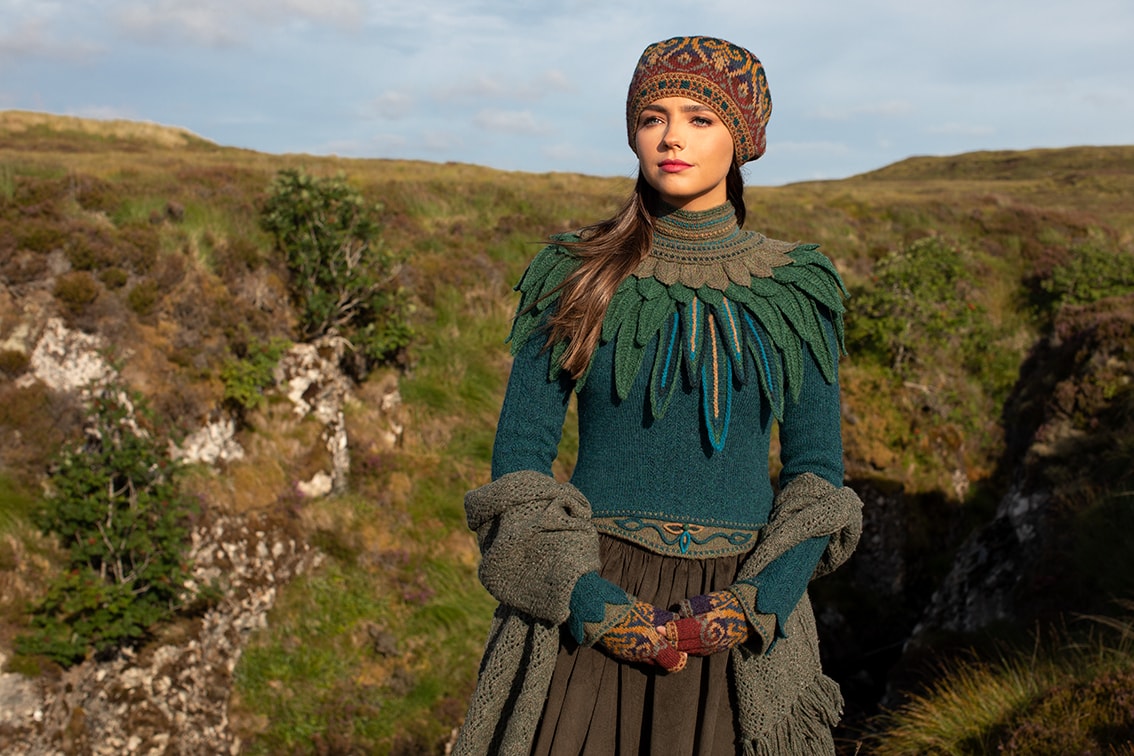 Story
I designed the Lapwing collar with elements from the Lapwing, Raven and Damsefly designs in Glamourie. It is one of a group of collars that Jade and I created to demonstrate the dramatic design potential of the instructions provided in the book. You can find these collars all featured in the Flights of Fancy page of our Glamourie Techniques & Experiments section. We received a fantastic response to our collar experiments, including many requests from knitters who wanted step-by-step instructions for making the Lapwing collar, and so in response I did exactly that and launched the patterncard kit.
Since then many non-knitters contacted us to tell us how much they admired and wanted a collar, but felt that such an exotic and complex design was way beyond their skill level. So I have added a complete Video Class to this project, showing every step involved in making a Lapwing Collar, and to these knitters I offer the following words of encouragement ... a complex appearance does not always make a design difficult to knit.
The Lapwing Collar is a classic case of this truth. All you need is a real desire to make it and the willingness to take the time to learn – and enjoy! – the creative process of making something beautiful with your own two hands. If you have this motivation then the Lapwing Collar is within your grasp, even if you have never knitted a single stitch in your life. This collar is in fact an ideal project for everyone, from outright beginner to expert. Yes, it is composed of many component feathers – but a feather can be made in less than an hour and some take only a matter of minutes. This means that a novice can quite literally learn to knit by making some feathers. If you make an error then it will just be an error in a very small piece and you can practise until you can make all the feathers perfectly.
Once you learn how to cast on, knit, purl and cast off, you will find that all knitting is a matter of manipulating these very basic stitches in different ways. You will learn a great deal from making the Lapwing Collar and by the time you have made the first layer of long feathers you will be a long-feather expert. You will grow in confidence and then progress through to a whole variety of construction and pattern, including working stranded colour-knitting.
I will be with you all of the way and all of the time it takes you to make your collar. Jade has filmed me making one from start to finish and we have arranged the video clips so that you can easily find your place throughout your progress.
My aim is to ensure that you have a visual demonstration of every step along the way. If you are highly experienced then you will find this class helpful in understanding the detail of the collar's construction and you will hone your skills as the project progresses. If this is the first time you have ever tried knitting, then you will be an expert by the time you have finished.
Alice