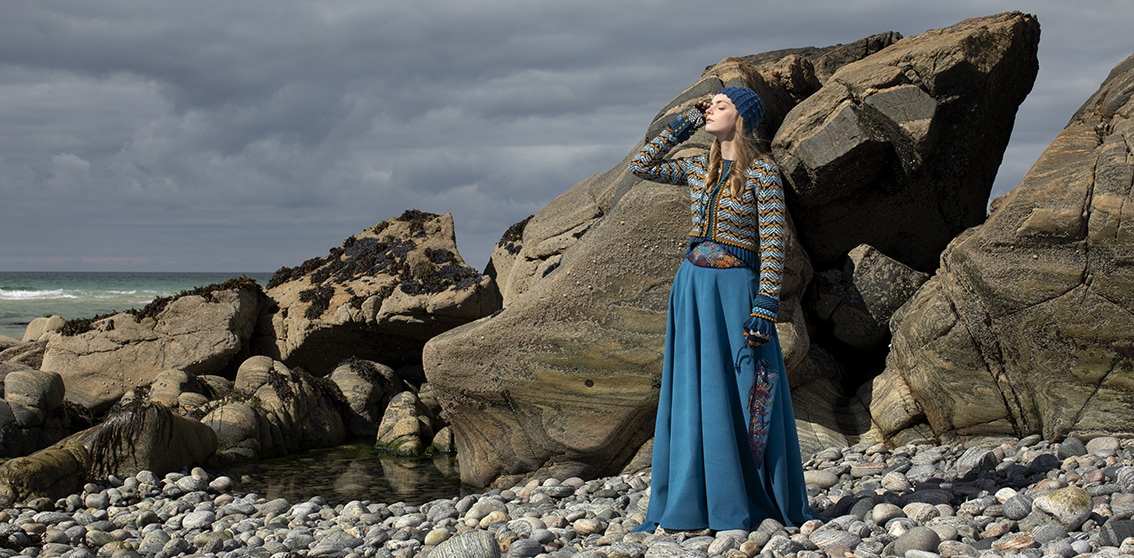 Jade and I have been delighted to hear from many knitters around the world who have appreciated our Glamourie concept, in which we presented our modus operandi through the medium of stories illustrated with knitted costumes which were then distilled into final designs for knitters.
We would like to take that concept a step further and invite you to join us at the very beginning of our next creative journey. What will that journey ultimately bring forth? We do not know the answer to that question ourselves yet, but we hope that you will share our excitement of discovery as the mystery unfolds.
There is a whole world of natural and cultural inspiration on our native Hebridean doorstep and so we do not usually have to travel far and wide to seek out our Muses. But this time we have sought further afield – across over forty miles of wild Atlantic Ocean from Uig in Lewis to St Kilda, or Hiort, our familiar Gaelic name for the most remote archipelago of the Outer Hebrides.
Here you can explore costume development, showing the very first ideas coming to life as sketches in wool, looking at design process from past projects to illustrate working methods, and showing the final Hiort Collections as we continue our journey through the project.
You can also go on a journey around Hiort, exploring the history, culture and geographical setting. This is a distillation of our research and photography, which provides us with constant inspiration as the project progresses.