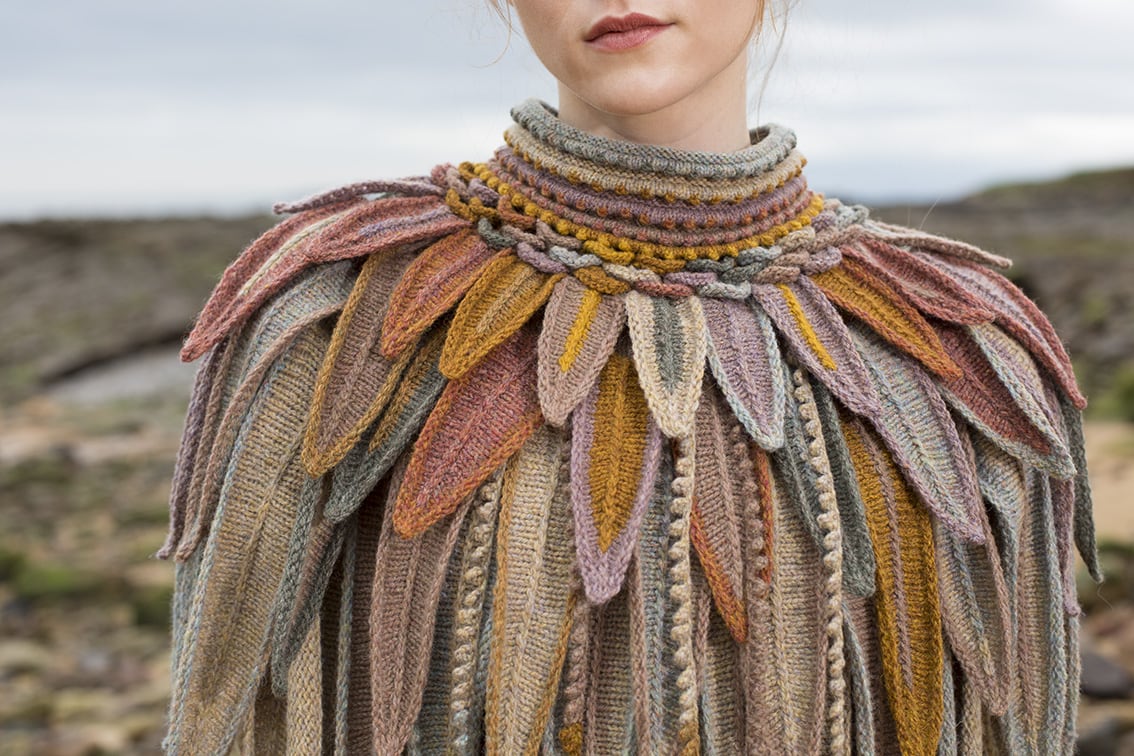 The central concept of Glamourie is shape-shifting. This idea lies at the heart of the book and is manifest in Jade's stories and in the illustrative costumes I knitted for them.
My approach to knitting design has close parallels with the construction of shape-shifting stories. I begin sketching ideas based on my chosen theme. At this point I allow myself to be as fanciful and elaborate as I please. Then I assess how I may translate elements of these ideas into commercial knitting designs for knitters to make and wear.
For Glamourie, I studied the creatures and the stories, then I picked up my needles and yarn and knitted my fanciful ideas straight into costumes. So the costumes are my sketches come to life and they are my sources for creating many more designs to come.
When it came to creating the patterned designs, I included instructions for the essential elements that I used in the costumes. I did this so that you, the knitter, not only have the instructions to make the designs exactly as shown, but you also have these essential elements so that you can shape-shift them as little or as much as you please.
Whilst there is a limit to the size and weight of a book, this limit does not apply to the imaginative uses of its contents. My ultimate aim for Glamourie was to create an inspirational platform for both me and you to experiment with and see how far it takes us.
Jade and I hope that you will look in on us as we show you how we will be using the techniques and instructions in Glamourie to create all kinds of yarney things, great and small. It seems logical to start with the small and so I am going to tell you more about felting, focusing first on the little objects. Then, as time allows, we plan to shape-shift in all manner of directions.
Click the links below to find out about felting, which is used extensively throughout the book in both designs and costumes, and flights of fancy, which details how to experiment with feathers. The Hiort Project Diary then takes you on through our current project, which expands on the themes and techniques from Glamourie. The collar designs are now available as patterncard kits, and Creative Course 1 and 2 provide in-depth instruction on creative costume techniques.