Description
Small – Underarm 88.75cm. Length 47cm.
Medium – Underarm 97.75cm. Length 48cm.
Large – Underarm 106.5cm. Length 49.5cm.
X Large – Underarm 115.5cm. Length 51.5cm.
XX Large – Underarm 124.5cm. Length 53cm.
This kit includes a colour-printed pattern card with full instructions in all sizes and all the Alice Starmore™ 2 Ply Hebridean yarn required to make the Boreray Pullover in your chosen size and colours. It is a stranded, two-colour design with the body worked in the round with steeks at the armholes and neck. The sleeves are worked separately, with cuffs worked back and forth in rows. The completed cuffs are joined into the round for working to the underarm, then the set-in sleeve caps are worked back and forth in rows. Twenty two buttons are required for the deep ribbed cuffs and these are not included in the kit. The Boreray Pullover is shown here is a Background Colour of Sea Anemone and a Contrast Colour of Driftwood. This design can be made in a choice of any two of our available shades of Hebridean 2 Ply.
Visit our Video Tutorials section for tutorials on a variety of knitting techniques to help you with your projects. The Boreray Pullover is the ideal project for the intermediate or advance knitter. The 1/1 rib and detailing of the sleeve cuff require patience and care and are an excellent way of developing construction and finishing skills.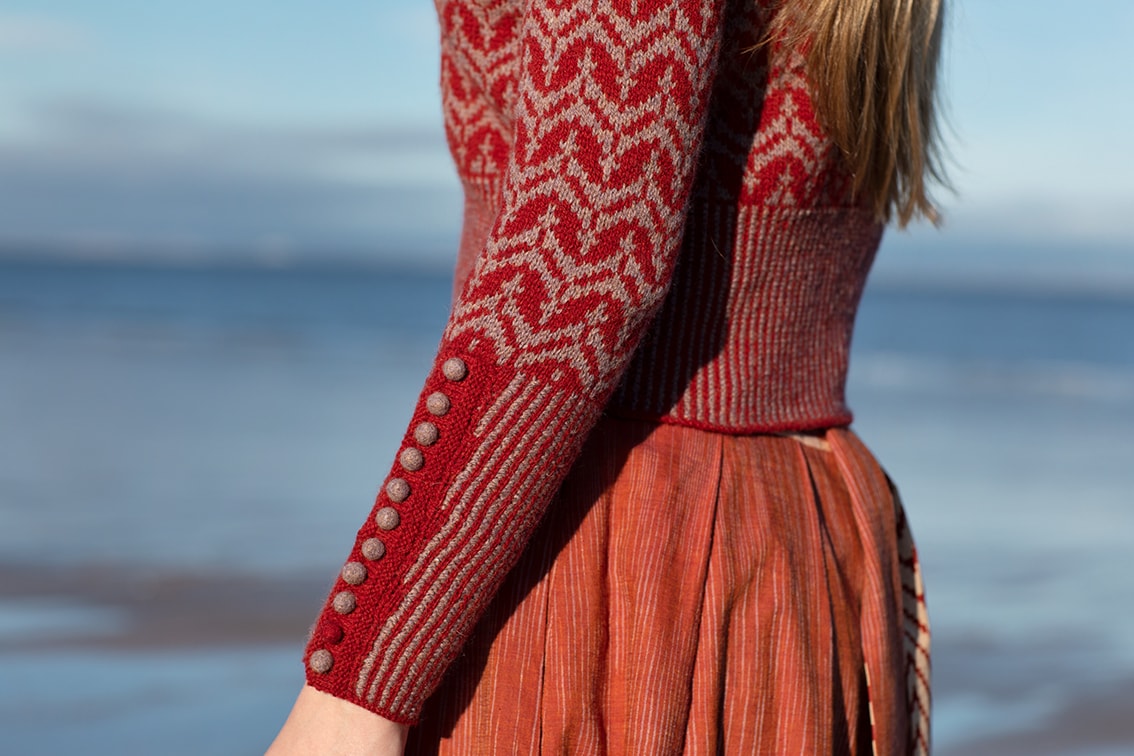 The Boreray Pullover was inspired by a number of elements –  the physical landscape, the birds, and the work of young women who spent the summer season on Boreray harvesting eggs. The island of Boreray rises like a gothic cathedral straight out of the ocean. Its northern and eastern faces present a magnificently terrifying aspect of vertical, pinnacled cliffs which make the dizzyingly steep slope of its south-western side seem almost benign by comparison. Reaching the bothies on this grassy slope (where the Queen of the Waves and her young friends camped on their hunting trips) involved death-defying feats of agility and courage. Their work harvesting eggs and birds on narrow cliff ledges, hundreds of feet high was no less daunting and so it was with all these thoughts in mind that Jade and I considered a garment that would be practical and spectacular in equal measure.
The deep two-colour ribs speak of the vertical nature of the landscape and they also provide an eminently practical fitted silhouette, much as the fisher gansies of the menfolk of the Hebrides did. The shaping of the fitted cuffs also allow the ribs to slant diagonally, echoing the striations in the cliffs. Jade created the dynamic pattern of gannets diving and rising to complete the scene. This is a garment that you can be sure will attract attention, whether you are scaling vertiginous cliffs or strolling along the high street.
Alice