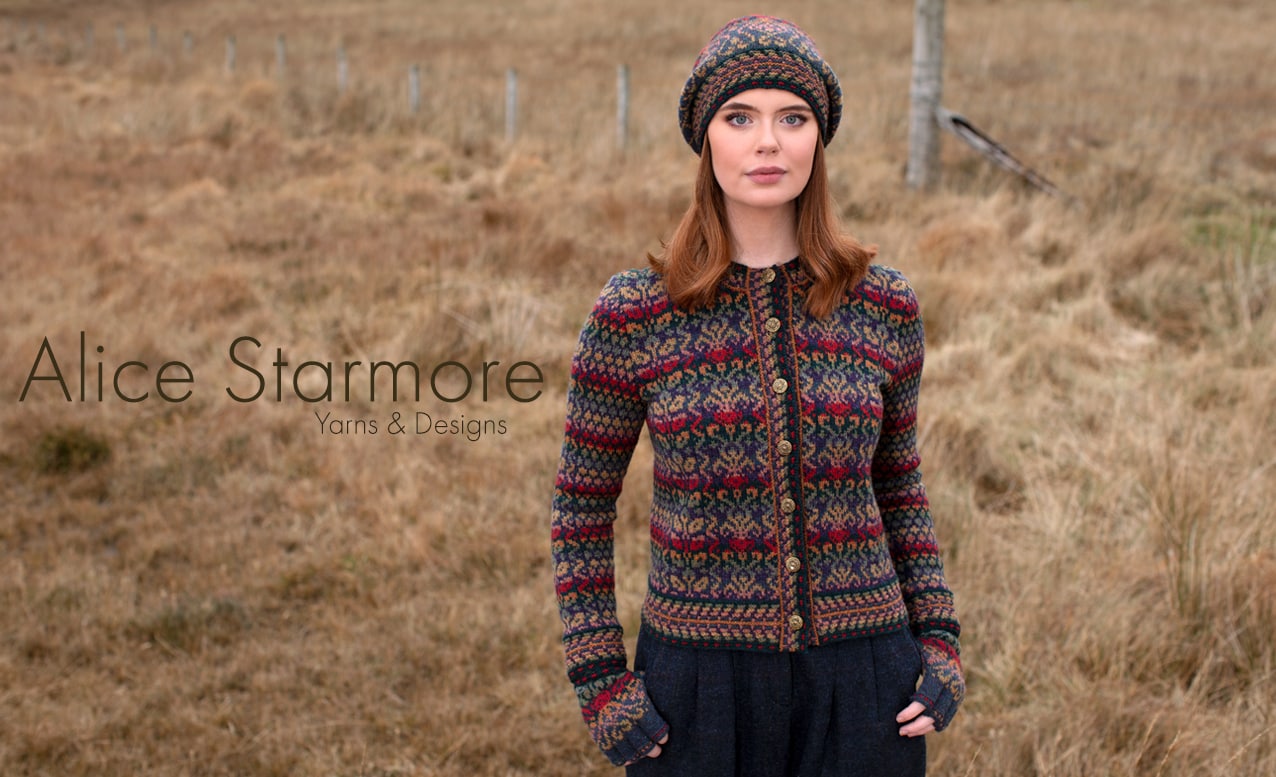 Dear Knitter,
Last month I introduced the Jacobite Rose Hat Set, which is perfect for the rather chilly March we are having in the Outer Hebrides. This month I have added a matching Jacket, which you can see here worn by Emma on a soft wintry day. The Jacobite Rose Jacket is composed of vertical panels based on rose hips and leaves. It takes a little concentration to set the pattern panels, but once you get going this is a lovely design to watch unfold. You can find the Jacobite Rose patterncard kit here.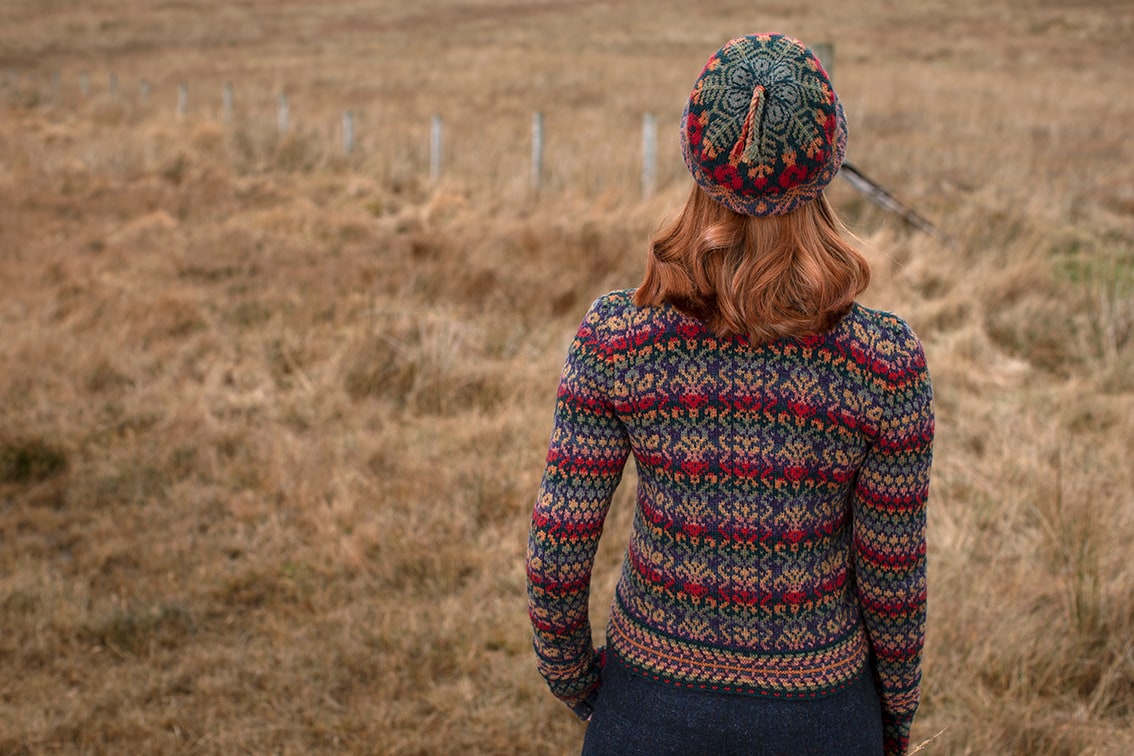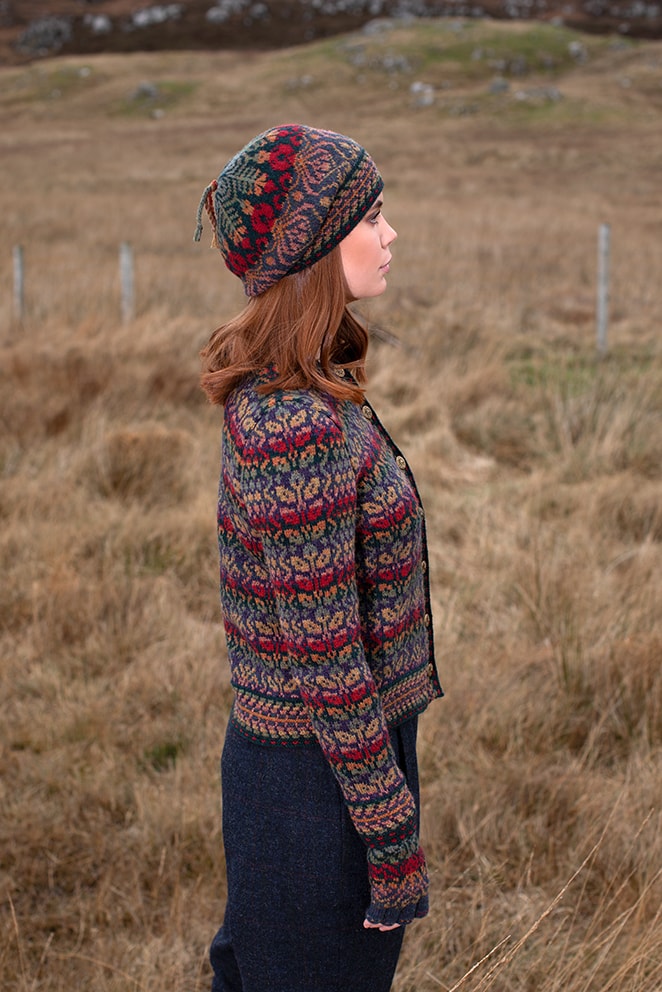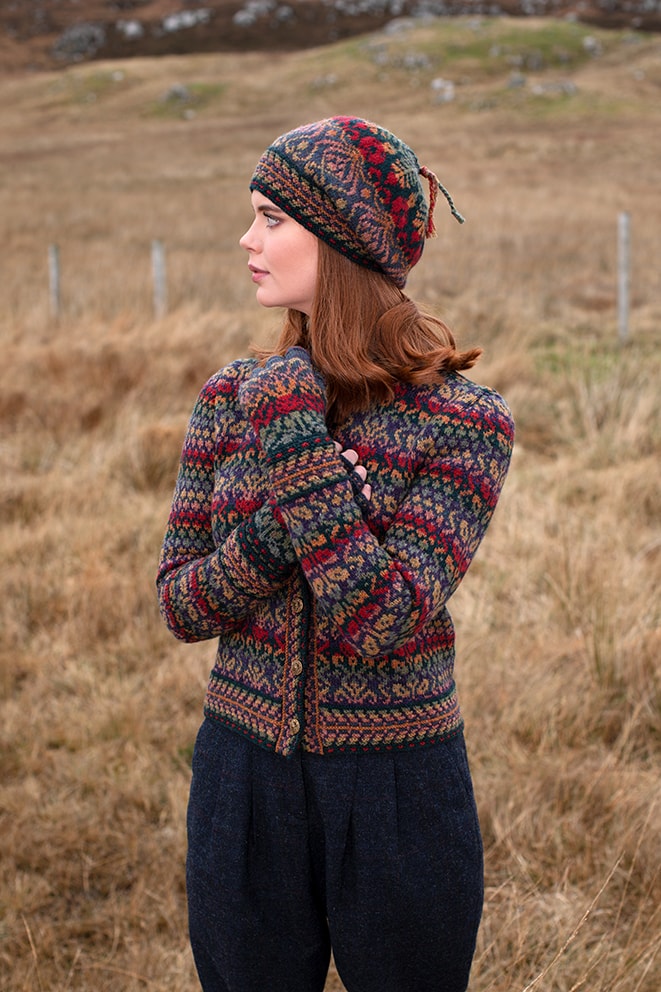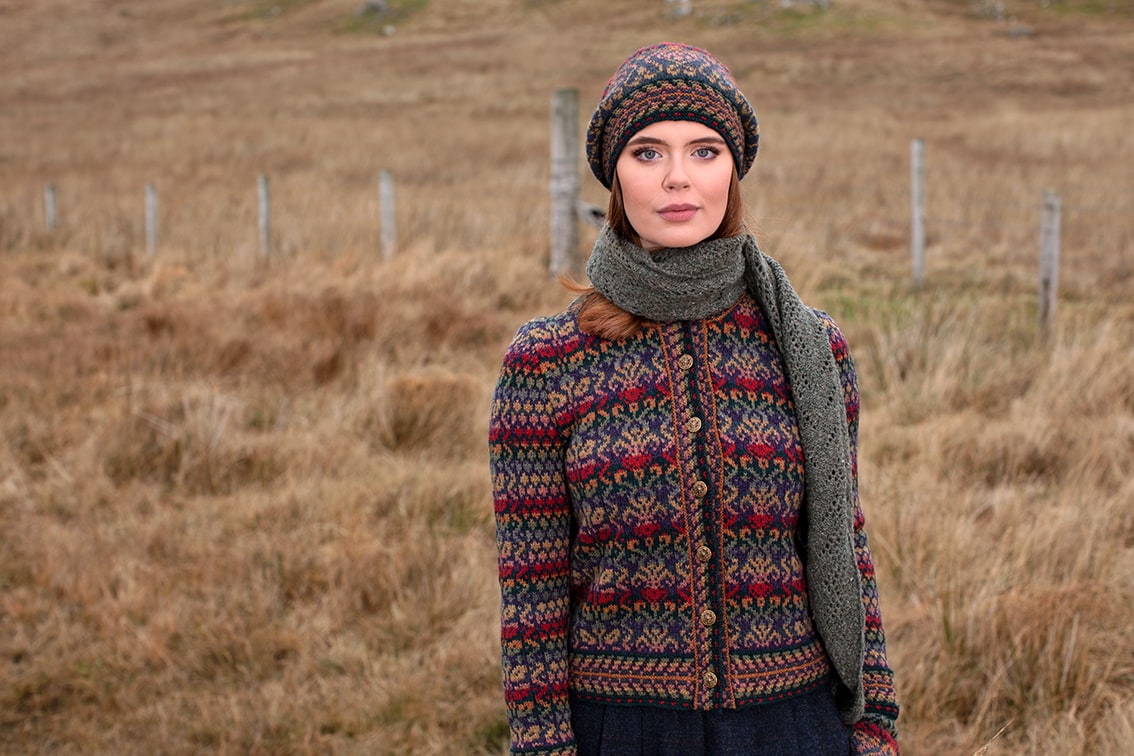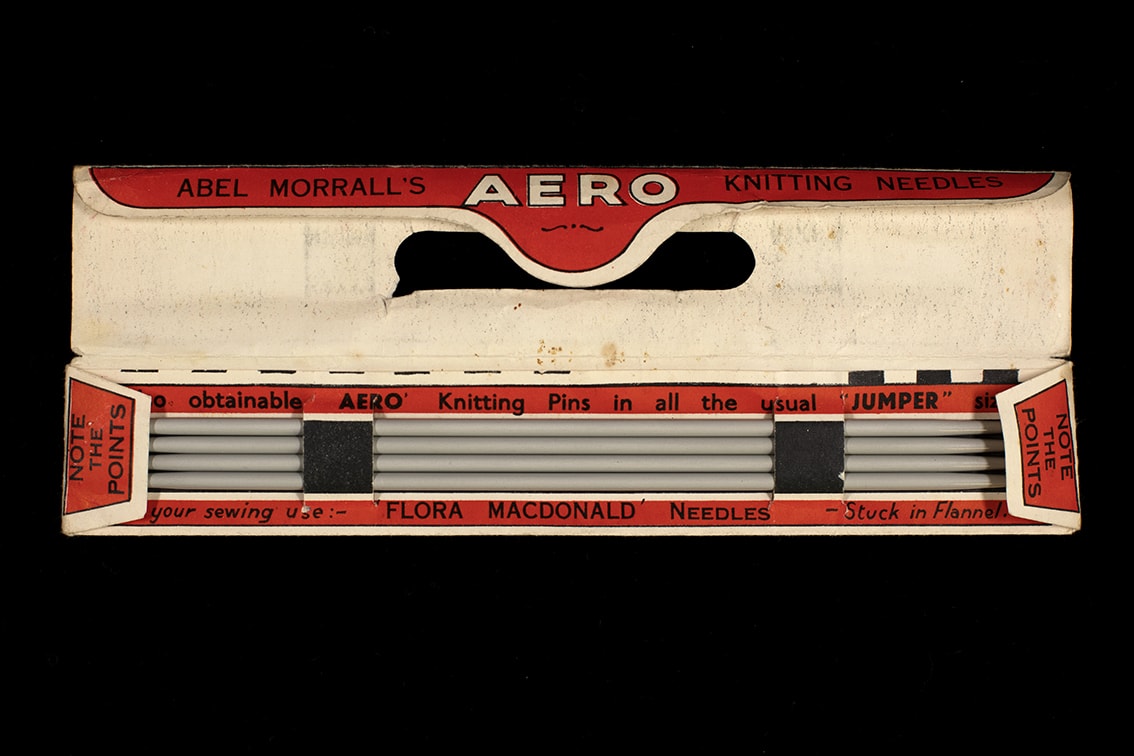 You can also read more about the Jacobite Rose designs in our Design in Detail section. You can find out about the inspiration behind the design, which along with the roses, includes history and landscape. The entire process was triggered by the gift of a pair of vintage "Flora Macdonald" knitting needles. You can also see imagery of the jacket in construction. Click here to read more.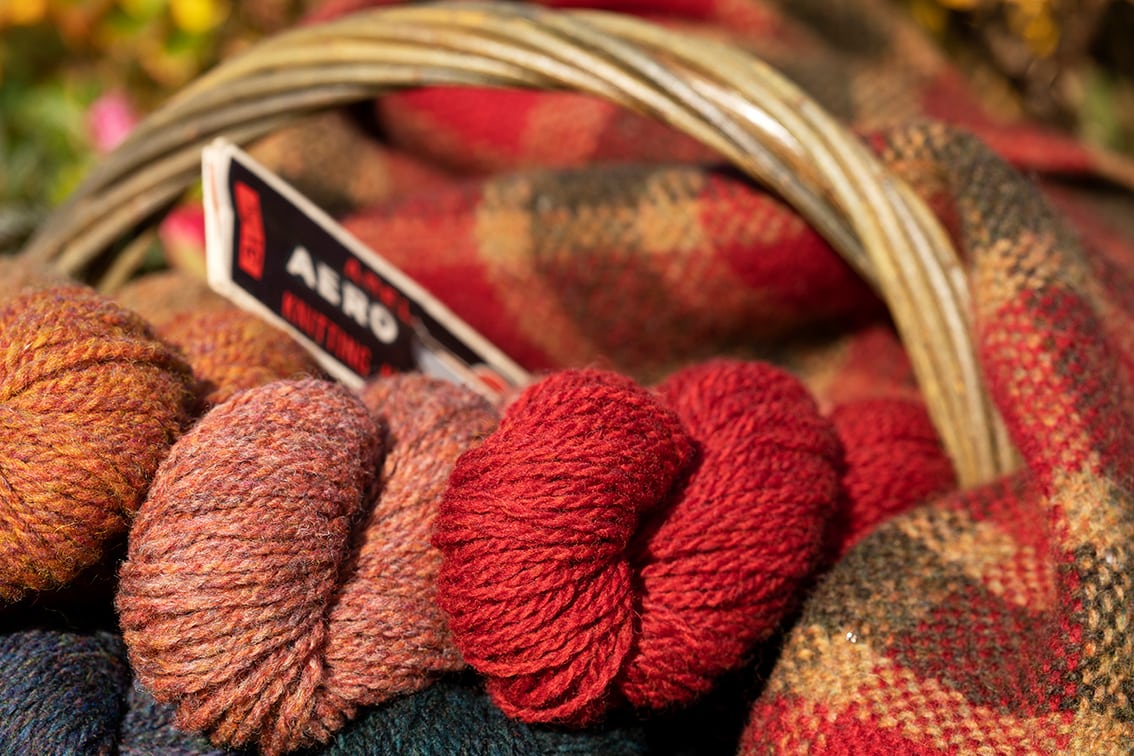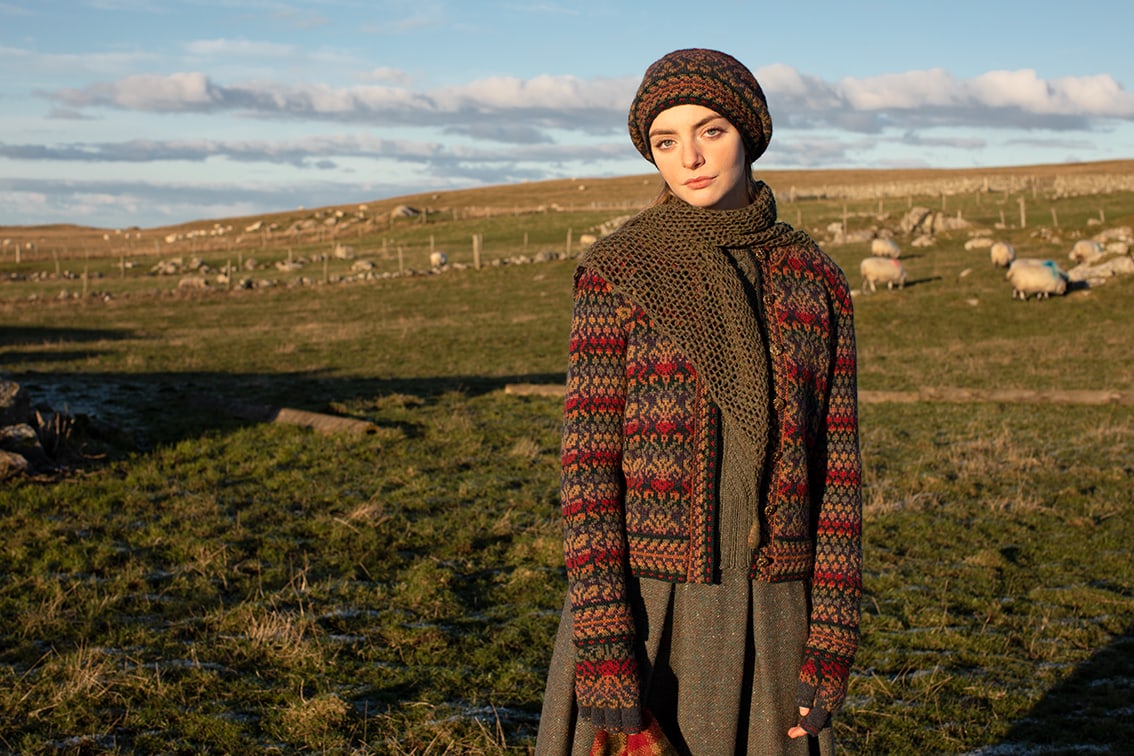 The Jacobite designs are very versatile. You can see the full Jacobite set here, modelled by Iona in golden winter sunlight. The Jacket is worn over a Staran in Sea Ivory, with a Kelpie's Tears in Machair and a wrap woven in Hebridean 2 Ply for extra warmth. You can find the full Jacobite Set here.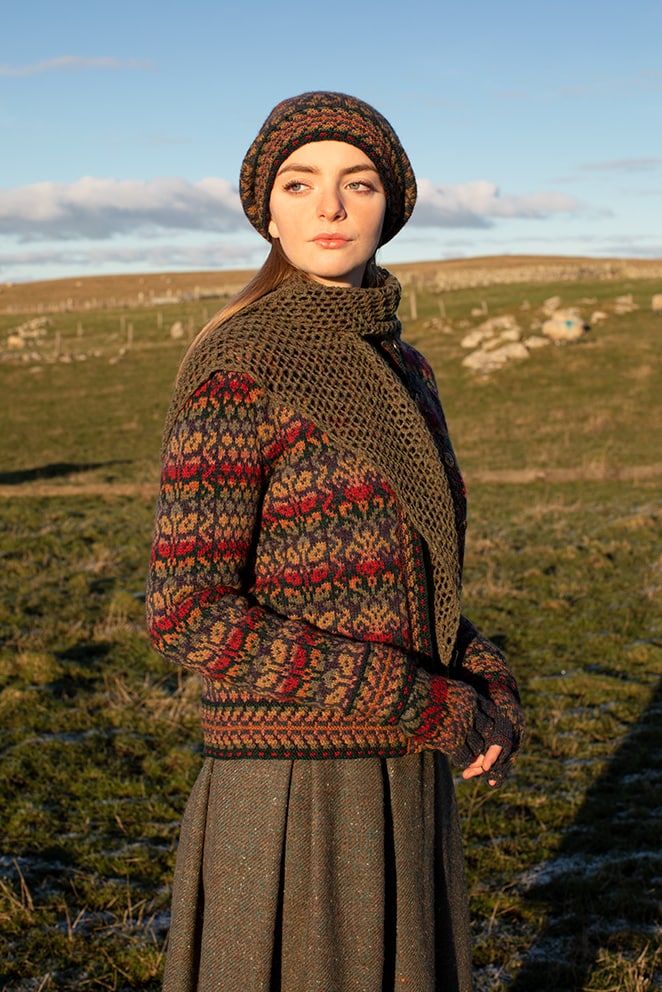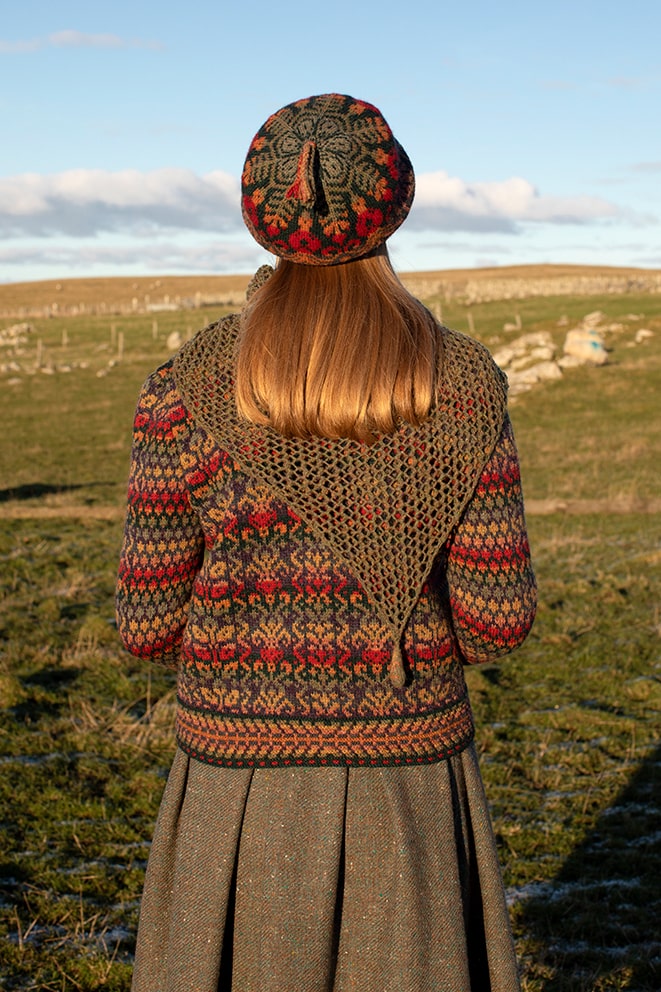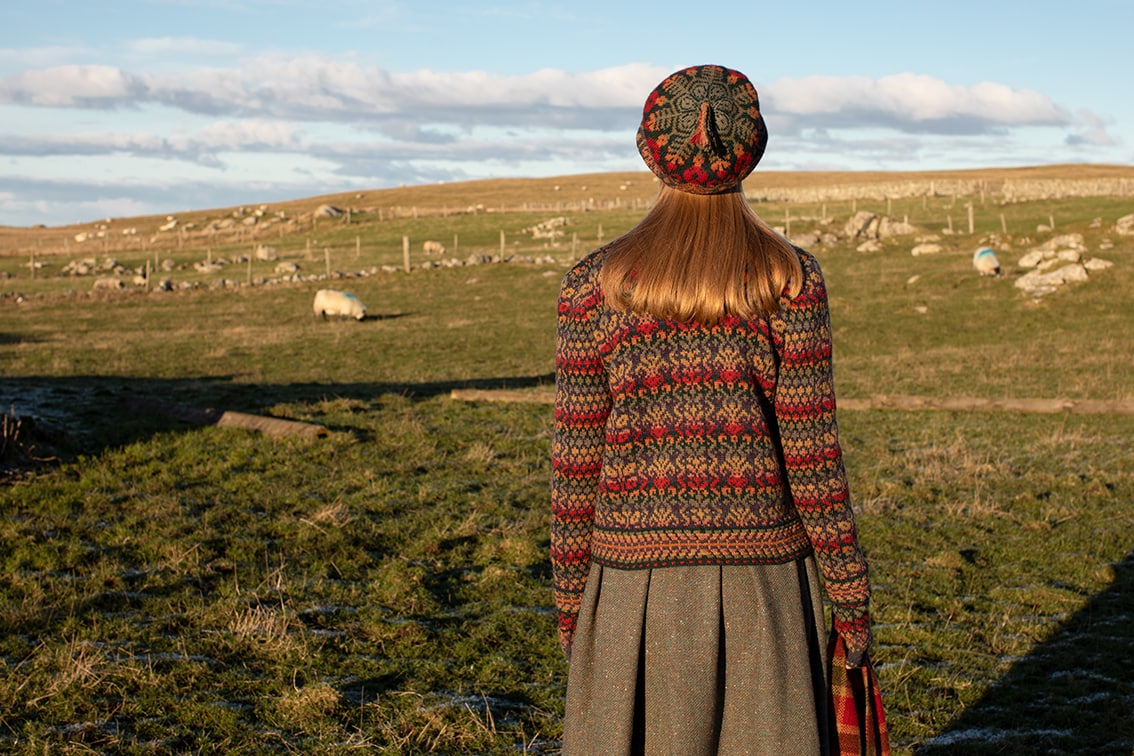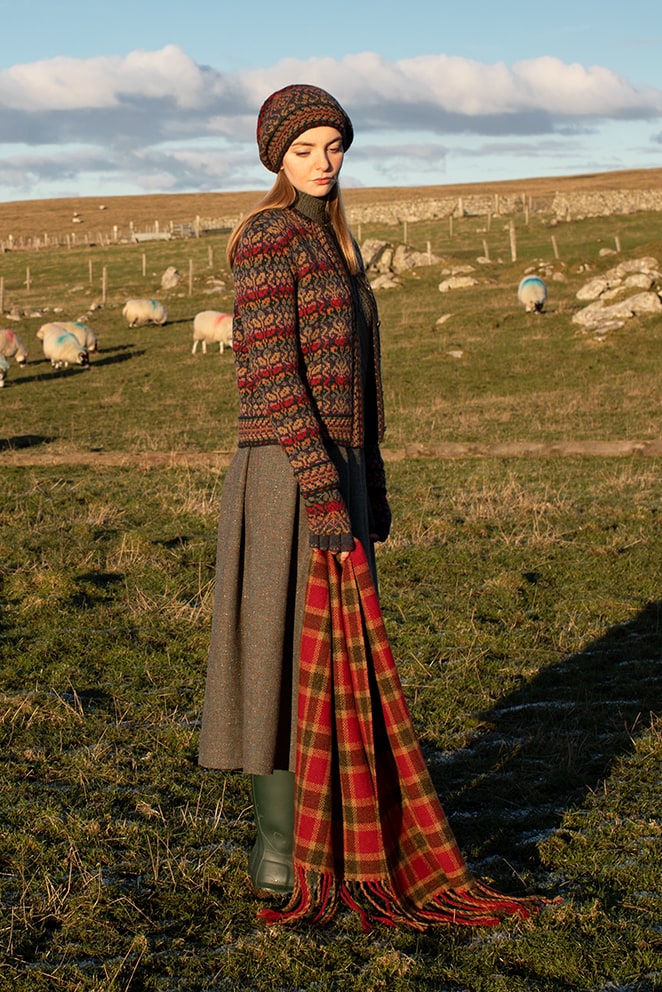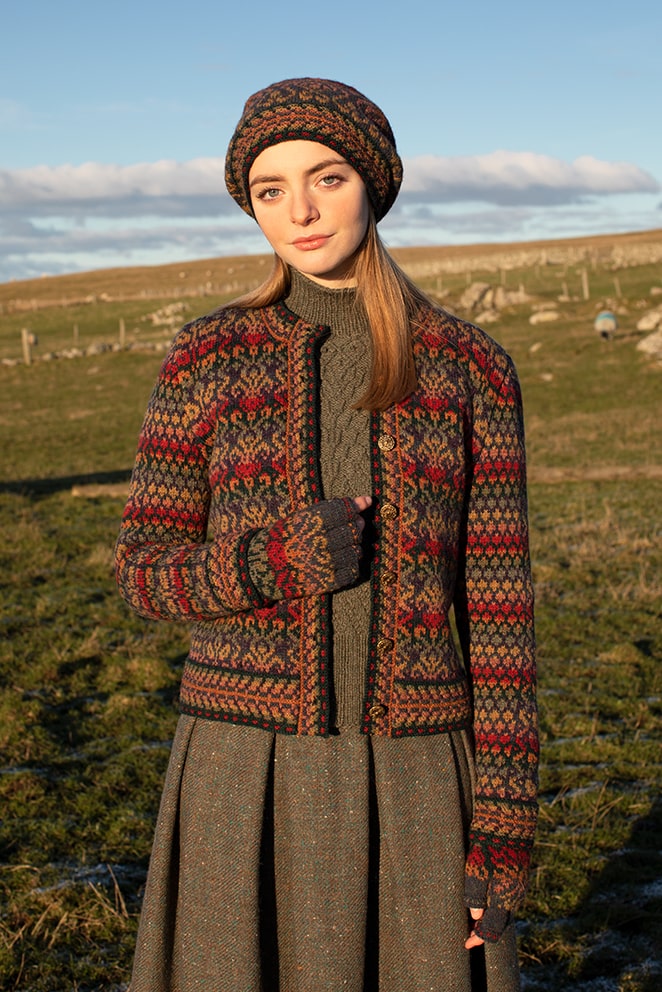 I am pleased to announce that new dyelots of our Hebridean 3 Ply Driftwood and Hebridean 2 Ply Clover, Kelpie and Summertide colours are now back in stock; they are available in both loose skeins and for our Choose Your Own Colour kits and yarn packs.
Here you can see Driftwood 3 Ply knitted up in the Dunadd wrap, the colour perfectly showing the crisp cabling. It also looks beautiful in the Mol Eire design worked with contrasts of Spindrift, Pebble Beach, Solan Goose and Kittiwake.
We are busy designing and knitting for our summer photoshoots. Jade has just finished a Jane Seymour in Whin, Golden Plover, Driftwood, Corncrake, Sprindrift and Sundew, which you will be able to see along with other new designs later on this year.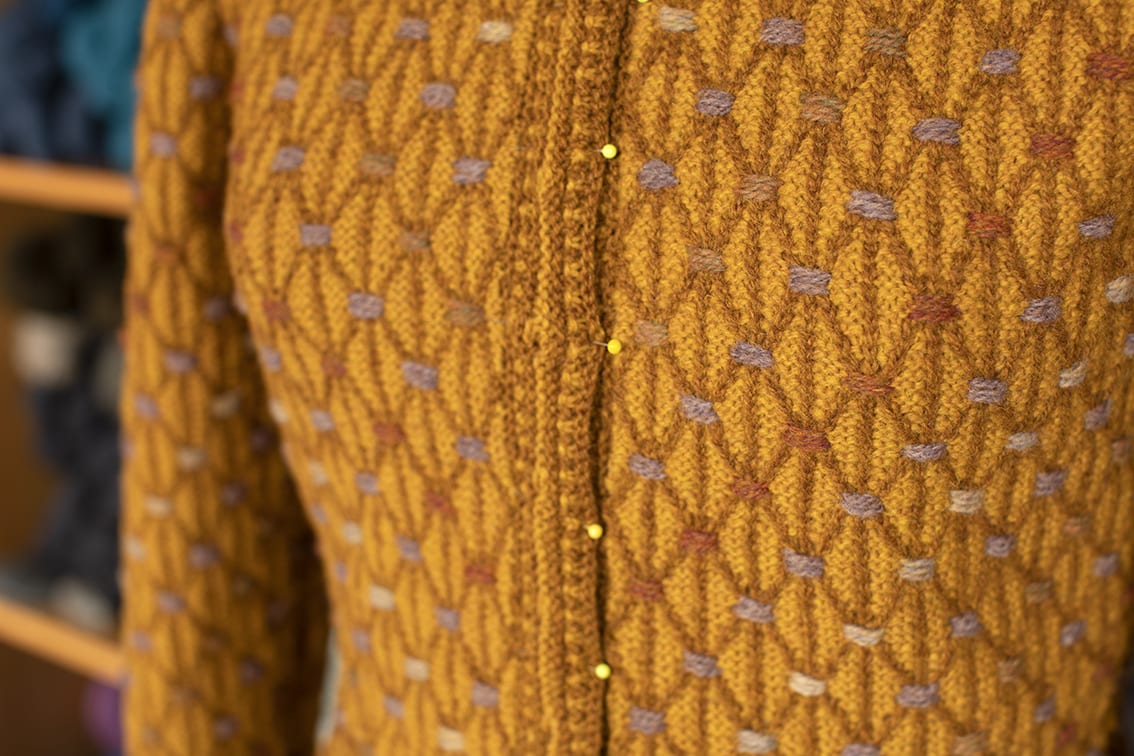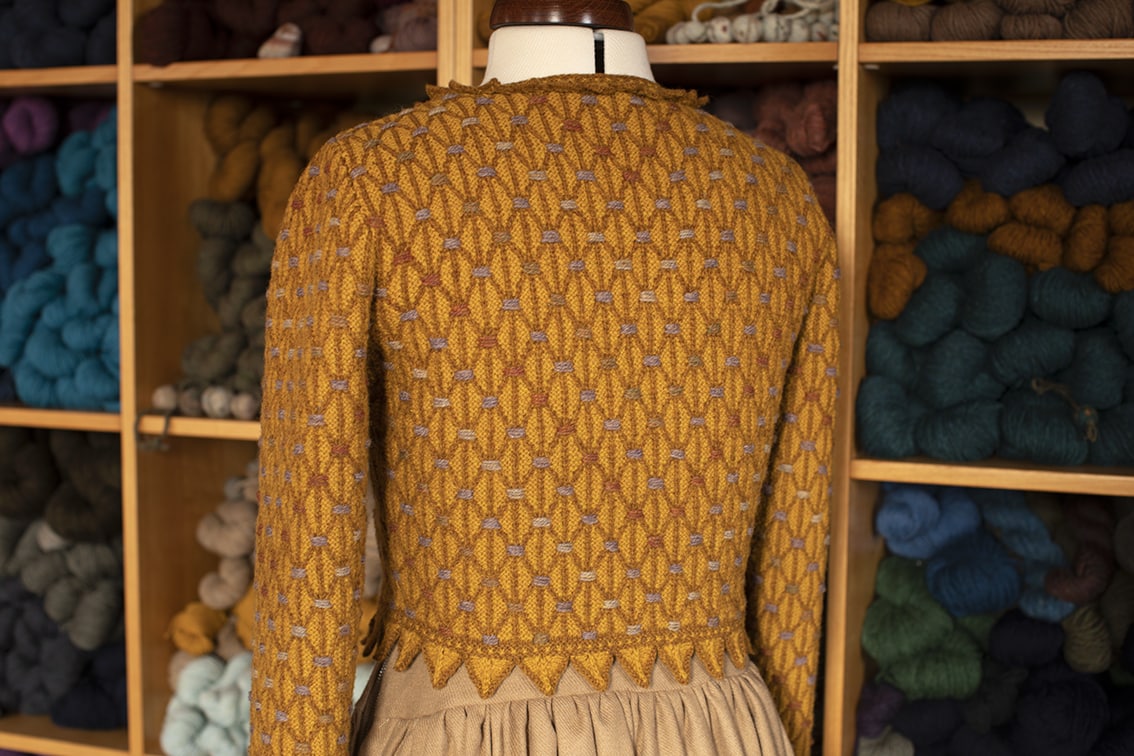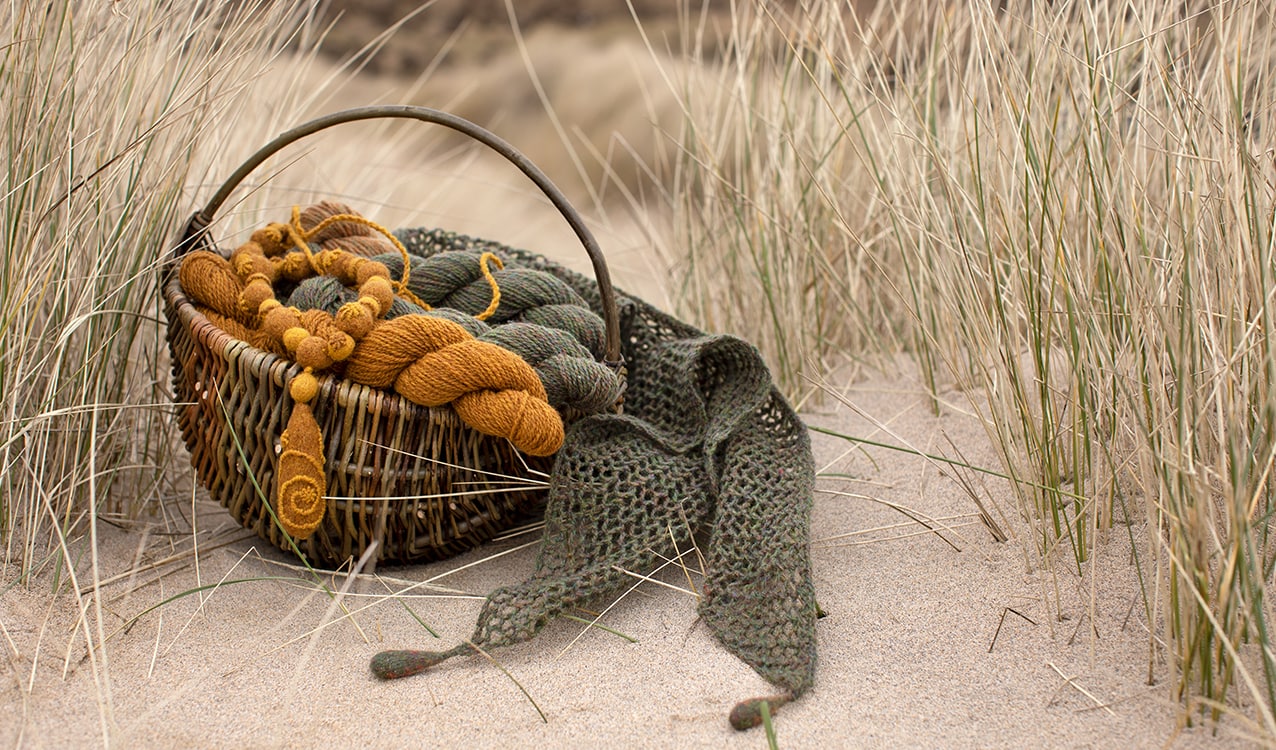 For the near future, I am working on a variety of video tutorials that give a grounding in the basics of knitting and explore tension in detail. So next month you can expect to see some new things in our Video Tutorials section.
Happy knitting,
Alice