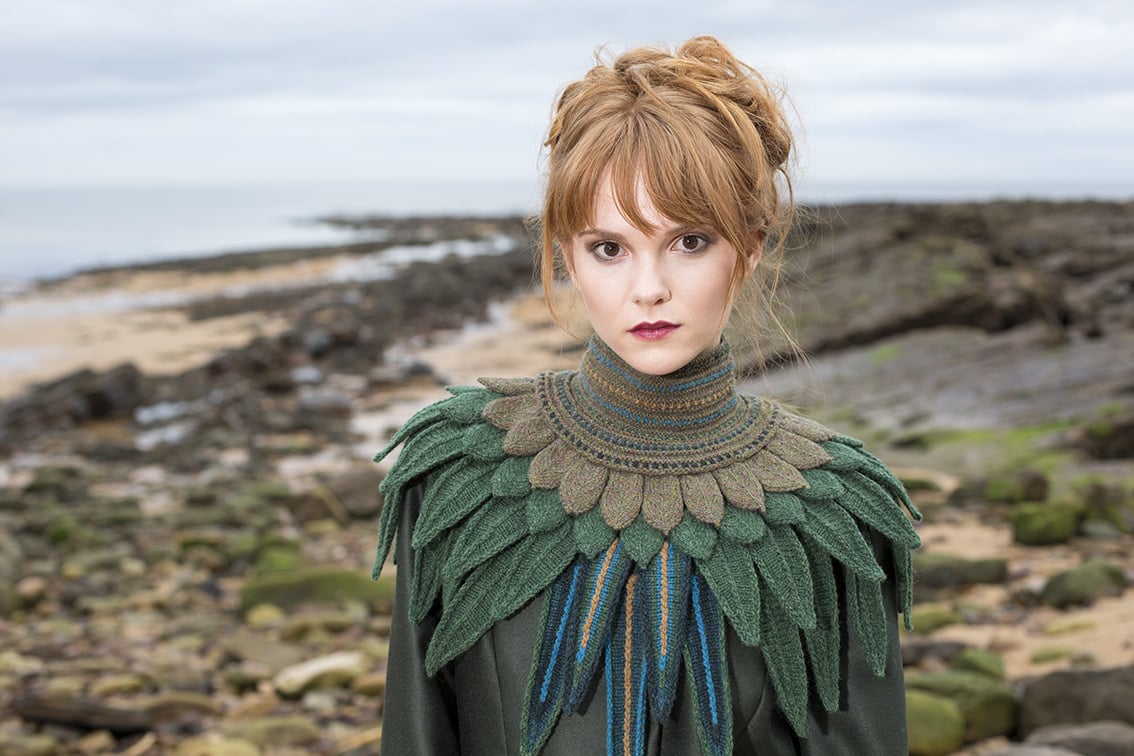 The Lapwing Collar Video Class Kit comes with a full colour patterncard, online access to detailed video tutorials and all the yarn required to make a Lapwing Collar. The tutorials are suitable for beginner level onwards.
I chose six shades of our
2 Ply Hebridean yarn
for the collar, keeping shades of green dominant as in the bird itself (it is also known as the Green Plover). I used Bogbean as the main colour, with Machair for the top layer of feathers and the neckband. I then highlighted the centre-front and centre-back feathers by using various combinations of Calluna, Lapwing, Strabhann and Corncrake. You you can ring eternal changes by combining any shades of our 2 Ply Hebridean to suit yourself. Have a browse through the
2 Ply Hebridean range
and choose your bird!
I gave the collar a highly-ordered structure and colour in honour of the chic extravagance of this exotic bird. I began the first layer with one long 95-stitch pointed feather for the centre back and a 75-stitch feather for the centre front. I then graded the size of the feathers on either side of these from 65 stitches to the 55-stitch Bogbean-coloured feathers of the shoulders. I accented the longer centre back and front feathers with Calluna, Lapwing, Strabhann and Corncrake and worked matching colour combinations at each side to emphasise the symmetry. The second layer follows the same order with the feathers being shorter, from 75 stitches at centre back, to 55 stitches at centre front and 43 stitches at the shoulders.
Then I worked the first layer of Lapwing feathers in Bogbean. These can be made individually following the instructions given for the feather pattern in the Lapwing design (charts A, B and C). I decreased each feather on row 5 of chart C by omitting the 2 increases and ending up with 9 sts for the last row. For the next layer in Machair I worked a double decrease on the last row, thus ending with 7 stitches in each feather.
The textured colour-pattern on the neckband, which is identical to the Lapwing costume neckpiece, can be found in the instructions for the bands worked at the peplum edgings of the Lapwing design and also the lower body and the sleeves of the Damselfly cardigan. I began the neckband separately and worked 6 rows before joining it to the collar so that the band overlapped the top layer of feathers. From them on I interspersed the textured coloured bands with 4 rows of St.St. and decreased the neckband to shape it into the neck within the St.St rows.
Click here to browse the other Flights of Fancy collars that can be made using Glamourie and our Hebridean yarn.