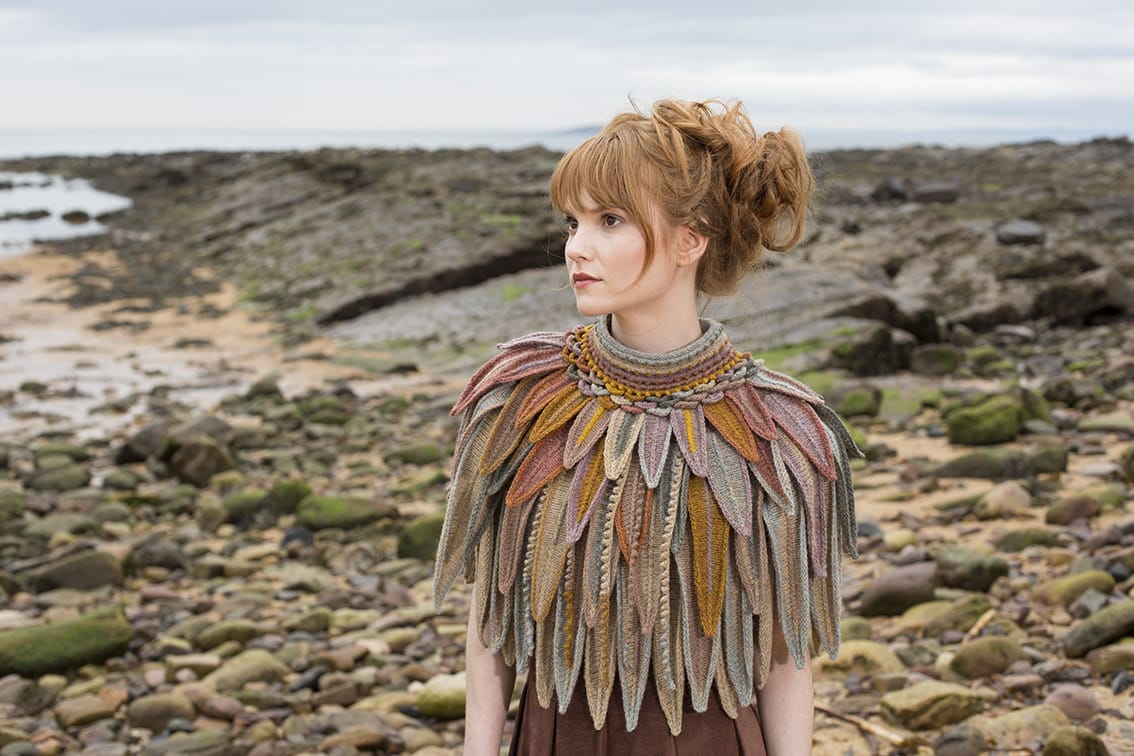 One of the best things about the Glamourie project for me was watching the incredible costumes come together. The intricacy, detail and sheer amount of thought and work that went into them was very inspiring. Though there was no time during the making of the book, I decided that once it was finished I wanted to make something wild myself. The obvious choice was the Raven. The hood is not a practical garment to wear, but once Alice started to make collars based around the Raven costume I decided to make a collar using all the Raven hood feathers, to bring all those textures together in something very elaborate, but at the same time wearable.
The garment was inspired by a particular shingle beach at the foot of our croft. While Alice is permanently based in the Hebrides, I divide my time between Glasgow and Lewis. Every time I arrive home I go to this beach and stand in the sea and watch the water wash back and forth over my wellies. It is a very private place and the clear, unpolluted water rolling across the shingle under a big sky has the effect of resetting my mind away from busy city streets which are lined with sandstone tenements and soundtracked with the fast staccato of the "Weegie" accent, which is a sharp contrast to the lilting, drawn-out accent of home.
The colours of the collar were inspired by the shingle, which is toned in soft, subtle greys and fawns until the tide rises, making it transmute into shades of green, gold and red. So the collar base layers start in Spindrift, Pebble Beach and Fulmar, and as the garment grew I added Golden Plover, Corncrake, Sea Ivory, Mountain Hare, Driftwood, Sundew and Whin to echo the colours of the wet shingle.