It is thirty years since my Fair Isle Knitting book was first published. I increasingly find that measuring the passage of time becomes an exercise in disbelief. "Can it really be that long ago?" has become a constant refrain whenever I pause to reflect on something that seems, until I start counting, to have occurred recently. It is only when I consider all that has happened since, that the expanse of time starts to make sense.
In these last thirty years over two-hundred thousand copies of Alice Starmore's Book of Fair Isle Knitting have made their way into the hands of knitters worldwide and the technique of stranded-colour knitting in the round with knitted steeks – known and practised only by certain Scottish islanders until I taught my first classes in Dallas Texas in 1985 – is now firmly established in the repertoire of hand-knitters globally.
I enjoyed all aspects of writing the book, not least visiting with knitters and museum staff in Shetland who were most welcoming to a "western islander". The history of the craft from its inception on Fair Isle to its commercial development on mainland Shetland was so rich and fascinating in itself that it would have been easy to fill the book with the history alone.
I was very fortunate to have learned the technique from my mother when I was a child and I was determined that hand-knitters should have the opportunity to learn and practise this easy, exciting and very rewarding method of working with pattern and colour. To that end I provided comprehensive and illustrated information on all of the techniques along with a library of the patterns used within the tradition. But most importantly, I wanted to encourage and excite knitters to use the techniques to develop their own personal creativity, and so I included every detail of every trade secret that matters and summed it up by saying that the art is now in your hands. Here it is. Take it, use it. Create.
I firmly believe that creativity should be founded on a solid technical base and that is what I aimed to provide in the book. There are certain aspects of creativity that cannot be taught beyond a certain point. Many people think there must be a secret formula but there is no such thing. If you use a formula then your results will be formulaic. A good artistic result is always organic and comes from that magic pinch of fairy dust that is called a great idea. It is hard to teach pupils how to have ideas, unless you teach by example, which I have always done.
Stranded-colour knitting is all about pattern and colour and in the chapters on colour and pattern I aimed to show that there are endless possibilities for creating original designs. To illustrate this I photographed a variety places and objects and used each one as inspiration to explore colour and pattern. This proved to be a very successful way of encouraging knitters to develop their own ideas and it formed the basis for many enjoyable and enthusiastic workshops in far-flung places over the following years.
Over time, I have converted several of the inspirational swatches I created for the book into garment designs. So to celebrate the book's 30th Anniversary I thought it appropriate to take another peek at my swatches and feature some to show how adaptable and timeless the art of stranded knitting is.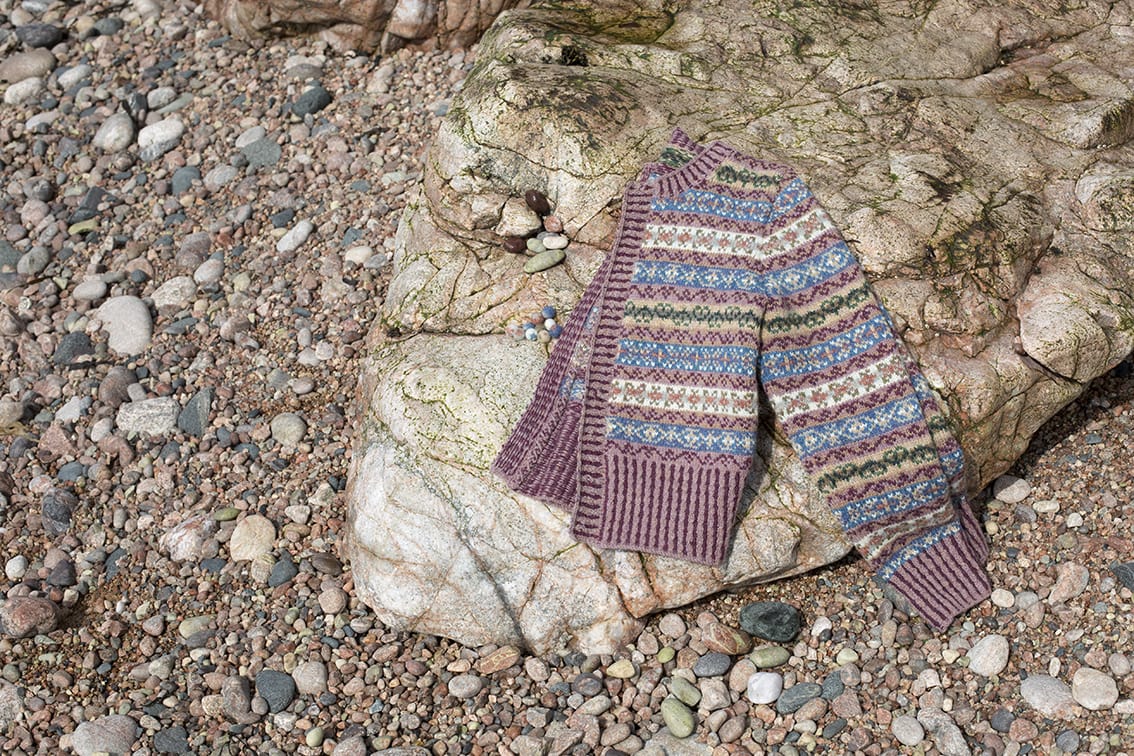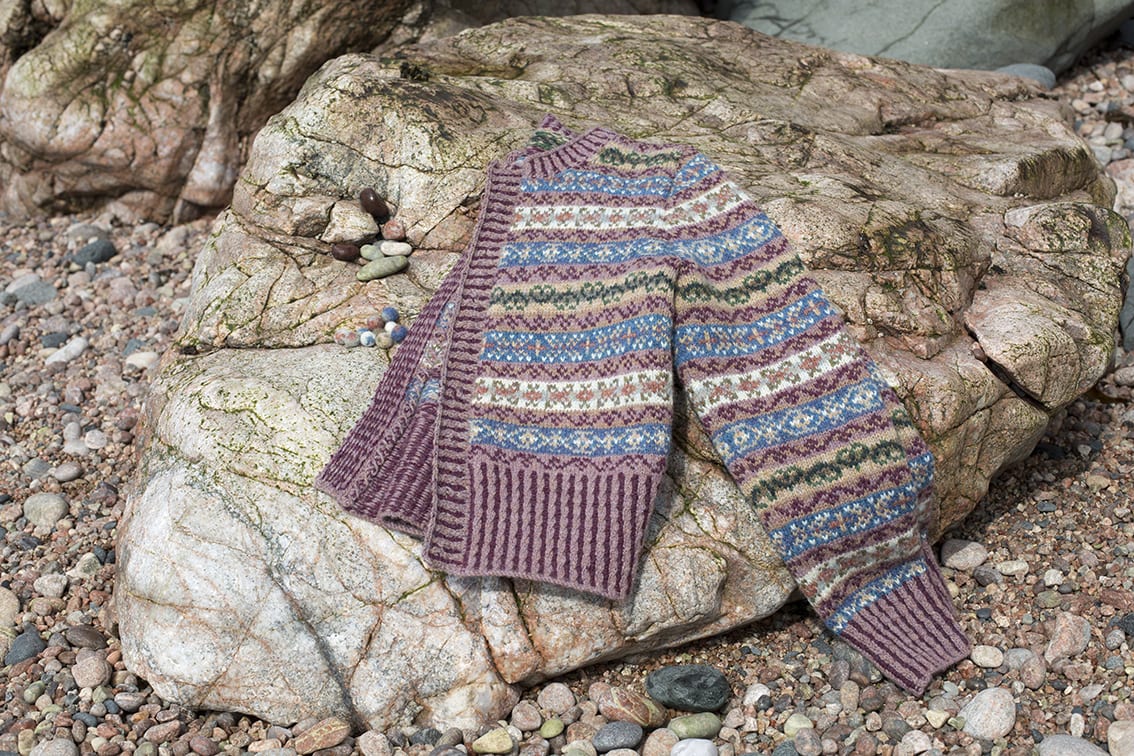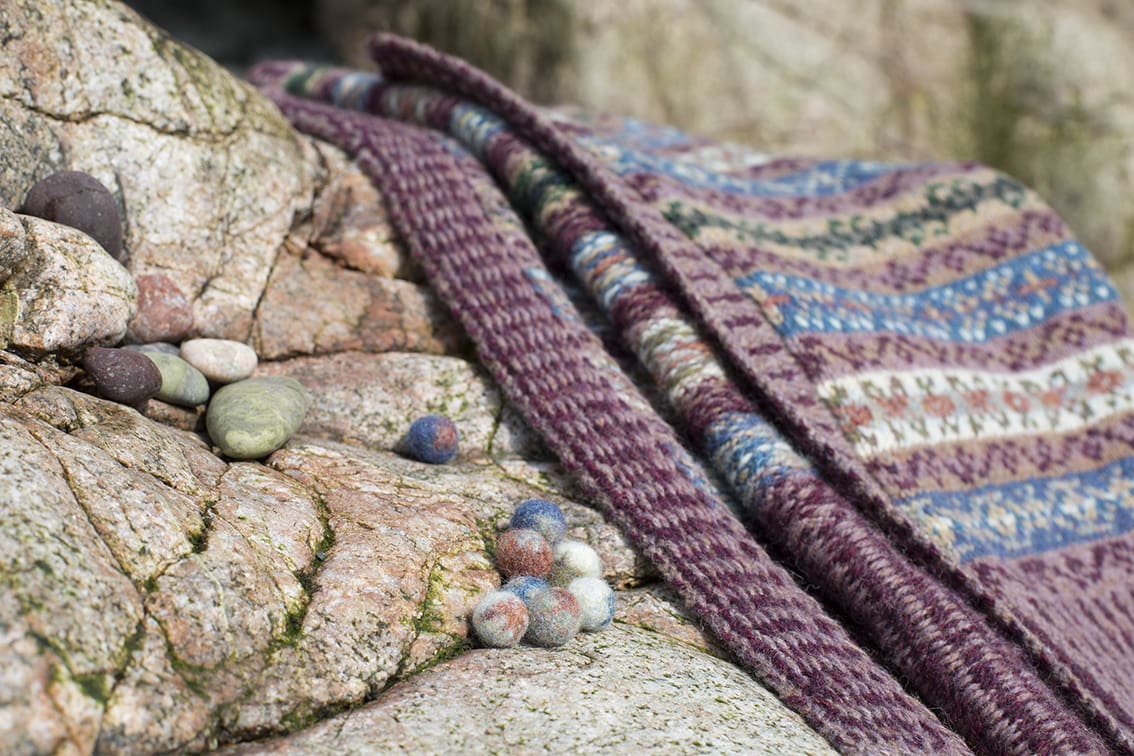 One of the places that I love passionately is the perfectly named Geodh' a' Cùibhrig (Patchwork Quilt Cove) which is hidden at the foot of a high cliff in Lewis, where Planet Earth had a series of monumental parties billions of years ago and left behind a geological cornucopia of enduring inspiration. The Geodh has featured in my work throughout my career one way or another, not least in Fair Isle Knitting, where several of the photos and swatches I made for the pattern colour chapter were taken.
The Peigi cardigan is my 30th Anniversary design taken from a swatch in the book that I based on the pebbles of the Geodh. Small, geometric pattern bands worked in various colour combinations depict the pebbles, each one as unique as human faces. Between each "pebble band" I depicted waving strands of seaweed that wash in and out with the tide. I echoed the repeated waving seaweed bands of the pattern in the ribs by working them in the same colours and giving them a little cable twist to portray that sense of movement.
To finish, I made a set of little knitted, embroidered and felted buttons, each one unique like the pebbles. We took Peigi to the Geodh for some still-life shots to commemorate her origins and also to photograph the buttons beside the pebbles before sewing them on to the garment. It never occurred to us that I had succeeded in making them so similar to actual pebbles that they might be difficult to find should they decide to roll off the chosen spot. Inevitably, this happened and we gave up hunting for the runaways after about twenty minutes of fruitless search. So several of the "pebble buttons" you see in the still-life photos ran off and joined their stony counterparts and are no doubt floating in and out with the tide somewhere on the Lewis coastline. I judged that it would be less time-consuming to go home and make some replacements. There was something very fitting about giving the Geodh and the sea a little organic gift in return for the immeasurable joy and inspiration this place has given me.
Peigi is available as a patterncard kit and is of course knitted in the round with steeks at front, armholes and neck. The sleeves are knitted from cuff to top in the round to the armholes and then the set-in sleeve caps are knitted back and forth in rows.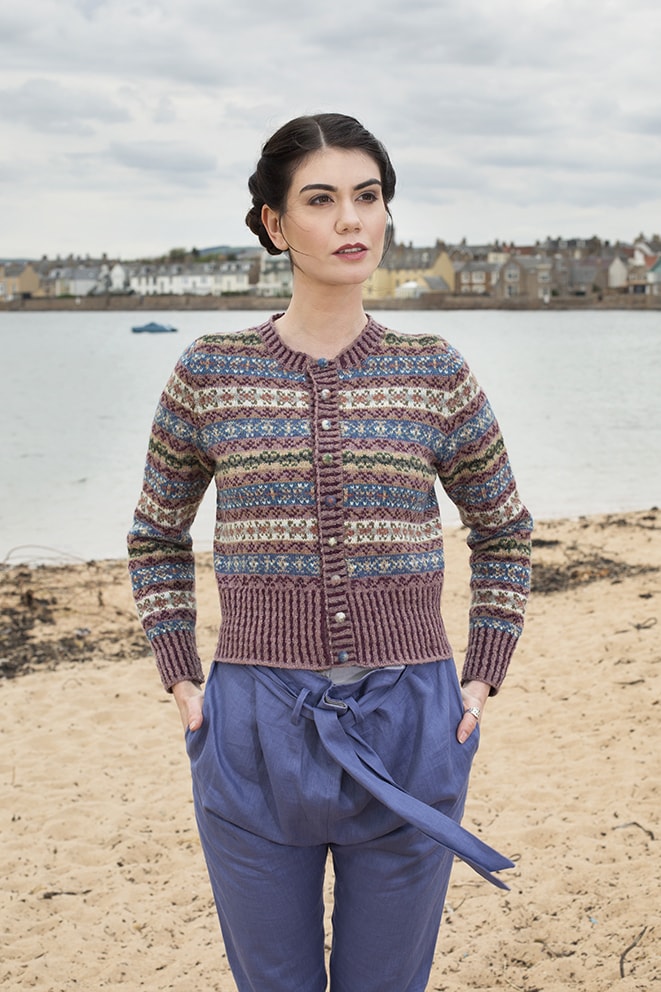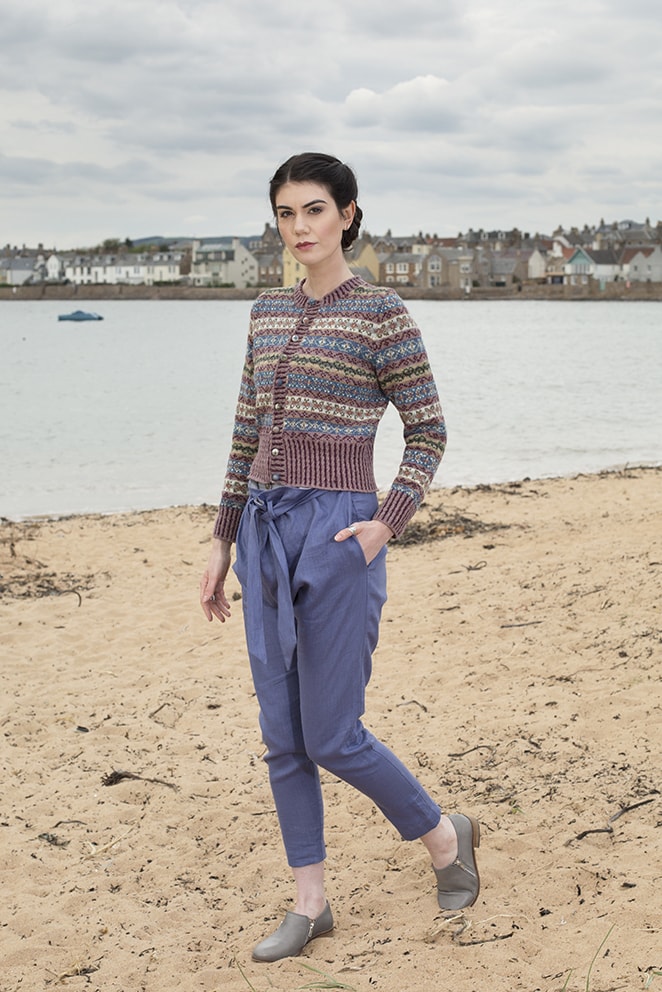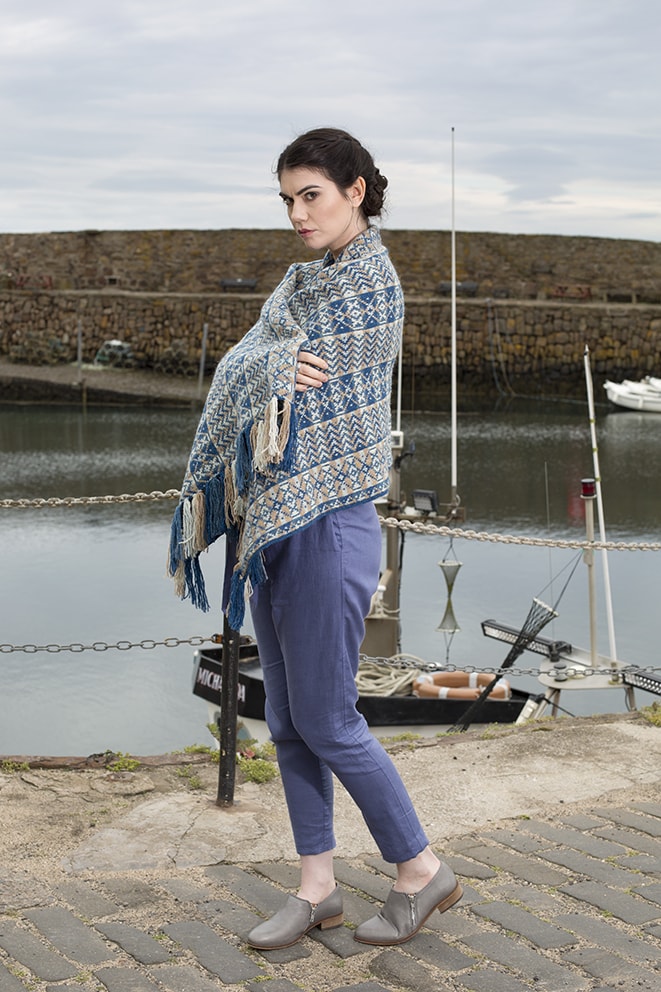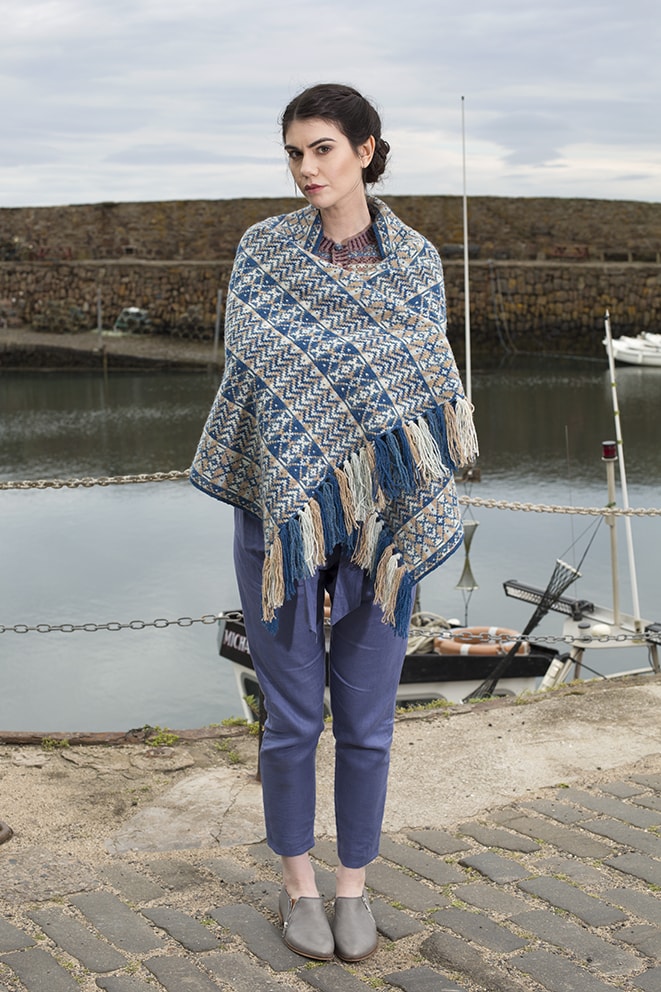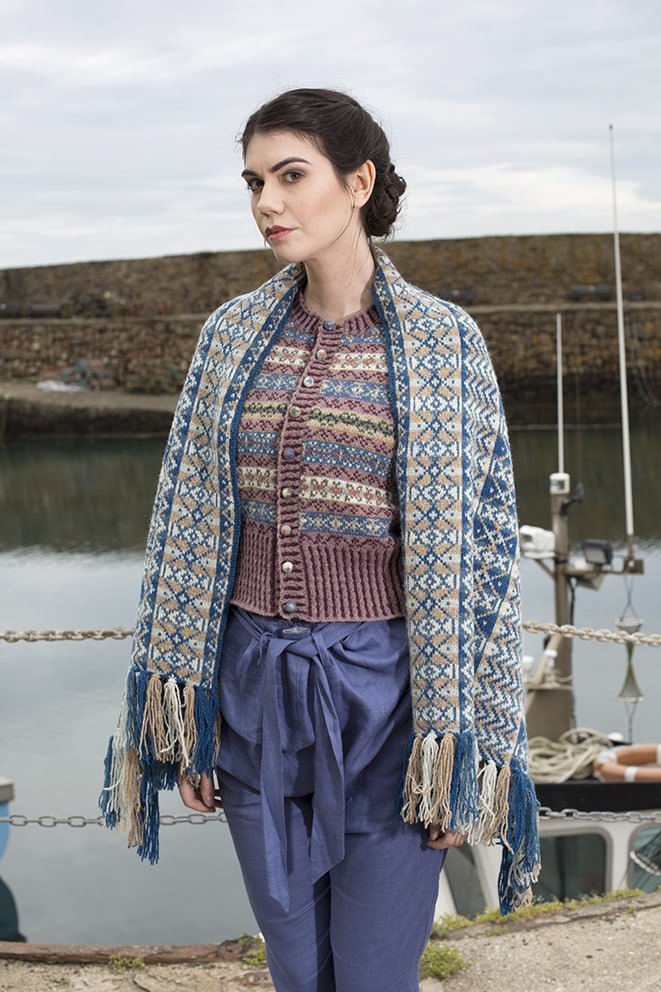 I created the Ripple patterns to represent the shifting marks of the sea and the channels of fresh water carved out over the sand. I worked the sea and sand colours to enhance the idea of movement both in the geometric ripples and in the opposing pattern versus background colours of the vertical panels. I was very happy with the effect of the patterns and the only difficulty I had was that I decided to make this originally for the book as a gansey in a cotton yarn. I did not enjoy working with cotton: though it looked beautiful when finished, the lack of elasticity made it very unforgiving and produced a dead weight. It was also slippery and very hard to deal with when cutting and finishing.
But I was very pleased with the pattern itself: once the first round is set it is very easy to memorize and work, so for that reason I thought it would make an ideal "first time" project for newcomers attempting the stranded technique. It works perfectly as a wrap, which has one long steek worked straight from cast-on to cast-off end; this is a wonderful way to become acquainted with the knitted steek technique. I have reworked the charts for the patterncard so that they are easier to read and work from than the single chart in the book which was extended across two pages and over the centre gutter of the book, making it somewhat difficult to read.
So whether you are a first-timer or an experienced stranded knitter, this is a project that sums up everything that is enjoyable and easy about the technique, and is guaranteed to produce a result you will be proud of. The wrap is not only highly wearable, but can also be displayed as a beautiful home furnishing.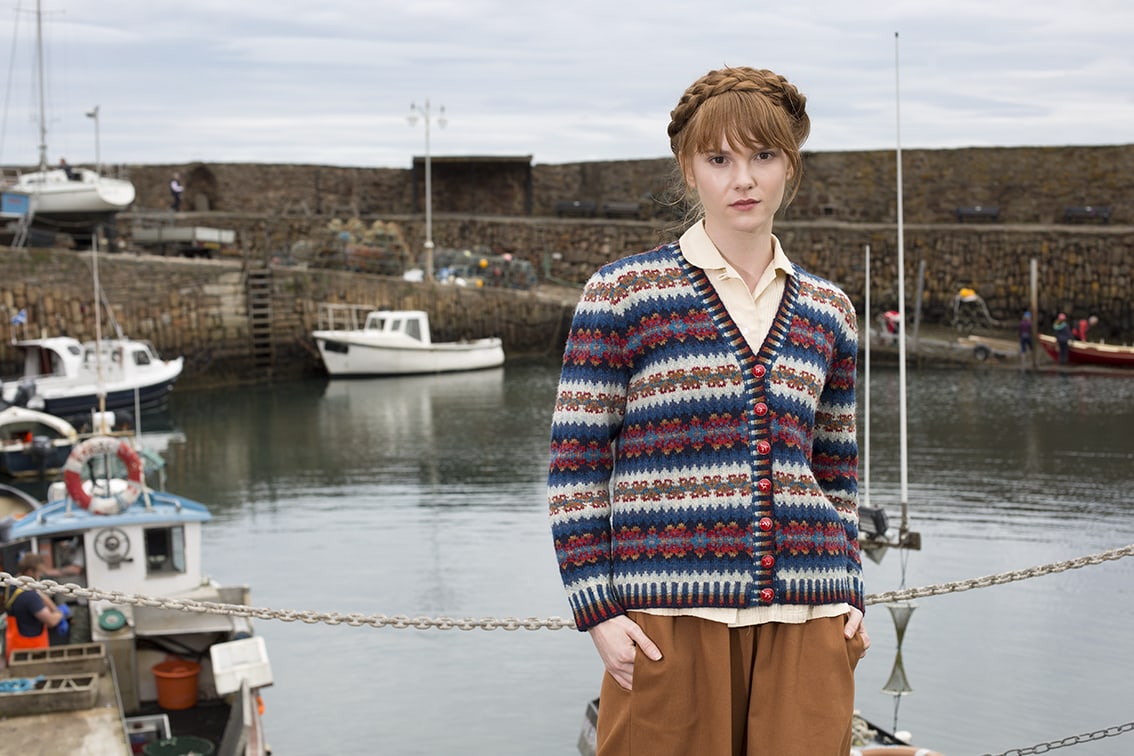 I took my original Wave cardigan from the book and updated it for a patterncard kit with set-in sleeves and a shorter silhouette. Little repeated patterns are clever devices to shade a single colour from light to dark and vice versa, so the Wave cardigan features a little pattern which grades from the palest Solan Goose background, through Kittiwake, Shearwater and Mara, to a dark Kelpie background. I worked pattern bands in strong contrasting shades of Red Rattle, Poppy, Sundew, Corncrake, Mountain Hare and Driftwood and then gave a punch at the centre of each band by working the background in Summertide and Strabhann.
This pattern format does require a good bit of concentration, especially in the areas such as the neckline and the sleeve where shaping takes place, and so it is a good project for an experienced knitter. Having said that, if you consider this to be a "must have" then desire can carry you a long way: it is within your grasp so long as you take your time and have achieved stranded knitting with a good, even tension.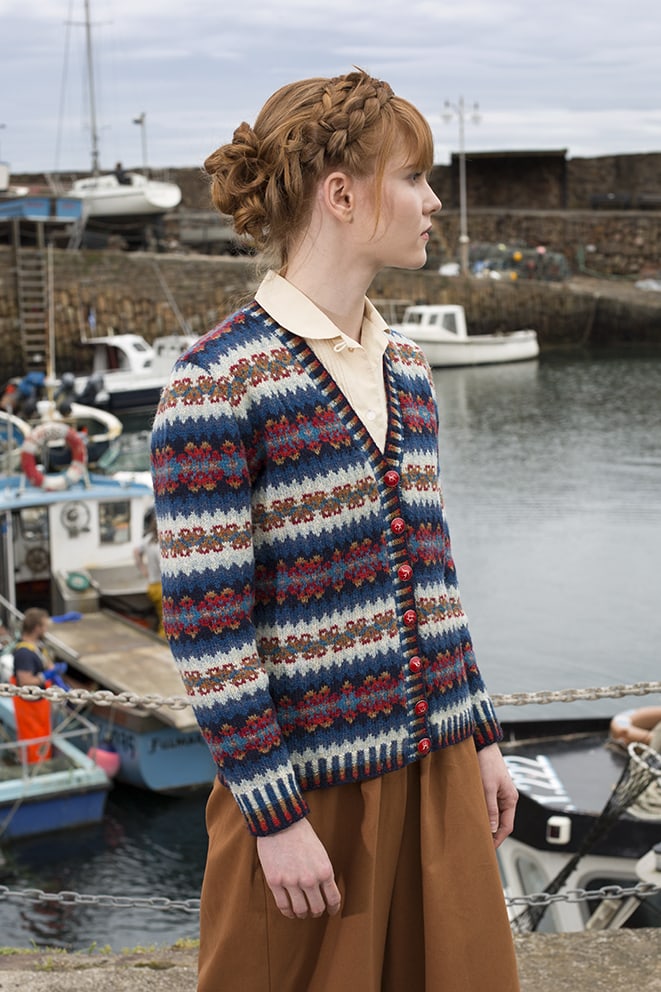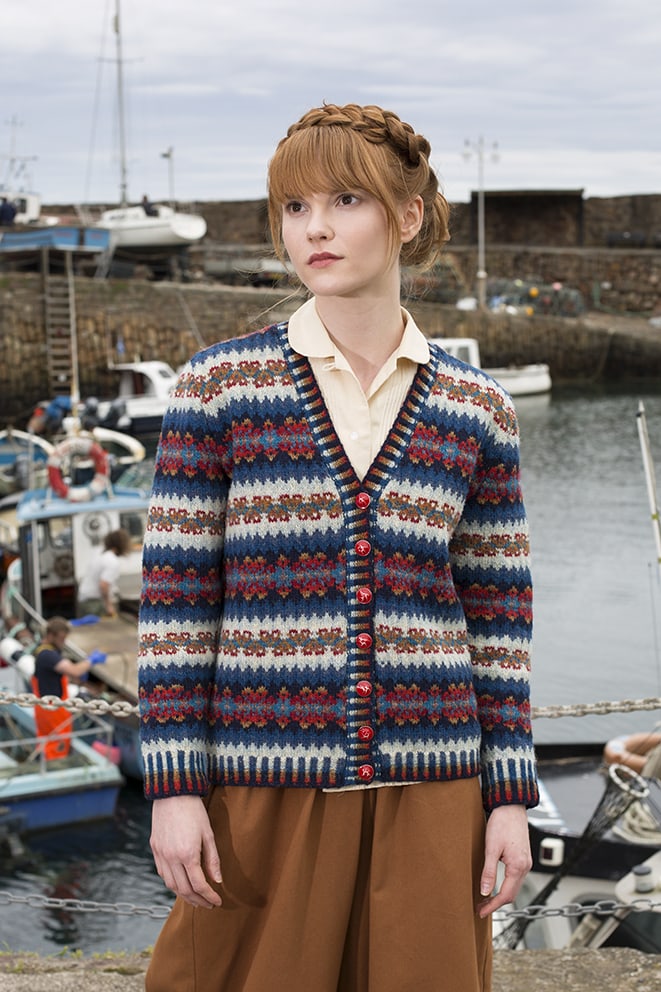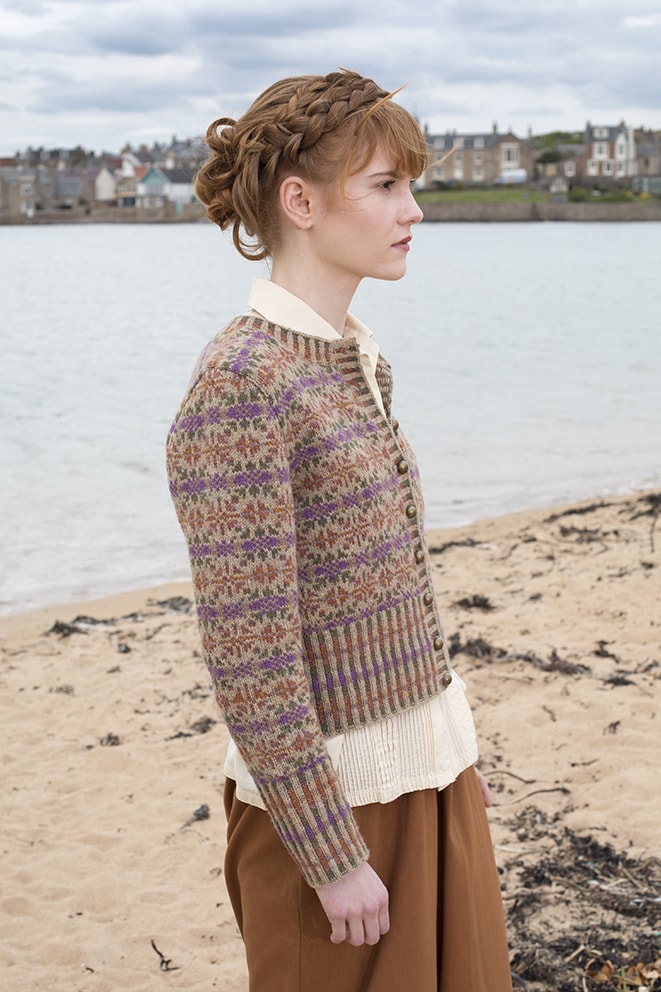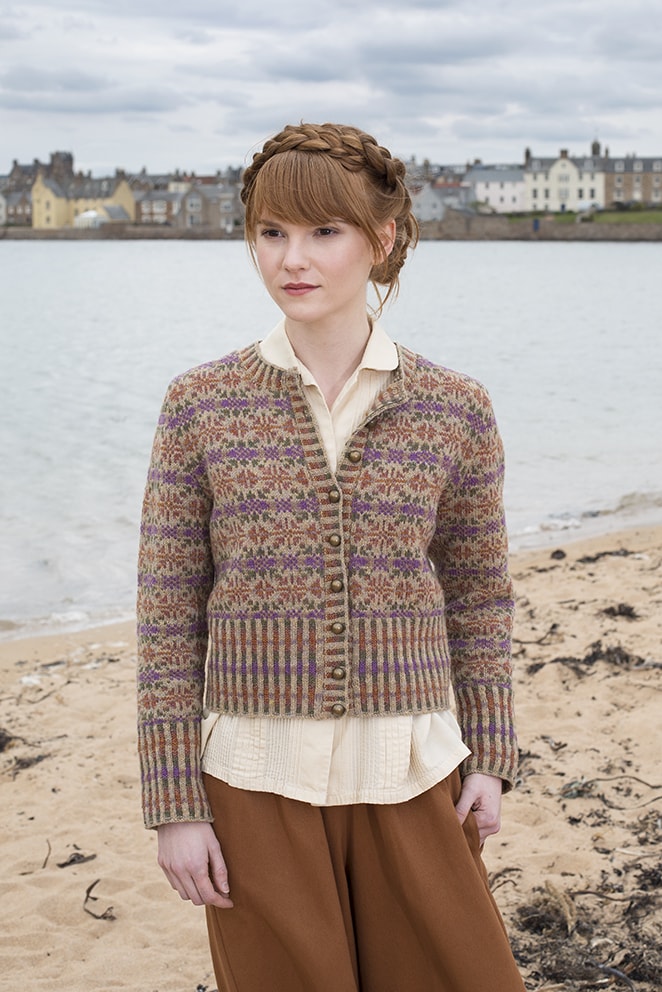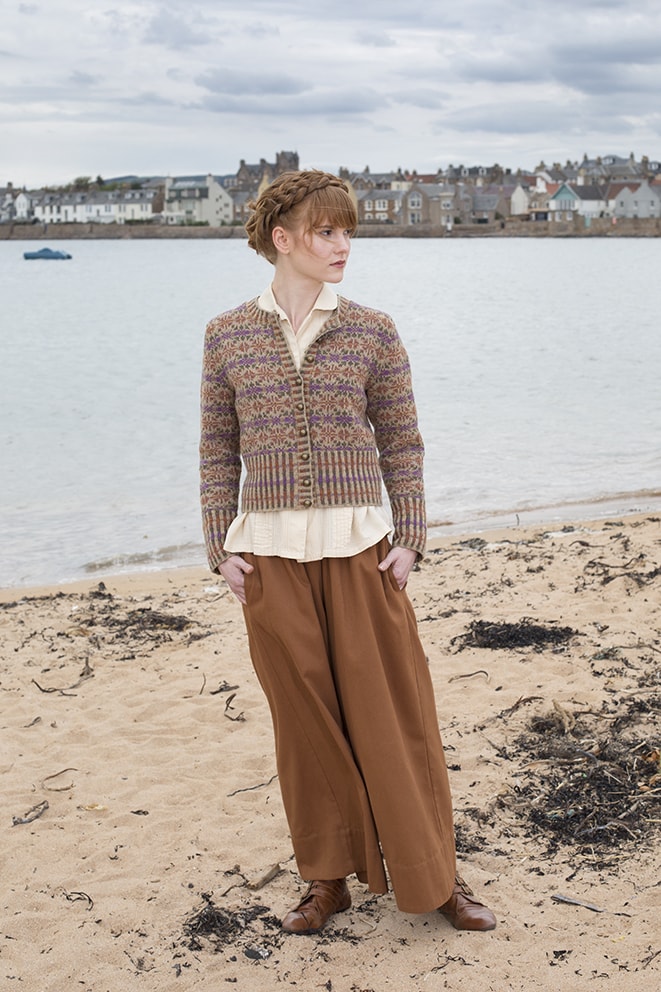 Machair is a rare and precious feature of coastal areas of the Outer Hebrides. In fact on a worldwide scale it is confined to areas in the north of Scotland and the north-west of Ireland and is the only habitat that is universally known by a Gaelic name. It is formed of blown sand with a high percentage of shell material laid over peat in an oceanic location with a moist, cool climate. For most of the year it appears as a green sward behind the marram grass and sand dunes. When summer comes it explodes with colour in the form of a dense carpet of orchids, harebells, lady's bedstraw, bird's foot trefoil, clover, dandelion, meadowsweet, eyebright, to name just a few. The effect is dazzling and deeply inspirational. To me it is nature's most spectacular "overall pattern" bar none and was consequently high on my list of inspirations.
I photographed a machair meadow for the book where harebells and dandelions predominated and I used the shapes of those flowers to depict the main features of my overall pattern, which I then filled in with tiny petal shapes to produce the carpet effect.
For the book I focused the colours of blue harebells and yellow dandelions on a green background. It a very successful depiction of flowering machair and because of its small scale it is an ideal pattern for the stranded technique.
For Meadowsweet, I worked the colours on a Spindrift background that evokes the creamy flower itself, and picked up soft shades of ragged robin and heath orchids which all grow together on the machair habitats of my own croft. The cardigan is a cropped style where the pattern is offset by the deep ribs which are worked in the same coloured sequence as the pattern. This is an easy pattern to work, where background and pattern colours change frequently along the rounds so there are no long strands to deal with. Thus, It is a good "first garment with steeks" project and a really easy knit for an experienced stranded knitter.