"Preserve the thought that went into the placement of every stone; it's all we have left of the people"
These words were spoken by The National Trust for Scotland's  resident archaeologist Craig Stanford as he gave our work party a guided tour around St Kilda village. They resonated powerfully with me, for as a Hebridean I grew up with dykes, enclosures, blackhouses and the summer pasture sheilings known as àirighs, all made from dry stone. They were all old, but not as old as the stony fingers that stand enigmatic and aloof on the hill called Dursainean – the Hill of the Doors – which lies at the heart of my family territory on the Isle of Lewis. They are the remnants of a Neolithic chambered cairn and they have looked down on my ancestors for millennia. It has been plain to each generation that there is a story behind those stones, but what it is, no-one knows. This lack of knowledge is tantalising, but Craig's words gave me a new concept and a new way of looking at the various stoneworks all around me: every single constituent stone, whether in the humblest dyke or in the mysterious cairn on Dursainean, or our world-renowned Callanish Stones, is the record of a thought that passed through someone's mind. And on St Kilda, as Craig pointed out, these stony records are all we have left of its people.
I have left my own modest stone records around my croft, garden and moorland pasture, so I know of the thought and effort that goes into the process. There is a time to gather stone together ... these words are biblical but the placement of each individual stone is more like a form of Zen meditation. You select the right stone from the pile, then weigh it up in your hands and tentatively fit it. Sometimes there is a buzz of instant gratification as the stone slots into place in a manner that seems pre-ordained, but usually it is a case of turning and testing until its rightful place becomes apparent. Occasionally nothing works out and you are left looking at the wayward stone like Hamlet contemplating the skull of Yorick. So it is back to the pile with it, but not forever because deep down you have faith that there will be a place for it somewhere.
One compelling reason for me to be on St Kilda was the opportunity to spend time in a landscape that the inhabitants had turned into an astonishing work of art in stone. Whilst I had previously marvelled at the centuries of human endeavour that created this unique wonder, I now had the additional insight that the exact position of each and every stone was a thought preserved. There were millions of singular St Kildan thoughts everywhere.
This notion was foremost in my mind when my team mate Kirsty and I were tasked with replacing a number of fallen stones in the revetment wall of the Factor's House; on Cleit number 78, and on a number of small sections of the windbreak wall in front of Cottage number 16. Craig issued us with detailed photographs of the original stonework and so it seemed, on the face of it, a straightforward task to replace the stones exactly as in the pictures. It proved not that easy, for if you are preserving the thought of someone else then you have to stop thinking for yourself and suppress your own instincts. Plus, the St Kilda style of stonework is unique and has a much more free-form feel than what I was familiar with.
It was not so dificult to replace just one stone exactly so, but when it came to replacing more than one, as in the windbreak wall, it felt like working out the hardest three dimensional puzzle ever devised. We sometimes thought we had got it right only to find that we had inadvertently introduced our own little thought. A stone could fit perfectly and look correct, but then the next one could not be placed at the same angle as in the photograph, and so the first one must be incorrect. Gradually we learned how to replace each of these precious St Kildan thoughts, and modest though our input was, it was a very proud moment to have succeeded in getting it exactly right (below).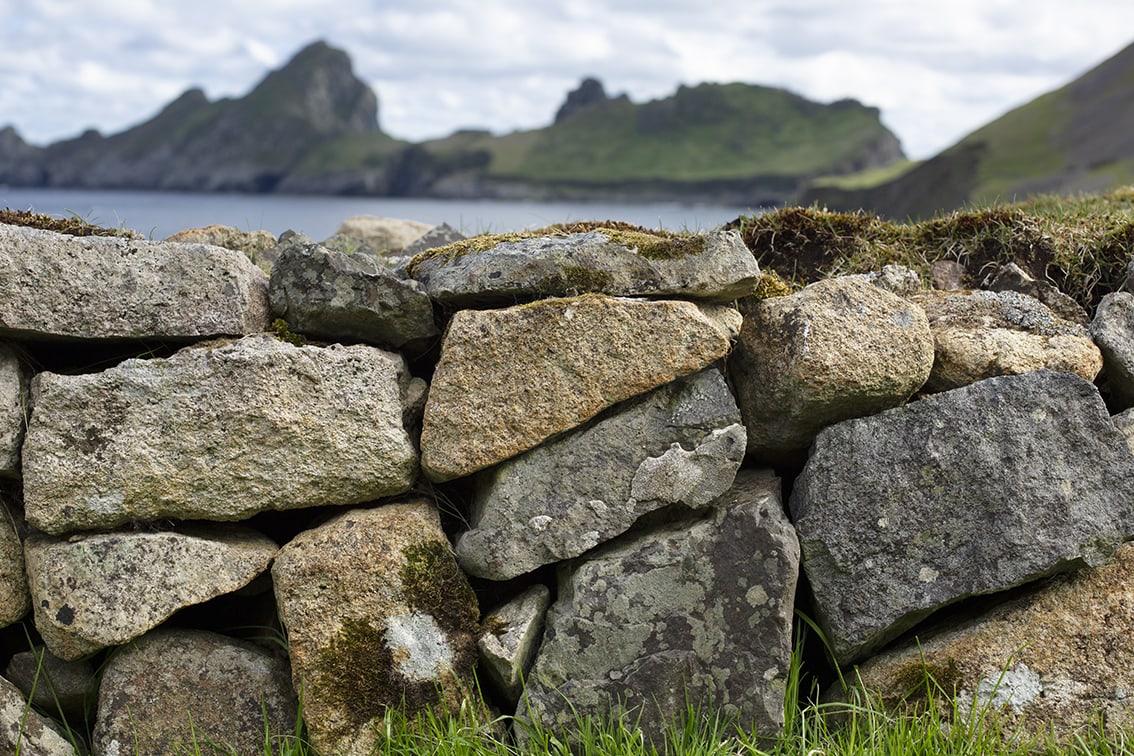 Having the opportunity to get hands-on and intimate with their stone thoughts gave me a deeper appreciation of the unique St Kildan building style. It was wonderful and inspiring to be able to go out and look at both large and small-scale structures in detail and also from afar and then contemplate the thoughts behind them, not only in their purpose, but in their artistry. There is no doubt that the practical purposes of shelter and food were the driving forces for these stone structures, but whether it was intended or not, art is redolent in each and every form.
The enclosures at The Gap are outstanding examples both in their beautiful shapes and in the detail of the stonework. I wondered how many men and how much time and thought went in to moving some of these monumental stones.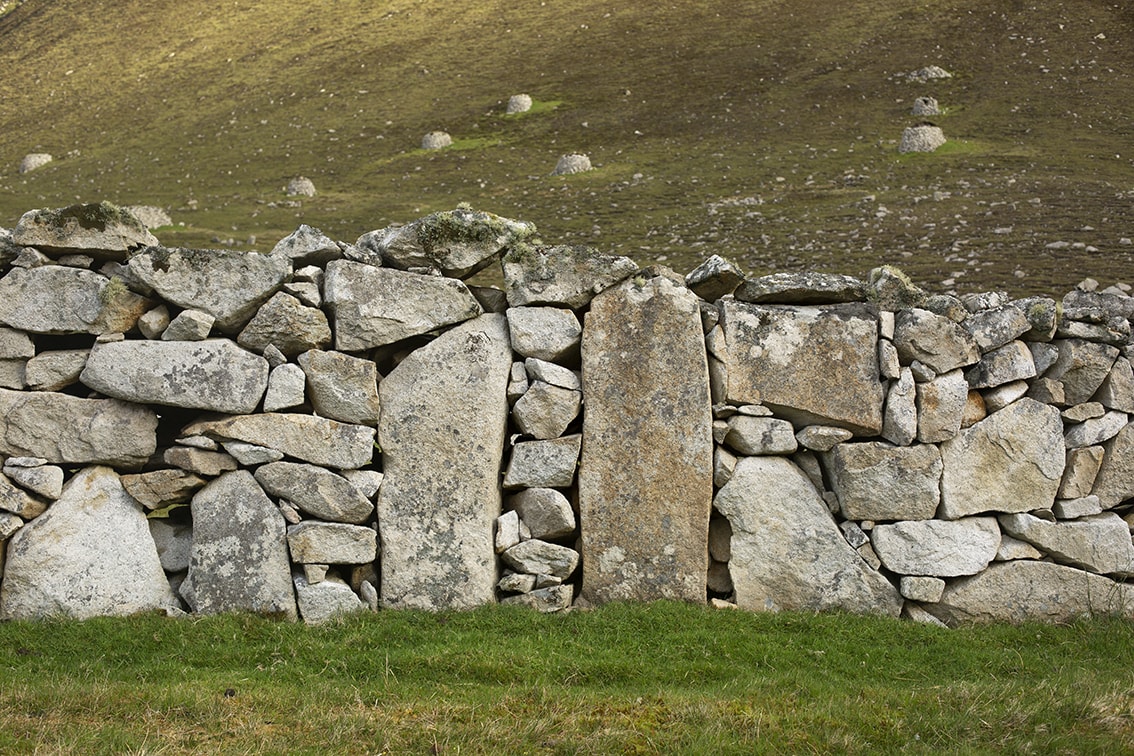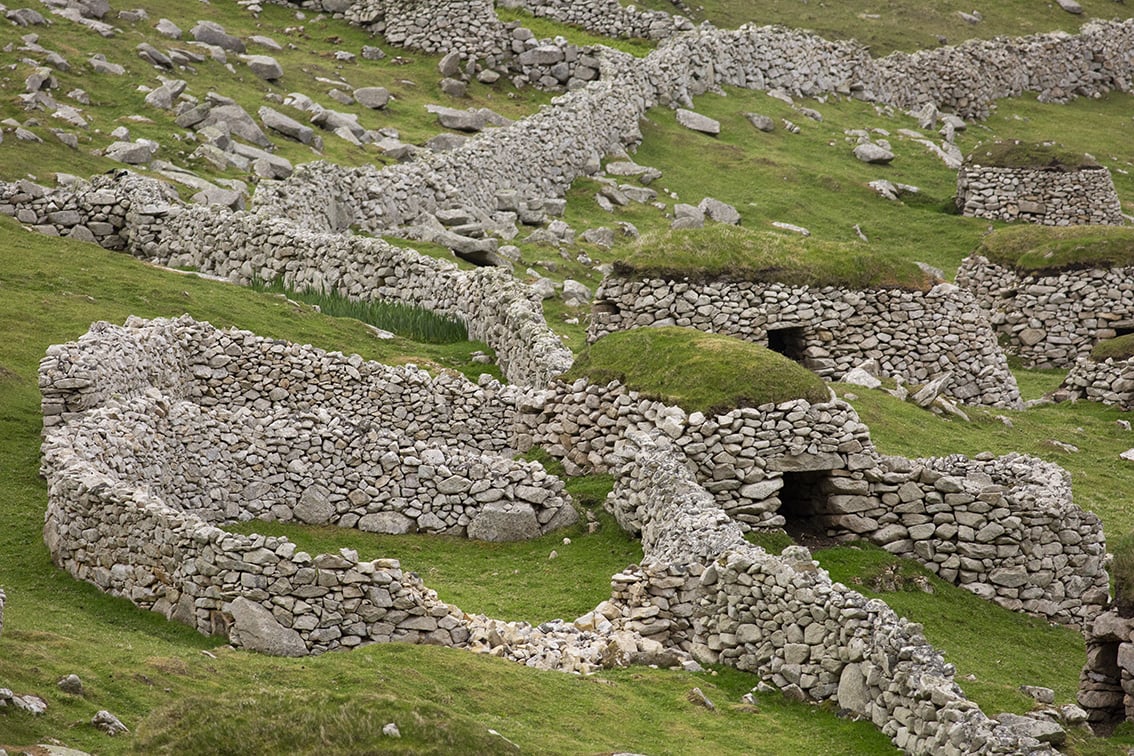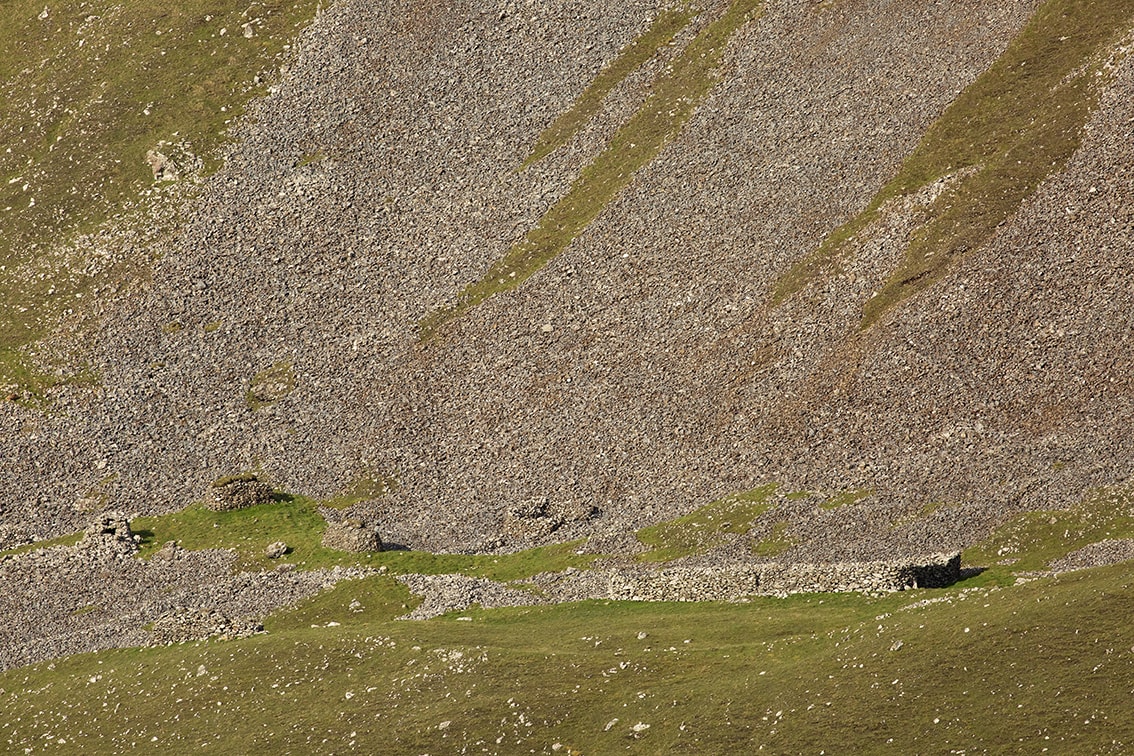 Looking at the ancient village structures through the lens is rather looking through a kaleidoscope where at every turn the image resolves into yet another pattern (above).
Structures rise out of Ruaibhal's scree and from the distance of The Gap the forms appear in the land around as though they were very deliberate strokes of abstract art (left).
At Claigeann an Taighe Faire (the Skulltop of the Guard House) the cleits merge so perfectly with the natural landscape that is requires a double-take to see them (below).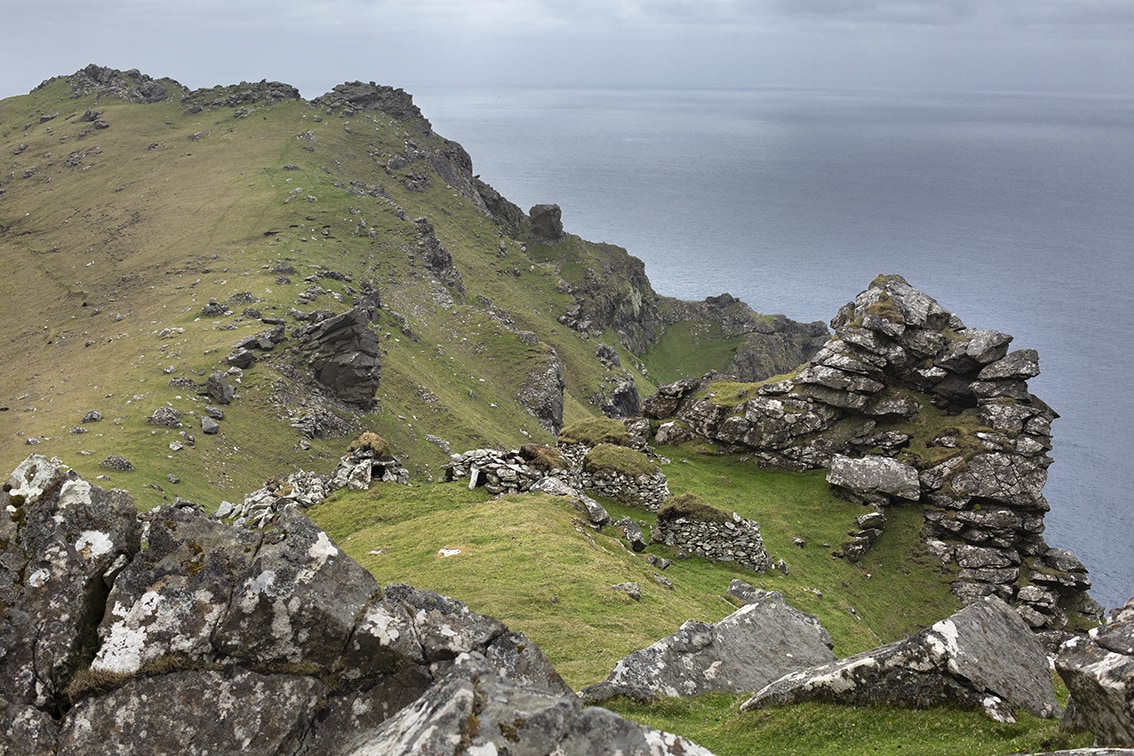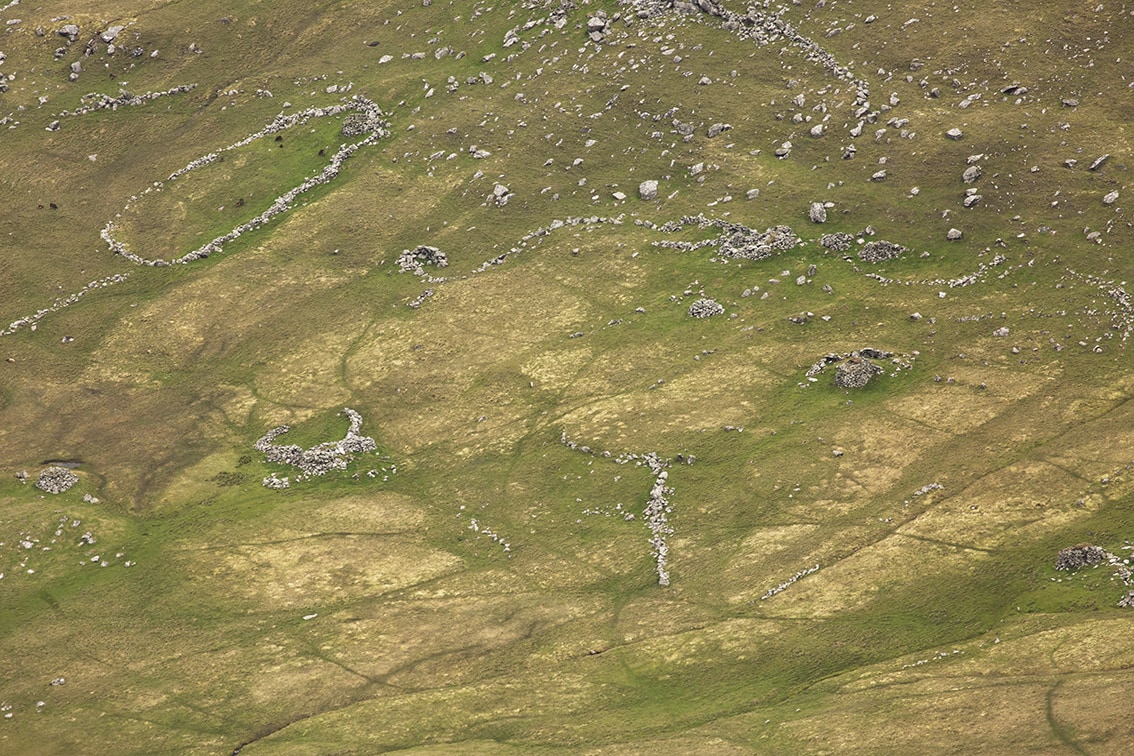 Ancient structures on the east side of Gleann Mòr are intersected with numerous pathways made by sheep, and from the western slopes they look like a delicately embroidered map (above).
A sheepfold with its embracing run-in laid out like a stone necklace in the glen and reflecting the shape of Glen Bay (right).
As with any great artwork, one can muse on its meaning, marvel at the detail or – just stand back and take in the wonder of it all.