Mist can appear in a matter of seconds, as if conjured by some silent spirit of the archipelago. That is why it would be foolish to venture around Hiort without a light. It is also wise to turn around frequently to memorize your position and keep an eye out in case a curtain of mist should suddenly fall behind you; one small slip in the wrong direction could prove fatal. But there is great beauty in the mist, and a magical atmosphere descends when the islands' pinnacles are plumed in clouds, and glen and village are shrouded in layers of mist that drape the cleits, walls, enclosures and cottages as if the Mist Spirit were playing a game of hide and seek.
Experiencing these conditions has inspired me with many ideas based on layered drapery and swirling movement.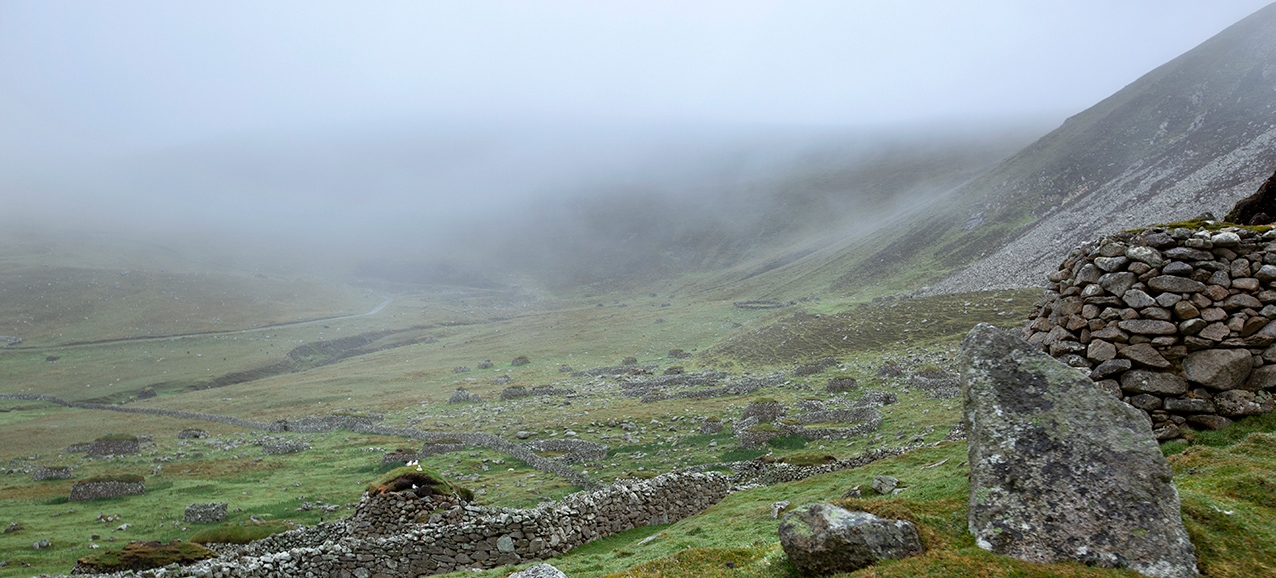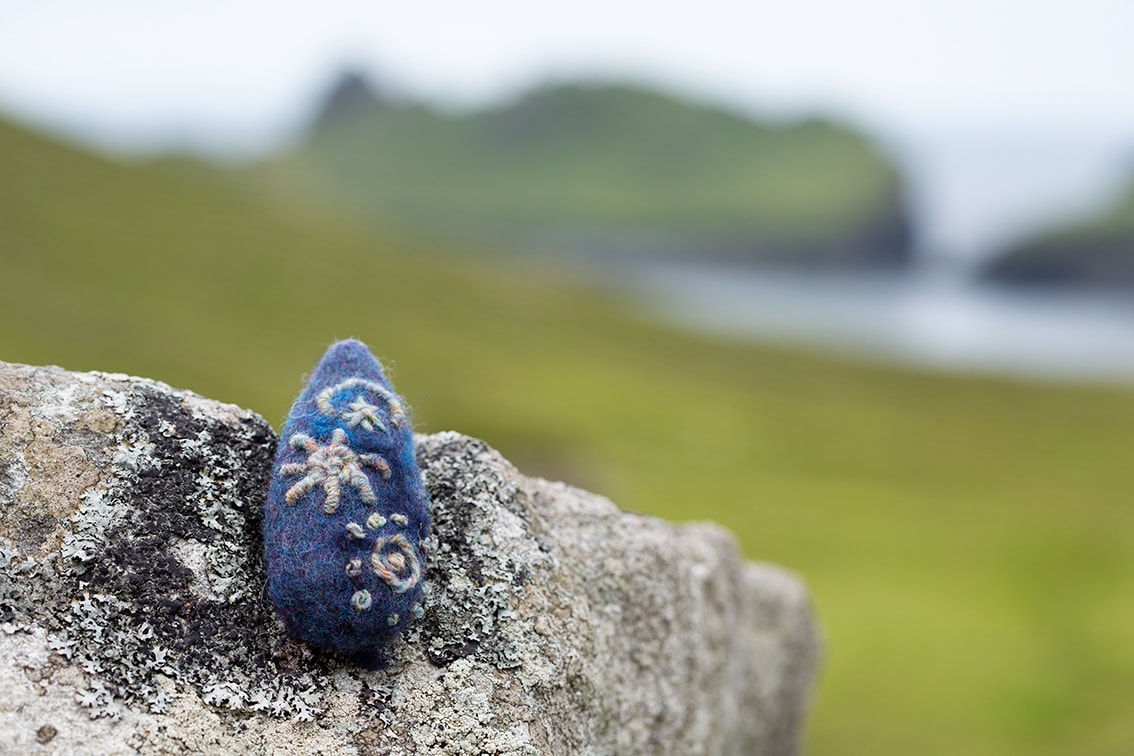 Whilst watching the mist slowly shape-shifting over the village from a vantage point on the west side of Village Bay, I came upon a singular structure positioned at an outside corner of a gathering fold. I had first heard of the Clach-oichde (Night-stone) from stories of Hiort and I had long yearned to find one. I had been told that the night-stone was an ancient lamp made from a hollowed stone; when in use the hollow would be filled with oil and a wick made of còsach (fibrous peat) was lit and floated on the oil. The stone I found is sheltered from the prevailing wind and the sea by the enclosure wall and further protected at right angles to the wall by a flat triangular stone firmly placed in an upright position, hard against the hollowed stone. Looking from the stone it was evident that the light would have been highly visible from the village and hidden from the sea so I am minded to believe that it may have been a guiding light in times of danger, for just a few metres behind it there is an ancient hiding place built down into the scree-covered ground. The islanders had good cause to have hiding places as not everyone who sailed into the bay was friendly.
I was very excited to find this Night-stone and truly astonished to see the triangular backing stone, as this had never featured in any description I had heard, yet it turned out to be exactly the same shape as the symbolic Clach-oichde I had knitted, felted and embroidered the summer before. I had made it to act as a little guiding piece for further explorations around the idea of the Lady of the Mist.