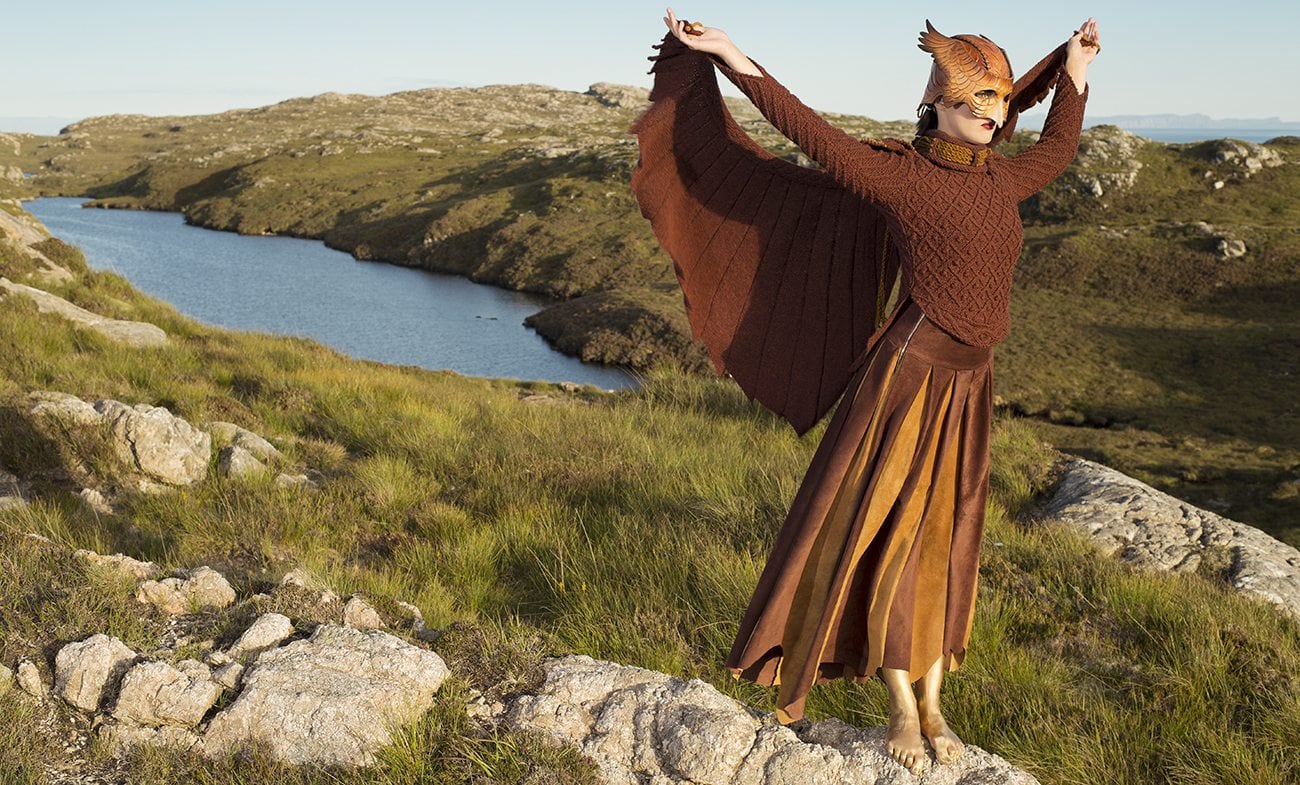 ...as the land awoke so too did the flowers, and as the giant sundew unfurled, a golden Eagle burst out from it in a whirl of feathers. She was as gold and layered as the moss, rich as peat, many-hued as the sundew and as sharp as a blade.
I have always associated the Golden Eagle with strength and power: a warrior at one with the unforgiving climate and landscape. It was from this basis that I began to work on the Eagle costume. I started by doubling up my 3 Ply Hebridean yarn for warmth and strength. The moorland shade of Tormentil would be a perfect shade for cover in the wild. I planned touches of gold around the neck and on shoulder feathers which would rise when worn. The doubled yarn gives textured stitches a strong, bold appearance so for the front I worked a textured trellis pattern as a stylised form of the chest feathers, and bounded this with a curved cable design in recognition of the bird's broad rounded chest.
To convey an idea of the eagle's speed, I worked a pattern of diagonal lines on the back and sleeves which spread out from strong cabled centres. For the tail, which I worked in the lighter single 3 Ply, I made short-row shaped pieces and attached them to the V-shaped lower back. I designed the studded collar so that the 3 Ply gold cords could be threaded through and would stream behind in the wind. In this case, I wanted the knitting design to work with the costume and so I designed the Eagle Wrap by way of wings.
Jade designed and made the skirt, panelled in two shades of fine suede. The crowning glory is the exquistely hand-crafted leather headpiece and mask designed and made by Pete Williamson.
Alice Starmore