Sulaire Spencer Short Sleeved
Description
Small – Underarm (buttoned) 88cm. Waist (buttoned) 73cm. Length (ex peplum) 39cm.
Medium – Underarm (buttoned) 94cm. Waist (buttoned) 79cm. Length (ex peplum) 41cm.
Large – Underarm (buttoned) 100cm. Waist (buttoned) 85cm. Length (ex peplum) 43cm.
X Large – Underarm (buttoned) 106cm. Waist (buttoned) 91cm. Length (ex peplum) 45cm.
This kit includes a colour-printed pattern card with full instructions in all sizes and all the Alice Starmore™ 2 Ply Hebridean yarn required to make the Short-Sleeved Sulaire Spencer in your chosen size and colour. The spencer is a lightly fitted style, buttoned at the back with set-in sleeves. The peplum is worked in two separate pieces which are joined after blocking, and the body is worked back and forth in rows in one piece. The short cap sleeves are knitted back and forth in rows in Stocking Stitch and decorated with the same picot edging as the waist and neckline. It is shown here in Whin and is available in a choice of any of our available Hebridean 2 Ply colours. The Sulaire Spencer is also available in a long-sleeved version.
Visit our Video Tutorials section for tutorials on a variety of knitting techniques to help you with your projects.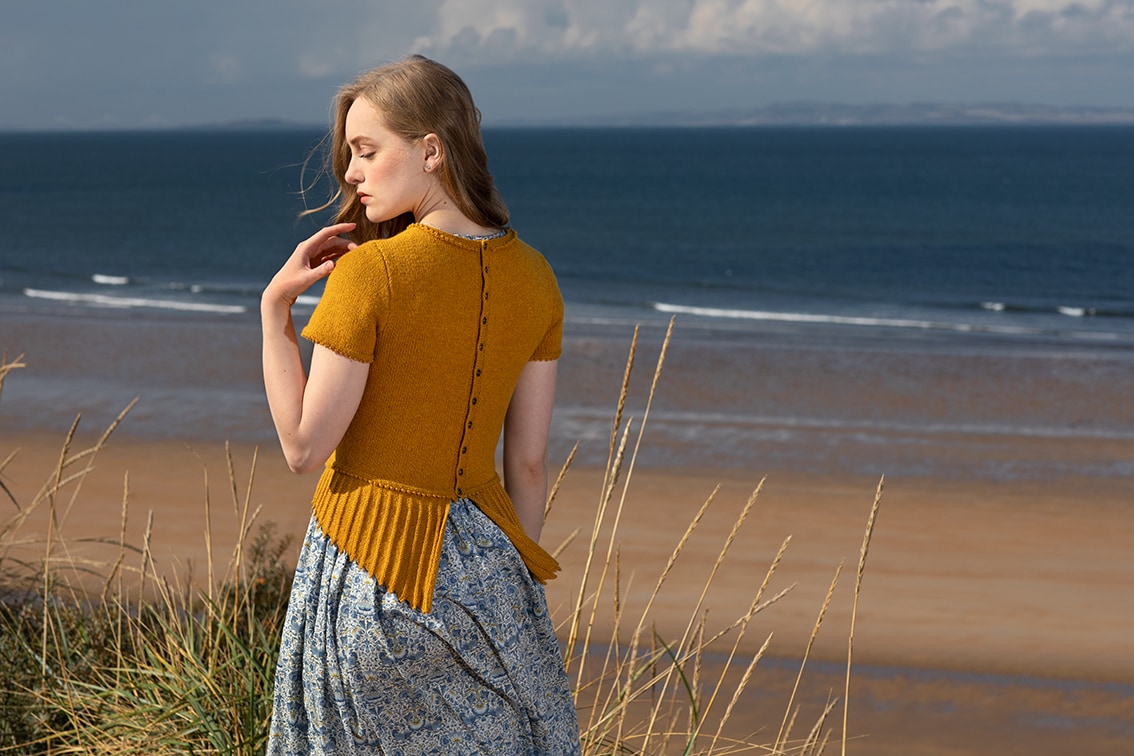 The first item for the Queen of the Waves travelling kist had to be a spencer. Though the term was coined in the eighteenth century to describe a short jacket, it became the term used in the Outer Hebrides for a fine, lightweight garment designed for wearing underneath heavier clothing for both men and women. The spencer could be long or short-sleeved or entirely sleeveless. Spencers for men were generally plain but for women they represented an opportunity for decoration with some "frivolous" openwork which would be otherwise impractical for outerwear in all but the most clement of weather and for the lightest of tasks.
Our Queen of the Waves would have been no stranger to hard and dangerous work. In her early teens she would have learned the awe-inspiring art of scaling the precipitous cliffs of Boreray and the Stacs to harvest seabirds eggs. Seabirds were essential to human life on St Kilda and our Queen of the Waves would have frequently looked like a bird herself, covered in plumage from her toil at feather plucking and, most spectacularly, wearing shoes of gannet-necks. She would have been well aware that her life would change profoundly on leaving her beloved home and that the last sight she would see of it would be of thousands of elegant Solan Geese (Sulaire), wheeling spectacularly around Boreray. She would never again be covered in feathers or dance in sulaire shoes but she could design a spencer, light as a feather and shaped with memories of sulaire wings – perfect for wearing in gentler pastures new, so different from the magnificent austere rocks that had formed the backdrop to her life story so far.
Alice