Bogbean – 50g Hebridean 3 Ply
Description
Alice Starmore Hebridean 3 Ply Yarn is made from premium quality pure new British wool, dyed in the fleece and skillfully blended into unique shades. It is hand-washed and dried in the Hebridean air, and supplied in hand-made skeins which may vary in weight. It is priced per 50g at standard conditions. All yarn is weighed to order on balances that are checked daily to ensure that you receive the correct total amount.
Bogbean is part of the Moor & Mountain range, which is inspired by the landscape of the Outer Hebrides. It is shown here knitted up (alongside contrasts of Witchflower and Mara) in the Mary Queen of Scots design from the book Tudor Roses (2013/17 edition) by Alice Starmore.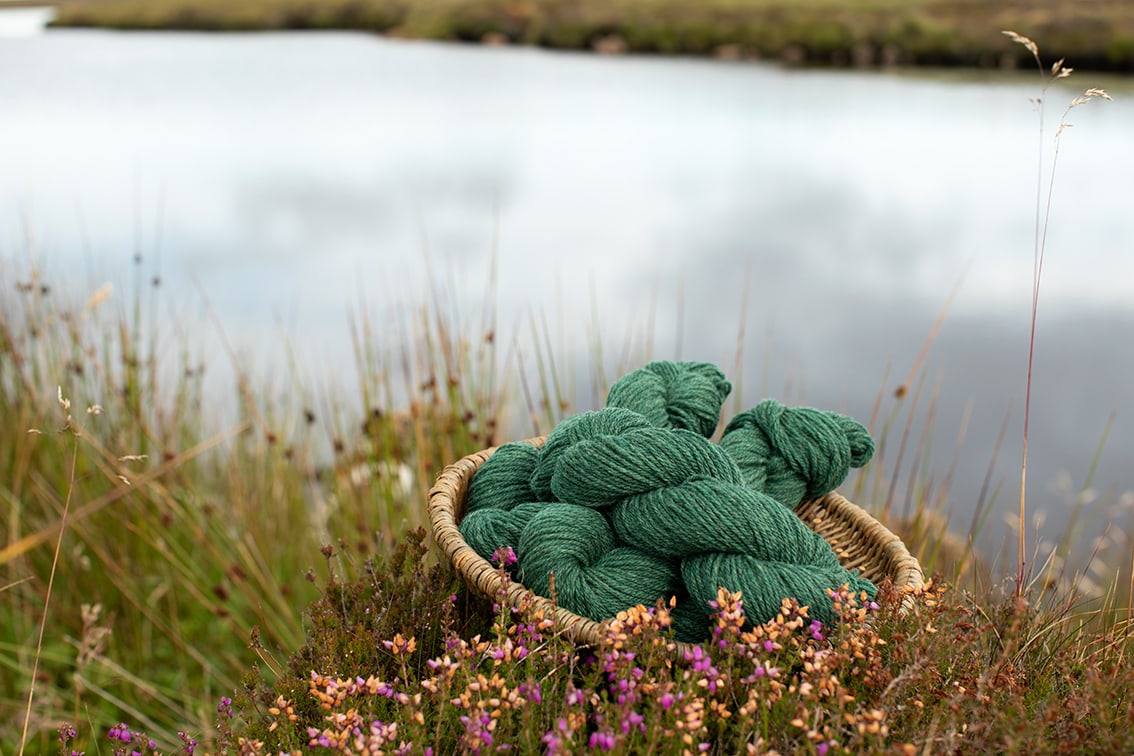 In May to July, walkers on the Hebridean moor will see the pale pink flowers of Bogbean (alias Buckbean, Marsh Trefoil and Menyanthes Trifoliata) holding their heads just above the water of numerous bogs and lochans. Even when not flowering, the leaves are very attractive, particularly to animals, which often leads to their venturing too far into the water and not coming out again. Humans should know better, and if they want the lovely green leaves they should use a curious implement which consists of a long bamboo pole with a wire loop on the thin end. This loop is attached to a string which runs back down the pole. Stand on the edge of the bog; position the wire loop over the Bogbean; use the string to pull the loop tight, and É you should have a clump of wet leaves and dry feet.
Why on earth should you want the leaves? Reason One is a very old herbal remedy called in Gaelic, Lus Nan Laogh. It is made from the boiled leaves, and is highly effective for migraine and skin ailments such as eczema - if you can stomach it that is, for it tastes truly awful. My Uncle Donald used to brew it, and I well recall the bamboo device hanging on the wall of his barn. (Note: In his admirable Gaelic-English dictionary of 1901, Edward Dwelly cites Golden Saxifrage as being the ingredient of Lus nan Laogh. This may be so in some parts of the Highlands. In Lewis however, and I believe also in Sutherland, it is definitely Bogbean that is used.)
Reason Two is the value of Bogbean as a dye plant. It was used in past times throughout the north of Scotland for the dyeing of plaids. It gives a wonderful yellow, but then add some iron and prepare to be amazed, for the ancient green that results is a colour that seems to have flown straight out of history. Lewis women simply used an iron pot, and obtained the green directly. However, I like to use other pots and add the iron, just to see the yarn changing colour. There will be as many different variations of this green as there are dyers, for each has their own particular method of working. I like my own, for I think it gives an exceptionally organic and vibrant shade. We have used it as the colour guide for our Hebridean version, and I am very pleased with the authenticity of the result.