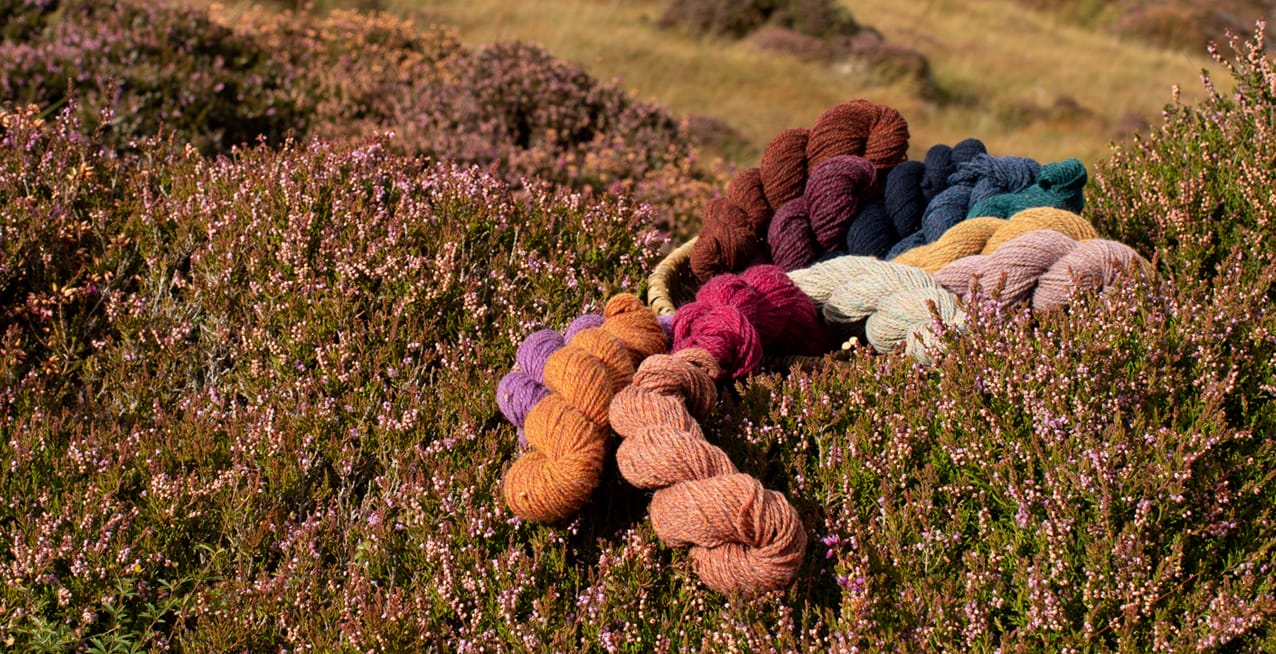 How do you start designing not just a garment, but an entire yarn range? With a sense of excitement, for there is a whole spectrum to play with and the possibilities are dizzying. In choosing and designing the shades of our Hebridean yarn range, I decided to go stravaigin, which is an old Scots word meaning to wander about in a casual manner. For example, on a Saturday night, the local youths will stravaig the town in pursuit of fun. I went in pursuit of colour. My stravaigins were both literal and metaphorical, along paths to old haunts around the Island of Lewis and Harris, and down quite a few Memory Lanes. On the literal paths I collected shells and stones; plants and mosses; feathers, leaves and berries; anything that took my fancy. On the metaphorical paths I collected thoughts, daydreams, and tales both tall and true.
Anyone who philosophises about Scottish islands must face the split personality that is inherent in the island perspective. The islander must look outwards for anything other than a basic living, and many have to leave in order to find it. I know that feeling well, for as a 17 year-old, I was outward bound on the boat the very next day after I left school.
This was not to escape anything – far from it, as I had a wonderful childhood. I simply had an overwhelming urge to see what was over the horizon. Yet, no matter how far an islander ventures – even if they seldom return – that solid, rocky heart of the island is always with them, balanced against a shifting sea.
I see that truth reflected in the lives of my maternal grandfather and grandmother. Alexander Macleod, a fisherman from the village of Upper Bayble, Isle of Lewis, lived to be 96 and was at sea for the whole of his working life. In those days they didn't travel very far to do their courting, and his wife Anne Macaulay came from the neighbouring village of Sheshader, just a short hike over the moor away. Anne lived to within one month of 100 years and never once set foot off the island of her birth. What better image for the dichotomy in the island personality? Muir is tìr ... sea and land. The two great visual aspects of my native Hebridean island can be categorised as Moor & Mountain versus Sea & Shoreline. Some of my happiest childhood memories are from the Lewis moor, and so it is there that our colour story begins.