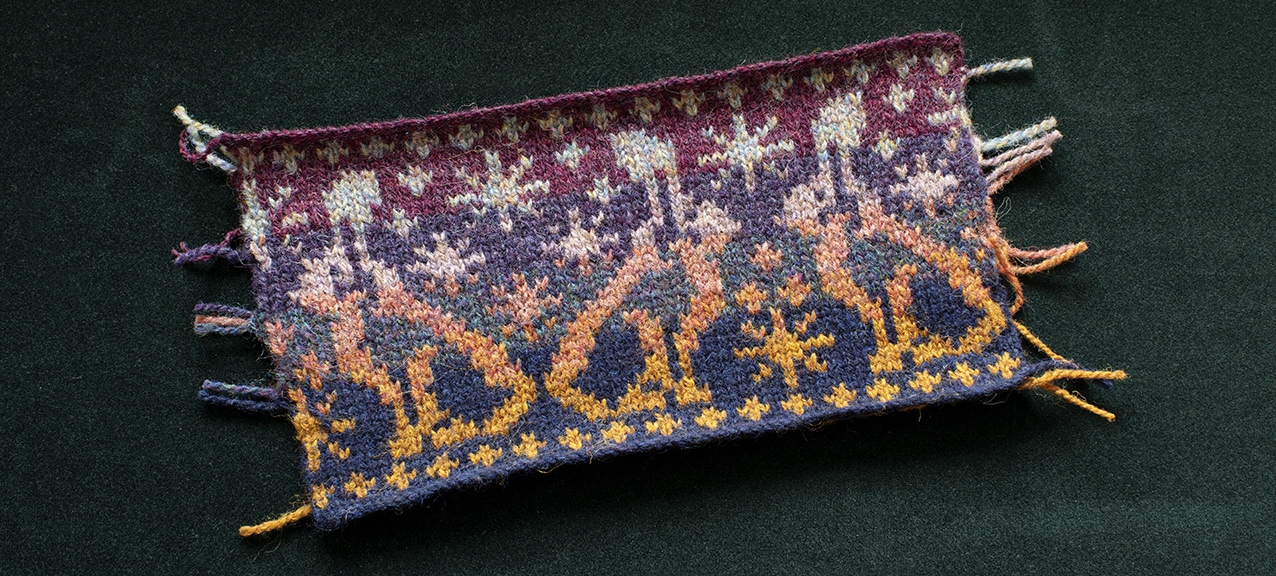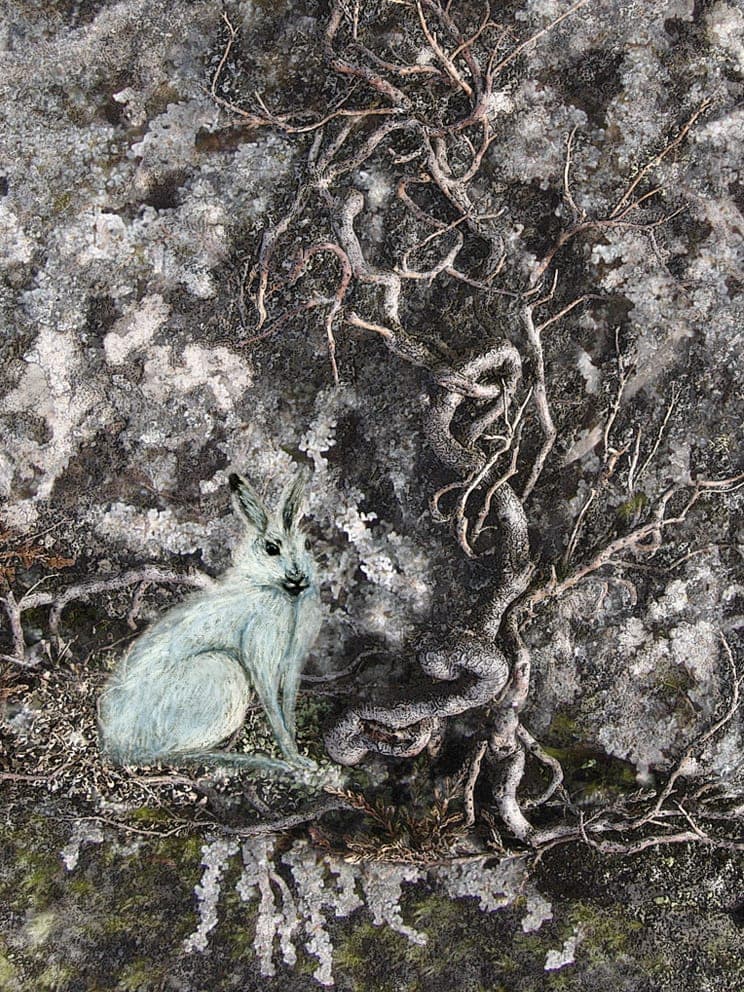 Design inspiration can be found in stories as well as imagery or places. The book Glamourie explores this in depth, with entire costumes developed for fairytale characters.
For this creative exercise, I used one of Alice's mixed-media artworks as my first inspiration. This particular image is based around the old superstition that witches can transform into hares. Alice has given this a Hebridean twist by adding heather roots and island colours. I have kept the moorland tones in my swatch, but I have added a night sky backdrop that seems appropriate for the mystical hares. You can see how the star pattern behind the hares has been developed from my swatch in the previous creative exercise. The hares themselves are alert and watchful.
This pattern has a large repeat which does involve more effort in the swatching process. I have reflected the hares to be face to face, and then back to back, as the repeats build up. In order to see the full effect of my pattern I needed to make a much larger swatch than was required for the last creative exercise, where I used smaller repeats. Always consider scale when you are playing with pattern, both in terms of the time you want to spend working on it and on any final output that you intend to make from it. I was particularly happy with the Witch Hare swatch, so it will be developed further into a design. The larger repeat will have a bearing on the way that the pattern will be used.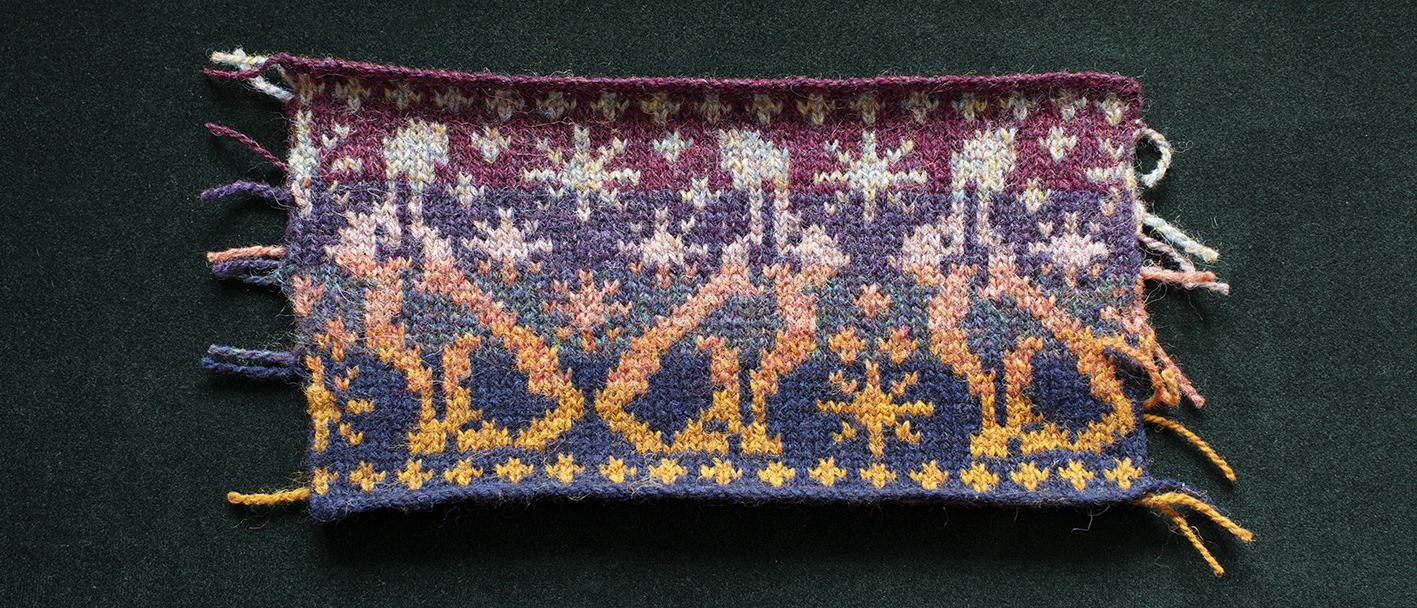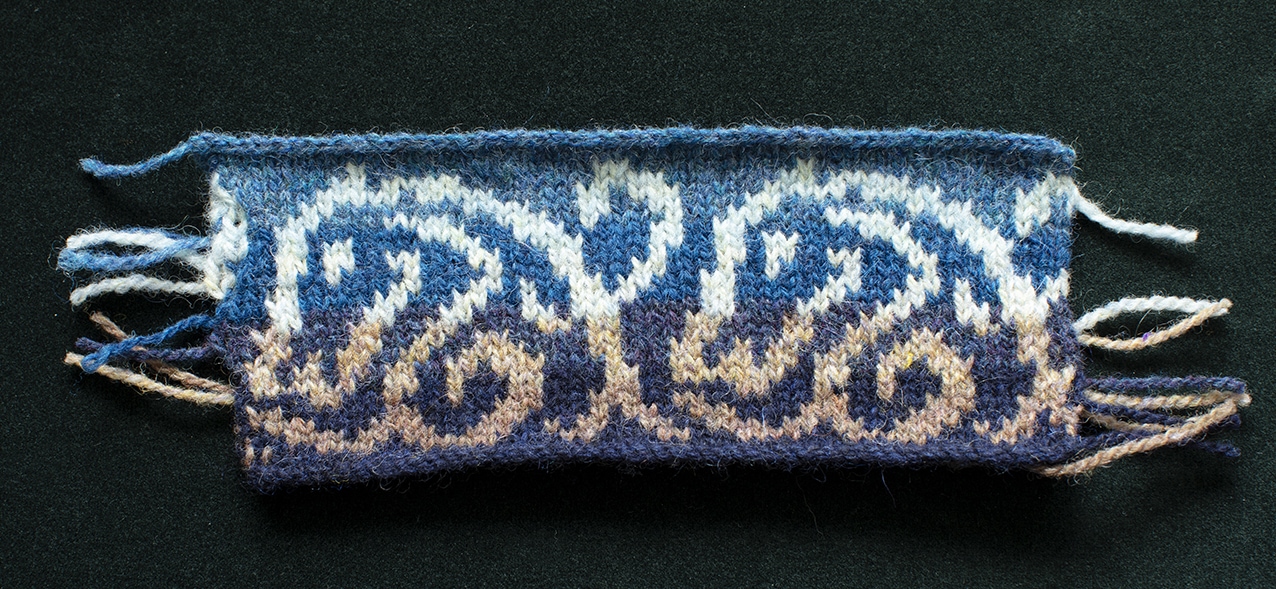 My second swatch took inspiration from the legend of the kelpie and the lochs of the Outer Hebrides. I grew up living in the middle of the moor with a view over a multitude of lochs. These changed in colour and mood on an almost constant basis, and the lack of buoyancy of the fresh-water made them particularly dangerous for the unwary. The legend of the kelpie seemed entirely plausible in those surroundings.
This swatch takes the colours of the dark waters, which contrast with the lichen-covered rocks that surrounded the lochs of my childhood. I wanted the kelpies to be subtle and part of the curves of the water, so I made them into a pattern that rolls like waves, one horse merging into another. If expanded, this pattern could be worked in bands with the direction of the kelpies alternating. I would reflect the colours back upwards to create more of the effect of an allover pattern.
For your own swatch inspiration have a listen to our Storytelling section, where you can hear Alice narrate her own kelpie tale.