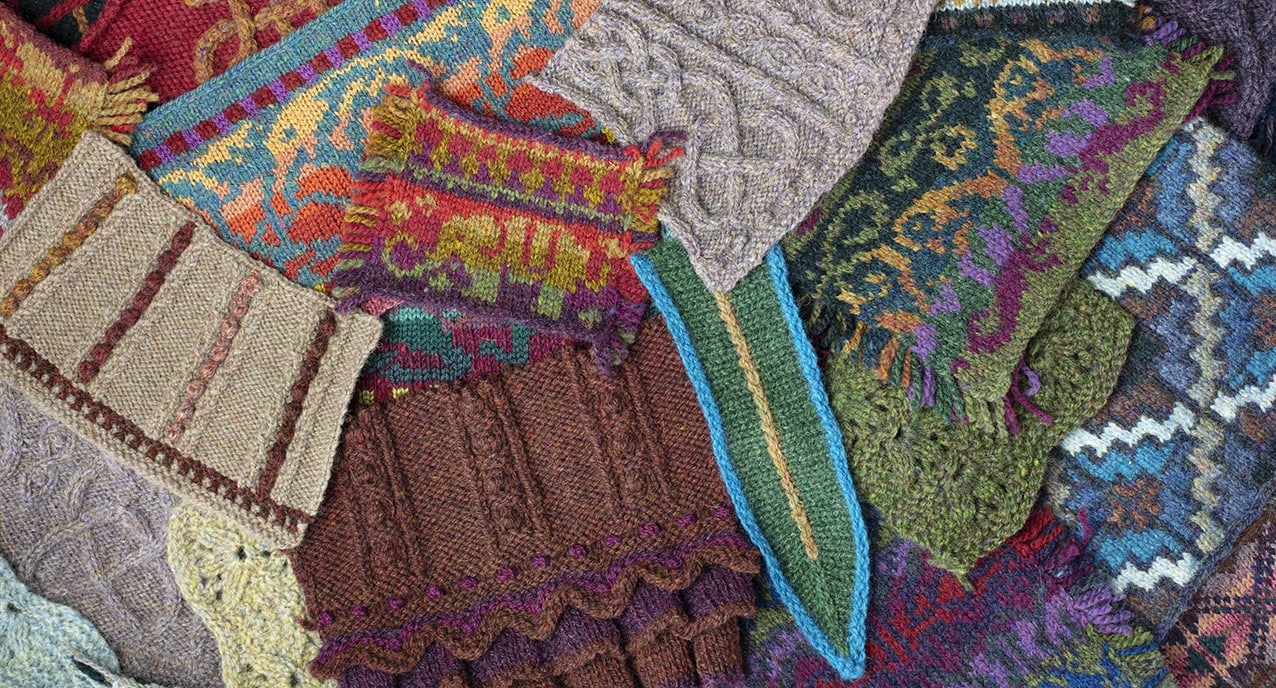 The swatch is the vital blueprint from which the mathematical instructions are written for commercial designs so that the garment can be knitted to the exact shape, sizes and finish. This is why the instructions for making a design always begin with making a swatch in the material specified and to the tension given. I know from years of teaching knitters that this is a step in the process that many would prefer to skip in their eagerness get on with the project. Whilst we can all identify with the excitement of getting the actual project going, it is worth bearing in mind that making a swatch familiarises you with the pattern before you work on the larger scale. So the time spent on the swatch is more than compensated for as you will be able to knit the garment faster and with much more confidence. Add to this the fundamental fact that if your tension and finish is different to that given, then the size, shape and finish of your garment will also be considerably different.
Above is just a tiny selection of the many swatches which we have made over years of design work, all of them essential to the garments they went on to become. Swatching is a process to be enjoyed, and the result adds to the precious textile record of your own knitted garments.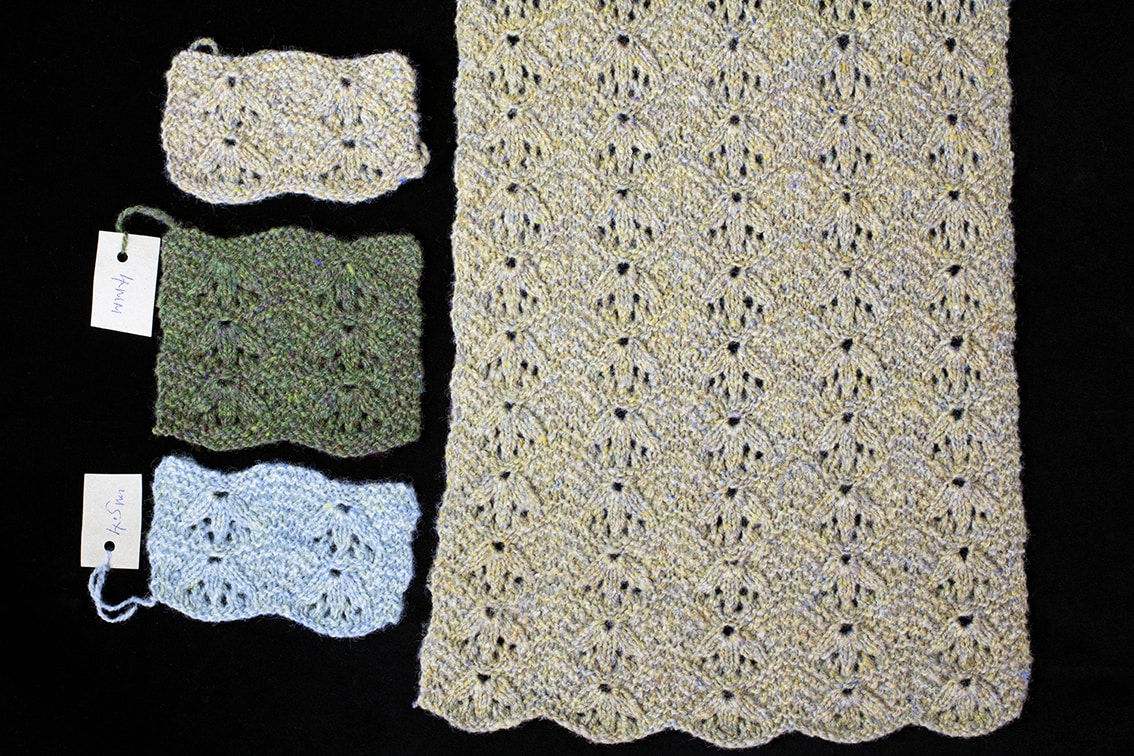 Developing the simple edging and deciding on the best tension in the 2 Ply Hebridean Birdsfoot Scarf swatches.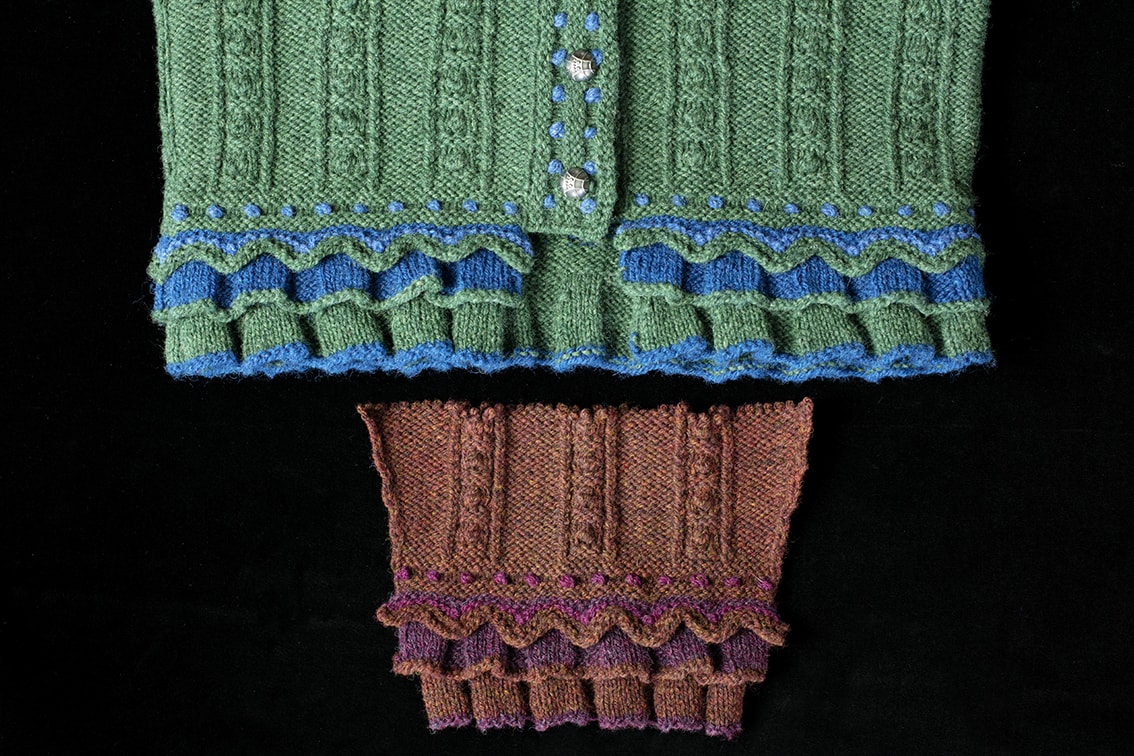 Experimenting with a more complex edging to offset a subtle vertical textured pattern for the Mary Queen of Scots design. As a testimony to the crimp and quality of the Hebridean 3 Ply you can see that although this swatch was not cast off, the live stitches have kept perfect shape for over 6 years.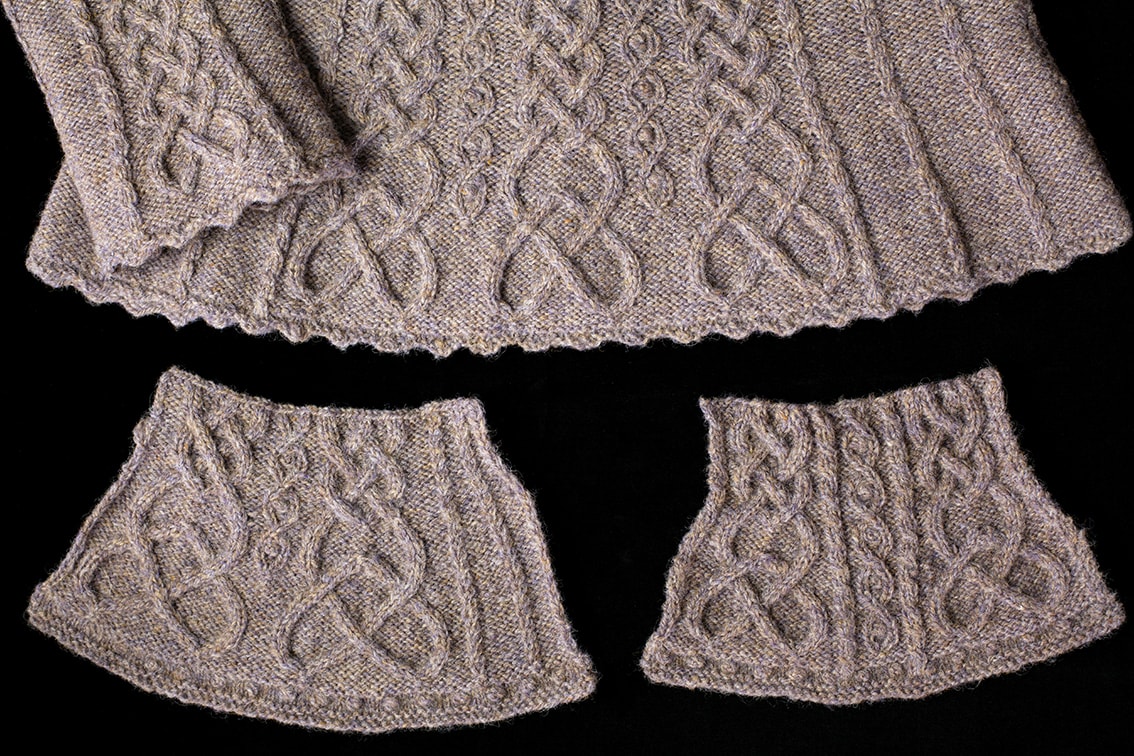 Developmental swatches for the Eala Bhan design alongside the completed garment.
You can see the progression of the cables in size and formation in the two swatches. Finally, I created an edging that is more harmonious with the curves of the cables and the shape of the hemline. I preferred it greatly to the edging I designed in the first two swatches, although it was much more complicated to knit. This serves as an example of a choice I made for this commercial design. I weighed in favour of the more difficult edging not only because it worked best, but also because whole design was complicated. I concluded that the edging would be well within the scope of the more experienced knitter.