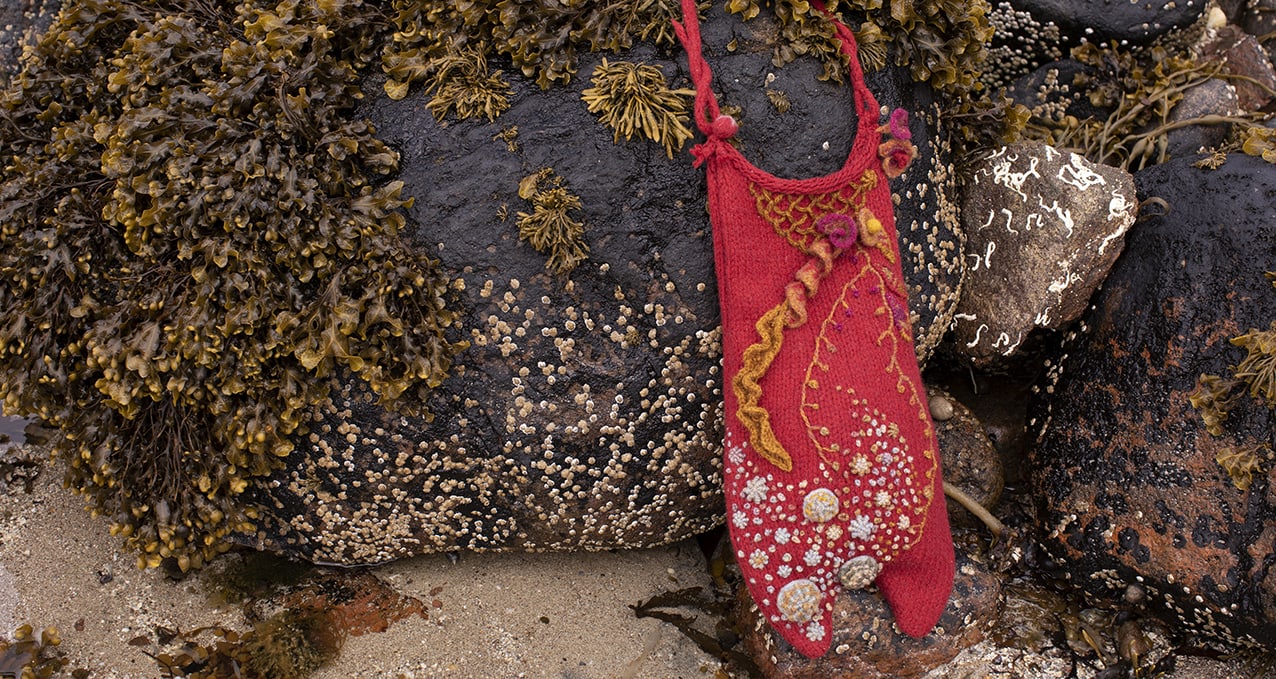 Mermaid's Purse Development
Experimentation is fundamental to the development of all original design.
Swatches are the most common method of working out knitting design ideas but I also find that the creation of objects – where I can play with method, form, shape, dimension, colour and texture – are also invaluable exercises in developing ideas. These ideas can then be translated into endless designs, from the simplest knitting patterns to the most elaborate costumes.
The Mermaid's Purse is a case in point. I made the original purse as an exercise to develop ideas for the Sea Anemone costume in Glamourie. Writing up the purse pattern for Dùthchas agus Dualchas spurred me to make a couple more purses and I hope that my results and explanations serve to demonstrate how you can use this same object to develop your own skills and ideas.
Since we are still in lockdown here in Lewis, I took my inspirations strictly from within the boundary of my croft, which extends right down to the sea. I work outside every day, and so the colours and textures of late April and early May are a focal point at this time.
My croft includes a 400 metre-long stretch of shoreline that provides a cornucopia of inspiration at any time of the year. Since this is where mermaid's purses are found it is an obvious location on which to base another shoreline purse. The weed and barnacle-covered rocks are fantastic examples of three-dimensional decoration. The smooth rocks display sharply textured drifts of barnacles, together with clumps of fabulously luxuriant, richly coloured weeds; this combination served as the spark for the red purse.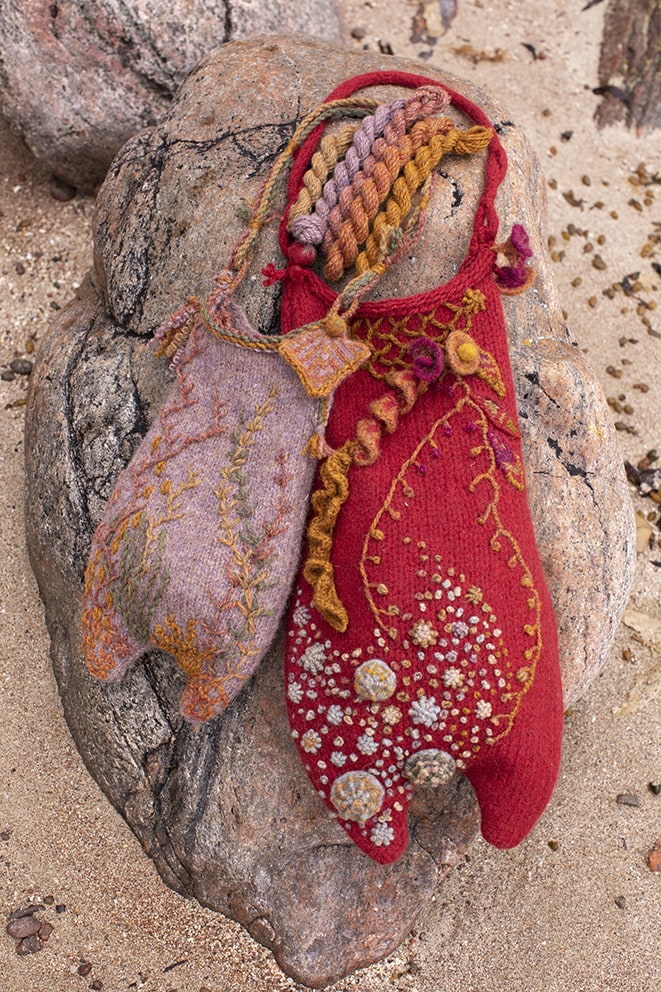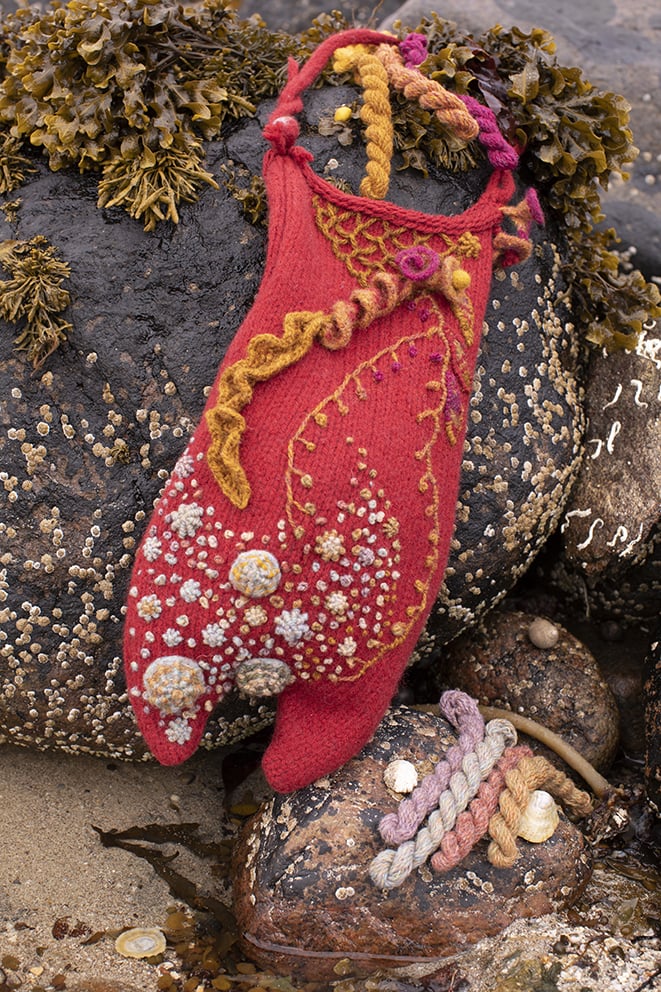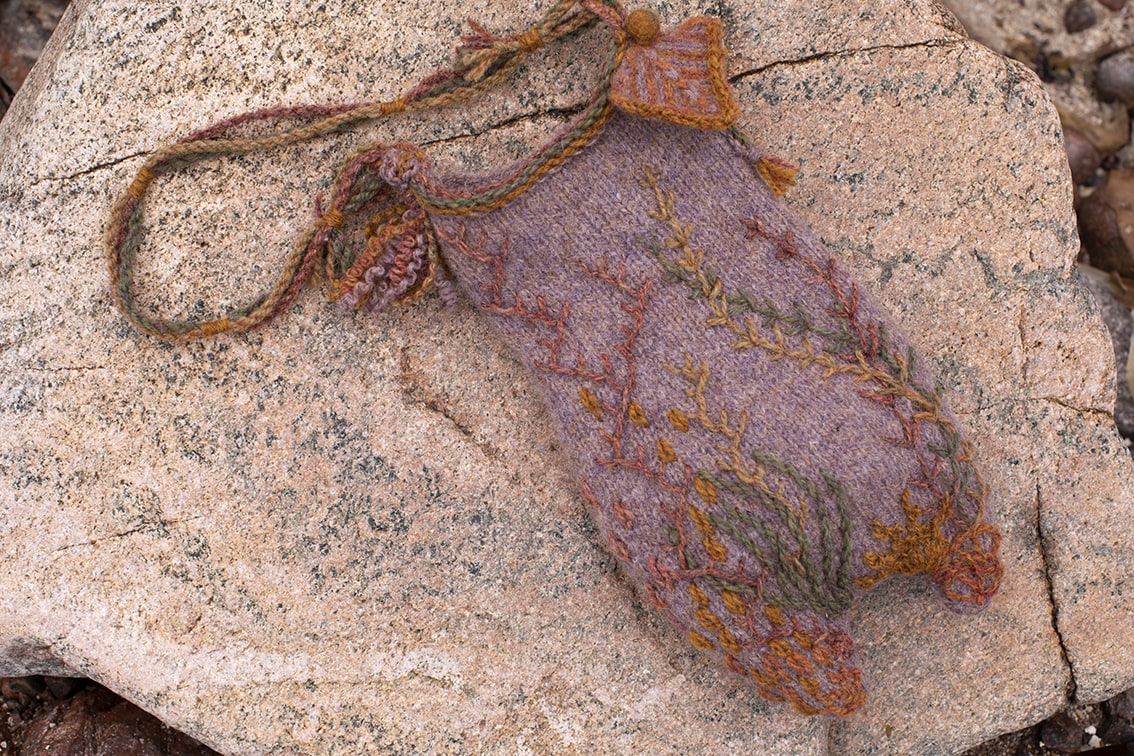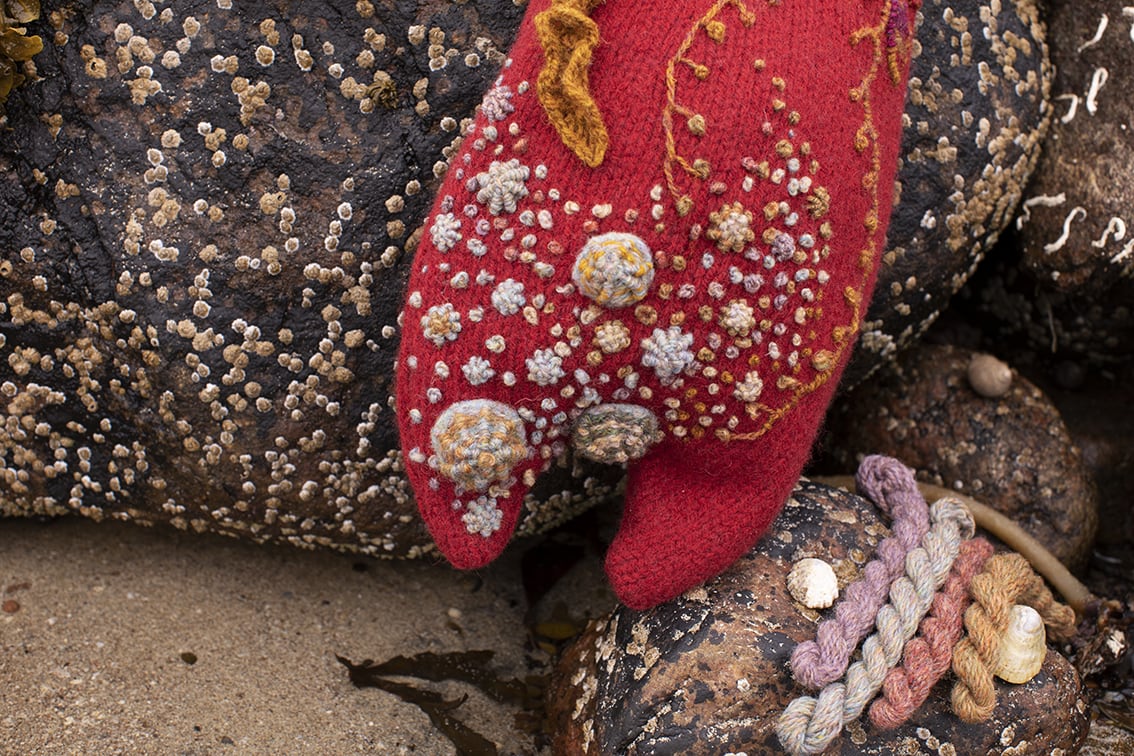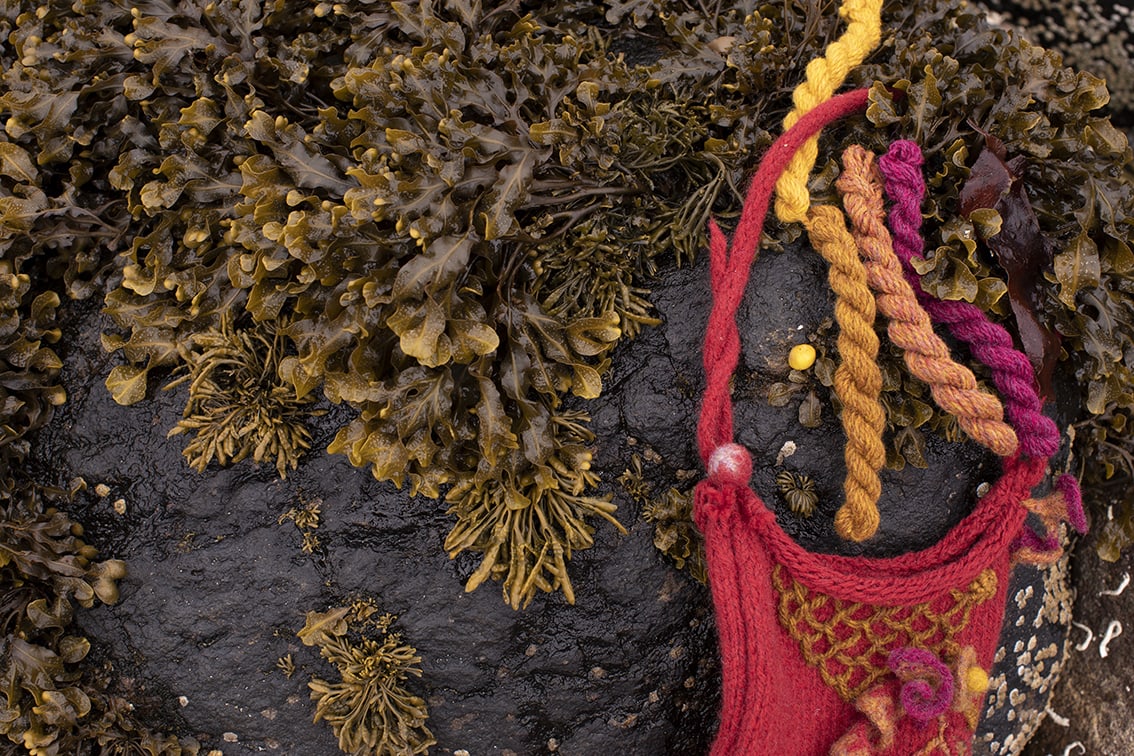 To knit the purse I used my Hebridean 3 Ply in Sea Anemone as a nod to the original costume. My main focus was on creating three-dimensional decoration and so I kept the 2 Ply colour palette quite simple. I chose pale shades of Pebble Beach, Driftwood, Corncrake and touches of Mountain Hare to depict the shell embellishments on the lower section, and rich warm shades of Sundew, Golden Plover, Clover and Sea Anemone to depict the seaweed foliage on the upper area.
I began by embroidering a pair of light, weedy shapes that roughly outlined the rounded belly form of the purse and also formed a connection between the upper and lower areas.
I had previously made three large barnacle shapes and so I stitched these on first, then freely embroidered Shells and French Knots, working in a drift upwards to the centre of the belly.
I then embroidered a net in Golden Plover 3 Ply just beneath the top opening. This formed a point from which to work knitted embellishments depicting the seaweed foliage. The small floral shapes are made by knitting and felting simple shapes. I knitted longer leafy shapes and stitched them on to further emphasise the curve of the light embroidery and I also experimented with appliqué by cutting tiny pod shapes from a stranded, felted swatch.
Since this purse was to be chiefly an experiment in working with three-dimensional shapes, it was important to leave clear, smooth areas as a foil to emphasise both dimension and decoration, just like the rocks themselves.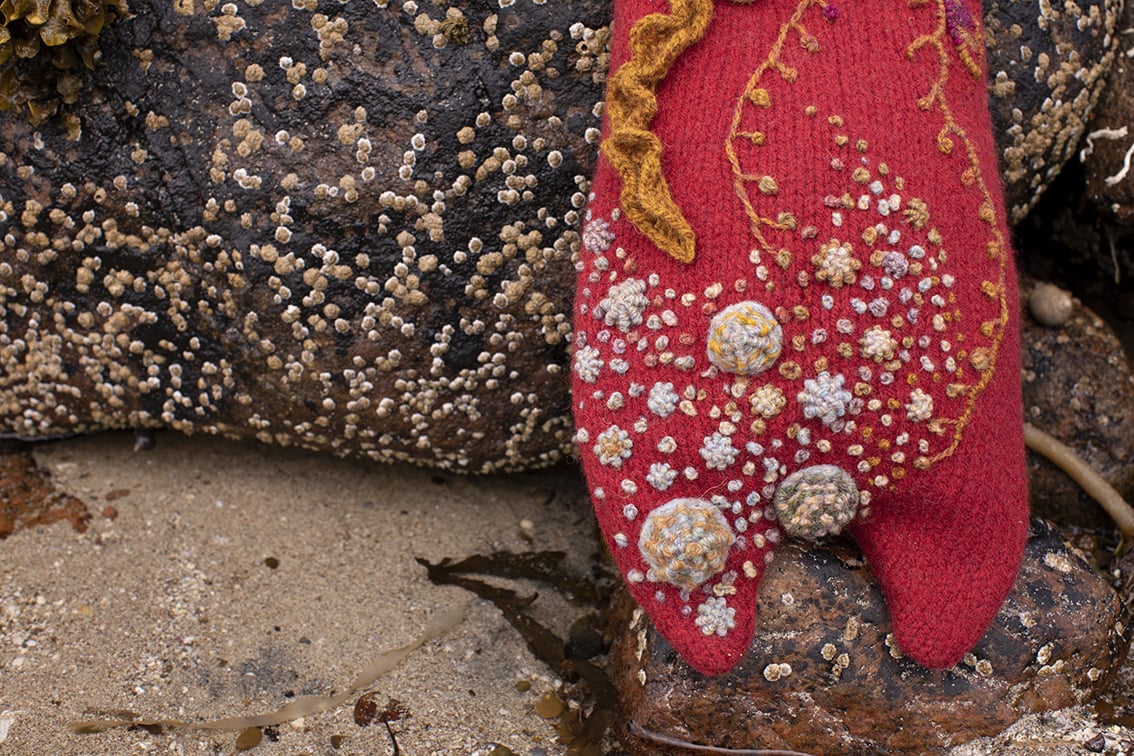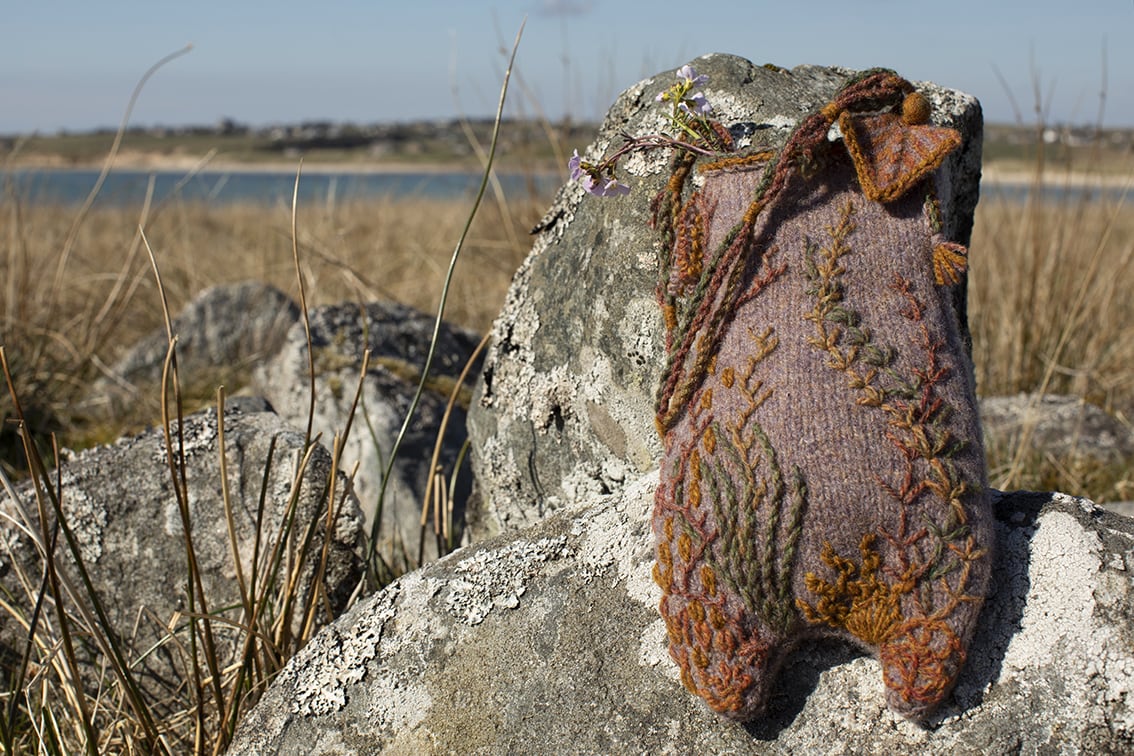 In April the colours of the croft machair are soft and delicate and early signs of life are starting to appear. The cuckoo flowers are beginning to bloom exactly in time with the arrival of the first cuckoo from Africa. I wanted to capture the subtle delicacy of this particular short spell on the croft, so I knitted the second purse with 25 grams of Hebridean 2 Ply, making it smaller and lighter than the 3 Ply version. I used the same instructions but worked it on 4mm needles so that the finished, felted height is 25cm and the width is 14cm.
My colour choices of Driftwood, Machair, Corncrake, Golden Plover and Sundew were based on the April machair, but as you can see from the photo of the two purses together, I have used these same colours for the majority of the decorative elements in both. This illustrates how even a small palette of colours can be used to very different effects.
Delicacy of colour and stitch was my focus for the little purse. I used simple stem stitches to create fine grass and leafy forms, and depicted seed heads with single chain stitches. A little ruffled stitch was inspired by the lovely golden moss and instead of knitting and felting the handle, I made three cords in Corncrake, Mountain Hare and Machair and bound them together periodically with strands of Golden Plover. All of the embroidery on the small purse was done within a couple of hours so this was a super-fast fun little project, and on completion it was particularly satisfying to take it straight onto the field and see how it looked on a sunny afternoon.
The results of these little efforts are more than the objects themselves – they have given me more exciting ideas to develop into other projects ... and so it goes on. The most important thing to bear in mind is to give yourself the freedom to try things out. Inspiration is all around so whatever seed it plants in your mind, let it grow freely.