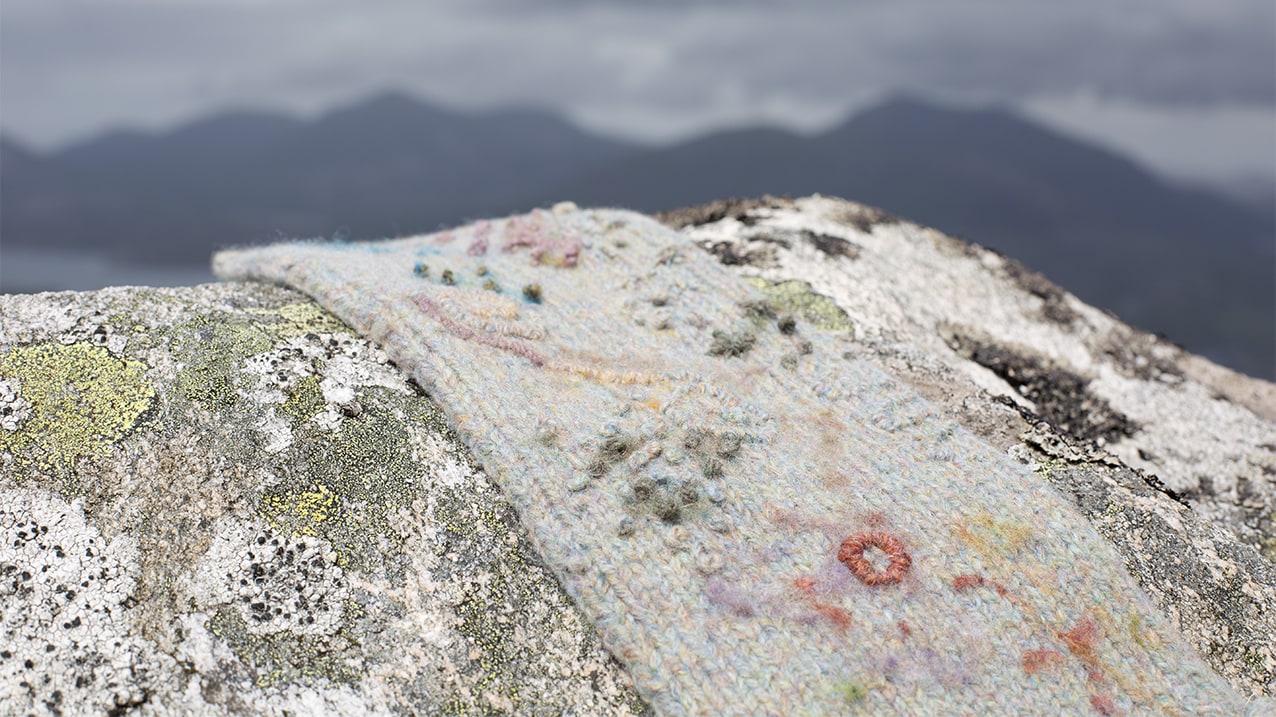 Button & Bead Felting Tutorial
Felting proved to be one of the most exciting of my experimental adventures for Glamourie. My ultimate aim was to see if I could knit a shaped garment and then felt it so that all of the shaping, including armholes, sleeve caps and necklines, maintained the correct proportions to fit the model. This was a personal challenge: I could have taken the easier road and knitted rectangular pieces and then cut the required shapes exactly like a sewn garment. I chose not to do that because knitting allows you to shape within the fabric itself and I love the elegance and finesse of that approach. However, I knew that this was an ambitious goal and a lot of preparatory work would be required to ensure success.
The first step was to test out my yarn and knitting to see how it would respond to felting, and I started by knitting small pieces and objects. I reckoned I could make a button in a few minutes. It proved so easy and fun that within a couple of hours I had made a dozen. I learned a huge amount through these little experiments. They gave me a feel for how the felting process works: how the fabric changes under the influence of soap, heat and friction, and how the motion of my hands could mould the shape. I experimented with embroidering before felting as a means to add colour and design and found it fascinating to see how the embroidery melded and merged into the knitting.
This experimentation immediately opened up a whole world of creative possibilities. It was thrilling to discover that with just a few scraps of leftover yarn, beautiful, decorative and useful items can be made very quickly. So whether you are an expert or beginner knitter – you need only know how to cast on and off and knit plain stitches – I invite you to literally and metaphorically plunge in and try this fun and rewarding exercise in creativity.
You will find full instructions for making three different sizes of buttons/beads here. Once you have knitted the simple shapes you will see in the following videos how I finish, decorate and felt a variety of buttons and beads.
An Introduction to Felted Knitted Buttons
Illustrating some of the effects and uses for felted buttons and beads.
It is vital to use the right type of wool yarn to successfully felt knitting.
Finishing and Decorating Buttons and Beads
A demonstration of how to sew up and stuff buttons and how to add colour with simple embroidery.
Pebble Inspiration – Creating the Quartz Necklace
The same forces of heat and friction that create rock formations are used to felt. Here I demonstrate how I created the delicate veined and spotted colours for my felted Quartz necklace.
Spectacular formations are created by pressure which causes different rocks to become welded together. Here I show how I used the intarsia knitting technique to create bi-colour beads which I then embroidered to add further bands and spots of colour.
Creating Metamorphic Beads

Intense heat causes rocks to melt together. When they cool quickly they metamorphose into solid rock containing a multitude of colours. Here I demonstrate how I emulated that appearance with knitted felted beads.
Making a Hole in a Bead Before Felting

It is difficult to make a hole in a felted bead without running the risk of damaging it. Here I show you the method I devised for making a hole before felting.
Felting Round Buttons & Beads

A demonstration of how to felt round buttons and beads. In order to show you how quickly you can felt a small object, we have filmed the first button being felted in real time. After that we have shortened the time shown felting to avoid repetition and maximise the information.
A demonstration of how you can significantly alter shapes not only with the initial knitting, but by using a different hand motion while felting.
It is vital to rinse the soap out of the finished objects. They are still malleable when they are wet and here you will see how to perfect the desired shape and set out the objects to dry.
Making a Button Ready for Sewing On
How and where to attach the yarn to the button so that it can be sewn on correctly.
A demonstration of threading beads on to a yarn cord.