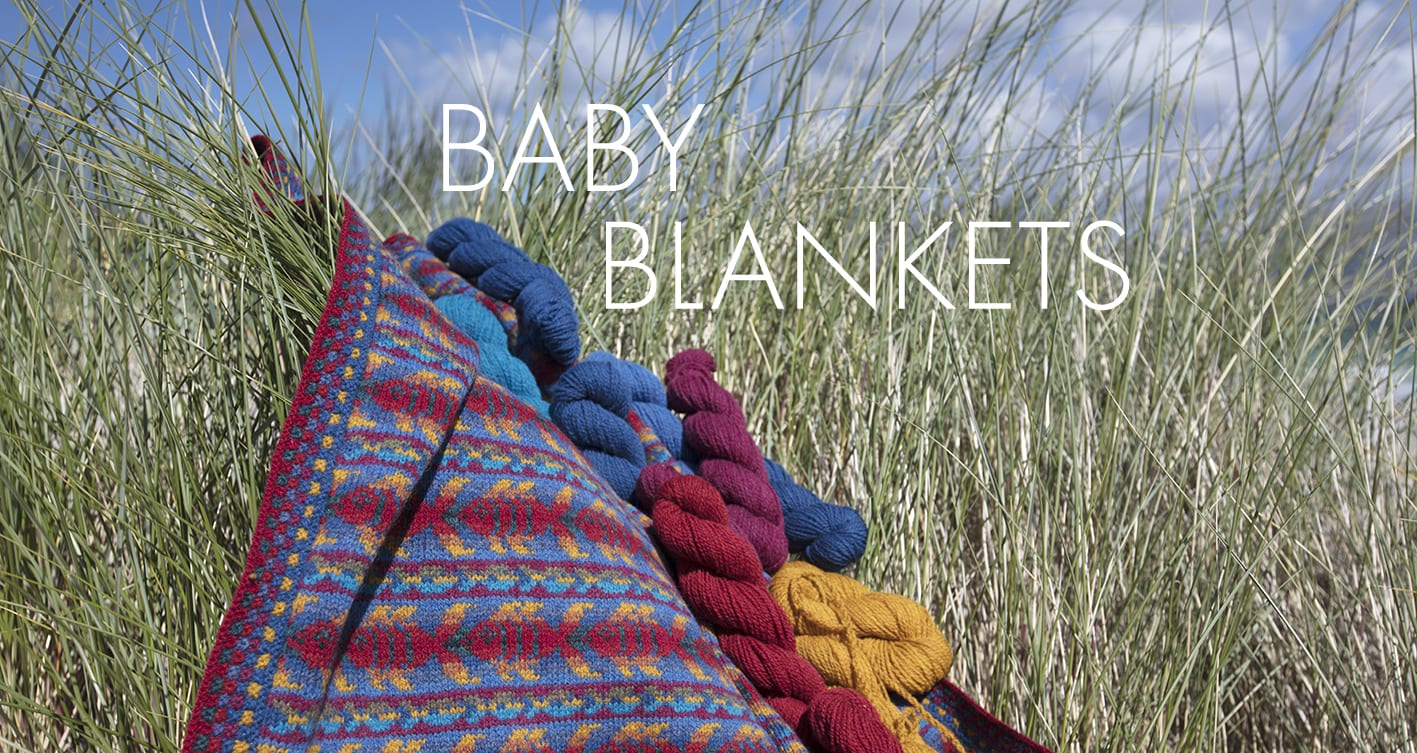 Making something beautiful with your own hands for someone special is one of the greatest rewards that knitting has to offer, both for maker and recipient. At VY we have been very touched by those who have taken the time to tell us how much they have enjoyed making and gifting our baby blankets for the new little people in their lives. They also make lovely decorative furnishings and are a great way of permanently displaying your skills.
We are often asked which projects are suitable for working a steek for the first time. This question often comes along with the misconception that an inexperienced knitter must choose a simple first project, with perhaps just two colours. My advice is always the same: choose something beautiful that you really desire and make it in the best and most suitable materials available. This means that you will enjoy the precious time you spend making it and the result will be something to admire forever.
Our baby blankets fit these requirements and are ideal projects for beginners to the steek technique. They are worked in the round as a simple tube with one long steek running straight up the length. By the time you are half-way through, your understanding of the construction of the steek (and how it looks set into the design) will be complete. You will have approximately 80 to 90 cm of steek to knit -- enough to give you all the experience you need in cutting, trimming and finishing. The centre of the steek is also the beginning and end of the round and so it just as simple to change colours frequently as it to work in the same two colours throughout. There is no need to darn in ends as they are simply cut off when the steek is cut and trimmed. Each blanket has a border with mitred corners which is knitted by picking up stitches all around the rectangle once the steek is cut.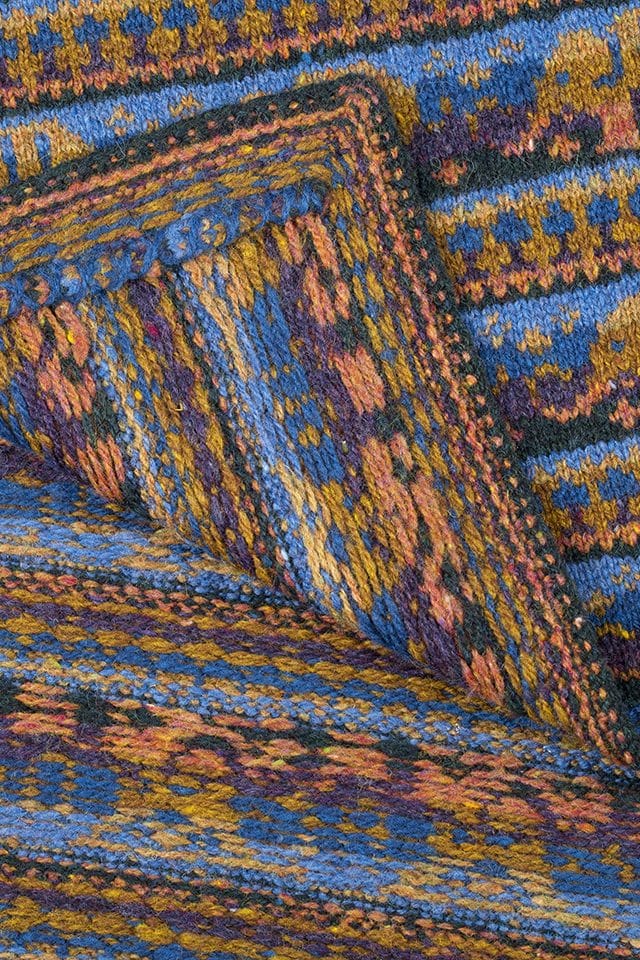 Jade has photographed the blankets so that you can see in detail how they look on both the right side and the underside.
The strands should lie perfectly straight and relaxed across the underside. Once the border is complete, the steek is trimmed to a two-stitch width and lightly cross-stitched to the strands on the underside.
All of the blankets are finished with a border which is picked up along the sides, top and bottom edges and then knitted in the round with mitred shaping at each corner. This involves many stitches and so a long (100cm) circular needle is required. It is even easier to work with a set of three 100cm long circular needles where the stitches are divided between two needles and the third needle is used for knitting.
For a full and illustrated description of stranded knitting and steeks see Alice Starmore's Book of Fair Isle Knitting.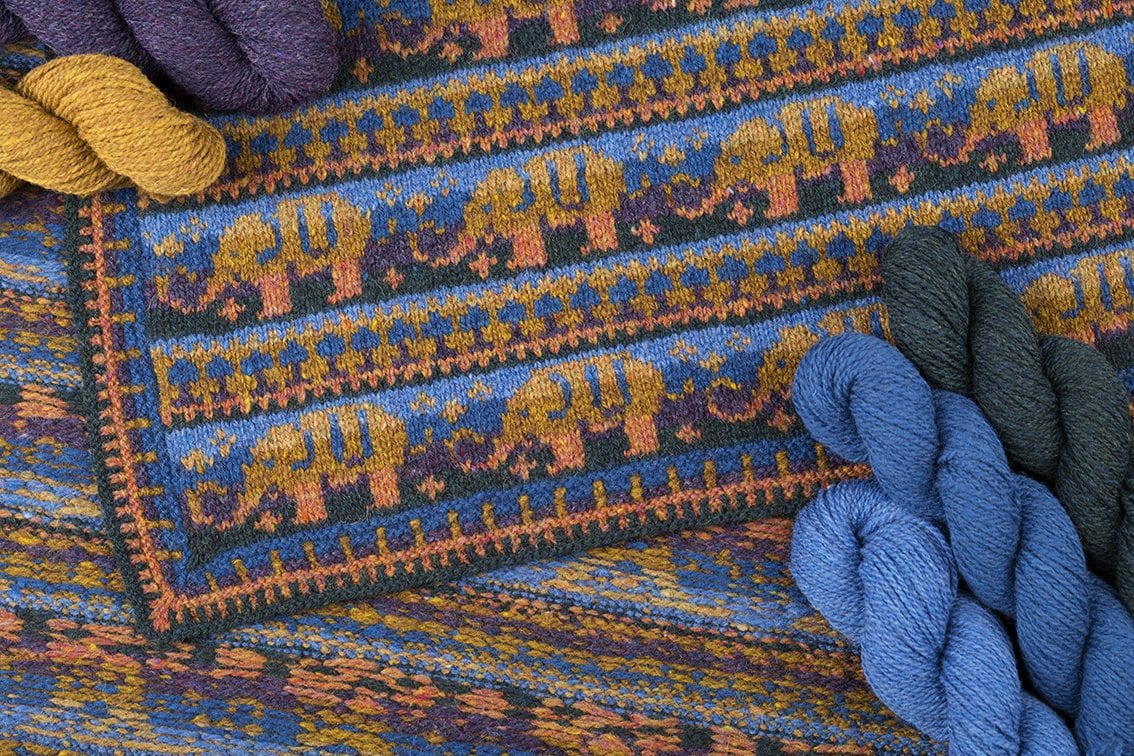 We have two patterncard kit baby blankets, Reef and Widdicombe Fair. Each kit comes with both patterncard instructions and all the Hebridean 2 Ply required to make the blanket.
I designed Reef (pictured above) as a cosy reminder of the intense colours of summer sunlight on the ocean. I wanted my fish pattern to be graphic and bold and yet still be ideal for stranded knitting so I brought  the background shades into the fish bodies with a couple of vertical waves: as well as breaking up otherwise long stretches in one colour, this also adds a lovely sense of motion to the design.
The Widdicombe Fair blanket kit (pictured below) features dynamic fairground horses shown here in two colourways. The larger scale and more detailed patterns make this a little more complicated to work, but as with all our stranded designs, the right side is always facing as you knit and so once you have laid the foundation rounds it is not difficult to see the dancing horses growing as you work.
We created both the Cats & Mice and Elephants blankets as extra projects to be worked in conjunction with The Children's Collection book, where we originally published the patterns as vests.
If you are new to stranded knitting then Jade's Cats & Mice (pictured above) is an ideal blanket to start with as the patterns are small in scale and easily memorised.
I originally designed the Elephants pattern (pictured below) for my then two-year-old grandson who sat by my side whilst I drew his requested pattern. He is now grown up and it is interesting for me to reflect on the intense memories evoked by that one small graphic pattern I designed so long ago.